How to find anything on your phone with Windows Phone 8.1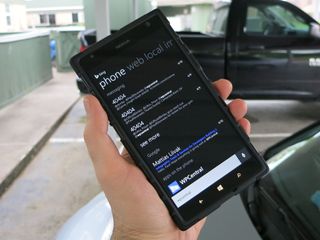 Windows Phone 8.1 brings a wealth of new features and improvements to the table. Some of these changes are meant to bring Windows Phone more in-line with Windows 8. The more closely the two operating systems resemble each other, the easier it is for users to transition between phone, tablet, and PC. And of course, any such changes would qualify as improvements even if you've never touched a Windows 8 device. Microsoft is simply smart enough to pick and choose better implementations where they see them.
One such change comes with Windows Phone 8.1's new and improved search feature. The Search button and Cortana app (US only) now searches not only the web for queries but also the user's actual phone (much like Windows 8 and RT). This makes it easier than ever to find specific information and files on your phone. Even the actual web search results share a cleaner, slicker look as well. Head past the break to see how convenient searching can be on Windows Phone 8.1.
Starting the search
Beginning a search on Windows Phone 8.1 works exactly as it did on Windows Phone 8 – just hit the Search button at the bottom of your screen and type something to search for.
Actually, 8.1 users in the US do have a cool new option for starting searches: ask Cortana. Simply tap the microphone button at the bottom corner of the screen and speak a search term out loud; it doesn't have to be phrased like a question.
You might be surprised just how well Cortana listens for your search queries. I asked her to search for Machinarium (a favorite Windows Phone and Windows 8 game of mine) and she understood the query right off the bat, no repetition needed. Pretty impressive considering Machinarium is not a dictionary word!
Better than ever search results
Once you've typed or spoken the desired search term, you'll receive results in several familiar categories: Web, Local, Images, and Videos. But it's the Phone category we're really interested in…
Bing and Cortana can now search your phone's installed apps, music, calendar, contacts, email, messaging, and settings. This is quite similar to the Search charm on Windows 8 and RT, which searches practically everything on a computer or tablet. For instance, try asking Cortana:
"Find emails from < contact name>" and Cortana should search your Inbox for you
My search for Machinarium turned up two results specific to my phone: the game itself and the soundtrack installed in my phone's Music folder. Pretty handy way to find something when you don't have it pinned, can't type easily (just use voice!), or don't know where to look.
The 8.1 Search function does NOT search the Windows Phone Store by default. To perform Store searches, you'll have to launch the Store itself and search from there – exactly like Windows 8 and RT. I'd like the option to include Store results in general searches, not to mention Internet Explorer bookmarks and video apps like Netflix and Hulu. 8.1 can't do those things at present, but never say never.
On the plus side, searching your phone's email, messaging, contacts, and calendar is super useful. No need to scroll through a lengthy text messaging conversation now; just search and jump straight to the part you were looking for. Hop to all of your contacts with ease, and even find their birthdates if they're marked on your calendar.
Oh, and you can search for specific settings on your phone instead of having to hunt through the Settings menu. Search for brightness and you'll be able to jump directly to your phone's brightness control. It's fast and convenient, especially if you're driving and need to use voice instead of scrolling around on your phone.
Superior searches are near at hand!
Windows Phone 8.1 has just become available in the US for Microsoft's Preview for Developers program. It will become available for regular users in the near future as well. Whether or not you've already grabbed the Windows Phone 8.1 update, how do you like the update's new and improved search feature? What's the first thing you've asked or will be asking Cortana to search for?
Windows Central Newsletter
Get the best of Windows Central in your inbox, every day!
Paul Acevedo is the Games Editor at Windows Central. A lifelong gamer, he has written about videogames for over 15 years and reviewed over 350 games for our site. Follow him on Twitter @PaulRAcevedo. Don't hate. Appreciate!
Sorry to hijack on the comment but too many people using every article searching for Cortana...
On topic, is Onedrive supposed to be included in Cortana's search abilities, Daniel?

Can you help me guys, I've updated my phone with Windows 8.1 and now the market place is not available. PLEASE HELP!!

Its down at the moment. It was working for me just after I updated to 8.1.

Oh. Awww. Will it get restored ASAP? I'm typing this using Swype! \ol

I'm enjoying it so much right now! YES!

I think "seems faster" really applies in this case! ;) I'd also throw in seems cooler.

Ah!! Will have to get it tomorrow due to wifi requirement..

Really eager to have it hands on!!!

No Cortana! (India) also, cant open store. Help me please

No Cortana in India.......:( even tried changing region.... Anybody to help ???

Settings application 1st option is cortana

I also want to know..... Please... Someone say yes.. It's for India too....

I'm also from India and Cortana is working just fine. Head over to Settings and change your region to United States under language+region option. Or try downloading English(US) speech pack.

Cortana is already here. I think the first thing I asked was to remind me about a meeting today.

Cortana is only for US...?? Really...?? I am from India..... Please tell me...

Its only in beta, it was mentioned about a million gazzillion times it would start in the usa as beta, then goto uk then expand more

if you change your phone region and other region related stuff to US, you will get Cortana (in english obviously), in case you don't already know. i speak Spanish in my everyday life (i'm Chilean) so it sometimes don't get what i say to her, or i start to think mid sentence "how to say/ask for that" so it doesn't always work with my voice, But i can always write what i want and it works, it WORKS.

Windows store not functioning :(

Y im mot gettting the interface bCkground in xbox music. Im from india. The xbox music is working very slow and i cant have access to store as ive changed the region.

Any way to get facebook integration back into messaging/notifications hub?

Why would you want that? Just use FB messenger.

I don't know about you, but I actually prefer unified messaging. having a separate app for each messenger is a pain in the ass. That was one of the reasons I liked WP. Also why open up a facebook app just to comment??? This really sucks.

But having it integrated means it will only get updated in situations like this. With a system update. Having separate apps may piss you off, but at least those apps will have more features added and issues fixed a lot sooner.

Facebook notifications are now supposed to come in through notification center and that's not even happening

You must set Facebook notifications to "Toasts and Live Tiles" within the Facebook app under the Settings page.

Because it was great and one of the key differentiators of windows phone. Having to go to a (*&#% clucky ass app defeats the purpose of an integrated OS.

cant toggle off wifi in action center, it goes directly to the wifi settings page...

me to :( anyone can help??

I always being happy with my phone but now I'm amazed with it.

Still no Cortana (Russia)
Please help

Can't wait to get home so I could update my phone.

When watching videos, there's a popping sound when you fast forward or rewind

YES!! There definitely is a popping noise when you scrub a video! I thought it was just my phone, so thanks for confirming. My first attempt at fast forwarding a video crashed my 1520.

Are you having problems with Cortana? She keeps saying "I can't connect right now!" It worked this morning for me. Now she's ducked up!

I bet it's a bit of overload on MS servers today.

Oh my goodness! I hope this is the case.

Not true. You can also search the store by swiping from the right from start and choosing the magnifying glass icon and then coding "search store" after you're done typing. Pretty handy.

I'm in love ❤ with my WP more now.

What case is that on your 1520?

MiniSuit Rugged case. I reviewed it a while back.

Have changed everything to US and i dont see Cortana :(

How is it possible to do it without cortana ?

How do I get Cortana to answer my questions vocally, rather than web results?

Even I face de same problem.. It just keeps opening up bing all the time.. Btw I get to use a NL920 wbu..?
Hpe everything fixes up ASAP !! ;)

its cuz its only voice search its not cortana

It does it if it is a question (that you asked with your voice) it can answer directly. Ex if you ask it when the next Mariners game is, or what the weather on Thursday will be, she will answer directly with voice..

no quiet hours no bing search (I'm not talking cortana) here. damn!

Nice but not very powerful. Just looked with the name of a word doc saved on my phone. Does not find it. :(

Yeah, kind of disappointing in that regard.

holy cow the new people feed is harder to read. :/

Awesome, everything about 8.1 is just incredible!!!!!

I am not able to access Store after update. Anyone facing Same issue????

Yep even I am unable to open store

I told Cortnana: "Get the Facebook app" And she pulled up the official Facebook app from the store, some other Facebook app, and a link to "see more apps" that took me to the store. Although when entering the store the query still was "get the facebook app" which I don't think it's the more appropriate one in that context, hehe.

First thing I asked Cortana was "how are you doing?" (^-^)

Hehehe it wasn't the first thing for me but it was definitely among the first.

Excellent! Very happy to hear about universal search, especially with text messages. And hopefully they add the Store and app searches later on to complete it.

after update windows phone 8.1 my Lumia 520 restarting automatically for 2 hours (repedetly) ....what should I do for it ... any one help pls ....

I am not able to open my store .. It shows error 80a01f7 .. Please hr help

My store does not work. How do I get back to wp8?

Love windows 8.1 .. Hats offf WPCENTRAL for updating all the news !!!!!!

The Store is probably overloaded right now. Doesn't work here in Sweden anyway.

I downloaded the update and everything seems nicer, especially swipe typing!! I haven't asked Cortana anything yet because I am at jury duty, but as soon as I'm our of here I will ask alot!!

I got tha update nothing changes

Y'all sent in out those wack update...where is the 8.1

Can you help me guys, I've updated my phone with Windows 8.1 and now the market place is not available. PLEASE HELP!!

Store does not work. How to get back to wp8?

How to move my existing apps to my SD card?? Not the new ones.

So much win. Can't wait to get WP8.1 on my L920. Windows 8.1 search features are pretty awesome and Cortana will make it even more personal!

Store isn't working after the 8.1 update on Lumia 620 based in India. Help please

how can one use the qr code scanner that was built into the search button by pressing the "eye". I cant find this anymore after the update.

Ditto. Where is the QR scanner that was part of Bing Search?

I'm still waiting for WP8.1 :P
but have you tried using "Bing Vision" Lens??
You can access it from any Camera app's menu
(I think you can set it as your default app when you click the camera shutter button)

Good point. This area also had translation, which I guess you can use the translator app for but it was nice to have it under the Bing shortcut.

According to this post, it's now a lens: http://www.wpcentral.com/eight-tips-make-most-out-windows-phone-81

hm thats true, but not as convenient as before...

Agreed. Could be nice to have it next to the music search button in Cortana.

I'm still waiting for WP8.1 :P
but have you tried using "Bing Vision" Lens ??
you can access Lenses my opening any camera app and then switch Lenses,
(I think you can even set Bing Vision as default app, when you click the camera shutter button)

One thing that consistently seems to be missed is that you can launch Cortana voice activation by holding the search button. No need for two taps.

Sigh, enabling Cortana removes Bing Vision, aka bar/qr code scanning, now you have to go Camera > lenses > Bing Vision, such a PITA.

Hopefully they will put it next to the music icon in Cortana.

Damn, it's still unavailable in my region.

I want 8.1 but I don't have a developer account

Anybody can sign up for one; I'm not really a developer either. ~ ~

Dont u have to pay for it though?

Not for the specific Preview for Developers program. You should follow the link in the article and read up on it.

I would try it but i just read about some bugs of 8.1 and one was about here drive+ not working. I use this app sometimes when i get lost so i dont think i wanna get 8.1 and not have my here drive + working

Odd, I used this to find Glance in settings but it didn't come up for me. I wonder if its cause of it being a Nokia setting.

Did anyone else have to do a OTA Download first then the WiFi one wired why not just have all it all WiFi in one package got my hopes up now I gotta go find a WiFi spot

How do you search text messages? What do you say?
EDIT: Nevermind! Found the feature in the messaging hub!

Where is the QR/TAG now that the search button has been taken over? Where is FB integration, one of the key differentiators of Windows Phone? How is it that this is supposed to be a WIndows phone blog and none of the articles have highlighted the elements that have been removed?

After upgrading to WP 8.1 on my Lumia 520(India), i am not able to open the standalone Video and Game apps, after clicking these nothing happens, whereas I can open Music app. Any help will be highly appreciated

Whatsapp is not working in 8.1 version. Can anyone help me or solve this issue