Windows Phone 8.1 Update 1 lets you set the time without a SIM card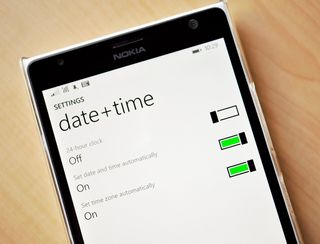 One of the smaller, but very useful features in Windows Phone 8.1 Update 1 is Network Time Protocol (NTP) support. If you run a PC, NTP is nothing new, it is simply the ability for the computer to ping the server and pulldown the time off the internet. (Wikipedia fact: It is one of the oldest internet protocols in use!)
However, Windows Phone did not support this, at least not until Windows Phone 8.1 Update 1.
This lack of NTP support meant that devices without a network SIM users would manually have to set the date and time. In fact, devices that are powered off for an extended duration become discordant and lose their accuracy. Moreover, some cellular networks, mostly in Europe and a few other countries, do not support setting the date and time over a cell network, making this mandatory.
Now under the 8.1 Update 1, users get an option under Settings > Date + Time called 'Set time zone automatically.' All though that seems innocuous, combined with the new NTP support in the OS, the 'Set date and time automatically' feature now fetches the information over a Wi-Fi network if a SIM in not available. We tried it ourselves by removing the SIM, fudging the time and date, rebooting and then enabling the automatic feature. It instantly corrected the date and time, without the user having to do so.
Additionally, the 'set timezone' feature should help with Calendar entries when traveling, keeping your phone in sync.
Like we said, it is a small feature, but considering it is "one of the oldest internet protocols in use," long overdue in the Windows Phone OS.
Daniel Rubino is the Executive Editor of Windows Central, head reviewer, podcast co-host, and analyst. He has been covering Microsoft here since 2007, back when this site was called WMExperts (and later Windows Phone Central). His interests include Windows, Microsoft Surface, laptops, next-gen computing, and arguing with people on the internet.
Even though its 8.1 thing, but I like the new store design! And also the fact that emails show as notifications.

I don't have Set time zone automatically on my phone...why? GDR1 on 920 here.

Same here.... Update 1 but no NTP. :/ I have a NL920 ...T-Mobile Germany...

I have a 920 unlocked (bought it from amazon.de) and I can't set to automaticaly even with the SIM card inserted. I have to manually set the time every fucking time after a soft reset. It's really a pain in the ass.

Yep same here. It might be a hardware issue because it was definitely available on my Samsung Omnia 7 afaik

Turn off you back up then do a soft reset then do when done turn back up on & back up.

It's not on my update either in uk

Many users have been suffering the time reset issues after changing region settings and restarting, that causes issues -strangely-, apps like youtube and vimeo stop working! good to see them taking those reports seriously

Nice only if you don't have a SIM which is the minority of cell phone users. What if our carriers have inaccurate time? I think most of the carriers don't have accurate time anyway so that should be the majority, granted it's usually less than a minute inaccurate. It's a typical solution came up by the MS phone function designers trying to target a narrow issue instead of providing an overall solution which simply is an option to sync to the NTP server directly, bypassing carriers or anything, like Windows have always been. With NTP, we have the best time source and why not use it in all cases?

Wasn't there this option before? I am pretty sure it was there before the update. The only difference is that it now supports NTP.
What was it using before to set the time automatically?

Had to have sim, as it got from network towers.

I remember few years ago my phone randomly sets itself to Albanian time zone. How that happens is still a mistery. And I had friend who missed a meeting because his phone automatically got set to another time zone when he's sleeping so his alarm doesn't work. Happened across OS, so it's all the carrier's fault

It used mobile operator for that.

But your operator had to support it. EE UK for example does not

Hm. That explains why mine didn't work at all. I'm from Ukraine and am using MTS...

Megafon, mts - Russia, same. You are not alone. Stupid lazy operators, at least my phone doesn't freeze often to make a two-buttons-reset.

Is there smart dial option in Update 1?! I had heard about that, the thing that shows name when enter the starting numbers.

There is no such thing
only speed dial. But it was there before the update too

It is a basic feature, I don't want to use some third party apps for that. Want it embedded in the OS.

It is? Not sure if I'd ever use it - Cortana's a beast in that department.

I prefer speed dial - less hustle, quicker.

Hey danny there was one mention in article of wp8.1 features that we can make calls using cortana over Bluetooth (in cars ) ..?? How to do dat .?:/ srsly I dont know :|

U mean activate Cortana hands free? I've read u should say "Call Cortana" and then say whatever u want. Check it out. Though I'm not sure its there yet.

We'll cover that later today.

This works for me... Connect Bluetooth headset to phone. Press and hold the answer phone call tab/button until you hear a beep. Cortana opens for voice instructions. I can answer calls, make calls, play music, say take me home and sat nav opens, send texts etc. Love this function so much. All without touching your phone ❤

This is not the same thing they're referring to. I could already do this before the update so apparently there is some new capability. I'll wait to see the article later today that Daniel mentioned

Some cars radios like having their own assistant, so Cortana wasn't used at all. Now there's a way to "Call Cortana" as she has her own number (5555559876 (6 5's)).

Update 1, is this the update that 1000's can't get to install due to errors.

It is. Can download but can't install :(

why people are so exaggerated?

Im sorry, I didnt catch that.. Totot.

I remember pulling out the battery resulted in wrong date and time during the wp8 days. But since WP8.1 it has been accurate.

It happened to me all the time after soft reset. Hope its fixed now.

What exactly is a soft reset? Is it just that you press & hold the power button and the phone restarts? Or something else?

Hold Vol Down + Power until the phone vibrates.

That happens to me right now with my 930 when I do a soft reset :/

Opposite for me , WP 8.1 date and time settings doesn't work at all and even the phone lags when I enter it , even after doing a hard reset nothing changes :/

I couldn't do that before?

Lumia cyan is now available in philippines country variant on nokia lumia 1320 but it doesnt appear on my phone update. How could that be?

That's probably because you have a developer preview version of 8.1. There was an article saying that u should downgrade to 8.0 using software recovery tool and then update to 8.1 without Dp. This way u should get cyan.

I thought all of us can update to cyan even in DP. Anyway. I wont do that anymore. Being a DP means advanced.

We will but there was an error with bitlocker and the update so they postponed it completely for dp but it is coming soon only thing I really want it storyteller back

What do you mean storyteller back? Mine seems to be working just fine on 1520

Living images doesn't work unless u have cyan update

Great! It is a small feature I have been waiting for!

How to force NTP when you have a SIM?

It already is forced I guess.

Thats why when i travelled the time would randomly change!!!

Nice! I often use my 925 SIM less and this will be handy! Posted via my Nexus 5

I had the option to set the time automatically with my 1020 on O2 in the UK (even with 8.0), but not with my 930 on EE.

I don't have this option either.

I always had my Lumia without sim and i could put the time just fine

There was no NTP support, so unless you are calling Microsoft liars and/or your phone has witchcraft in it, no, it was something else.

There might not have been NTP support but O2 and Vodafone have the option for auto time in the UK pre 8.1 amd post 8.1. EE does not. I know as I have phones on all three networks and even have unlock EE phones on the new 8.1 gdr 1 and still I cannot set the time automaticly with either no sim or different simms. That was one of the reason I move our company off EE. oh that and because they are a poor network, poor account managment and poor customer service.

Speaking of witchcraft. (Sorry for being off topic)
Daniel, is it just me or do you also have the following weirdness on your 1520? It worked just fine on 8.0. After updating to DP 8.1 it started lagging after using it a while(a few weeks). After installing each of the new updates it was running smoothly(again for a few weeks). Before the Update 1, I was also having a bit of lags, some stuttering screen when going back to start screen, etc. After installing the Update 1 today, it became smooth again. I hope the lags won't appear anymore. But still, have you experienced anything like that, or maybe you know what it is? P.S. I don't have Cortana pinned to my Start screen, and I have a Ukrainian variant of 1520 if that helps. Thanks in advance

Setting the time and receiving the actual time that's accepted globally and staying in sync without a sim card u could not do trust I know my simless 920 slowly loses time I couldn't understand til this article

Jr Dave , you're. Right that happened to me too , but since 8.1 my phone date and time settings doesn't work at all

I've always wondered why my 7.8 Lumia 900 has the time wrong! (it has no SIM and is powered off all the time)

No NTP option on multiple lumia devices in europe. Can someone ask MS why this is the case?

So we don't have that option? I can't find it at least

No. And I don't know why.

I've asked in the community forum as @WinPhoneSupport told me. The question did not get answered yet, but it probably will be eventually. Here's the thread if you want to check it out yourself: http://answers.microsoft.com/en-us/winphone/forum/wpdp-wppersonal/where-...

Can't find it either. Maybe cyan firmware is required? I have a l1020 and cyan is not yet out; the device is updated to WP8.1 GDR1 DP though.

Same here. I wondered why I couldn't find that setting on my German Lumia 920.

I was stopped the software downloading after 70%. Isn't I can resume the downloading.

Minor, but handy. I have a Lumia 920 as a backup to my 1020, so I don't have a SIM card in it. Having it keep time accurately will be nice.

There is no usb settings and even USB-OTG. Maybe in a few more GDRs

There are two very basic usb settings in 8.1 dp, if they hidden (not shown in settings) then that means they are not active. However you can search from usb via bing on your phone and swipe over to the local pane in bing.

Needs a firmware update, unless you "search" for it using Cortana, but when changing them, it doesn't do anything unless activated.

The previous bugs in dev preview 8.1 haven't been fixed in gdr1.
Tiles still take time to load it goes blank
Returning to home screen is still laggy
Loading resuming problems while multitasking
Battery life hasn't been fixed though I know that wp.8.1 pd has many features from wp8.
Notification centre lags while scrolling down when having more than 3 notifications

Do u have cortana live tile she seems to be the culprit for a lot of those issues and cyan clears some up as well

I haven't kept Cortana live tile.

I have been facing all those issues except the last one you mentioned. I believe cyan might resolve these issues.

Have you activated the third column on your start screen? Since I reduced it to two again, it works fine.
L920

Nah.. it wasn't working for me. After Soft reset after update my time and date was incorrect and I had to manually fix it. 928

After update pfd yesterday i have trouble :
-The "Apps Corner" cant launch cause always waiting for installed.
-Bbm beta cant launch, even when i uninstall and re install it and move to memory device.
The other running smooth.

My date and time doesn't work at all , even after this update , I changed the date to 7-8-2014 and time to 19:00 "its 18:00 in my country" and then turned on set date and time automatically it didn't work , it used to work when my phone was WP 8

I'll be honest, I have never had the automatic time work for me, I always need to set it myself.

I had it since WP 8 , after 8.1 it didn't work at all for me !!

Could be it used to work, feels like so long ago that I was running 8.0.

The stupid thing with this is that you have to take your sim out for it to work. Setting the time over the network doesn't work on EE in the UK, so the only way I can get the time to update over WiFi is if I remove my SIM. Ridiculous.

Need to add my sense of disbelief and utter frustration that something so basic is still unreliable after all these versions and updates. Just moved to WP 8.1 on a Lumia 930 from and iphone and spent a good half hour trying to get it to set the time before googling it and discovering this would not work on EE... Ridiculous yes. This experience started my descent into much frustration with this phone and frankly regret that I made the switch. There are some nice features but the best way I can think of describing the overall experince of WP coming from an iphone is 'clumsy'. Far too many rough edges and a sense of this is a phone designed by committee, and an arrogant committee at that.

You are right choosing WP was a wrong decision, they seriously lack the commonsense

Which NTP server does it use? time.windows.com? I do hope there is a feature to set IP address so Enterprise customers can use their domain controllers as NTP servers. Is it really hard for MS to have this option? Just asking. I think Microsoft has this long list of features that they don't reveal and that they are simply feeding us with bread crumbs here and there...I wonder where it will lead to? Sounds familiar.

It probably does use time.windows.com, I'd prefer to sync with time.NIST.gov. After all its the same thing that all atomic clocks in the US use. I usually switch my family's other devices ff of whatever Macs default to. I'm not sure syncing with DC's are a good idea, because it would only sync if its on the same network, or your server is public facing which is a terrible idea, would use more company traffic, but don't take my opinion over anyone else's....

Interesting... But can anyone please tell me how to get Cortana alpha in India.... Keep in mind I have used the method what windows phone central describes, but nothing... i.e region-India, speech-united states/united kingdom, language-English India.......

To get Cortana you shall have to choose Region US, English US and have to have WP 8.1. By the way does your auto time update work?

Does this mean that the stupid 'no sim' warning will finally go away? We have a 520 that we use solely as an xbox music player and that warning is getting really old.

This NTP thing does not work for me. Not at all! Although I was very much looking forward to it since my operator Tmobile in Croatia does not provide time.

My daughter, who uses my old 822 without a SIM, is very happy about this.

Microsoft have addressed some unneccessary things in this update. They still forgot to add a cursor in the dialler (Most basic thing) that is why WP is not growing. They need to address the basics first. First you should make the current software convinient to use, then go for more features. They are in a hurry to bring all the features and thus forgetting the basics. Like there should be a button on the home scteen of the store to check for updates and the option is in settings (Takes 2 steps to check for update in the store)
And there are more things like this. They need to revise the basics again.

Another basic feature missing...."speed dialling" introduced in 8.1, but does not have a "pin to start" option

Brilliant if you have 8.1 yet Lumia 1020

Choice of snooze times in alarm? Pretty sure that wasn't there before??

That was talked about yesterday. ;) You're correct though, that's new!

Nice, I use Microsoft Authenticator and under settings you can see Automatic time correction in the app, for the first time it says "Phone's time is accurate".

Carrier time != time.windows.com Sometimes it can be off up to a full minute, if your signal isn't very strong. Also the carrier clock only syncs when it is first turned on using anything from WP7 to 8.1. I haven't tested update 1, yet but I assume the same goes for it too.

When I manually change the time and date and then turn on the automatically set option, it doesn't correct the time and date. Am I doing something wrong?

It does not work for me either.

No, with the SIM card and Wi-Fi turned on.

That's the problem then, this only works if you don't have a sim in the phone. What a stupid decision.

I tried it without a SIM card, and it doesn't work for me either.

Okay I just did a soft reset with the option turned on and now the date and time are further wrong! Way to go Microsoft. PS. I've already installed the update 1 yesterday.

I´m on a Lumia 1520.1 with 8.1 GDR1 without Cyan and I don´t have this option :-( I´m in Germany but have set my device to US to use Cortana

Can I uninstall "date + time" settings ? , and then install it again , if I changed the time to 2116 I can uninstall. And system app "we saw that on a video here in WP central" but does anyone know how to download it again ??? Please. Anyone knows tell me ?

Why would you do that in the first place?

Because it doesn't work at all since I updated. My Lumia 820 to DP 8.1

This is epic, EE Business, for some reason, doesn't set time correctly. They are always 2 minutes behind atomic time, which used to cause issues for Authenticator apps, before Microsoft released their authenticator app, which synced (in-app) with an NTP server.

Where do I give it the NTP server URL? I assume it works off the phone operator's feed (which does nothing for me as my operator doesn't provide a time feed) until I give it an NTP server to poll, but there's no where to enter it? The only new option I have is to auto set the time zone, but that's not the most useful thing for me. I want the NTP but I only have the old option to turn auto time setting on or off (which has always been there, as it simply takes the operator time feed when available).

NTP doesn't use the time given by the operator. I guess that the OS is configured to use Microsoft's NTP servers.

Awesome, important for enterprise use.

A small note that I have hit, if you reset an att device without a SIM I tend to have mms issues. Like not getting them. It has happened to me a couple times and the only fix I have is to reset again with an active SIM inside. Felt appropriate to leave that note here.

Well, that would explain why I was able to actually see the correct date and time showing on my 810 when I booted it earlier (my SIM is in my 925). Yay!

Nice and very handy as my network here is SA (Vodacom) do not support setting the date and time over a cell network.

This is a good move but it needs to have an option to choose time server and automatic synchronization like ClockSync Root app on Android.

Surprising to see no article about app corner comes with the wp8.1 new update...

No ntp on my updated Lumia 820 either. The new live tile for the WP store doesn't work either. What's wrong here?

The automatic function was doing FA until NOW. Network provider never fussed about it (3 UK) and now Microsoft has stepped in.

The auto data and time is not working for me too. With or without sim card.. with or without update 1. That is very stupid because most of the operators support it but my home operator is notsupprting it and always I return from a trip have to adjust my clock manually. I hoped that now with NTP support all will be OK but may have to wait for the official update.. 1020 unlocked

I updated my 1320 from Nokia to latest 8.1 official one. Yet no ntp. No wonder why windows is straggling with market share. WP seems way behind Android and ios.

Thank Bob! I switch between my 521 and my Nexus 4, and having my 521 constantly fall out of sync was driving me up a wall.

Sorry Dan, this is not, and never, has worked on my L920 EE unlocked handset from 8.0 - 8.1 Update.

It didn't work for me (with airplane mode and wifi on).
I think Microsoft should add a button to triggers manual ntp sync

I'm pissed they were to thick skulled to put this in the OS from day 1... I had my L1020 with me on a recent trip overseas and a ton of my pictures are all out of order because the time on the phone kept changing and was always inaccurate. For how easy it is to implement this should, without a doubt, have been there since day 1... I guess I should be glad to see that 4 years later we're finally getting day 1 features...

I guess I should have also read the comments... tons of people saying it still doesn't work or it's even more broken now. Typical.

Still doesn't work in the UK. Country Variant 520 with a T-mobile sim removed and rebooted - i have always had to set the time and date manually.

Very nice. That was one of the issues bugging me with my spare phone, now its fixed!

I don't see this Auto update time option on my Lumia 920, with WP 8.1 update 1 ( DP though). Does anyone from India see this option?

I have WP 8.1 official on my 1320. It doesn't have that option either. Guess I am going to dump the WP itself.

Need this option with a SIM my time is shot to pieces pretty much all the time. It does not need Murch in the way of network traffic

It's about time this comes to WP, never understood why we didn't have this! Happy with it!

I don't see this option on my 930. Have to set it manually. Each time I soft reset or turn phone on and off have to set the time and date again.

Sweet feature. I use my 820 as a media device.

Lumia 920 Thailand version Error 0x80188301 and can't finish update. Try about 15times. How to fix it?

Doesn't seem to be working on my AT&T 920. And it is definitely running 8.1 Update (Black, not Cyan). With no SIM card the date is about 9 days behind, and has been for about 4 hours. And it does have internet access via WiFi.

Have WP 8.1 GDR1 and tried it on two phones (L920/925) and it does not work. Time is not changed. If it works in the end I would like a "Force Update" and information about the Offset.

I have updated my Lumia 1320 to cyan update (WP 8.1). There is no automatic time update option in my time/date manu. Any one having it on Lumia 1320 please let me know the firmware version. Windows phone sucks! They missed a basic feature like ntp.
Windows Central Newsletter
Get the best of Windows Central in in your inbox, every day!
Thank you for signing up to Windows Central. You will receive a verification email shortly.
There was a problem. Please refresh the page and try again.