New Windows Phone 8.1.1 build 14203 due soon, brings real-time Live Tile for Battery Saver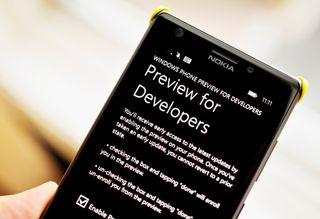 Earlier today, Microsoft unleashed a new update for their Battery Saver app. At the time, there was no changelog posted, so instead we had to infer the changes, some of which were obvious.
Tonight, Microsoft has updated the changelog in the Store, and it is a whopper, with many details about the refreshed system app. Even more, the changelog refers to Windows Phone 8.1 build 14203. The current Windows Phone 8.1.1 build for the Preview for Developers program is 14192, meaning there is a good chance Windows Phone users are about to get another OS update very soon.
Evidently, the newest build of Windows Phone 8.1.1 enables a 'Real Time Live Tile' for Battery Saver, which is the first of its kind for Windows Phone. The other big new feature that the 14203 Windows Phone 8.1.1 update brings is the ability for users to add Battery Saver to the Quick Settings found in the Action and Notification Center.
Battery Saver 1.0.14201.0 Changes
Foreground vs Background metrics: Usage bars now show foreground and background showing you how much power a particular app consumes whether you're using it or not using it.
Time Filters: We've added a filter also in the usage view where you can now specify the timeframe of data to look at. Can now show data from the last day, 2 days or a week.
What Does Battery saver do anyway?: Re-worded the settings page to more clearly indicate what battery saver mode does.
Real Time Live Tile: If you pin the battery saver app to start, it now updates in real time! (Requires build 8.1.14203 or higher.)
Quick Settings: You can now add battery saver to the quick settings menu and cycle through the battery saver options there. (Requires build 8.1.14203 or higher.)
Turn On until next charge: We added a new option to let users turn on battery saver until next charge!
Improved Battery usage scaling: The usage data now scales to actual device battery capacity with full width mapping to 100% capacity. Additionally, the bars now use a logarithmic scaling algorithm to make the bars more visible when usage is small for a particular app.
There is no word when an update for the Preview for Developers, although the last one did roll out on a Thursday nearly three weeks ago. Updates for the program are usually timed around three to four weeks apart, meaning Windows Phone users are just about due.
Today, Windows 10 Preview users received a major update, and Microsoft may be trying to time things more closely together especially before the forthcoming holidays.
Are you excited about a real-time Live Tile for Battery Saver?
Thanks, Süha K., for the tip!
Daniel Rubino is the Executive Editor of Windows Central, head reviewer, podcast co-host, and analyst. He has been covering Microsoft here since 2007, back when this site was called WMExperts (and later Windows Phone Central). His interests include Windows, Microsoft Surface, laptops, next-gen computing, and arguing with people on the internet.
This is sweet... Keep it up MS..

New oS update. Can't wait

Agreed. Can't wait. Hopefully it brings openvpn support!!!!

I hope it brings reliable VPN support of existing L2TP

Yes... That too :/ vpn and device encryption for non Enterprise devices is a must. Why MSFT haven't already done this is - well nuts, frankly.

The only thing is will the carries release the update

It's the developers preview so the carriers don't have a say in it

It's minor but significant. So DP for I'm guessing

Well I think microsoft should soon get mobile data on action center .! It will be quite helpful :)

DUUUUUDE!!! I totally agree, that's essential.

And for those of us with plenty of cheap data should have the option til let it be used. Like having video uploads to OneDrive via mobil data. The saving bit is fine, but why on earth isn't there an option not to save :P

I'm not hurting for data after at&t new double the data

And toggle between 2G and 4G. Anything above 2G kills my battery.

You can choose what you want to use in settings. No quick access for it tho.

Yes there is quick access. Use 8bit Tiles and link the tile of your choice to Cellular settings. It's what I do and it works fine.

+930 True... I have changed my to 2G and the battery lasted more than 10 hours.

MS will never implement mobile data to the action center, as the 24/7 mobile data connection is critical for their cloud craps to connect and track every single movement of the device owner (=you). If they offer quick ON/OFF switch to the avarage user, those may even consider to turn off mobile data during times they dont use the internet. And that would be a disaster to MS. So instead of giving the CHOICE to the user to turn ON/OFF mobile data from action center, they try to hide the ON/OFF switch as deep in the OS as possible, and make the switch OFF procedure as inconvenient as possible.

You exaggerated a little. It is not in DEEEEEP inside the OS. Just you have to go settings. They don't need mobile data to track things. There are many ways to do that. :) Posted via the Windows Central App for Android

@jangle13 they do have a say over firmware. but this is a potential os update and one that i think i was just pushed.... im installing it now ill check the build in a second

NEW UPDATE WAS JUST PUSHED TO MY ICON CHECK NOW!! :) yea i can confirm it is build 14203

Cant download apps and games over 20mb . Before i could download below 100mb from store. anyone noticed?

I'm glad live tiles are finally LIVE tiles. It separates wp from ios

Yeah but actual "live" tiles can only be done by MS and not by other devs which is sad

I have a feeling Windows 10 will change that..

I'm using appy weather and the live tile only updates when I open the app... is this the normal behavior then or am I doing sonerhing wrong?

The developer of that app possibly has not implemented the tiles to update every minute, or maybe it's not possible at all in WP

That's not true I've implemented live tiles (more than 1 live tiles) in my apps: TimeNoti and PlayStation.Blog. TimeNoti has 11 live tiles in total all updates every minute.

But that wasn't possible in 8.0 right? Those 8.0 apps aren't being updated to support updating tiles by the minute

Yup, It's only available in WP8.1 that's to via trick.

Yeah, I can't wait for true live tile XAML in my live tiles. I have an app "Clock Tile HD" that will be perfect for this! Moving clock hands will be great. Right now I have to use a few tricks in 8.1 to update the tile every minute.

but how does for example whatsapp do it? when i get a message the tile is updated in an instant

Push notifications can always update tiles, but this doesn't exactly make them live tiles.

Yes that's a trick by WhatsApp using push notifications. However, 3rd party devs can't create animated tiles like Xbox Music, nor can they update the tiles (in under 30 mins) using local phone data like battery status. Push notifications would require a dev to maintain some form of back-end.

Not exactly true. The app 'Analog Clock Tile' Updates every minute and I defintely see it as a LIve Tile.

I think those apps were only possible after 8.1, which may have added that functionality. In 8.0, I frequently saw devs complaining in their app descriptions how tiles can't update in under 30 mins.

Live tiles without push notification internet back-end database started to work only since WP8.1. In WP8.0 it was totally broken if you didnt have internet connection. Crazy it may sound, but that was the truth. A major product defect, you can guess MS didnt advertise this anywhere. Pro developers had to interrogate some MS support staff on the WP developer forum to admit the truth.

Anybody else find that 8.1.1 chews up battery life much faster than 8.1 did?

Turn off location for a day

Make Disply Sensitivity "Normal"

Cell data in quick settings are way more useful.....
-------------------
As for GDR2 for preview... I wonder where it is.

I totally don't get it. Why do "live" Live Tile of Battery Saver receive such an welcome?! I see it is not a big deal, since we can always know the level of battery precisely and the time, v.v...many info in Action Center with just a very little wipe down, even without unlocking the screen.

Yes, that is absolutely useful.

Hope the next update IS GDR2 *cries*

I don't think so: read this twitter status https://twitter.com/Nawzil8/status/528797789371658240 Build 14203 is a build of GDR1 branch

gdr2 with that battery update would be much better...

Perhaps the next build allows for a wider breadth of customization of for quick settings.

Need data on of setting badly currently im using livetile for this

A quick setting for volume control would be handy as well so you can toggle between volume and vibrate on, vibrate only and off.

In the latest preview for developers you can already do the toggle volume for apps, notifications and vibrate on/off, no? Just tap the icons

This can sort of be done since windows phone 8.1 just press the volume keys and tap the little arrow on the top right there you have vibrate on/off and tapping the bell icon silences on/off

If you're in the US, you can always put Quiet Hours in the action center and then it's just a swipe and a click to silence your phone. If you're not in the US, you could always complain to Microsoft about why a Do Not Disturb function should be disassociated from a personal assistance application.

Is this really necessary now though? Once wifi is on, that's takes over data use, right? I have unlimited, but use wifi when available and that handles it all for me. Options are nice, but how much do you really need that one?

Everybody doesn't have unlimited data pack... And it's already available on competing platforms... And how difficult would it be for them to provide a data toggle in action center

Yes I don't see why this is so hard for MS

High priority for me, was kinda disappointed when i came to know that it's not there in the action center... People without unlimited data or WiFi have to keep switching the data on and off... So for us it's most commonly used setting other than brightness settings, helps to be in the action center...

I usually have unlimited data (if not using some other countries SIM card) but during the night I like to switch all the connection off leaving just the phone to receive calls. Since the silient hours are not implemented outside cortana that's the only way to avoid IM during the night..

I don't know if any of you have experienced this but my phone uses WiFi and cellular at the same time. I get the "arrows" near the icons for both cell and WiFi. This happens often. I do not have unlimited data so thats the problem.

Yes, mine does that also.

There's a setting that allows data to be used if your Wi-Fi is considered weak. Uncheck that option, remember that WP especially on my 1520 wifi sometimes remain connected but it would just be stale.

When you are on wifi you are not using your Plan data.

For me it might also be useful to actually have more places in the quick settings menu. Like scrolling on the side to show more or something like that. I really like the simple design of WP but when the design gets before usability I'm not so happy anymore..

I just hope they aren't adding anything that will not carry over to W10. Actually seing how W10 is supposed to pretty much completely replace WP, I'd rather they concentrated on that.

Updates are always welcome.

Should add mobile internet to quick settings too.

Yep, its such an obvious feature I don't know why they left it out in the first place.

Awesome..finally as MS is shifting focus to WP

Relax it's just one small feature.

Yes, but its a feature that should have been left out. That's why people are happy. So many small tweeks that Android has had for years are slowly coming to WP. And that's awesome :)

Okay, do not download once released then, coz its a small feature :-P bro, updates should always be welcomed as those will bring in something new, hope you get it :-)

Should've been there in 8.1 but it's nice they're finally doing something with it. The menus where you select app usage and duration still needs to be fixed though.

Yeah that looks like the work of a 10 year old

Not bad. I'll take it. Can't complain about added features

Wait, wasn't the battery tile live already? I mean it does show the battery status?

Right, but it updates in increments. There are not really many 'live' Live Tiles, except for some clock ones.

So you mean something that updates the battery status on the live tile every minute (that's the soonest possible)?

Or even faster. Like instant. Like its on Xbox Music. If you stop the playback the live tiles stops with the current act and dispalys just the icon...

1 minute is the smallest available interval when the app isn't running.

I know. Im a dev. But Microsoft does not have this limits. :) look at Cortana live tile. An animated live tile, something that we cant do. The same is with xbox music. And both are instant without this 1 min interval.

There are reasons - power usage! Think how many bad devs exist and how quickly the phone battery would die if everything updated in real real time. Perhaps some new APIs will come which permit more tile updates now the battery feedback tools are better (and dev tools) as it should be more obvious when misbehaving apps exist.

I know. I'm just saying that MS does not have this limits and therefore they can make such live tiles...

Why on earth would even bad devs update everything real-time? And even if they somehow managed to do that, wouldn't it just be another point of differentiation for the good ones?

I think before the tile would simply update on a set schedule but now they mean it will reflect in real time exactly what the battery meter is reporting at any given point.

+1. By the way, is there a way to upvote comments? I hope in the next version of WC, it will support up/down votes :)

It exists on their website, just not on the app yet, but they did say features similar to those that were introduced for the web version of WC would be brought to the app and if i remember correctly, up/down voting is one of them.

Great news!!! Updating...

Please make the updates faster ! PLEASE

So Daniel, the wp update includes just "real time live tiles" nothing else included?

It may include many more features or just another minor one. I believe Daniel only based the assumption from the change log of the battery saver app and not from info coming from his sources. (come up to the same assumption just by reading the change log of the app).

Correct. Build 14203 likely includes many other fixes and improvements, but this is just one we can point to tonight as definitely coming.

Hopefully it fixes live tiles issue, when I scroll really fast live tiles become blank and I need to wait for second until they return to normal. Wp8 didn't have any of this.

I know. It's sad that every update for Windows Phone compromises performance and uniformity in the name of making it more like Android.

Yup, WP8.1 is slower than WP8.0 in many aspects. You can see that by looking at the new Universal controls as well, if you take a ScrollViewer in WP8.1 and 8.0 you'll see that the one in 8.0 is much smoother. Same thing happens when you change the pivot page in WP8.0 or when the CommandBar gets updated with new Buttons (you can see that by opening Xbox music and panning through the panorama).
I hope that with W10 the new controls will be as fast as they were in 8.0 :)

I was experiencing this on my 920 but not at all on my 930, so im thinking it's due to processing power.

How many tiles do you have? Omg...

And this build could be the GDR 2?

Maybe not... https://twitter.com/Nawzil8/status/528797789371658240

I'm hoping they fix the ever increasing OS space usage. Upto 5.6gb. Should only be 2.4gb. Its not clearing out install files. Etc.

More than 8GB for me... :P

Update: A new preview version for wp8.1.1 is available. Check for updates!

Where? Lol I don't see any :P

Try check again. I got it ady, will install later on.

Are you sure? I just checked, I don't have one :(

Nothing here in UK.. And nothing officially stated via twitter.

Let me guess, it's probably a long overdue update.

Meanwhile, in Verizon Land.... :'(

Preview for developers bypasses the carrier update route. Just not firmware. So you'll be able to get this on Verizon. :D Hopefully one day they'll do firmware preview or something.

Yeah... Why is this such an accomplishment for WP? It's a no brainer, and should've been there from the beginning.

I have no use for the notification center. The live tile, however, is precisely where this update needs to be, so I'm looking forward to that.

No use for notification centre? It's easily my most used 8.1 addition. Being able to check notifications without going beyond the lock screen is v.v.useful. & I don't have to pan around my screen trying to work out what app just pinged me :)

I totally agree with you. The only thing the notification center does for me is show me exact times on things. If live tiles could do this, no one would need the notification center at all. I mean, its kinda lame we need a notification center anyway because isn't that the whole point of live tiles??

Do you plan to put every app on your start screen, though? I don't. I'm always unpinning this or that to make my screen "cleaner". If I get 20 notifications at once, I'd rather see them all in one place than go app to app seeing if any have a counter on the tile. And yes, I have gotten 12-15 at one time...9-10 of which were FB...and today the advanced warfare app popped up 10 telling me someone applied for my clan even though it was one person. That happened twice today.

I do see where you are coming from but it just feels too much like every other OS in my opinion. I mean, why not just move away from live tiles and just have a "home" screen like iOS or Android? Might as well if we don't need the so called "live tiles" anymore, right?

Agreed. The notification center feels very redundent when you have a glance screen, a lock screen, and live tiles. Wish I could disable it and just use the drop down action center.

The more options the merrier. For ppl who dont get lots of notifications a day, it might seem useless but for those of us who receive over 100's from apps that our essential to our everyday use, it makes it easier to see if there if the notification is of urgence or from who rather than having to find out which apps we might have gotten the notification on and having to open the app just to realize it was an unnecessary notification. I have 4 mailboxes that I use, sms, whatsapp, viber, Skype, facebook that i get 100's of notifications from (and im sure im not,the only one), some urgent and some not really, so the notification center is a nice and quick way for us to have an overview of the notifications we received, as opposed to figuring it out. In the case of messaging apps for example, u can see who sent the last few msgs as opposed to a count or the last msg. The way i see it, notification center for a more detailed breakdown of notifications, the live tiles are a nice reminder and lockscreen is simply a quick glance...but thats just my opinion.

Trust me, I do see what you mean as I do use the notification center as well but everything just kinda feels jumbled and rushed to me honestly. I know MS is just trying to please people but I just wish we had a more polished and "complete" OS honestly. I'm sure I'm not using the right words with all this and I don't know any other way to get my point across unfortunately. Idk I almost feel like there is just too much going on and its kind of annoying maybe?? Idk lol.

Hope MS updates notification center too before Windows 10 gets released. Actionable notification, etc.

November is almost over. Where is the rollout for stock windows phone? And where is the Lumia camera app we were promised?

dude, it's still November 13!

Lol... "almost over"... Powned!

Thanks for making my day!

That's great about a new build on the horizon. Can't wait.
Just updated the battery saver app and pinned it. It's just an icon though it needs a percentage to br useful..

Amazing! Lets do similar for data sense!

While they're at it they should put the cellular data toggle in data sense, too.

You can have the Battery Saver in the Action Center with a little update, and we wait almost a year for the Cellular (3g/4g) in the Action Center ¬¬

Not really important... As you said, still not here after a year. Maybe that is telling you something....

Yes, it's telling me that: Soon = More than a Year

Android can say that a feature is not importante, because they have +70% market share..

Problems with Carriers. Believe me.

Six months... Now a year.