Windows Phone Central: Three million strong and growing, thanks to you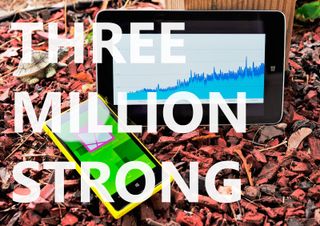 As we start to come to the end of 2013, we figured we would have a little site celebration and say thanks. Just a few days ago, Windows Phone Central hit the 3 million unique visitors a month threshold.
To put that number in perspective, it was just 11 months ago when we hit 1 million uniques—that's a healthy 200% increase in less than a year. One-third of that is US based, while the rest, we're proud to say, is the rest of the world...
Site traffic as counted by Quantcast
We're also hovering at 14 million page views a month, attributable to our front page news and the largest Windows Phone forums around. Likewise for Twitter as we're nearing 100,000 followers (we're at 96K today, and should reach 100K in less than 10 days at our current rate). Finally, our fantastic app built by Jay Bennett has nearly 230,000 installed users (and yes, an update is on the way along with our Windows 8 app).
WPCentral App installed user base
There's no doubt our explosive growth is keeping pace with Windows Phone adoption and at times exceeding it. We know that's due to the fact we have a sizeable amount of our audience who are looking to jump to the Windows Phone platform in the future, so for now they're lurking and learning.
None of this could be possible of course if it wasn't for you folks, who come here every day for the latest news (and lovingly grumble when things slow down on the weekend). Through your tips, recommendations, comments and general enthusiasm, we've been able to grow and shape this site according to your wants and needs.
And it's been our pleasure.
Twitter growth rate for WPCentral (via Twitter Counter)
Every day we're humbled to see the passion of our audience and we're privileged that for a few of us, this is now a full-time job. With new device launches happening every few weeks, the Microsoft-Nokia deal on the horizon, Windows 8.1 and next year, Windows Phone 8.1, we have a lot planned for this site.
We're not perfect and we're constantly learning things ourselves, but we're promising to keep trying harder every day to make this the best Windows Phone site on the planet.
Thank you,
The Windows Phone Central team
Daniel Rubino is the Editor-in-chief of Windows Central, head reviewer, podcast co-host, and analyst. He has been here covering Microsoft since 2007 when this site was called WMExperts (and later Windows Phone Central). His interests include Windows, Microsoft Surface, laptops, next-gen computing, and for some reason, watches. Before all this tech stuff, he worked on a Ph.D. in linguistics and ran the projectors at movie theaters, which has done absolutely nothing for his career.
Congrats chaps! Your doing a blinding job

It's all because of ⬆his guy.. Lets give him a round of applause❕❕

Samsung is using cheapest plastic for their phones,which indirectly is harmful to our skin.They kill people for making profit themselves.Its so harmful for our hands see here http://tiny.cc/klcf6w

Ya its right samsung is fooling us .....

I one of the million and million and million

I am one fo those who complain on the weekend :P aside from the great news you deliver, i like the way your write guys.

Glad to be on board. I've actually dropped a few other forums because of you guys - if thats not a compliment, I don't know what is : )

WPCentral T-Shirt giveaway is in order. Everyone loves T-Shirts. Everyone in college loves T-Shirts even more. Congratulations, guys! Looking forward to seeing this community grow even stronger.

Especially white shirts on hot chicks and cold water buckets near by.

What about white T-shirts on hot guys with chaps,

I want a cat t-shirt with it eating a YouTube logo.

I want a t-shirt with the WPC logo eating a cat...

So this means.... More contests to win stuff? :)


Nope! It means even less chance to win stuff. :(

Thanks for you WPCentral,
WPCentral is part of my life and feeling like a family here... Thanks for the staff, thanks for the members. Congrats WPCentral :)

Best winphone site hands down, grats and well-deserved

No spare time goes by without checking what's new on WPCentral. I check emails the most, followed by WPCentral and then SMS and then anything else.

Shoot, I check the page nearly 3-million times a day!

+925 to that. First app i load in the morn and last before bed, and a billion times during the day everytime j pick up my phone, for any new app updates or news

Egads, I thought I was the only one who did this. Glad I'm not alone. It's my most used app daily.

I guess we're all equally nerdy.

haha true, grats guys! keep up the awesome and hardwork :). Come to think of it I think I am an addict!, I have WPCentral to load up as a tab on both my work and personal account, I check the app after I wake up, read the news whilst brushing my teeth, having my breakfast and on the way to work. Sometimes at lunchtime I browse the forum, aswell as on may back home and before going to sleep.. now that i've listed everything down.. I think I need a detox... then again I wouldn't last such a detox LOL.

Awesome to be a part of this.

And I was here from the very beginning....I love this site.

Nice job guys!
Btw, what's that tablet in the header image?

That's the new Lenovo. Hands on /impressions coming probably tomorrow.

Looks and feels like more bezel than I would have wanted. Any Win8s out there with minimal bezel, would love a 8" form factor having ultra thin attributes overall.

That tablet has small bezels. Don't go by that picture.
Check the official pictures by Lenovo or check the Amazon listing.

Hard to see, but the graph on the display isn't taking up the entire display. That's why it looks like it has insanely wide bezels.

So where's my free phone. I get a free Windows Phone of my choosing with everyone from WPCentrals autograph right?

I even won a license plate back in 2011 and didn't check my email on time...LOL

Not a wp owner but I love the site, writers, and the awesome community here. Good job guys!

What are you waiting for? BBM?

Lol no, although it would be nice. I have become to used to BB10, and it's predictive keyboard, unified "hub", best in class security, and amazing swipe gestures. BlackBerry just works for me, but if I ever had to switch it would definitely be to wp.

Hate to break it to you but uhhh BB isn't doing so well so you might be jumping on WP sooner than later.

They just got a billion dollar investment, a new and dedicated CEO, and recently made a cominment to continue making hardware. I'm pretty confident they're going to be around for a little bit longer.

That´s another good thing we got going on here. Even if someone doesn`t own a windows phone he can still voice his thoughts (respectfully) around here and not be trashed by ten thousand fanboys who think you`re an idiot if you dont "follow the leader". I was "stalking" WPC for weeks before i finally decided to ditch android and buy a Lumia920. I would say WPC had a BIG part on that decision.

So true, I have never been bothered about my device choice once on wpcentral, but ironically I have been trolled on multiple occasions on CB. Go figure lol

No problem, I do what I can.

That's good stuff right there. Nice to hear it.

Super. Keep up the good work!

Wow, congrats! All you guys on the team should share a beer or two tonight!

Yay, Sam is buying digital beers.

This site and app is part my daily routine and therefore life. Don't always agree but do always keep reading.

Awesome really loving you guys and girls!

Looking forward to see what you guys have planned for next year!

Great work, take the weekend off and celebrate, no wait, don't do that. Might get complaints about the lack of articles.

Congrats lads! Keep up the good work!!!

Hats off to you bro, keep on the good job

Well done guys, you do fantastic work. Love the app and the content.

Way to go on the iMillion 3. :)

Hey Dan is the interview still going to happen? I sent an email.. You might be busy with 3 other million people email you lol

Shoot, forgot...lemme respond now.

Congrats guys. wpCentral is the best source for all Microsoft.

Thanks to you and your entire team. Great job!

I too have been with the site since the early beginning, I remember when Daniel did almost everything himself and how excited we were when Jay got the app up and running, its truly a testament to Daniel and the entire team for all they have accomplished in so short a period of time , congrats guys

3 million! Wow! Go WPCentral!

Here's to the next 3 million!!

The amount of times I visit wpcentral is unhealthy

Oh, we sick ones are all with ya...

My favorite site. Love this community. It is kinda stupid, but even though I love me WP, WP Central really adds to the WP experience.

Not stupid at all. My thoughts exactly.

I feel that I am WPCentral! I use the app so much! I can't stay away! Thanks and congrats!!!

Wpcentral on my 920 is the first thing I look at every morning... and lunch and dinner and bed time, oh dear! Keep up the great work!

Congrats! You've done a nice job with this site and I'm looking forward to what you'll do next...

WP Central: Cheers!! Woohoo!!

I must say that I researched a lot by reading articles on WPCentral before jumping onboard with Lumia 1020. Coming from iPhone 4 i couldn't have been happier. Yes there are some niggling issues but I hope they will be ironed out in due course of time.

Any word on Instagram? Kidding, congrats and great job!!!

Congrats, guys. It truly is impressive how you all stay so enthused about WP.

Huge congrats and an even bigger THANKS!

How do your numbers compare to those of the evil empire's Droid site and the drone's iPhone site (assuming that the red headed stepchild (BB) is out of the mix all together).

Oh they do more, but they do less than their market share would suggest. Translation: proportionally speaking, we do more than iMore and AC, so if/when WP market share grows, our site will be very large. We're more like CrackBerry in terms of domination.

I'm number 1!!! GO Ahead!!!! Comment about it!!!! Say I'm not!!!! I'll show all of you!!!

If every news site was run as well as WPC, this would be a better world! Congrats! Any thx for the statistics. I've been wondering for a looooong time.

Congratulations. Here's to many more years of continued success.

Congrats guys, wpcentral rocks!!

Ownage by Daniel. Fatality!

And just the fact that it shows that 2/3 of the readers are non-US, you Americans can stop talking about how the US is THE most important market for windows phone. ;) (not trying to start a war, just feeling a bit silly today. Don't take me seriously)

Agreed! It's also ammunition against those that say "this isn't in the US, therefore it's not important" (in regards to non-US apps, releases, or news)

Although I agree with your overall point, I have to point out that unless another country has more than 1/3 of the readers, then by that metric the US is actually the most important market for WP.

Congrats, how many app downloads?

Well, everybody else said it so I'm not going to say anything ... ahhh who am I kidding, love your work.

Congads!!!! Thanks for bringing up the latest news. And great to hear about win 8 app

I open the App like 10 times a day, you made me an addict :S, but congrats! :P

I know the feeling. It's freaking ridiculous.

Great job, guys. We appreciate you!

I came from webosnation be4 it was called that Tim wrote an article that convinced me that a switch to windows phone would be good Os for webOs lovers and for me it has been since I'm not crazy about IOS or Android so though I miss Derek I've grown to love Dan Rich Sam and our favorite app developer Jay

First thing I check when I wake up is the WPCentral app. Last thing I check when I go to bed.

Haha that's what I do too! I'm actually reading this in bed now, contemplating going to work soon (it's 7:30am)

Yay, I'm glad to be part of the community.

Thank you guys! Best Windows Phone source!!!!!

My other 2,999,999 accounts i use for competitios have made the news wahey! :D

Congratulations guys! Keep up the great work!

Celebrations are in order, we should have a promotion going on to have WPCentral app on Windows Phone store free for 24 hours please :)

You guys are doing an awesome job with this site

More Xbox news. I still need other forums/blogs for my interactive entertainment news needs.

Ok Congrats!!! Lets make it 10!

And your welcome good brotha!

Windows Phone Central is my favorite website for Windows Phone news.

Keep up the amazing work! Best site ever for Windows Phone, it's great having a passionate community who believe in the success and growth of Windows Phone!

Must be all dem windows phones sold ;-)

I've used all the mobile operating systems, but WP8 is my preference by far. The downward scrolling and the tiles which fit into into each other make it a truly beautiful, clean, and smooth operating system, and I love the SkyDrive integration over all my devices, that's something iCloud can't do. Well done, Microsoft, keep up the good work.

Keep doing what you're doing WPCentral!

Congratulations! You're one of the only tech blogs I consider with reading, and that's saying something.

Keep up the great work guys! I love having "This" site as my number one go to for everything WP8!!!

Now a free WPCentral app would be great for thanksgiving celebration. Lol. Anyway, Good job WPCentral. Cheers!

There's no difference between the trial or paid version... Except you get to show Jay your appreciation for a buck with the paid one ;)

I just love WPCentral and now it's become my routine to read your great service every day.