Windows Phone Central App Roundup: 2012 Summer Olympics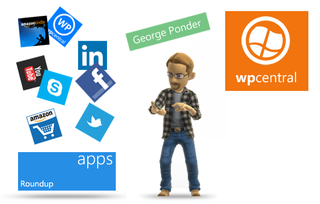 Windows Phone Central's Roundup of the 2012 Olympic Game apps
[With the Olympics kicking off tonight, we figured we would bump our roundup of apps for Windows Phone that will keep you up to date on the massive sporting event. -- Daniel]
The official Olympic app hit the Marketplace a few days ago, London 2012, and these are a few of the alternatives that stood out to us. Some stand out stronger than others and some have features that have them stand out a little. Also remember that this is just a sampling of what is available. The number of Olympic apps at last count was pushing thirty. If you've got a favorite Olympic app that didn't make the cut, feel free to share in the comments.
London 2012 TT (free): The TT in London 2012 means "Timetable" and the app does just that. It spreads out the Olympic game schedule rather nicely in panoramic fashion. You have a page showing the current games underway, a page for the games up next, a page with the overall schedule for the games and a page breaking things down by sport.
From the three-dot menu you can pull up news items on the games, filter out the sports, access the app's settings and view the About screen.
Two features stand out with London 2012 TT. First is that if you tap on a particular game, you can set a reminder for that game. Second, you can pin a sport to your Start Screen for quick access.
London 2012 TT is a free, ad supported app that you can snatch up here at (opens in new tab) the Windows Phone Marketplace.
Olympics 2012 (free): Olympics 2012 offers a main menu that sends you to a listing of the Olympic venues, sports, Paralympic sports, and a news feed page. The venue and sports listing pages will offer you the number of events and athletes involved.
Unlike London 2012 TT, Olympics 2012 lacks any scheduling of the games. It's strength rests with the news feed and that isn't all that strong. I could see Olympics 2012 being a supplemental app to one of the others in our roundup. It just lacks girth.
Olympics 2012 is a free, ad supported app that you can find here at (opens in new tab) the Windows Phone Marketplace.
Olympics (free): Olympics is an extensive news reader for the 2012 games. The app's main page is a search page where you can search for news, videos, and images based on Country, Sport or Athlete. Not sure what you want to look for? Just tap "all news".
At the present, Olympics is only a news reader but an update is in the works to add the game schedule and medals tables to the mix. We'll keep our fingers crossed that the update hits before the start of the games.
Olympics is a free, ad supported app that you can find here at (opens in new tab) the Windows Phone Marketplace.
Olympics (free): I know. It get's confusing when all the apps are titled "Olympics" or "London 2012". While Olympics, developed by Pocket Software, may not stand out by it's name, it does stand out by it's content.
The main pages of Olympics contain pages listing the Events (broken down by sport), a listing of the Venues, a Schedule of events listed by date, and a News Page. There's also a Information page that tells you about other apps from the developer, a link to the official 2012 Olympics website and access to the Olympics About screen.
The strength of Olympics rests with mapping. If you pull up a venue listing you can show the location on your Bing map. Pull up an event and you can pull up navigation to the venue from your current location. The event schedules haven't been added so we aren't sure if you can set reminders or pin an event to the Start Screen. Even without such features, the mapping alone makes Olympics stand out amongst the other Olympic apps.
Olympics is a free app that you can grab here at (opens in new tab) the Windows Phone Marketplace.
2012 Olympic News (free): 2012 Olympic News is, as you would guess, a news reader for the Olympics. The app lays everything out nicely with pages for what's new on Facebook concerning the Olympics, the latest images from Flickr, Twitter chat using the hashtag #London2012, and a news feed page for several major news outlets.
The image page can be pinned to your Start Screen for easy reference and news stories can be shared via email. 2012 Olympic News' strength is the library in which the news stories are pulled from. Sources include the BBC, New York Times and USA Today. The only thing missing is ESPN or another dedicated sports news agencies.
As with the other apps, 2012 Olympic News is a free, ad supported app that you can find here at (opens in new tab) the Windows Phone Marketplace.
So there you have it our 2012 Olympic app roundup. The great thing about each of these apps is that they are free so you can load them all and pull from each of their strengths. Keep in mind that some of these apps are waiting for content updates. Game schedules may not be set in stone and team rosters may not have been finalized. Most apps will display an update alerting you that the content is pending but sometimes it's not as obvious.
We are still looking for two more 2012 Olympic app releases. First is the companion app to the official Olympics app, London 2012 Join In. Join In is a mobile guide to help people plan, enjoy and share their Games experience for the Olympics and Paralympics. Second is Ripple that has already released the iOS version and should have the Windows Phone app out any day now. Ripple incorporates scores, medals, and news into a map view of the games. Once these two titles hit the open Marketplace, we will let you know.
If you've stumbled upon a favorite Olympics app that we didn't list, feel free to share in the comments. And if you'll be in London for the games, safe travels and have a great time. If you see Rich, Jay, James or Robert tell them to get to work!
George is the Reviews Editor at Windows Central, concentrating on Windows 10 PC and Mobile apps. He's been a supporter of the platform since the days of Windows CE and uses his current Windows 10 Mobile phone daily to keep up with life and enjoy a game during down time.
Yeah.download it yesterday pretty cool. Just don't know the background color. But who cares has long it gives me the latest results

Great to see a Windows Phone apps for the olympics, pity our app was not included, while we deliver the largest selection of content for the Windows phone regarding the London 2012 Olympics. The schedule is not featured this app, we focus on the athletes, content and design. We created a beautiful app in Metro style called London 2012 Experience to deliver more and better content in compressed format through our own index servers, because we want to deliver more service than a regular RSS reader. We design for quality and speed, therefore all news layout is consistent and includes large images and slide shows. We bundle news from more than 500 sources so you can read, view and listen to London 2012 olympics in just one app. The app includes count down, news, twitter, facebook, photos, blogs, videos and live tiles with near real-time updated pictures to indicate content updates. We intend to deliver a new localized version this weekend with selection of language for the news feeds. Hope you have some time to download our app and to give us feedback: download

Wish there was an app that had live streaming, but I'm guessing that's up to NBC and other regional broadcast networks. Especially since this http://wmpoweruser.com/smooth-streaming-client-for-windows-phone-7-now-available/ was available at the time of the 2010 Winter Olympics.

Nice reviews. I'm quite disappointed that NBC and Adobe didn't bother to consider windows phone for the live app where you can watch the games. Instead they chose iOS and Android. The ironic part of the Android part is newer devices such as GS III, One X, Transformer Prime aren't even supported.
Really, It's such a pity. Oh well, thank God all is not lost. We still got the official apps. So they can go and shove their crapps in their rear.
I guess this explains why NBC wanted to buy back their share from MS. Bunch of ass execs who are so blind to realize and accept Windows Phone as a legitimate platform.

Whatever happened here? comments aren't posting anymore...grrrr tried unsuccessfully to post 3 times. If this was The Verge or Engadget, I'd understand... cuz it's like WalMart over those sites..

I am a fan of this app Olympic News: http://www.windowsphone.com/en-US/apps/4137d1b4-c4fc-45e4-bc45-07e2d9f95e34

Any way at all to stream? I know there is a company doing nothing but making different streams for different devices, but I don't know where to find the streams!

Answering my own question, apparently you cannot view on a WP device. Site requires flash of all things lol. Nobody told NBC its dead I guess? Even adobe knows its dead.

Official app pretty slow to update results. Men's bike race was over hours ago and no results posted yet..just says "finished"
Windows Central Newsletter
Thank you for signing up to Windows Central. You will receive a verification email shortly.
There was a problem. Please refresh the page and try again.