From the WPCentral Forums: AT&T Nokia Lumia 900 shipping today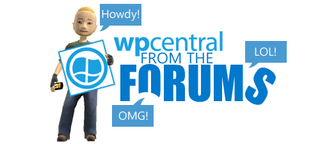 If you pre-ordered the AT&T Lumia 900, today is the day for it to ship if we are to get it in our hands tomorrow. It was reported that if you Pre-order your AT&T Lumia 900 and you'll probably get it early right here on WPCentral and everyone is anxiously awaiting their tracking information from AT&T.
We have a thread started in our forums Official 'Has your Lumia 900 shipped yet?' thread where I am certain we will get our first indication that they are on their way. This is the thread to watch as a lot of us are refreshing our AT&T order status awaiting any changes. If you want to know the minute these devices start shipping, this is the thread for you.
If you just want to show your excitement for today's activity, forum member txaggies07 has started this thread "Shipping Day!!!". Come share your excitement. We are also still talking about any potential delays of our phones in this thread "Backordered Status?". We have heard many opinions about this and it has put everyone on edge. We share in your anxiety, so don't despair. Come join us as we're the best support group around.
Remember, the forums are more fun when you register, so sign up today.
Windows Central Newsletter
Get the best of Windows Central in in your inbox, every day!
I hope I get it tomorrow. I am starting to have my doubts

Someone track facebook app usage for WP to see how many units were shipped

I believe if they use FedEx we can still receive on Saturday since FedEx is open for business.

Mine is showing as processing, and this morning it was still backordered. This doesn't mean it will ship today, but its progress.

Mine said that also this morning but now it's not backordered anymore but it's still saying processing

Mine account info said the same, "processing". But my friend at att said my 900 will go to the store instead. Can't wait to have the 900. I have been using a 800 for 3 months already, and the 900 answers my complaints of the 800; screen size and front camera. Hope I get a call from my att friend tomorrow. (then I have to start thinking how to sell the 800).

I know the stores in Tampa,FL have Lumia 900 in stock at a couple different stores. I saw the stack of phones locked behind a cabinet. They have both colors blue and black. Still debating on leaving Verizon.....

I live in Tampa as well, phone is sick.

Am also thinking of leaving Verizon. Saw the two devices in store & wouldn't mind paying the ETF for this one but may wait for the white ver.

I know Verizon service is good cause I use to have them but now I'm with ATT and with the wp7 service is not bad like I'm use to hearing im just mad lte is not in my area yet but i know the lumia 900 will perform well because my titan do an excellent job

Mine has shipped and will be here tomorrow!!

Did you get an email or did you happen to check the order status page?

Anyone know if preorders through Amazon wireless might also ship today?

I think most people are getting their tracking numbers now. Mine will be at my house before 3 tomorrow. Sadly I wont be there to open it up, I'll be in NYC enjoying the launch party. :)

Since my account is thur USPS I am guessing will be shipped by them and not Fedex. The USPS never put tracking info online till at night;-(

I just got tracking info added to my order online. It's Fedex overnight and ill get it tomorrow! Thank goodness!!!

Just got email saying it's shipped. Boo yah!

ATT account and Premier site is not updated ... So chatted with Customer Rep and got the tracking number and its shipped... Yaaayy....

I just checked and my Lumia 900 shipped today. AT&T actually sent it overnight. FedEx is expected to deliver tomorrow by 3PM EST!!!
I'm EXCITED!!!!!!

Mine still under processing :-( San Francisco is a slow city!

Nothing yet..still processing....

Nothing yet..just did a chat with ATT and they said it was already processed and ready for shipment. Nothing on their site though...still says proccessning. :-(
Jacksonville, Fl.

Update: Just checked again and ATT site says shipping date 04-04-2012...strange...but still processing....at least page changed a little.

Yeah I think they don't always update their order status. Mine is the same way. No tracking number...still processing....Oh well. It will get here when it gets here...

Ok, I was wrong....I just checked and I am shipped! Overnight delivery by 3 pm! I am excited!

Just checked my order status and boom shipped. Set for delivery tomorrow by 4:30 from Fed Ex. In Phx Az. Can't wait!

I have mine ordered. W00t.

just got my shipment tracking number. its gonna be in my hand tomorrow by 3PM..
very excited..!
Windows Central Newsletter
Thank you for signing up to Windows Central. You will receive a verification email shortly.
There was a problem. Please refresh the page and try again.