Pre-order your AT&T Lumia 900 and you'll probably get it early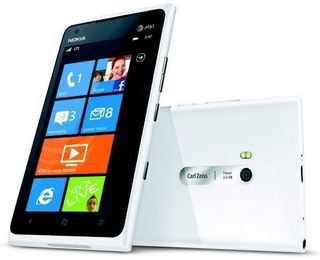 Just a little FYI for you folks: On March 30th, AT&T will begin taking pre-orders for the Black and Cyan Nokia Lumia 900. What you may not know is that you face a real good chance of getting that highly anticipated Windows Phone before the official Sunday release on April 8th if you do that pre-order. That's right, they're shipping them before Sunday.
So says AT&T, who told us as much this morning.
However, if you want the joy of buying it in person, some AT&T stores will be open on Sunday allowing you to purchase it that very day. You'll need to check your local AT&T outlet to see if they'll be there to take your business but if they are, you'll have yourself a special Easter gift.
Oh and one more thing, the "glossy-white" Lumia 900 will be available in stores only, starting on the 22nd.
Daniel Rubino is the Executive Editor of Windows Central, head reviewer, podcast co-host, and analyst. He has been covering Microsoft here since 2007, back when this site was called WMExperts (and later Windows Phone Central). His interests include Windows, Microsoft Surface, laptops, next-gen computing, and arguing with people on the internet.
Do any of the store have demo units for display yet? Want to see that cyan color in person before I pre-order it.

Go to AT&T. All reps have them. Just ask!

ANYONE KNOW IF TEH WHITE ONE CAN BE BOUGHT UNLOCKED?

The worldwide edition of the phone is tentatively slated to launch in May, so you should be able to score it off of Amazon or a UK dealer like Car Phone Warehouse but just be prepared to pay for it unless there is a specific unlocked US version coming (which was never announced).

On the forums, there was a post in the AT&T Rep thread that seemed to say that we'd need to pre-order in the store by April 4 to get it on the 6th (in the store?). Your post seems to say, "order online." Needless to say, I'm confused at this point.

It's both. From the press release:

"Customers who can't wait to get their hands on this new smartphone can pre-order it in cyan or black beginning March 30 by visiting https://www.windowscentral.com/e?link=https2F2Fclick-100048247-136504133DUUwpUdUcU934443Dhttps252F252F3Dhttp252F252Flumia%252F&token=jAIAq-Wa or any AT&T company-owned retail store."

I just called at&t and I'm gettn one lol cyan one and I'm glad it's 450$ now I can get my sister one instead of a lumia 800

Awesome. Does the early availability only apply to online pre-orders or can I pre-order in store and pick it up, say the Friday before? I'm kind of tempted to pre-order now, as I was just planning on going to a store on Monday morning.

That's a good question ;-) My impression was that this was for online pre-orders.

"siriviz," who introduced himself as an AT&T rep, said in http://forums.wpcentral.com/lumia-900-ace/188723-5.htm
"In order to recieve it on April 6th you need to pre-order at a COR Store."

My local Corporate AT&T store stated (he read it verbatim from his website) that ordering online or at the store will produce a projected received date of the 6th. He felt rather confiudent in it, but of course he wanted the commision, so I will continue doing my homework. It is still incredibly likely that I will be ordering on the 30th, instead of purchasing in-store on the 8th.

Im preordering online on the 30th...
Cyan...
Problem is, im overseas... my wife is going to have to activate it for me I guess...
Incipio protection for the 900 now at amazon here:
http://goo.gl/0FbHp

My local AT&T store still will not let anyone see the 900s. They have them in the back office but say they cannot show them until after the April 9th release. I would really like to get my hands on one before I commit to buying it.

I'm calling shenannigans, and so should you. The reason that a large portion of the sales staff received them is so they can learn to use them before launch. I would seriously consider calling corporate customer service and reporting this behavior!

Guess I'm waking up at the crack of dawn and spamming website to preorder.
Even though I haven't seen the 900 I've seen the 800 and I'm absolutely stoked. It's about time ANY other phone holds its own (design wise) sitting next to an iPhone.

Anyone know if I pre-order on the 30th via new contract when would that contract begin? At shipping time or at pre-order?

I would like to know the answer to this too. I'm assuming it would be at activation?

I am 90% certain it would be at activation.

For $450 off contract I'm really considering going right to the store to purchase one but I wonder if it will be compatible with T-Mobile's 3g/4g networks cause I'm never making the same mistake I made with the original unlocked Samsung Focus.

It won't work on T-Mobile's 3g or 4g network. This is known already.

Dang not even 3g? Well thanks for letting me know in advance so I can not get excited about getting it. Guess it'll be more frequent visits to the ATT store.lol

I wonder when those who pre ordered from the MS stores will get theirs. Would be nice to get mine early as well.

I went to an AT&T Store yesterday and over half the sales reps had a Lumia 900.
I saw the black and cyan and have to say I like the black better.
The employees said they all received them on Monday.

Do the employees like the phones?

I have spoken with five AT&T reps that have just gotten their 900s, and four of them love them so far. The fifth one had not set his phone up yet.

One guy had basically bashed Windows Phone just the previous Saturday when I was in there telling them about the phone they would be getting. After a day and a half of using it he said he liked it as much as his iP4S.

I was quite impressed with the price fellow Americans are getting the 900, for (what I thought) to an unlocked device, since my unlocked 800, was about 700 dollars here in Europe, but it's not really unlocked, it's just off contract..

Not unlocked here either, just off contract price tied to AT&T.

It'll cost an additional $30-$50 to unlock it. Still a great deal.

If that so, definitely it is and I'm officially back to jealous mode...

I'm getting the cyan one for me and the black one for my wife, who is then gonna return the black one for the white on the 22nd...:-)

i work for a microsoft store and we are accepting pre-orders for the 900 now. i dont know if you will get the phone early but you can definitely pre-order it. and where else better to ge the phone than from an associate that actually knows what the phones are! lol

May I ask if by any chance you are at the Houston Galleria store? I pre-ordered mine from there and have been trying to figure out when I can go pick up my pre-order. April 6th would be fantastic so I don't have to skip/be late to any family activities on Easter Sunday.

I am at the galleria location, but i dont have any info as far as when we will be selling them if early. I do know that if you have already pre-ordered from when we were doing it before, your pre-order still stands. so you will be one of the first to receive it when we do start selling them.

Ha, what a coincidence :). Well thanks for the info anyway... I'll have to call sometime next week hoping that a sales date is determined by then. For now I'll just keep counting down the days...

Called my nearest AT&T store and asked if they had any 900's that I could just see. The guy hesitated and told me that some of the reps have them but he wasn't sure if customers were allowed to view them. He put me on hold and a few minutes later someone else got on and told me that since most of their reps have the phone I could come in and one of them could get me a demonstration.
And that is what I'll be doing on my lunch break.

Friday morning, going to the store and slappin' my 449 down :)

I'm still amazed that the employees in the MS store seem to know less about when the pre-orders will be availible than the AT&T reps. It just seems a bit ass backwards. Now I've had my pre-order since day one an I know i'll have the device come the 8th regardless of where i get it from, but you'd think MS would have released some info regarding their pre-orders just like AT&T. Maybe I should hit up twitter and see if there are any answers to be found there, because the Store employees all swear they're completely in the dark when it comes to pre-order pickup dates and times. They haven't even commited to having them on the 8th but I'm certain they will.

My AT&T store said the preorders were in Corporate Stores March 30 - April 4 and the phones would be shipped to your home to arrive on April 6th. She said the offer was only for home delivery and we could not pick them up in the store.


I don't mind home delivery-I will be the first to touch my 900-not a store employee! Usually at the store they unbox it and put the SIM in etc...

So, I'm guessing that pre-orders online will not get delivered on April 6th?

I am so torn. Insurance just replaced my Gen 1 Focus with a Focus S and I don't know if I should get the 900 now or wait for the Apollo devices this fall! I was at my local corporate store yesterday and all of the employees had the 900 and it looked so sexy!! ARGH!!!

Called my local att to see if anyone had a 900 yay. ( I want to see the blue before I order it) she said a few people had it and would check if they were in today so I could check them out.
She put me on hold and a min later a guy get on and said they don't have any and won't have a demo phone till launch day... Lame. :/

I'm sure if you go there and sit on their heads (not literally) they will oblige.

Will we be able to pre-order the White 900 on 3/30 as well, or have to go in on launch day and purchase it?

The White Lumia 900 can only be bought in-store starting on the 22nd.

Will the white one be available on Amazon wireless like the black and cyan versions?

Microsoft is doing pre orders for the white one too as of now. So u can pre order it to guarantee u get one

Cool, will be stopping by the mall on Friday then :)

This is from an AT&T sales representative from the AT&T live chat on their website:
Customers who place their pre-order prior to 3PM CST on April 5th will begin to receive their devices on April 6th 2012.
I am betting she meant 3PM CDT since we are on daylight savings time now, but nontheless, hope this helps you out if you were wondering. I bet if you get the pre-order in early, you're much more likely to get it on April 6th. If there is a large demand, later orders may not get shipped out in time. I bet they use FedEx or UPS, so if you are like me and have taken April 6th off work, you can sit in front of the computer with your tracking page hitting "Refresh" constantly.

My AT&T store said that they are on backorder and I would receive mine for 2-3 weeks.. I'm hoping that they simply don't know what they're talking about and I receive mine on the 6th.. *fingers crossed* .. It would suck to have to wait and additional week or more while everyone else is enjoying their Lumia 900s..

Scratch that.. Just got my order confirmation email and it said my device will be shipping in 3-5 business days.. :-D
Windows Central Newsletter
Get the best of Windows Central in in your inbox, every day!
Thank you for signing up to Windows Central. You will receive a verification email shortly.
There was a problem. Please refresh the page and try again.