Windows Phone Essential Games Collection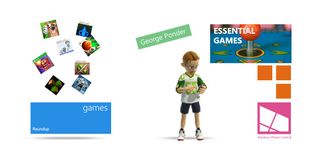 Windows Phone Central Roundup: Essential Games Collection
Over at the Windows Phone Store, Microsoft has created a handful of app and game collections that include photography apps, sports apps, music apps, and other categories. For this week's roundup we take a peek at the Essential Game's Collection.
The Essential Game's Collection is a wide range of gaming titles that include puzzle games, word games, card games and more. We plucked four titles for this weeks roundup that we concur are essential games for our Windows Phones. Games that are addictive, entertaining, and a great way to pass the time with.
Where's My Mickey? ($.99): Where's My Mickey? is the latest "Where's my water?" styled game from Disney for our Windows Phone 8 devices. You have Where's My Perry? that features Perry the Platypus, Where's My Water? featuring Swampy the Alligator and Where's My Mickey? featuring Mickey Mouse and Goofy.
With Where's My Mickey? you are tasked with supplying Mickey with water so he can complete five story lines. You have to dig paths for the water pools to follow, avoiding obstacles and navigating mazes of pipes. You also have weather variables in that sometime the water source is from a rain cloud and you use wind to position the cloud just right.
There are over a hundred levels of play spread out across five scenarios. Animations are great and the between level transitions are humorous. Goofy is featured in six levels of bonus episodes that can be unlocked through an in-app purchase.
Where's My Mickey? is a perfect addition to Disney's "Where's my water?" series and fun for all ages. The only downside to Where's My Mickey? is that it lacks a trial version. The full version will run you $.99 and you can find Where's My Mickey? here in the (opens in new tab) Windows Phone Store.
Fairway Solitaire by Big Fish (free): Short take on Fairway Solitaire by Big Fish? It's a challenging, entertaining and addictive card game for your Windows Phone 8 device. If you need something to help you pass the time with, Fairway Solitaire is well worth a try.
Fairway Solitaire molds a game of solitaire around the golf course. Scores are measured above and below par, you have sand traps, water hazards and more. Hands are dealt on more than 350 golf holes with the goal being to remove all the cards from the playing field in as few moves as possible.
Game play is spread out across levels that have either three or six hands of play. The first level of play is a tutorial that will walk you through all the nooks and crannies of the game rather nicely. If you only have time for one or two hands of play, Fairway Solitaire will save your progress within the level.
As you play, you'll earn golf bucks that can be used in the golf shop to purchase enhancements and clubs for your golf bag. The clubs are used as bonus cards to keep the solitaire hand going. You also have four mini-games to conquer, 37 trophies to earn and a pesky gopher who is intent on ruining your game.
Animations are fantastic, game play challenging, and overall Fairway Solitaire is a solid game from tee to green.
Fairway Solitaire by Big Fish is a free game with additional levels of play unlockable through an in-app purchase. You can find Fairway Solitaire here in the (opens in new tab) Windows Phone Store.
Galactic Reign (trial/$4.99): Galactic Reign is an Xbox Windows Phone gaming title that calls upon you to conquer the galaxy. It is a turn based, online space combat game where you move to colonize planets, design bigger and better space ships and basically turn your opponent into space dust.
If you're not in the mood for online play, Galactic Reign has a healthy collection of single player missions to tackle.
While game play is addictive, entertaining and full of stellar graphics what might be the neatest feature on Galactic Reign it's multi-platform support.
There's a Windows 8 version of Galactic Reign that you can play on your Windows 8 tablet or home computer. Start a game on your tablet and you can pick it up on your Windows Phone without skipping a beat.
There is a trial version available for Galactic Reign and the full version is running $4.99. You can pick up the Windows Phone 8 version here in the (opens in new tab) Windows Phone Store and the Windows 8 version here in the Windows Store. Note: Once you buy one version, you don't need to buy the other. Just download the trial, sign in and you're good to go.
Temple Run: Brave ($.99): Temple Run: Brave is another Disney title making it to the Essential Collection. It is a version of the Temple Run Windows Phone game but set to the Disney Movie Brave (opens in new tab).
Temple Run Brave is a running game where you have to guide Merida as she runs through the wilds of Scotland trying to escape the Mordu, the evil bear. Along the way you have to jump over fallen trees, jump over ditches, crevices and big old holes in the ground, as well as navigating around hair pin turns.
Coins are scattered about that can be collected to buy powerups in the store. If you want to get a jump on things, you can purchase coins via an in-app purchase.
One feature of the Brave version of Temple Run has Merida armed with her trusty bow that you can use to shoot targets the line the path for extra points. It adds an extra element of challenge to the game.
Game play is enjoyable, graphics sharp and overall Temple Run: Brave is an appealing Windows Phone game. Only downside, no trial version. Temple Run: Brave is currently running $.99 and you can find it here in the (opens in new tab) Windows Phone Store.
Microsoft lists about two dozen games in their Windows Phone Essential Games Collection. These four stood out to us and if we missed the game you feel is essential for Windows Phones, feel free to speak up in the comments below.
Windows Central Newsletter
Get the best of Windows Central in your inbox, every day!
George is the Reviews Editor at Windows Central, concentrating on Windows 10 PC and Mobile apps. He's been a supporter of the platform since the days of Windows CE and uses his current Windows 10 Mobile phone daily to keep up with life and enjoy a game during down time.
Temple Run : Brave and Where's My Mickey isn't working on My Lumia 920 in South africa

Says "this app is not available for your device"

Could be some apps are Regional only?

Weird part is that my Sister can download those games with her Lumia 820
I spoke to Windows Phone Support this morning, they Told me to change my Region to US to get Where's my Mickey but i still can't get Brave

Change your location to United States. Get XBox Music access and all the apps.


Not really a fan of any of these. I got other "Where My..?" for free, so can't say buying this one makes much sense (I onlt got them for my little brothers). Temple Run: Brave is mostly a skin of a free game, so iffy to say it's a good deal. I tried Fairway Solitaire, and while it's an OK game, it's not a big-enough "twist" on that style of play to warrant the price tag of $2 when it didn't even add Xbox branding. Galactic Reign looks cool, but I haven't maanged to download that demo yet.

If I was to pick 4 games from that Essential Games section, I think I'd choose Asphalt 7 (LOTS of racing to do for $0.99), Jetpack Joyride (great game and free), Wordament (another one that's fund and free), and maybe Spider Solitaire (as it's the only other one on that list I kind-of liked for the price).

Will we on one fine day see Minion Rush on the game list? I hope so. :)

Ho yes ! I'd looooove to get Minion Rush!!

Wordament - great game; free/ad supported. I would actually pay the devs for this game instead of have the ads (how about the option guys/gals?) :)
Fruit Ninja - goes without saying; practically a requirement on a touch screen
Plants vs Zombies - great fun on the small screen
Angry Birds - not a huge fan but the kids *love* it

One I would still love to try is Skulls of the Shogun - that looks like a great game for WP :)
Anyone else have some fun suggestions?

Techiedude

I like Wordament too, although I suck. Um... Halo Spartan Assault?

I've got about 20 games on my phone, don't even look at any of them and just keep playing Wordament. Too addicted. Got 2nd place yesterday after 4 months. :-)

Nice, I stopped playing it a while ago, I think I topped out at 14th or something.

The one thing I find strange about Wordament is no matter that it's now available on iOS, desktop and there's millions more Lumia's out there there's still never much more than 1500 people per game. Which is pretty much the same as when I started playing it 4 months ago.
I've had quite a few top 10 finishes, but that was the first time I've gotten in a 'medal' position. Happened when I was drunk as well, maybe should play that way more often!

Yep, I don't understand how people get upwards of 1500 scores all the time. A really good game for me is 650 with my best score being 1132. The irony with my best score is that soooooo many other people did so well in that particular game that I don't even think I made top 100. I had a lower score another time and placed #11...go figure LOL

Still love it though - got my kids hooked on it too (it's pretty cool to watch my 7yr old play Wordament on a 65" TV at the local Microsoft store. Hilarious to watch peoples reaction LOL)

Techiedude

wordament sure is an addictive game. i make top 10 fairly regularly. my best score is 1677, word count 113. u can watchout for me my nick is kakarla2018 :)

You know that you're most likely losing to a 10 year old?

http://www.youtube.com/watch?v=8U_WOgS8XtI

Crazy..

Yeah it's crazy watching some Wordament videos. After months of practice I'm getting into the top 10 but i'm like a third the speed of these guys.

Ppl change your region to Australia and download halo now

Still no go. Tried US, UK, OZ, FR, G, I, S-AM, S-AF and even CAN, but still no go for my whimpering 820. Can't believe how upset its got after me clearing space an all. :'(

Definitely works in Australia, I'm with Telstra and pay by phone bill, gotta go play it, good luck

Did you reset after changing to Australia?

Oh yeah, that work for you? I'll have to give it a try. Do you need to use PayPal or something if you do that?

Only essential game is halo. The game is amazing. Looks beautiful plays great!!

Royal Revolt is a must! It's free has amazing graphics and game play. Everyone should should try it!

hi, is it possible to tell us which games have xbox achievements when you make these reviews, i do like your reviews but i only go for games that link with my xbox account these days.

Pls. update for the 512 ram phones

If only Disney could support their games on WP it would be great.We dont want only games to be ported on WP platform but also to be supported and be always updated like iOS and Android.
Where's My Water/Perry are totaly outdated and missing feature.
As of where's my mickey it need a major update to fix/optimize the graphics and perfomance!!