Windows Phone featured in Ubisoft's Watch Dogs E3 Introduction Trailer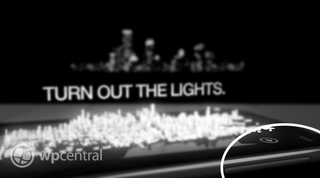 Well, well, well. Would you look at that? An extremely attractive upcoming title from Ubisoft was unveiled yesterday with a handful of trailers being released on the web. The above introduction trailer gives us a tease at the foundations of Watch Dogs without revealing much at all (be sure to look at the gameplay video for more details).
But this is Windows Phone Central, so we have to tie in Windows Phone somewhere regarding this console and PC title, right? Correct, check out the above trailer and be sure to pay close attention at 2:14 onwards. You'll witness the camera pan out revealing what appears to be a Windows Phone. Take a look at our still image below for a clearer view of the time in the system tray and "more apps" arrow.
While not major news, and the smartphone used in the game video demonstration sports a grid layout of app icons, it's a little something to wrap up an eventful Microsoft appearance at E3.
Thanks to Mark, Xavier and Ronny for the tips!
Rich Edmonds is Senior Editor of PC hardware at Windows Central, covering everything related to PC components and NAS. He's been involved in technology for more than a decade and knows a thing or two about the magic inside a PC chassis. You can follow him over on Twitter at @RichEdmonds.
Hey, that shit is futuristic

Wow! What does the gameplay look like??

http://www.youtube.com/watch?v=FcMRkyoHKeA ;-)

My brother is 'Level Design Director' in this game, Pierre-Yves Savard. Woot!

I remember running a Demo of Windows Phone to him a couples months ago, he was really convinced, charmed by the OS. :)

Wow, you must be proud of your brother. This game looks like a modern day assassins creed. Easily one of the best games shown at E3.

I second this comment in its entirety.

Yes, i am really proud of him.

He also worked on some other big title like 'FarCry 2' for example.

He is also a Short-Movie producer and actor. Peoples with talents usually have of lot of it under differents aspects.

I am jealous, being an humble Developer as a living. ;)

This is him(the Mime in the video): http://www.youtube.com/watch?v=2-OADzp0jPE

No way! I'm not the only Quebecois reading this website. Woot! Woot!

Your not.
Québec/Sainte-Foy ici. ;)

Now that's great product placement. :D

This game is this year's E3 king, hands down.
Sorry Chief, still love you...

That was really hard to spot

Makes me want a WP7 companion app for the game. The character does everything with his phone, it looks like. It would be awesome if I could have my phone to do that. I could even give it to my fiancee and she could do the electronics stuff while I run around. But that's a pretty optimistic wish :)

Its not actually that optimistic. With Xbox SmartGlass, the xbox version could easily have a companion app feed get streamed down to your WP7/WIn8Tablet/iPad/Android/iPhone to use as a hacking tool.
I could see it happening very easily. Hopefully Ubisoft thinks of it.

Hands down the e3 stand out and with now with a windows phone! Wow now its even better! I can't believe I missed that!

The graphics look truly awesome and this would be the perfect game for smartglass, MS can't fail to get it added.
Windows Central Newsletter
Thank you for signing up to Windows Central. You will receive a verification email shortly.
There was a problem. Please refresh the page and try again.