Windows Phone Internals 2.3 released, unlocks bootloader on any Lumia
Ready to tinker with your Lumia? Windows Phone Internals 2.3, the tool's first update in some time, is now available.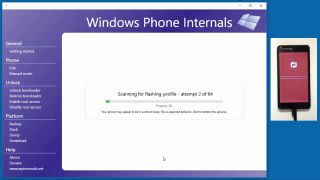 Meant to appeal to tinkerers, Windows Phone Internals is a tool that helps to gain root access on Lumia devices. Back in early December, the developer behind Windows Phone Internals, who goes by the name of Heathcliff74, teased the tool's first update since 2015, which would allow it to work on all Windows Phone 8 and Windows 10 Mobile-based Lumias. Just over a month later, that update is now available as Windows Phone Internals version 2.3.
Windows Phone Internals essentially automates the processes required to unlock the bootloader on any Lumia device, disabling security features and allowing you to gain root access. Once you've achieved root access, your device is completely unlocked, allowing you to flash custom ROMs, create full device backups, or even use your Lumia in Mass Storage Mode. The tool also potentially opens the door for developers to cook up other cool hacks for Lumia devices.
In short, this update potentially breathes new life into a segment of devices that is not a focus for Microsoft anymore. If you're willing to tinker with your Lumia, you can download Windows Phone Internals version 2.3 now. And for more on getting started, you can watch an overview of the latest update below.
Windows Central Newsletter
Get the best of Windows Central in your inbox, every day!
Dan Thorp-Lancaster is the former Editor-in-Chief of Windows Central. He began working with Windows Central, Android Central, and iMore as a news writer in 2014 and is obsessed with tech of all sorts. You can follow Dan on Twitter @DthorpL and Instagram @heyitsdtl.
a nice release for those who can mess around

I can install android o's

I have an old Lumia 520 with a broken screen in a drawer that won't respond to touch at all. Can i use the tool with that? Or do i need to interact via the non-working touchscreen to use it? Can this tool bring some usefulness to that broken-screen phone? THANKS

Have a similar issue. I have a 950XL with broken screen and touch and i want to retrieve some data that were not saved to cloud. Can it be done with this tool?

Yes. You can enable Mass Storage Mode and then access the file system of the phone.

A bit off-topic, but could this program be used for the same reason with an android phone?

No, the clue is in the name WINDOWS PHONE Internals. What would give you the impression that this would work with Android?

You dont need to use touchscreen. By the way, the Lumia 520 was already supported by Windows Phone Internals version 1.2, which was released over two years ago :-P

Ooo, I'm gonna get this and see what I can do with my older devices. Especially my L822 that broke during a routine update, that Microsoft refused to support.

Will be interesting to see if there's anything I can do with my L640.

I want Windows RT on my Lumia 1520 :D (same HW as 2520) or on my Lumia 920 :-D or What About Windows on ARM on these devices :-D

It would be nice if Zac or someone else could dump their CShell build from the HP Elite X3 and make it available for everyone to install. I'd like some improved Continuum on my phones.

Absolutely...
But, would it be stable??

Oh god, yes. That would be glorious

Is the x3 even unlocked ?

That cshell build would have to exist on a Lumia. This tool is for Lumias

Someone needs to cook up an Android ROM to flash unto Lumias. Like, now.

He mentions a couple of guys in the video ;-)

Or maybe just develop an emulator that could run android apps.

I rather have the tile-free Android UI ;)

Or just go buy an android phone.

Back in the day I made WinMo 6.1 and 6.5 ROMs lol

Odd, I downloaded it and Windows Defender let me know wpinternals.exe contains Win32/Fuerboos.C!cl trojan. Guess I won't be playing with it.

It's just a false positive. That code it gave you means it just thinks it's a virus based on its behavior of modifying your Lumia but this doesn't mean it's a known virus.

If you downloaded the tool from my website, you can read there at the same page, that your AV may flag this download. But it is a false-positive. You can safely whitlist it. I already submitted the file to microsoft for reanalysis. If you downloaded it from another source, it may have been infected and reuploaded by others. Download from the original source: wpinternals.net.

Now release this for the Alcatel and we're in business

Didn't succeed on the L925, but with this I might give it another shot. (I had W10M on it but flashed back, leaving me with a device I was unable to get to W10...)

You can get the Windows Phone OTC porgram from Microsoft to upgrade back to WM10. That's how I was able to get WM10 back on my Lumia 640 after I rolled back to 8.1. You can find it here... https://www.microsoft.com/en-us/download/details.aspx?id=56120

Pure android on my Lumia 640 please...

why not just buy an android phone then?

Why have a phone collecting dust in my drawer when I can make it useful?

That would be awesome to re-use a paperweight with W10M cr@p instead of having it collecting dust.

Yeah, I have a locked Cricket 640 that I play with. I used Internals on it and it worked like his videos. It just doesn't remove the carrier lock. Btw, he was using a 640 in his example video. Even though I have never made a call on it, my 640 runs great, looks great, and I would like to put it to some good use other than using it on wifi.

You can already get to the root with the default for manager.

you clearly don*t understand what this tool is able to to

psst.... he/she may be trolling ;-)

""disabling security features and allowing you to gain root access""
Reading the article always helps.
If you'd like to know how, ask nicely and I'll post the steps.

Will it let me put Windows 10 Mobile on my Lumia 1020? I would definitly drop my 950xl for my 1020 with windows 10 mobile.

Yes. That is possible. But it was already possible since 2 years ago, because Lumia 1020 was also supported by Windows Phone Internals 1.0. The procedure would be to Unlock the bootloader, then enable rootaccess and sideload an app from XDA to edit the registry. It is also possible to put the phone in mass storage mode and then edit the registry hive directly. Search XDA to find what you need to edit in the registry to spoof the model of the phone. Edit it into a model which is supported by the latest OS builds. Then disable root access and restore bootloader, so that the phone is updatable again. Then simply let the phone update. Good luck.

You might can try the Wildows Phone OTC Upgrader program from Microsoft. It is designed to update/upgrade you Microsoft Phone's OS over a USB connection to your PC. That's how I was able to get WM10 back on my Lumia 640 after I rolled back to 8.1. You can find it here... https://www.microsoft.com/en-us/download/details.aspx?id=56120

HeathCliff, can you add Prolific or FTDI USB to Serial drivers to Win10mob? Of course, if sources are available? I really want to try configure router from my Lumia 950.

If you have source-code, then you can compile them as ARM driver. With Root Access on the phone, you can run unsigned drivers. The driver should be installed through Mass Storage Mode. So, yes, it is possible. But compiling, installing and testing is up to you. :-P

I have a 1320 as my daily driver that wasn't updated to the latest WP8.1 that came out for some of the newer Lumias like 830 or 640XL. The new version added search and grouping to Windows Phone settings and I'd love to have that on my 1320. Does anyone know if I can get that version on my 1320 with this?

Hats off to this guy!!! Keep it up dude.

No matter what I do, my L730DS keeps rebooting, shows false battey percentage and recently won't charge at all. I've tried flashing different ROMs but its the same story. Can windows phone internals be any helpful?

Have you tried a new battery?

I have Lumia 520 and it shows error Unable to find a bootable option. Is there any chance to bring it back to life.

Is it only for Lumia phones or any Windows phone?

i think this will impress me more if i can get rid of windows and just install android

What would it take for you to also unlock the HP Elite X3?

Goody! I still have my Lumia 925. This will make a great weekend project!

If someone were to create an Android ROM for the 930, I might end up making a mess in my underpants.

Hope my Lumia 950 can run Windows on ARM

It looks like someone is working on this and succeeded with build 17061! https://twitter.com/gus33000

hopefully somebody will make an Android for L950

He is confiming what balmer said about Astoria.

Too bad it's not working on my Lumia 950. Hope that gus33000 on xda will soon get the same thing done with his Interop Tools! 👍🏼

I agree, Astoria would've gave WP a fighting chance... Keep up the great work. This tool is fantastic!

If I enable bootloader or root access or mass storage,will be my phone flashed?
I mean my apps and personal files will be deleted?

I read this news and thought this could mean the release of a new Windows Phone. Got a little excited. So I was on Microsoft.com and talked with a chat person and innocently asked if almost no inventory of phones meant that MS and partners were coming out with new models. She replies I can assume that and that she "guarantees it"! Does this mean what I think it means? Here is a screenshot of the conversation on microsoft.com: https://1drv.ms/i/s!Aj5VMiyR9nAcuqVosecasHb43KzVsw

Buddy you're in denial, theirs no new models, they even said theirs no new development. You are dreaming, and that support person was talking out of their a$$.

Dude, you are so aggressive. You should be calm down or You are a droidboy or iosboy. They will develop a device which is not look like on the market in these days. They want to target bussiness world with phone capabilities pocketable tablet or pc whatever you say. I hope it will comes end of this year. Also microsoft take lots of patents look like foldable tablet. If you follow this website you had to seen them. Dude believe me any other company that say out loud if there has final prototype. For example people expects Iphone X will comes with finger print on screen but they didn't succeed than they pull out this feature from the prototype and put face ID on it copy like two years old lumia 950/950xl. Company shuold keeps secret their product till final prototype in ther facility. Also that support person should have known something like others microsoft employees.

Is there any chance of running windows phone 8 on l640xl using this tool???