Windows Phone Store Collection: Indie Game Spotlight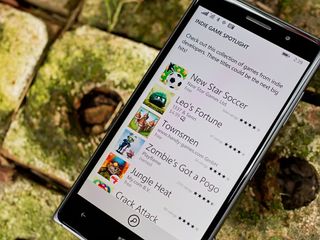 The Windows Phone Store has plenty of apps and games from big name developers such as Gameloft, Electronic Arts and Disney Mobile. The Store also has a rich selection of apps and games from the independent developers. These are individuals or smaller studios, often working on a shoe-string budget but who are rich in talent.
For those not familiar, the Windows Phone Store has a series of collections that pull together a series of apps or games that share a similar theme or are from the same genre. One of these collections is the Indie Game Spotlight that focuses on gaming titles produced by independent developers.
While we enjoy playing Asphalt 8: Airborne or Dragon Mania Legends, the games developed by independents are often equally as entertaining. For this week's Windows Central Roundup, we pulled four gaming titles from the Indie Game Spotlight. These are four games are somewhat diverse in style but are all four enjoyable ways to pass the time.
Should we have overlooked your favorite indie game, feel free to sound off below in the comments with your recommendations. It's always nice to give the little guy some exposure.
Dragon Hills
If I've said it once, I've probably said it a million times endless runner games can be a great way to pass the time. This gaming style is often well suited for short gaming spurts and if designed correctly, the game can also keep you entertained for longer periods. Dragon Hills is an independent title from Rebel Twins and fits the endless runner mold really nice.
The game has you playing the role of a Princess and her pet dragon. The storyline has a band of knights stealing your gold instead of rescuing you from your castle tower. You bounce around the countryside chasing down these knights, reclaiming your stolen treasures, conquering castles and dining on wayward sheep.
Controls are simple. Just tap and hold the screen to have the dragon burrow beneath the ground and release it to have the dragon rise to the surface to go airborne. Knights will toss spears at your dragon and set traps that will ruin your day. Other dangers include lava pits that you need to avoid and you can only burrow underground for a limited amount of time. A health meter will appear to gauge your time underground (apparently dragons have to hold their breath while digging).
While you do have epic boss battles to contend with, the ultimate goal is to see how far you can travel on your dragon. Farmhouses, trees, sheep and other non-threatening structures are available to destroy or eat as you travel across the lands.
Dragon Hills isn't a complicated game but does have enough challenges to keep the game fresh. It reminded me of Rainbow Rapture in many ways and an excellent time waster of a Windows Phone game.
Download Dragon Hills for Windows Phone (Trial / $1.99)
94 Degrees
Along with endless runner games, I have always been a fan of trivia based Windows Phone games. They can be a fantastic way to pass the time and you can learn a little along the way. We have a host of excellent trivia titles in the Windows Phone Store and 94 Degrees is easily one of them.
The Windows Phone game has single and two player games that will present you with a broad range of trivia questions. The questions are presented in illustrated form and you have to tap on the correct picture or portion of the picture that correctly answers the question.
Should you choose the wrong answer, the game will gauge the temperature of your response. The closer to the correct answer you get, the hotter it will get.
As you solve the trivia questions, you will earn coins based on how many attempts it takes to find the correct answer. The coins can be used to buy one of two hints that line the bottom of the gaming screen. You have a compass that will point you in the right direction and a joker hint that will display between one and six possible answers.
While I like the head-to-head action of QuizUp, the simplicity of 94 Degrees has a lot of appeal as well. It is a Windows Phone game that can keep you entertained for a short bit or for those times when your gaming fix needs a little more time to be satisfied.
Download 94 Degrees for Windows Phone (Free)
Crash Dive Lite
Crash Dive Lite is a WWII tactical submarine game where you patrol the Atlantic in search enemy ships to sink. You will also have to be prepared to evade enemy sub destroyers who are set on sinking you.
The game has three levels of difficulty that are progressively unlocked and a tutorial that walks you through the basics of game play. The game isn't overly complicated but has enough control options that going through the tutorial is a good idea.
Game play takes place from two screens. When at periscope depth you have a scope view of your targets what is surrounded by a host of gaming controls. You have weapons fire, speed, depth and decoy controls along with a series of instrument gauges. Crash Dive Lite does have a slight cluttered feel to it and it will take some time to get used to all the controls.
Should you lower your periscope or go below periscope depth, the game transitions to a map view. The controls will still be in place but you transition from an arcade styled game to a table top game. While the table top view lacks the same graphic punch as the periscope view does.
The goal of the game, as you might guess, is to sink all the ships while keeping your submarine in one piece. Your submarine can be damaged in battle, which will impact its performance. Repair crews will jump on fixing things but you may have issues with maneuverability, weapons systems, sonar and periscope views.
Overall, I found Crash Dive Lite to be a decent war game for your Windows Phone. There is a full version of the game available, Crash Dive that has more missions and runs $6.99. If you like battle simulation styled games, you could do worse but give the free Lite version a try first.
Download Crash Dive Lite for Windows Phone (Free)
Guess the Song
While 94 Degrees will challenge your trivia knowledge with illustrations, Guess the Song is a Windows Phone game that will test your knowledge with music.
The game will play you a snippet of a song and you will be tasked with choosing either the artist or song title. Guess the Song supports single and two player games (pass and play style) and has a ton of music categories. You will find categories hits from the 60's, 70's 80's and 90's along with cartoon theme songs, love songs, heavy metal songs, rap songs and more.
Each category contains multiple levels to unlock and you can use the coins earned during game play to unlock some of the more focused music categories. The faster you identify the title or artist for the song, the more points and coins you earn.
Should you struggle with an answer, one wrong answer will automatically disappear after five seconds. You will also earn point multipliers for consecutive correct answers.
Support is there to log in and play under your Facebook profile. It isn't required but will let you compare or brag about your music scores with Facebook friends. There is a Windows 8 version of Guess the Song for those who prefer gaming from a larger screen. Unfortunately, the only way to maintain your gaming progress between your Windows Phone and Windows 8 computer is with the Facebook login.
I found Guess the Song to be a fun trivia game and a nice change of pace. The song library appears to be healthy to avoid too many repeat questions and some of the tunes will have you scratching your head.
Get the Windows Central Newsletter
All the latest news, reviews, and guides for Windows and Xbox diehards.
George is the Reviews Editor at Windows Central, concentrating on Windows 10 PC and Mobile apps. He's been a supporter of the platform since the days of Windows CE and uses his current Windows 10 Mobile phone daily to keep up with life and enjoy a game during down time.