Windows Phone Store Collection: Made by Microsoft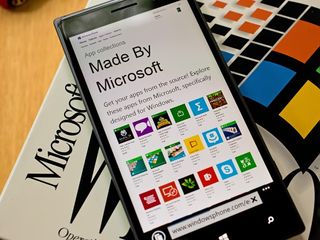 Microsoft has developed or helped develop a boat load of Windows Phone apps and games over the years and to help you get pointed in the right direction to find these titles, the Windows Phone Store has a Made by Microsoft Collection (opens in new tab).
If you do a keyword search for "Microsoft" in the Store, you'll come up with three pages of apps and games that Microsoft has played a role in developing. The Collection pulls twenty-eight of these titles under one roof and includes a nice selection of Windows Phone titles. For this week's roundup, we will pull a handful of titles from the Made by Microsoft Collection.
If you have a favorite app or game from Microsoft that isn't mentioned, feel free to toss out your recommendation in the comments below. We understand that there are other quality apps and games from Microsoft that (for whatever reason) did not make the Collection such as Crimson Dragon, Wordament, Shuffle Party, Microsoft Health or any of the Bing apps ( Sports, Weather, Food and Drink, etc.). Please understand we are only spotlighting apps and games that are in this Collection and there is nothing afoot if your favorite isn't mentioned.
Microsoft Math
Microsoft Math is a great Windows Phone app for those who need to hone their mathematics skills or just want to torture themselves with mathematically quizzes.
Once you log into Microsoft Math with your Live ID, you will have access to a host of mathematical topics such as:
Numbers and Operations
Algebra
Geometry and Measurements
Probability and Statistics
Calculus
Each mathematical area includes several levels of problems to solve with links to the mathematical theory and hints to get you headed in the right direction.
Microsoft Math also adds a social dimension to math by joining/creating groups with other students where you can collaborate and compete in tackling the mathematical problems.
There is also a gaming angle with Microsoft Math. Points are earned for completed problems and a leaderboard for bragging rights. Teachers can use the app to motivate students, monitor their progress and skill levels.
If you are looking for a scholastic challenge or a means of studying mathematics and comes across as a nice tool to supplement classroom instruction.
Download Microsoft Math for Windows Phone (Free)
Photosynth
If you like panoramic photography Microsoft's Photosynth is a must have Windows Phone photography app. Photosynth is an easy way to capture full 360 degree horizontal and vertical spherical images affectionately known as photosynths. You don't have to go full spherical with your images but it can create some neat looking photos.
The layout of the app is straightforward panoramic layout with a capture, library and featured page.
Creating a photosynth is easy. Just tap the capture screen to launch the camera and line up the green diamond with the framing borders. Individual images are captured automatically and if your alignment is off, Photosynth will alert you to make corrective action.
When you are through capturing all your images, Photosynth will stitch them all together into a single image. Once captured you can share your photosynth on Twitter or Facebook or publish it to Bing where other can view your image on Bing Maps and in search results.
You can use photosynth as a standalone app or log in with your Live ID to have access to the Photosynth.net services. Here you can access your photosynths online as well as view other's photosynths for inspiration.
All in all, Photosynth is a fantastic Windows Phone photography app for creating some rather creative photographs.
Download Photosynth for Windows Phone (Free)
Age of Empires: Castle Siege
There are a few Windows Phone games included in the Made by Microsoft Collection such as Halo: Spartan Assault, Minecraft and Solitaire. However, one title did stand out amongst the others, plus based on the comments from last week's roundup I didn't dare overlook this game.
Age of Empires: Castle Siege is a city builder styled game where you build an empire during medieval times. You can choose one of several civilizations to build that are scattered across Europe from Great Britain to the Byzantine Empire and beyond.
You build your city with farms, mills, lumber yards, building up your city defenses and upgrading your castle. You also will need to train and amass an army that can steamroll through other cities in the various gaming missions Age of Empires offers.
Graphics are well drawn up, plenty of tutorials to help walk you through game play and game play is challenging enough to keep things interesting. In the short time I've played Age of Empire: Castle Siege, the game comes across as a city builder that can be an entertaining way to invest your time with.
Age of Empires: Castle Siege is available for Windows 8 and as with most games from this genre, game play is a little nicer from the larger screen of a tablet or laptop/desktop. The Windows Phone version by no means sucks wind but the larger screen pulls out more detail.
You can synchronize your game play between devices, allowing you to enjoy Age of Empires: Castle Siege from both devices without skipping a beat.
If you are looking for a time consuming, enjoyable city builder for either your Windows Phone or Windows 8 device, Age of Empires: Castle Siege should be on everyone's short list.
Fresh Paint
Fresh Paint is a rather unique Windows Phone photography app in that the app allows you to paint on your photos. You can create original artwork by painting on a blank canvas or dip your fingers into paint and transform photographs into paintings.
Fresh Paint offers you the choice of transforming a new image captured by your Windows Phone camera, pulling up an existing image from your Windows Phone photo gallery, opening up a blank canvas or searching Bing for an image to be inspired by.
You can choose between three primary effects to set the tone of your image that include a brush stroke effect, a sketch effect and an effect that appears to soften the image slightly.
The app features realistic oil paints that can be applied by a small collection of brushes and pencils. There is a pre-set color palette or you can create custom colors with a color picker or mix colors on your painting to create a specific shade or color.
Your creations can be shared through your typical sharing options (email, messaging, Facebook, Twitter, etc.) as well as saved to your photo galleries. Your most recently edited images will appear on one of Fresh Paint's main pages for easy access.
Fresh Paint may not be a photo editor that appeals to everyone but the Windows Phone app is capable of creating some rather unique images. For those who like to get creative with photo editing from a larger screen, there is a Windows 8 version of Fresh Paint available as well.
Windows Reading List
Windows Reading List comes across as a handy Windows Phone app for those times you run across an online article that you want to read but don't have the time to do so.
The Windows Phone app will let you share links from Internet Explorer, Bing News and various other apps to the Reading List app to read later. In many ways Windows Reading List is a personal RSS reader of sorts, just without automatic feeds.
The app's main pages are laid out in panoramic fashion with main pages that include your Home page that highlights your most recently viewed stories, an All Items page and a Categories page.
When you stumble upon a story you want to save to read later, just tap the share button on the app you've found the story, choose Reading List from the sharing options and choose a category to file the story under. You can now relax, take care of what you need to and when you have the time pull the story up from the Windows Reading List.
Additional features includes a search function, customize the reading categories, share articles within the app and a recently deleted folder. This folder can come in handy if you delete an article from your reading list by mistake.
The Windows Reading List is available for Windows 8 and your reading lists are synchronized between devices.
Windows Reading List isn't an overly complicated reader and doesn't have a lot of bells and whistles. However, I can see it being a fantastic option for those who are looking for an easy way to save an article to read later.
Windows Central Newsletter
Get the best of Windows Central in in your inbox, every day!
George is the Reviews Editor at Windows Central, concentrating on Windows 10 PC and Mobile apps. He's been a supporter of the platform since the days of Windows CE and uses his current Windows 10 Mobile phone daily to keep up with life and enjoy a game during down time.
Microsoft has made some great apps on WP, but most of them worse compared to its apps on Android.

So we should go burn the ocean or raise the Mississippi river and sweep beneath it?

Add features to your rotten brain first.

Grass is always greener..

In this case, it's not only greener but it's continually being fertilized, mowed, watered, and weeded. In the meantime, MS has turned into a dust bowl.

I guess your presence here means you like this dust. That or you got no friends.

Looks like the truth hurt ya a bit.

Since when? Android apps are nowhere as smooth as WP apps.

There's always someone with greener pasture envy. No matter what positive story is published, they have to spew their negativity and then claim some kind of "truth hurts" virtue as if their snark is new.

And when are they planning to add more features to Files?

Why would they? It's being replaced by File Explorer on Windows 10 which already in its early stages has more features and a better UI then files.

Ooh, didn't know about it. Thanks

No problem. You'll be happy with it once you jump to 10.

We're in present, WP 10 won't be available soon

Well, it won't be available sooner if they waste time adding features that will only be used for a couple of months. See? I can be pedantic as well!

So, you're saying that MS will send the whole time on adding features on an app?

The whole time? Did I say that their priority should be Files? -_-

Would've been available sooner if they hadn't been messing around with stuff that wasn't broken like the hams & round pictures in people hub.


Don't bother. People just love to complain and make it seem like the world is ending.

They haven't added features to an official app ever since it was released. I have the right to complain, but since Kyle said that they're bringing something better in w10, I'm happy with it.

I still dont understand how Skype can be so slow on Windows Phone... I mean... why does it need that much proccesing time to enter a chat?


Still working on the Silverlight platform and not the new faster XAML platform. But don't worry Skype will be totally integrated into the messaging app so there wont be need for a dedicated Skype app

I would like it if snapchat comes to Windows phone. 6snap was a good third party app for snapchat and i want the official app. Plz Microsoft make a deal with snapchat and place the app in the app store.

I'd love that - it's the only app I really mind not having. Unfortunately the CEO of Snapchat basically hates Windows :P

Snapchat seems to be anti-MS.

I'm just saying, but I downloaded that Cyber Dust app and it is better than SnapChat to me. I know many people don't use it like they do on Snapchat, but there are lots of people on it.

Photsynth has sucked on my 920 and now my 1520. It none stop loses its location and you need to back track, and it often misaligns the majority of the frames. Anyone else have this issue?

Well why in all hell is it run like shit on its own OS but fine on all the others?

Yup. The same on Lumia 830

+925 The "needing to backtrack" problem stems from capturing wide areas of homogeneous color, such as blue sky or white walls. Photosynth requires detail to track how far the camera has moved, and to line up with the previous shot(s). As for the poor alignment issues, that I cannot understand. The only thing I could guess is a need for Photosynth to auto-adjust the size of the shooting sphere. The camera doesn't swivel on a point in space, rather people generally orbit the camera around themselves, and the app needs to compensate for this. If you look on the Photosynth main page, even their "featured" Photosynths contain several poorly aligned seams, so this is a global issue.

Nice Windows 3.1 Upgrade Kit!

I was wondering about that. Why use a Win 3.1x box as background?

When compared to pocket, reading list just SUCKS. Luckily, in the store it exists an effective pocket client named Owl Reader. Check it out mates!

I have to say this one seems correct to me too... I can't even find a way to search in Reading List. Is that possible that it has no search?? I also worry that they may drop support for it at some point and my collection of links will disappear.

Unfortunately Photosynth in WP can't take and export high resolution images. Limited by maximum 2048px

Please Microsoft update the Modern combat 5 please update

That's not a Microsoft game.

Microsoft Math - Reminiscences of a soon to be bygone Metro era. Btw, the app is not logging in properly.

Plzz update the Gestures beta...

Photosynth not available on android :)

Hi, George, was that last picture taken at Montpelier?

Nope. It's a small park in Vestavia Hills, Al.

Christ, MS can't even be bothered to update their apps with display updates. Half of their apps aren't compatible with M8 because they won't update the screen resolutions on them.

Aoe CS is one of the best game out there
Windows Central Newsletter
Thank you for signing up to Windows Central. You will receive a verification email shortly.
There was a problem. Please refresh the page and try again.