Top Windows Phone City Builder Games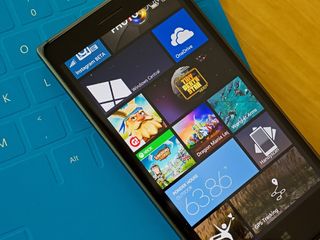 If you enjoy long, drawn out games then city builder games can be a great option for your Windows Phone gaming library. These time management games call on you to build up a city from scratch and often include a number of missions your growing community will have to conquer.
There is a vast selection of city builder styled games in the Windows Phone Store and we've plucked a few of the top rated choices to highlight in this week's roundup. We have cityscapes ranging from those where dragons rule the skies to those that will take you to the Dark Side. These games take the original city builder concept that most of us learned about through SimCity and takes it up a notch by adding combat/action elements into the mix.
As with all of your roundups, we try to highlight several Windows and Windows Phone titles that might spark an interest with our readers. However, we cannot touch on all the fantastic apps and games in the Stores so we will rely on you guys and gals to fill in the gaps. If we've overlooked your favorite city building game, feel free to toss out your recommendations in the comments below.
Kingdoms and Lords
Kingdoms and Lords is a Windows Phone Xbox title that has the peace and quiet of your rural village shattered by invading Barbarian armies of the Dark King. It is your job to raise an army, build up your kingdom and dispatch the Dark King from your lands.
The game blends nicely time management elements such as growing crops, training your armies and other tasks with combat elements to give Kingdoms and Lords a little action.
As with many of the city builders available in the Windows Phone Store, characters will pop-up from time to time during Kingdoms and Lords to guide you through game play. You will see the same in each of the Windows Phone games listed in this week's round-up and these tutorials are helpful in sorting out the many, many aspects of game play.
Game play with Kingdoms and Lords is task driven with missions ranging from installing streetlights, recruiting soldiers, building farms and battling barbarians. Combat is turned based and will pit a collection of your soldiers up against those of the enemy. There are some magical tricks that can be used to give your troops a slight advantage but much of the battle is strategy oriented.
There is a multi-player element with Kingdoms and Lords where you can visit your Xbox friend's villages, invade their villages and chat it up. The connectivity issues we mentioned in the initial review of Kingdom and Lords still exist however.
All in all, in playing Kingdom and Lords for a short time, the game comes across as an entertaining option for those looking for a nice blend of time management and strategy gaming. There are a lot of elements involved with Kingdom and Lords to keep you busy for some time.
Star Wars: Tiny Death Star
Star Wars: Tiny Death Star is a time management game that has you managing and building a Death Star for the Emperor. This widely popular Star Wars title was rumored to disappear from Store shelves last Fall but is still going strong. Our guess is that Disney Mobile will keep the game available but make last January's update be the game's last.
Regardless of the game's life expectancy, Star Wars: Tiny Death Star lets you live life on the Dark Side and join Emperor Palpatine and Darth Vader on a mission to attract Galactic bitizens, run intergalactic business and build an all-new Death Star.
You create new living areas for your bitizens and commercial areas within the Death Star. All of which helps you create revenue so you can expand and build up the Death Star and most importantly, make the Emperor happy.
Game play is more time management than action, but the pace of the game doesn't drag. You'll find yourself constantly bouncing between the Death Star levels to deal with the trials and tribulations of managing a planet destroyer. Add retro styled 8-bit graphics and a ton of Star Wars characters and Tiny Death Star has a little bite.
There is a Windows 8 version of Star Wars: Tiny Death Star available and game play can be saved across devices.
While Tiny Death Star may have seen its last update, the game remains very popular and is a must have for any Star Wars fan. The game is pulling down a 4 star rating in both the Windows Phone Store and the Windows Store and has over 10,000 reviews between the two Stores. Not too shabby for a gaming title that is surviving on its own.
Dragon Mania Legends
Dragon Mania Legends has you rebuilding Dragolandia, breeding dragons and using them to destroy the neighboring Viking territories. The game has over 100 species of dragons to breed, train and send into battle.
Dragon Mania Legends has your time management elements such as building and managing farms that will grow food that is used to level up your dragons to upgrading your dragon habitats. The game does have breeding challenges where you try to spawn a certain species of dragon from your existing herd.
Combat takes place from either the gaming map where you try to defeat your Viking foes or through online battles as you face other player's dragons. Dragons possess elemental powers that will be used in the turn based combat sequences to seek out the enemy dragon's weak spots.
Add weekly challenges, a dragon training academy and ancient ruins to explore and Dragon Mania Legends has a healthy amount of gaming. Game play is entertaining and requires a bit of strategy, while graphics are nicely drawn up.
While I wasn't a big fan of recent gaming changes, Dragon Mania Legends is still a staple game on my Windows Phone and is well worth trying. While the game does have time management and action gaming elements, game play is not as intensive as other city builders. Dragon fights are regulated, requiring energy units to fight that are replenished over time, and the number of structures you have to manage is rather small. Dragon Mania is a city builder for those who want to dip their toe into the waters without getting too wet.
There is a Windows 8 version of Dragon Mania Legends and if you connect the game via your Facebook account, game progress is carried over between devices.
Cloud Raiders
Cloud Raiders is a cloud based (as in high in the sky) Windows Phone game that has you building your city on floating islands. You assemble and train your troops to defend and attack sky pirates, as well as building up your cities defenses.
The campaign missions have you defending your city from invasion and attacking raiding floating fortresses and pirate rafts. Toss in a few bosses to battle and you will quickly have your hands full.
As you tackle missions and defeat the enemy you'll earn gaming cash that can be used to install defensive units such as canons and booby traps, build new structures and upgrade existing. You can even form clans and fight for global dominance as you battle your way through Player vs. Player games.
As with most of the city builders in the Windows Phone Store, Cloud Raiders delivers a nice combination of time management tasks with combat missions.
There is a Windows 8 version available for Cloud Raiders and game play can be saved across devices as long as you log into the game with your Facebook account. While the Windows Phone version by no means is a slouch, playing Cloud Raiders on the larger Windows 8 screens really brings out the detail in the game's graphics and animations.
World at Arms – Wage war for your nation!
World at Arms – Wage war for your nation! (we'll just call it World at Arms for now) is a city builder focuses on building up your military and wiping out evil forces that have overtaken the globe. While you won't be building farms to feed your troops, you will find yourself building barracks, oil refineries and other structures to keep your military machine rolling.
Oil facilities, bars and mess halls generate revenue to fund your military while training facilities are available to crank out battle ready troops.
Once you've gathered enough resources to attack your enemies, you can set out on campaigns to obliterate the enemy troops. Battles are waged from the sea, on ground and in the air as you build up your military might. While combat is conducted mostly in automatic fashion (although you can manage your troops in turn based style), you will play a hand in knocking down incoming missiles and discharging stray bombs as they appear near enemy troops.
There is a World at Arms version for Windows 8 devices and in order to save your game across devices, you will need to log in with your Facebook account. Logging in with Facebook also opens up social chat and the ability to create factions (once you hit level 10 in experience) similar to Cloud Raider's Clans where you can wage war with other players.
World at Arms is an Xbox title, which opens up the opportunities to earn Xbox Live achievements and in playing the game for a short while, I can see how it has earned a 4.5 star rating in the Windows Phone Store. Graphics are well done and game play is a nice mix of action/time management elements.
Get the Windows Central Newsletter
All the latest news, reviews, and guides for Windows and Xbox diehards.
George is the Reviews Editor at Windows Central, concentrating on Windows 10 PC and Mobile apps. He's been a supporter of the platform since the days of Windows CE and uses his current Windows 10 Mobile phone daily to keep up with life and enjoy a game during down time.