Top Windows Phone City Builder Games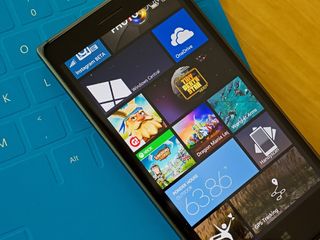 If you enjoy long, drawn out games then city builder games can be a great option for your Windows Phone gaming library. These time management games call on you to build up a city from scratch and often include a number of missions your growing community will have to conquer.
There is a vast selection of city builder styled games in the Windows Phone Store and we've plucked a few of the top rated choices to highlight in this week's roundup. We have cityscapes ranging from those where dragons rule the skies to those that will take you to the Dark Side. These games take the original city builder concept that most of us learned about through SimCity and takes it up a notch by adding combat/action elements into the mix.
As with all of your roundups, we try to highlight several Windows and Windows Phone titles that might spark an interest with our readers. However, we cannot touch on all the fantastic apps and games in the Stores so we will rely on you guys and gals to fill in the gaps. If we've overlooked your favorite city building game, feel free to toss out your recommendations in the comments below.
Kingdoms and Lords
Kingdoms and Lords is a Windows Phone Xbox title that has the peace and quiet of your rural village shattered by invading Barbarian armies of the Dark King. It is your job to raise an army, build up your kingdom and dispatch the Dark King from your lands.
The game blends nicely time management elements such as growing crops, training your armies and other tasks with combat elements to give Kingdoms and Lords a little action.
As with many of the city builders available in the Windows Phone Store, characters will pop-up from time to time during Kingdoms and Lords to guide you through game play. You will see the same in each of the Windows Phone games listed in this week's round-up and these tutorials are helpful in sorting out the many, many aspects of game play.
Game play with Kingdoms and Lords is task driven with missions ranging from installing streetlights, recruiting soldiers, building farms and battling barbarians. Combat is turned based and will pit a collection of your soldiers up against those of the enemy. There are some magical tricks that can be used to give your troops a slight advantage but much of the battle is strategy oriented.
There is a multi-player element with Kingdoms and Lords where you can visit your Xbox friend's villages, invade their villages and chat it up. The connectivity issues we mentioned in the initial review of Kingdom and Lords still exist however.
All in all, in playing Kingdom and Lords for a short time, the game comes across as an entertaining option for those looking for a nice blend of time management and strategy gaming. There are a lot of elements involved with Kingdom and Lords to keep you busy for some time.
Star Wars: Tiny Death Star
Star Wars: Tiny Death Star is a time management game that has you managing and building a Death Star for the Emperor. This widely popular Star Wars title was rumored to disappear from Store shelves last Fall but is still going strong. Our guess is that Disney Mobile will keep the game available but make last January's update be the game's last.
Regardless of the game's life expectancy, Star Wars: Tiny Death Star lets you live life on the Dark Side and join Emperor Palpatine and Darth Vader on a mission to attract Galactic bitizens, run intergalactic business and build an all-new Death Star.
You create new living areas for your bitizens and commercial areas within the Death Star. All of which helps you create revenue so you can expand and build up the Death Star and most importantly, make the Emperor happy.
Game play is more time management than action, but the pace of the game doesn't drag. You'll find yourself constantly bouncing between the Death Star levels to deal with the trials and tribulations of managing a planet destroyer. Add retro styled 8-bit graphics and a ton of Star Wars characters and Tiny Death Star has a little bite.
There is a Windows 8 version of Star Wars: Tiny Death Star available and game play can be saved across devices.
While Tiny Death Star may have seen its last update, the game remains very popular and is a must have for any Star Wars fan. The game is pulling down a 4 star rating in both the Windows Phone Store and the Windows Store and has over 10,000 reviews between the two Stores. Not too shabby for a gaming title that is surviving on its own.
Dragon Mania Legends
Dragon Mania Legends has you rebuilding Dragolandia, breeding dragons and using them to destroy the neighboring Viking territories. The game has over 100 species of dragons to breed, train and send into battle.
Dragon Mania Legends has your time management elements such as building and managing farms that will grow food that is used to level up your dragons to upgrading your dragon habitats. The game does have breeding challenges where you try to spawn a certain species of dragon from your existing herd.
Combat takes place from either the gaming map where you try to defeat your Viking foes or through online battles as you face other player's dragons. Dragons possess elemental powers that will be used in the turn based combat sequences to seek out the enemy dragon's weak spots.
Add weekly challenges, a dragon training academy and ancient ruins to explore and Dragon Mania Legends has a healthy amount of gaming. Game play is entertaining and requires a bit of strategy, while graphics are nicely drawn up.
While I wasn't a big fan of recent gaming changes, Dragon Mania Legends is still a staple game on my Windows Phone and is well worth trying. While the game does have time management and action gaming elements, game play is not as intensive as other city builders. Dragon fights are regulated, requiring energy units to fight that are replenished over time, and the number of structures you have to manage is rather small. Dragon Mania is a city builder for those who want to dip their toe into the waters without getting too wet.
There is a Windows 8 version of Dragon Mania Legends and if you connect the game via your Facebook account, game progress is carried over between devices.
Cloud Raiders
Cloud Raiders is a cloud based (as in high in the sky) Windows Phone game that has you building your city on floating islands. You assemble and train your troops to defend and attack sky pirates, as well as building up your cities defenses.
The campaign missions have you defending your city from invasion and attacking raiding floating fortresses and pirate rafts. Toss in a few bosses to battle and you will quickly have your hands full.
As you tackle missions and defeat the enemy you'll earn gaming cash that can be used to install defensive units such as canons and booby traps, build new structures and upgrade existing. You can even form clans and fight for global dominance as you battle your way through Player vs. Player games.
As with most of the city builders in the Windows Phone Store, Cloud Raiders delivers a nice combination of time management tasks with combat missions.
There is a Windows 8 version available for Cloud Raiders and game play can be saved across devices as long as you log into the game with your Facebook account. While the Windows Phone version by no means is a slouch, playing Cloud Raiders on the larger Windows 8 screens really brings out the detail in the game's graphics and animations.
World at Arms – Wage war for your nation!
World at Arms – Wage war for your nation! (we'll just call it World at Arms for now) is a city builder focuses on building up your military and wiping out evil forces that have overtaken the globe. While you won't be building farms to feed your troops, you will find yourself building barracks, oil refineries and other structures to keep your military machine rolling.
Oil facilities, bars and mess halls generate revenue to fund your military while training facilities are available to crank out battle ready troops.
Once you've gathered enough resources to attack your enemies, you can set out on campaigns to obliterate the enemy troops. Battles are waged from the sea, on ground and in the air as you build up your military might. While combat is conducted mostly in automatic fashion (although you can manage your troops in turn based style), you will play a hand in knocking down incoming missiles and discharging stray bombs as they appear near enemy troops.
There is a World at Arms version for Windows 8 devices and in order to save your game across devices, you will need to log in with your Facebook account. Logging in with Facebook also opens up social chat and the ability to create factions (once you hit level 10 in experience) similar to Cloud Raider's Clans where you can wage war with other players.
World at Arms is an Xbox title, which opens up the opportunities to earn Xbox Live achievements and in playing the game for a short while, I can see how it has earned a 4.5 star rating in the Windows Phone Store. Graphics are well done and game play is a nice mix of action/time management elements.
George is the Reviews Editor at Windows Central, concentrating on Windows 10 PC and Mobile apps. He's been a supporter of the platform since the days of Windows CE and uses his current Windows 10 Mobile phone daily to keep up with life and enjoy a game during down time.
Wow...u got to be an extraordinary human to read this big article, understand it, interpret it and write the comment within 27 seconds....ur brain must be kept in a museum..

Thanks for finding me my next meal. Love, Hannibal

I'm sure he left it in there :P
(no offence to that guy or his brain)

But which one isn't plagued with a huge pay wall?

I'm not sure these are city building games, or what I would have defined a city builder as. Still nice games none the less mjnd you.

Not necessarily city exactly, but they all have quite similar functions and goals in mind.

They're not city builders in my books. Not when it's focused towards combat. I first played Sim City on the Commodore 64/128 (F1 Key for the win) The only city building type games I have seen in the store that are close are My Country Online, My Country 2020, Airport City, etc. Funny that they're all made by the same developer. City Builders are mostly time wasters where you don't have to race against the clock & worry about getting attacked or having what you built destroyed every 5-10 minutes. You go at your own pace.

I already wondered if it is because I am not a native speaker, that I expected different games. But I guess for real city building games a mobile phone is just too small.

Cloud raiders is the best!

Age of empires:castle siege?

Yeah was gonna ask the same question and wonder...

Agreed. AoE is well supported and well balanced.

I think a lot of people play AoE. Wonder why missed out.

Yeh, that's my favorite. Wonder why it wasn't listed.

It's like favorite too. But Not sure if it comes under city building category

It has the same function and goal as all the rest of the games mentioned, but I thinks its main focus is on the strategic attacking part maybe. That might be why they didn't consider to be among "city building" games.

AOE should have been on the top of the list!

Right?? AoE Castle Siege is, in my opinion, one of the best out there. At least deserves to be on the list for sure.

After spending $23 real world dollars in Star Wars:TDS and losing it all when upgrading my phone because it was before FB integration, I refuse to play that game ever again. It was fun, but no thanks.

or perhaps you could play games and have some self control before blowing $23 on a mobile game...

I don't understand how people fall in the traps of IAPs..they are complete rip offs... I personally believe that it is more fun in playing hard and enjoying those perks rather than spending money to get them..

Agreed. I find it quite shocking that Clash of Clans has a turnover of $800-900 million from IAPs.

I wish I can play clash of clan on my lumia

More than that, Game of War: Fire Age. I cannot stop playing that game. I bought an Android tablet just for that game. And I usually don't even buy extra in-game purchases. I wish Machine Zone would bring it to Windows and Windows Phone. :/

Clash of Clans I hear is a very big game but never looked at it when I was on Android a couple years ago. The developers I hear, though, dislike the idea of heading to Windows Phone. There minds will quickly be changed after Windows 10 I suspect.

Even I hope so. Supercell's CEO says they might consider WP if its user base increases. Thankfully, he's not arrogant like Snapchat's Evan Spiegel. So we have some hopes.

Oh absolutely, the CEO of snap chat is the most disliked person in my books right now.

Same here. That guy is a jerk. I am really censoring my feelings here.

His attitude toward Windows platforms and the entire community all together is ridiculous and childish. He a great example of an abuse of power, doing whatever he wants, and not what he thinks is best for his company. Just a moron...

Agreed. He'll be sorry in a couple of years when Snapchat will become history. Snapchat is a multi billion dollar company. I don't understand why they can't spend some money to make a WP app when so many people are craving for it. How much does it cost to make an app? I agree that the market share is low in the US but the scenario is different in other countries like here in India. We have a lot of people using Lumias and Snapchat. But as you said, he doesn't see what's good for the company.

Companies such as snapchat whose bread and butter is user driven content, you would think that having a growing a userbase and being available almost every platform would be appealing in terms of monetary gain. These aren't CEO's but children with more money than sense.

To me, Snapchat's CEO, Pebble's CEO and kik's CEO are equally despised.

I was hoping for something more like SIM city where you set taxes and zone land.... that just sounds awesome!

U forgot AOE castle siege

AoE has tribes and kingdom, not a city

Just read the article first many games in the list is not city based games

What apps is "ponder house" ?

Not very interesting games, it seems. I'd like my city builders to be peaceful. And they all work kind of the same with long construction times and repetitive combat. They either copy Clash of Clans or some flash game from 5 years ago. Its often very boring and takes up too much time so you spend more waiting then actually doing something. They need to come up with something original in which you are not waiting 90% of the time and in the other 10% not spend time going through endless menu's or point and click combat.

Ya, I would like to see something like a more traditional sim city come to phone, or perhaps even something like the old-school PC game Outpost. Those are great peaceful city builder games that can really suck you in without making you bored for long stretches of time for no reason.

Another excellent "city builder" is Star Wars Commander. It's probably a better example than TDS.

I just hope the Simpsons tapped out come to WinPho :(

World at Arms has been the only one on the list to hold my attention. Started playing just before Christmas 2014 and slowly built myself up to level 35. The recent update plus the weekly conquests have meant I've been able to purchase premium stuff without having to spend real money. Suppose being in a faction has helped with that too. Well oiled machine springs to mind.

I don't have a Facebook account and refuse to have one. Why do all these games have to sync through Facebook?

Because for developers, it is a very easy way to provide cross-platform synchronization to a great number of consumers, for less money. A large number of people using smartphones have Facebook, if they switch to another platform, they will be able to continue playing where they left. Much easier and less expensive than creating and maintaining their own platform for that, or locking themselves to something like Xbox Live or Apple Game Center.

They should let Xbox Live go cross platform, IMHO, for this reason. I too dislike using my fb account or having to sign up for a new one for each and every new game I play.

Old picture :P OneDrive is now transparent ~.

Cut him some slack. They don't need to go update all their repository of pictures with OneDrive LiveTile immediately after OneDrive released their new, transparent tile.

I really wish we could have SimCity Build-it on WP... Love that game on my iPad Air 2!

Airport City....especially great if you only want to spend short stretches of time during the day

​ I've played all five of these games and they all got their pros and cons. I would probably pick Kingdoms & Lords and Worlds at Arms as my favorites since Xbox titles have got the upper hand in my book. Kingdoms & Lord IS available for Windows 8(.1) as well btw:
http://apps.microsoft.com/windows/en-us/app/kingdoms-lords/115bbde0-5ec7-41a4-9dad-ec13f4287bd8

I want simcity2000 and civ2. Tycoon too! They all are on other mobiles

Sid Meier's Civilization Revolution. nuff said

Anyone tried Modern mayor? I think it's avilable only for Lumias, but it's very good city building game...
http://www.windowsphone.com/s?appid=a4f6cc7d-7ab0-41e8-90a9-d74751fca1c2

SimCity would look FANTASTIC on Windows Phone NR

Can someone suggest me a offline game of this type. I meant strategy war games.

That was the first game I had in mind too regarding city builder

What is ponder house tile on screenshot?

It is for my Netatmo Weather Station

I would call all of these Clash of Clans rip-offs. When I hear city builder I think Sim City, Anno, or Cities XL style games.

What about The Tribez? One of the best in my opinion. Have been playing it for few months already... Everyday. To much actually...

Yeah, I play that one daily. I play Tribez & Castlez on my work iPhone but it is MUCH worse that the original Tribez. At least I think so, I find it far more irritating and a much slower game overall. In Tribez I'm level 73 and have unlocked all the islands. I've finished Murlod island, almost finished Island of the Ancients and Ancestors Attol. Still a lot to do, but I don't find it annoying like some other city builders.

Where is family guy on this list?

The very bottom of it, haha :P

So... Tiny Death Star is a SimTower remake? I'm *#%*#%# there!!!

Lumia modern mayor and aoe:cs

Oh please these aren't city builders, Kingdoms & Lords and World at Arms may have a bit of city building, cloud raiders is more of an action tower defense game so your not really making a city, Dragons Mania to me isn't a city builder, and why the f.. is Tiny Death Star doing on this list, its not even a city builder, it has nothing to do with a city.
My Country, Virtual City, Modern Mayor, these are true city builders.

Can you play any of these games without creating a city of habitats, training facilities, farms and other structures?

I don't think so, but either way it can still be in city building category, regards of you not being able to build any of those.

Thanks to those who pointed out there is a Windows 8 version of Kingdoms and Lords available. Completely overlooked it.

What about AOE: Castle Siege? For me, it was better than before bcoz almost bugs, glitches and problems have been squashed in the recent updates;) But, it was boring to play alone bcoz most of the player already fed up to play before the recent updates. So, I want all of you joining me playing this great game from Microsoft!!!!

Note: There are some problems which is still exists but the most common problem, internet connection problem have been mostly fixed in the game. I doesn't experience any crashing problem anymore after the recent update.

All we need are rts games.

Why on Earth is Modern Mayor not included here??
Windows Central Newsletter
Get the best of Windows Central in in your inbox, every day!
Thank you for signing up to Windows Central. You will receive a verification email shortly.
There was a problem. Please refresh the page and try again.