Windows Phone Store Collection: Into the Shadows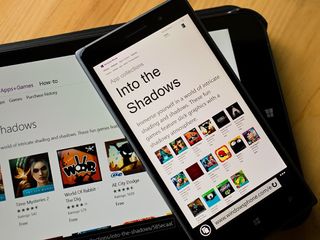 For those who may not be familiar, the Windows Phone Store features a series of app and game collections that groups Windows Phone titles into a wide range of categories. Microsoft does a good job of rotating these collections and one collection that we haven't notice recently popped up on our radar.
The Into the Shadows Collection is an assembly of Windows Phone games that will allow you to be immersed in a world of intricate shading and shadows. The gaming titles are described as featuring "slick graphics with a shadowy atmosphere". When combined with challenging game play, these shadowy Windows Phone games can be an entertaining way to pass the time.
We've plucked a few of the gaming titles from the Into the Shadows Collection for this week's Windows Central roundup. There are a few notable omissions ( Dark Lands and Darklings come to mind) and if you have a favorite game with a shadowy atmosphere that isn't in the Collection, sound off below in the comments.
World of Rabbit – The Dig
The surface world has become overrun by robots and the rabbits have retreated far below and have created an underground world as a safe haven from the rule of robots. World of Rabbit – The Dig has you tasked with building homes for the rabbits, keeping them entertained and rested, all the while digging deeper down their rabbit hole.
The task oriented game definitely qualifies as having a shadowy atmosphere but also has splashes of color for effect. The animations of the rabbits are charming and game play will keep you on your toes.
A tutorial will walk you through game play when you first launch World of Rabbit – The Dig but in a nutshell, you start by building a generator that will create energy units so you can dig deeper. After which, you'll build a farming level to generate food that will help you create more rabbits and an entertainment area for the rabbits to spend a little down time in.
From there you build your empire one level at a time, digging deeper and deeper underground. Emoticons will appear to let you know your rabbit's mood and if they become cranky or tired, you may have to send them to an entertainment area for a little rest and relaxation.
I haven't played World of Rabbit – The Dig in a long time and had forgotten how addictive game play could be. The animations and personalities of the rabbits are fantastic and the pace of game play has a bit of zip to it.
Download World of Rabbit – The Dig for Windows Phone (Free)
Acedia: Indie Horror
Acedia: Indie Horror is a mystery game that goes beyond a shadowy atmosphere and drifts into the spooky, dare I say creepy, realm. The Windows Phone game is a scavenger hunt where you are challenged to find objects and relics to complete each of the game's chapters.
What gives Acedia that creepy, shadowy feel is that the game is played in the dark and the only light you have is your trusty flashlight. Only the areas illuminated by your light will be visible, which allows all sorts of things to sneak up on you. The limited sight distance and range makes game play all the more challenging and at times a little frustrating. It is super easy to get lost in some of the basement mazes.
Controls are simple with the left side of the screen controlling your movement and the right side controlling your point of view. You also have the ability to dial down the graphics and opt for a virtual joystick control.
Acedia: Indie Horror is best played with headphones on and the room lights out. When you come across a shadowy figure that ends the game, it will send a cold chill down your back.
Download Acedia: Indie Horror for Windows Phone (Free)
Fortress
Fortress is a Windows Phone game that challenges your mind more that it does your reflexes. The mystery game has you solving a series of riddles in a rather unique fashion.
The main menu offers you the options to jump into game play, access the game's settings and view the About screen that includes gaming instructions that you will want to read. More times than not, when I first play a game I try to see if I can sort it all out without the need for instructions or tutorials. Fortress is a game that will drive you nuts if you do not read the instructions. It'll probably drive you nuts even after reading the instructions but at least you'll have a fighting chance.
The riddle is presented to you across multiple levels. Each level is a riddle in itself with each solution contributing to the ultimate answer. You have to find the keyword in each passage before advancing to the next riddle with hints and portions of the overall plot available from the game screen.
Most of the puzzles are finding the keyword from highlighted letters or letters that stand out in the sentence. The navigation and presentation of the gaming screen will take you a few gaming levels of play to get used to.
I don't think Fortress is a Windows Phone game with across the board appeal but if you are looking for a gaming title that will challenge your brain and not so much your ability to blow things up, take a gander at Fortress.
Download Fortress for Windows Phone (Trial / $.99)
Dark Arcana: The Carnival
Dark Arcana: The Carnival is a Windows Phone game from Artifex Mundi, who has a large collection of Windows Phone puzzle games. Most, if not all, of these games are I Spy styled mystery games with finding objects hidden within pictures as a key task.
Dark Arcana qualifies for the Into the Shadows Collection because, well, the puzzles have a shadowy theme and an alternate plane of existence, controlled by the Evil One, is hidden with the local carnival. Plus you have a rather shadowy character that appears throughout the game.
The game has three difficulty levels (casual, advanced and expert) and game play has you investigating the mysterious disappearance of a little girl's mother at the local carnival. Dark Arcana is a nice mix of picture puzzles, scavenger hunts and mysteries to solve with each task, directly influencing the next.
For example, you need to find a button in a picture puzzle to use in a Fortune Teller game, which will in turn give you a quarter to use in another game to get a toy banana that will calm down a monkey that you can use to retrieve a clue that is high on a rooftop.
If things don't jump off the screen as to what you need to be concentrating on, the game has a hint button nestled in the lower left corner of the gaming screen.
Dark Arcana: The Carnival come across as a very engaging, entertaining, nicely drawn up Windows Phone game. There is a slight addictive quality about the game and if you like mystery games, Dark Arcana: The Carnival is worth a try. Dark Arcana is available for both Windows Phone and Windows 8 devices. The Windows version is listed as free but requires an in-app purchase to unlock the full game.
Get the Windows Central Newsletter
All the latest news, reviews, and guides for Windows and Xbox diehards.
George is the Reviews Editor at Windows Central, concentrating on Windows 10 PC and Mobile apps. He's been a supporter of the platform since the days of Windows CE and uses his current Windows 10 Mobile phone daily to keep up with life and enjoy a game during down time.