Windows Phone Store Gaming Collection: The Next Big Thing
Windows Phone Central Gaming Roundup: The Next Big Thing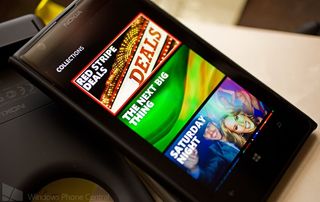 One of the helpful features of the Windows Phone Store is the Collections. These are conglomerations of apps and games that fall in line with an underlying theme. Be it photography, shopping, sports or fitness these collections are a great place for one stop app/game shopping.
One gaming collection always seems to catch our eye is The Next Big Thing. It's a collection of games that the Windows Phone Store gate keepers see as having potential to hit it big. It is also the focus of this week's Windows Phone Central roundup.
We spun the wheel and picked four of the games currently listed in this collection to highlight. Three are very strong contenders for becoming the next big thing. The fourth... well the fourth needs a little fine tuning but is on the right track as well.
Sunny Hillride ($1.99): Simply put, Sunny Hillride is a fun game to play. Graphics are excellent, sound effect humorous and the game is challenging enough to keep things interesting. But you need to know more to sell you on the game, right?
Sunny Hillride is a slider game much like Rainbow Rapture and Penguin where you travel across hill and dale to see how far you can go before time runs out. With Sunny Hillride you are behind the wheel of a family vacation ride that's loaded down with luggage. The kids are strapped into their booster seats and your ready to race across a wide assortment of landscapes.
Sunny Hillride Main Menu
Sunny Hillride has two gaming modes, Story and Endless. Story is a multi-level game that spans across four different landscapes where you race to the finish line before your car runs out of gas.
The endless mode is just that... an endless course for you to practice your driving skills on. While you run the risk of running out of gas in the story mode, no risks exist with the endless mode. It would be nice to see a little challenge with the Endless Mode... maybe just the goal to see how far you can travel.
Sunny Hillride's Story Mode Levels
To control your car you tap/hold the screen to accelerate downhill and release your hold to jump. You build up momentum to fly further and higher and as you do, the kids scream out "yippee" and there's an odd pleasure in sailing your car into the clouds and off screen. While in mid-flight, tap your car to complete mid-air stunts to earn extra points and coins.
Along your journey you have coins and souvenirs to collect for bonus points and gas cans to help your gas supply last long enough to make it through the level. You also have traffic jams scattered about the level that will slow your car down.
There are a few more tricks with Sunny Hillride. If you collect ten coins in succession, you're car will transform into a invincible van with rocket boosters. You're vacation mobile comes fitted with a luggage rack full of suitcases, bags and a bird cage. If you land too hard, you'll lose some of your luggage. The more luggage you have at the end of the level, the more points you earn.
Sunny Hillride... Catching a Little Air
While Sunny Hillride is an enjoyable game for your Windows Phone 8 device, there is room for improvement. First, the game's options allow you to mute the sound effects and music but the options don't stick after you leave the game. This means to mute the soundtrack you'll have to access the options every time you launch the game.
Next up, there are only twelve levels with Sunny Hillride's Story Mode and while you can replay levels to improve your score, the draw to the game fades a little. Hopefully the developer will add additional levels to the game to keep it from growing stale.
Lastly, there isn't a trial version available for Sunny Hillride and the $1.99 price point is a little on the high side. I think most everyone will enjoy Sunny Hillride but a trial version would help sell the game.
Taking everything into account, Sunny Hillride is a fun game for your Windows Phone 8 device. Graphics are great, sound effects will make you smile and seeing that car sail through the air does have a certain amount of appeal. It's just a flat out entertaining game.
Again, Sunny Hillride lacks a trial version and is running $1.99. You can find Sunny Hillride here in the Windows Phone Store.
SongArc (free): SongArc is quickly becoming one of the more popular music games in the Windows Phone Store. It's one of the more recent products of the AppCampus and is available for both Windows Phone 8 and 7.x devices and reminds me a little of the old Guitar Hero console games. Just a little more visually appealing. The game will test your reflexes (and to a degree your rhythm) by requiring you to capture song notes as they drift down from the top of the screen.
SongArc Main Menu
The main menu offers a tutorial that will guide you through game play, a link to launch regular game play and an option to access the game's settings. SongArc isn't a complicated game but you really need to walk through the tutorial to better your chances out the gate.
The game screen has your combo score listed in the upper left corner and your game score in the upper right. The playing field has a multi-colored arc that runs about mid-screen. You're goal is to tap the arc as symbols drift down from the top of the screen to capture them. These shapes represent notes of the song that is playing in the background.
SongArc Game Screen
SongArc does support multi-touch and you'll need to use all the fingers you can muster to keep pace with some of the notes. You do have a health meter under the score and as you miss notes, your health diminishes. It will replenish as you capture notes.
As far as the song selection (referred to as sheets) is concerned, you have a decent library available through SongArc's music library, music sheets created from the SongArc community and those you build based on your own Windows Phone music files.
SongArc Music Selection
Settings for SongArc cover turning on/off Drum Notes and on-screen guidance as well as setting a nickname for the on-line leaderboard and access to SongArc's Twitter and Facebook pages. With drum notes, when a song hits a drum note (depicted by a color wave) you have to tilt the phone to capture it. It's not the easiest thing in the world and while you can disable that feature, it will prevent you from reaching the maximum high score.
SongArc is a fast paced, highly addictive, often frustrating (in a challenging sort of way) game for your Windows Phone. It's a staff favorite and is quickly rising in popularity throughout the Windows Phone community.
SongArc is free for the first month of release (you only have a week or two left) and we have no clue what the pricing point will be after that. If you like music games that test your reactions, you should definitely give SongArc a try. SongArc is available for both Windows Phone 8 and 7.x devices and you can pick it up here in the Windows Phone Store.
Runaway Truck (free): At first glance, Runaway Truck looks like another slider game for your Windows Phone. But it's not.
Runaway Truck is just that. A game where you have to control a truck that has lost it's brakes and is running away down a treacherous slope. You have gaming controls to keep the trucks balance and if you tumble and take on too much damage, the truck explodes and the game is over.
Runaway Truck Vehicle Selection
Along the way you have coins to collect that can be used to unlock additional vehicles and landscapes. There are seven vehicles ranging from a beat-up old pick-up to a school bus and six landscapes ranging from San Francisco to the Great Wall of China. Definitely a wide variety to choose from. If you want to get a jump on things, you can purchase coins through in-app purchase.
The further you make it downhill, the faster your truck goes and the higher your score and if you think your score is worthy enough, you can add it to the online leaderboard for bragging rights.
Game play can be rather challenging, especially when your truck begins to bounce about on the downhill road. You're score is displayed in the upper left corner with the damage meter sitting in the top center. Mid-air flips are fun to create as long as you land on your tires.
Runaway Truck - Ol' Blue Takes on San Francisco
Runaway Truck isn't a bad option to consider when you have short bits of time to pass but I'm not sure how long it will last when you're in the mood for longer gaming sessions. Damage collects rather quickly and you could survive a few more tumbles and maybe add a few jumps for airborne stunts Runaway Truck might have a little better staying power.
Runaway Truck is a free, ad-supported app and is available for both Windows Phone 8 and 7.x devices. You can pick up Runaway Truck here in the Windows Phone Store.
Who Knew? (trial/$.99): Who Knew? is a trivia game for your Windows Phone 8 device that tests your knowledge of what is fact and fiction under the pressure of a game clock.
The game's main pages lists the five categories of trivia (food, geography, history, pop culture and science) and your gaming statistics. Button controls lead you to the help screens, resets your stats and lets you purchase the full version. Up under the three-dot menu you'll find access to the game's settings (sound/music levels and difficulty settings) and a way to submit your own trivia fact.
Who Knew? Main Pages and Gaming Screens
When you tap a category you are sent directly to the first question and have a set time (based on the level of difficulty) to answer as many questions correctly as possible. You are given a statement and must choose whether or not it is fact or fiction.
As you would guess, each correct answer earns you points and incorrect answers deduct points. Should you answer a question wrong, an explanation will be displayed and in a few seconds the next statement will appear. You can save time by tapping the advance arrow if you don't want to read the explanation.
When the timer strikes zero, a scoring summary appears and tapping the back arrow will send you back to the category page.
Who Knew? has a knowledge base of 625 questions that are updated regularly. If trying to figure out if the statement is fact or fiction isn't challenging enough, the pace of the game gives Who Knew? that boost.
Who Knew? has a clean, clutter-free appearance, interesting trivia facts, and a challenging game pace. Who Knew? is an attractive addition to the Windows Phone gaming library. There is a trial version available for Who Knew? that is limited to the first twenty-five questions in the Food category. The full version is currently running $.99 and it is available for both Windows Phone 8 and 7.x devices.
You can pick Who Knew? here in the Windows Phone Store.
Which is the next big thing?
Of the four I think SongArc has the strongest staying power but not everyone is a fan of the genre. Sunny Hillride has the entertainment value but needs to be updated with more levels or add the risk of running out of gas to the Endless Mode. You also need a trial version with Sunny Hillride to avoid potential gamers from giving it a pass.
Who Knew? has some great trivia categories, a friendly user interface but it's casual gaming style may not be everyone's cup of tea. It is a nice option to consider when you're just not in the mood to blow things up, race cars across the screen or slay zombies.
Then you have Runaway Truck. It's a fun game but lacks that something-something to keep you pulled into the game. It's good for short bits but may struggle to keep gamers interested after a few minutes of game play.
All four gaming titles have potential and are worthy of being included in the Windows Phone Store collection The Next Big Thing. If you've tried any of these gaming titles, sound off below and let us know what you think. If there's another gaming title that you think could be the next big thing, feel free to share that as well.
Get the Windows Central Newsletter
All the latest news, reviews, and guides for Windows and Xbox diehards.
George is the Reviews Editor at Windows Central, concentrating on Windows 10 PC and Mobile apps. He's been a supporter of the platform since the days of Windows CE and uses his current Windows 10 Mobile phone daily to keep up with life and enjoy a game during down time.