Windows Store Insider rings update brings skinny download bars, moves share button, and more!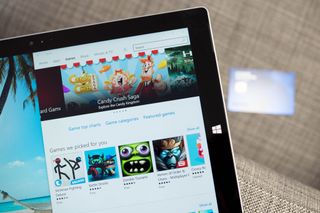 The latest update to the Windows Store app for Release Preview/Slow/Fast ring Windows Insiders has brought along some minor, but interesting, UI updates to check out. The biggest change that Insiders will notice right out the gate are the new download progress bars, which eschew the previous fat aesthetic for a skinnier approach.
Along with the total size of the app you're downloading, the new bar also shows the download speed just underneath.
Along with the new progress bar, Microsoft has also moved the Share button for apps. Instead of an icon, the Share option is now more prominently placed next to the "Install" or "Launch" button in an app's store listing. It's a small move, but one that should encourage more sharing from the store.
Update: Even more features were reported on reddit by PantherinaePsyke
New Progress Bar UI + App Download Speed
Share Button UI Improvement + Visibility
Work and School Account UI Improvement
Hamburger Menu Improvement
Overall Speed Improvement + Loading
Search Bar UI Improvement + Cancel Button
App Album Picture UI Improvement
Improvement on Toast Notification w/ Launch or Pin app option
Improvement in Download Refreshing Algorithm
It's not clear how widely this has rolled out so far, but you should notice the changes in version 11703.1000.156.0 of the app on both PC and Mobile if you're on the Fast ring. And if you happen to spot any other small changes we've missed, let us know in the comments below.
Dan Thorp-Lancaster is the Editor in Chief for Windows Central. He began working with Windows Central as a news writer in 2014 and is obsessed with tech of all sorts. You can follow Dan on Twitter @DthorpL and Instagram @heyitsdtl. Got a hot tip? Send it to daniel.thorp-lancaster@futurenet.com.
Omg they actually did it...
However I Still feel bad about not being able to see app version numbers and when they were actually last updated in the store. Edit: The version numbers do actually show!

Same here
Hope they add it soon

Wonder why they took it away in the first place.

My guess is, they don't want that to matter. If the app works and is a nice app, they don't want people to care about when it was last updated.

but in the same time there are people who track app updates and version numbers and those need these numbers very much

Oh, I don't disagree and would very much like to see that information. But...that data just further detracts. I'm probably wrong anyway...
_______________________________ Edit: gamo62 kind of proved my point for me :)

I personally would at least like to know when t
An App was last updated by the dev, so I can determine if the App is being can d for. There are so many Apps in the store that are just corpses. :'(

Probably this plus the fact they didn't want people to know most of the apps were updated a million years ago, especially compared to on other platforms.

Probably this plus the fact they didn't want people to know most of the apps were updated a million years ago, especially compared to on other platforms.

I think they probably don't want you to see how many apps never (or rarely) get updated. It would probably be depressing and make the store look bad. On the flip side, it's unfair to those who do update their apps.

Agreed. It would help me choose programs based on how much support they are given. Why buy one if it hasn't been updated in years. Like Simple Calendar.

Actually version numbers are now showing in the latest update! :)
But it only shows AFTER you download it lol. It shows the version number under 'Recent activity' on the downloads and updates page.

It's been like that since the Anniversary Update...

It's been like that since the Anniversary Update...

it should look like this from day 1 not after how many years? 2? 3?

Am i the only one who gets fake updates ? Sometimes it shows me that I have new updates but in fact it just reinstall the old apps.

Like these ui changes. Also options in hamburger menu have been readjusted again with school/work section now moved to the button of this list. Also Store is now once again accurately detailing apps that are installed on my device. Check for updates button still broken though.

It seems to be available in Slow Ring as well (both mobile and pc)

RP as well (mobile on 14393)

I hope they fix the notifications too. I need the Windows Phone 8/8.1 behavior for them. It is exactly opposite to it now.

Me too. Would love to see the number indicating how many updates on the Store tile again. Had it on 8/8.1 like you said. What's so difficult about bringing it back..

Way to go, Microsoft. Continuing your effort to make things as difficult to see as POSSIBLE.

I see you are continuing your effort to become the most useless commentor ever. Have you ever posted a comment that contains anything of value?

Ever. I, like you, spend a lot of time here, for quite some time. I am sure he has posted more, but I have only ever seen 1 comment that was not complaining. F, man....

I've seen him post something that I actually agreed with once before. I even pointed it out; "although I usually disagree, this time he has a valid point on..."- your of comment

The last two apps with in-app purchases I checked did not say the amount or for what exactly you can pay. One step to the left, one step back.... 😩

Why? Because they added download speeds, a more prominent share button, the ability to pin/start an app to the action center or just because they made everything faster?

They literally had this already, then they made it worse, and now they reverted. We're still behind what we had like a year ago. MS pls...

I was just about to say this. It tells us how confused Microsoft is.

Guys, there's a more to this update than it seems. It's way faster than before and there are now interactive notifications for apps that have recently installed. (launch or pin to start)

Also! If you look at an app like Hulu Plus, there is an "Install on Xbox One" button available between "Install/Launch" and "Share". AWESOME

Good catch, man! That is awesome!

On my PC I see an option to install compatible apps to my Xbox One. It appears between the download button and the share button on the app page.

FINALLYYYY!!!!! Gave feedback about that speed of download option so that you know whether you doing something or not simply because the wifi icon does not really tell you what its doing in terms of numbers. I wish there was a read out maybe next to it to show speeds.

Now you can send feedback when there is some error updating an app

Looks like the Groove download bar.

I am not on Insider but received an update that will not open on my X3.... Now i cannot get in the Store at all. Any ideas? Soft reset didn't help.

Is it a 24-hour store? You probably tried the door when they were closed.

Another good one is now the updated app appears immediately in the recent activity. Before that I have to manually refresh.

I'm enjoying these little improvements here and there. The more I use W10 on desktop and mobile, the more attached I get to it. No way I'm leaving for any other platform at this point, we are in this till the end haha!!

first and second picture looks terrible its a chaos it needs a cleaner look

I'm glad this is a good update but it's really sad when we're getting this now this late in the game. And I still can't believe they don't show the date of when an app was last updated.

What? That info of when an app was last updated is available in the Download and Updates section of the Store.

I think he meant when searching for an app. Would be nice to see how much support it received. Like Gas Buddy. Which has not been updated in years.

It shows when the app was updated on your device, but not in store. Say, author had updated it month ago, but you installed it yesterday. "Download and Updates" section would say "yesterday".

Like the others said, it only shows when an app has last been updated on your service if it has been updated. You can't just go into the store and see the last actual update date like you could on WP8.

Just noticed an "Install on Xbox One" button between the Launch and Share buttons. See the OneDrive app.

Just noticed an "Install on Xbox One" button between the Launch and Share buttons. See the OneDrive app.

Am on the fast ring but my store version is showing.1001.099 what am I missing

Back to the thin progress bar. Well, it does kinda fit the overall Windows Phone/Mobile UI better. Looking forward to the improved responsiveness and new features. Hoping that if there's Install to Xbox One there's Install to Windows PC... though I'm not sure which of my Windows PC devices it would choose.

Not for Release Preview for my Lumia 730 in India. But I got it for Fast ring on my PC.

Finally store notifications

Well my store is broken now after the update. Just shows the refresh buttons and error 80131500.
Well done Microsoft. Don't tell me to reset as this would be the last switch of my SIM then. HP Elite 3x. According to Feedback hub i am not the only one

Yup, i have the same problem. First when open comes of as 0x8000FFFF then after a refresh comes 0x80131500. Lumia 950 xl

Problem solved. Change the regional settings to match one language. Restart, open store it should work, now change them back, restart. Voila. Anyway, i see nothing interesting. I actually see no reason for the skinny bar, except the fact that it pleases the kids

Is the 'download progress bar in action center' not avilable for mobile? I recently joined Fast ring on mobile and its not there. further Store is not listed under notifications & actions so i dont get any notifications from store.

never seen the point of why they changed from the thin bar in the first place, thick bar looked like a play school effort

How what? How for which part of my comment?

The Store suddenly looks and feels great out of nowhere. Just a week ago I felt it was slightly chunky and awkward. I like this update. I look forward to RS3 and more UI updates.

It looks and feels the same. For a progress bar that actually reminds me of all Os's and a changed notification action i do not see why everybody excrements joy like their the world has changed. You guys sound exactly like samesung fanboys, who are so glad their new phone looks so different (exactly the same) and has a bigger screen and works way better (exactly the same). Oh, man. The phone is something else..... Look at it, now it has android...7.1 and bluetooth.🙄

I updated Store and nothing happened. It's still on the same build number and there are no changes! What's going on?

Pls give an update to win 10 for Lumia 520 and 525😓

Title should read goes back to skinny progress bar as it was like this previously.

Microsoft finally did it! I'm happy they brought back the thin progress bar. It was already part of older builds, and it is a more consistent design element with other parts of windows 10. Is also more in line with settings and windows update progress bars. Now hopefully they will change this quickly for pc too.

Store often crashes on startup, also new feature.

Progess bar on action center too?

Yup got it on preview ring. Its a welcome improvement. Love it.

Now we need download progress on status bar and a downloading notification icon. Also wish the downloads were one at a time like it was on 8.1. These multiple downloads/updates get choked on slow networks.

seems faster, or is it me? anyone?

This was a substantial update! GENUINELY feels faster, UI improvements are very welcome. I sent MyTube Beta to my Xbox One last night via the button in Store on my PC. PERFECT.

Right. Now it doesn't work anymore. Ups, something happened at our site, try later. And it is so for a day.

This makes me so happy again!!

why I don't recieve this update? I did hard reset 4 days ago and after reset also I can't update groove music on neon style,Movies & TV too,please help
Windows Central Newsletter
Get the best of Windows Central in in your inbox, every day!
Thank you for signing up to Windows Central. You will receive a verification email shortly.
There was a problem. Please refresh the page and try again.