Help shape Windows 10 with the official Windows UserVoice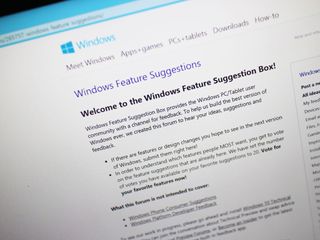 Want to help shape Windows 10? You can thanks to the official Windows UserVoice page. UserVoice is a feedback platform that Microsoft has used over the years for Windows Phone, Xbox Music, Cortana and other products. The Windows UserVoice page is a relatively new site where you can help make the next version of Windows.
What are some ideas you have for Windows 10?
Windows UserVoice – windows.uservoice.com
Official Microsoft User Voice forums
Via: @XboxQwik
Windows Central Newsletter
Get the best of Windows Central in in your inbox, every day!
Cool, now give us Minecraft uservoice !

That would be cool, but maybe a UV for all MS games?
...............
How, about a third party Uservoice app made by MS that consolidates all of the MSUV pages together for easier access, and a live tile to show updates, and votes, for specific ideas?
...........
Because, the biggest inconvenience with using UV is accessing it from our devices using the web browser... Microsoft❓❓❓

Ok. I take it you went to the UV site and logged your question/request? I think that's the purpose of the site. Did I miss something? If your request is popular enough then I'm sure MS will be more than happy to create a UV specifically for Minecraft. :)

Why? Just keep voicing your concerns/suggestions directly to Mojang as you've done in the past. It's still the same crew working on the game.

A far cry from the old Microsoft. Using the Technical Preview I noticed a lot of hand-wringing and worry about key loggers. What I have noticed is that using since features will trigger a customer response. This can be programmed in easily without violating any privacy.

And then if someone is complaining about the Data mining (not keylogger) in Win10, with this telemetry background process Microsoft wants in the PREVIEW. Well, people can choose not to use Win10 and wait for RTM? Don't you think? it's a preview software, not even a beta stage, not even labeled as "consumer preview", so people worrying about a magical "keylogger", they are not forced to use it if they don't want to. people just love to complain about it, like if they were forced to use it. you say "violating privacy"... because this data mining is not any different than what is done on phones, you know, the option that says "send key blabla to Microsoft blabla to improve keyboard" so how is this different?...the only difference it's this can't be turned off... because it's a preview, and Microsoft released it to get feedback, if people don't want a background process... well... Nobody is paying for this preview, nobody is forced to use it, this is not final version, is not even beta stage, Microsoft adviced not to use important information on it or as a primary computer.... But, the only price users have to pay, because they DECIDED to use it and read the "Privacy Statements for Windows Technical Preview" before downloading it, it's gathering feedback from every possible place. So crying and complaing about the background process, it sounds like those kind of users are the ones who should avoid it, because don't understand, what this preview is, and what Microsoft wants from it.

I love how ms is committed to their consumers and let them give feedback

This isn't meant to sound mean, but I really wish Iranians would stop bombarding Microsoft with requests for official support for Iran(look at the top 3 requests under "hot"). They should recognize that the US has an embargo on Iran and Microsoft can't go around the government. It's out of their hands. The better course of action would be to lobby their government so the US won't have that kind of ban.

Tbh even some supported countries have a very bad experience. USA is hugely egocentric. But hey, Germany is a lot worse.

Dude i think its not fair to ban us,iranian,even windows phone in iran is coming popular,we have so many apps and talented developers,iran is huge market that Microsoft is ignoring

They're not ignoring you guys. They would be more than happy to sell things in Iran, but the US government won't let them. You're right, it's not fair, but Microsoft is the wrong thing to complain to.

Most people dont know this, they just want they be loved company unban them,they dont know its us law
We even cant buy any microsoft OS,SOFTWARE,...

Adult people don't know what embargo is? I'm from Poland and I know that Iran is under export regulations from USA related to software (and many other things), but Iranias who managed to find uservoice site do not? Is there a firewall that shows only selected things like in China? Even most Chinese know how to get around that.

Yep,in iran 80% of sites are blocked i think,all Social networks,and most of them who voted are under 20 years student who just dont know this is us law

Universal Maps Application please! Stop depending on Nokia!

The built in Windows phone 8.1 Maps app is a huge step in the right direction. Actually i believe all its missing is a built in Voice navigation GPS. And yes making it universal with the Maps app on Windows is the next step. Im sure there are many things about to change due to Windows 10. The consumer preview cant come soon enough.

Why stop with Nokia maps? It works brilliantly and there are alot of people who use it daily, though any new feature would be a welcome change :)

HERE drive hasn't seen a big update in months. Nokia basically said they were going to focus more on iPhone and Android now. I used the Android app and it has a considerably cleaner interface and is way easier to navigate. It isn't in their interests to focus on windows phone any longer. Therefore the only solution is for Microsoft to make their own application.

Developing an app on own is not the solution for missing quality app, if Microsoft manages to pull a better app than here map than I am ok with it but some will still need a nice updated Here maps :(

Like they ever listen ...

They do!!!
A little late though ¬_¬

I wrote two ideas, i'd love for you guys to check them out, one is about adding features to snap, and other is about Xbox: https://windows.uservoice.com/forums/265757-windows-feature-suggestions/... https://windows.uservoice.com/forums/265757-windows-feature-suggestions/...

I've yet to see them implement any of the most asked for features in the Xbox Music UserVoice.. :/

Yeah, tis a shame. Posted via the Windows Phone Central App for Android

and much more basic feature that should exist in a phone :|

Maybe they do it backwards, like those people who like to read a magazine backwards.

Auto playlists!!!!
I don't know how I've been living without them for so long...

Gave my votes to "game mode"

I just posted one for Deduplication. It would be great if that were built into the OS!

Nokia take it out 4 seconds expusore in Lumias that do not have pureview, and I complained on User Voice.
It was on of the most voted there. They say that take it for "quality reasons", and after that, deleted my request.
And, Lumia 720 have the same camera of the Lumia 730, but with 4 seconds activated.
I give up.

I've created idea about virtual desktops.
I appreciate every vote :) https://windows.uservoice.com/forums/265757-windows-feature-suggestions/...

On XBox Video uservoice there are few request for MKV and subtitles compatibility on Windows and Windows Phone, despite many users want them.
The most voted idea is about the Xbox app, which now supports MKV. I think we should partecipate more on this "minor" uservoice sites, so I submitted this idea, please give it a minute of your time: http://xboxvideo.uservoice.com/forums/225596-xbox-video-suggestion-box/suggestions/6589373-xbox-video-should-support-mkv-and-embedded-subtitl Also, I'd like you to vote this idea for Xbox Music, much needed for me: http://xboxmusic.uservoice.com/forums/209733-xbox-music-suggestion-box/suggestions/5798406-sort-albums-by-album-and-not-by-artist Thanks to all of you!

SCP / SFTP / SSH support for file explorer and cmd - No more WinSCP https://windows.uservoice.com/forums/265757-windows-feature-suggestions/suggestions/6506603-scp-ssh-sftp-support Tasks in Calendar app - Apple has it too! https://windows.uservoice.com/forums/265757-windows-feature-suggestions/suggestions/6438974-support-tasks-in-calendar-app Redesign internet options dialog https://windows.uservoice.com/forums/265757-windows-feature-suggestions/suggestions/6511478-completely-redesign-the-internet-options-dialog
Windows Central Newsletter
Thank you for signing up to Windows Central. You will receive a verification email shortly.
There was a problem. Please refresh the page and try again.