Microsoft Research app WindUp brings temporary messages to Windows Phone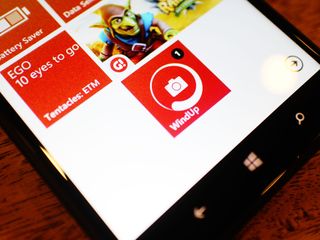 Microsoft Research has released a new app into the Windows Phone Store. WindUp is an app that allows you to create and share temporary messages. Think Snapchat, but with the ability to send more media types, and it's from a team of researchers.
Here's the Store description of WindUp:
With WindUp for Windows Phone, you can send photos, audio recordings, video and text to your friends. Those messages then will fade into the ether after a time set by you.
Take WindUp for a spin and let us know what you think of the app.
Via: Neowin
Windows Central Newsletter
Get the best of Windows Central in in your inbox, every day!
Daniel just sent me an inappropriate message with it... Lol

Is it a picture of his...?

Hahaa...is this only foe US? I am not able download it.

Me too... Hate it I'd something's US only

I have it here and I'm in the middle east

Not able to install it.. What the hell Microsoft is doing... It's not available in India.. Shocking!!! Wake up Microsoft

Are you sure you're not just using a compatible OS version?

Oh god! Hopefully not a picture, or audio. You know, just forget it... Lol

Does one of your contributors have a Frenchie or a Pug? The pic he posted of a new game on Windows Phone also had a photo bomb from the dog, just could not identify the breed.

**I've got 2 french-pugs mixes XD** Also. I hope they'll make it cross platform or compatible with snapchatservers.

Dude, look closer. You only think that was a Pug :D

I'm not sure what breed it is either, but I'm pretty sure you're referring to Mark Guim. And it's not a photobomb, it's cute and cuddly click-bait. xD

Message, picture, or video? :O

Jaja then I must download this!! Daniel and Sam' fan.

Yeah that's really appropriate huh

I don't know man, but the interface was ugly :(

Anyone else feel they should incorporate this to Skype chat. I mean maybe they're doing it.

We need a WP app that should be used actively by the WP community and other platforms would want. Something like this but original. Hope a WP developer makes it big with an original app.

Excellent point, provided it's a good platform. I'm game.

Yes +1000 however what is it that hasn't been created? "There seems to be nothing new under the sun."

Teleportation, time machine, space travel for everyone, etc. :P

No, only for WP owners :P

People have said that for years, then someone creates something original and everyone is blown away.

There are still some original ideas out thrre like "Foundbite"

Well that will not let because Microsoft will give it to other OS and they will get updates before we do. Your idea is good,I hope we get an stop just for us like IMessage, or Gtalk or something. Would have been Skype messaging but still waiting.

That's what I'm hoping for my app lol. Check it out if you're interested, it's a goal-oriented social network.
There's a quick video @
http://whatsyourmotive.com Currently in closed beta, looking to launch real soon! If anyone is interested in joining and helping me test server load send me a PM :)

Sounds cool Matt good work and looks Great :)

God here we go again! I agree MS have a habit nowadays of making there apps available to all OS's which is pretty crap, a little bit of exclusivity for WP would be nice BUT not this app. This needs to be available on all OS's, why, because its a redundant app if none of your mates have WP. I have downloaded the app and it has not been used because every one I know has iOS!

Thank you for your feedback, chances are I will most likely be porting to iOS and Android in the near future. But I am curious as to how you have "downloaded and not used" the app, as far as I know you are not on the beta list?

Hey Matt Fara, I pressed download app, it installed, put in my Microsoft account and wa-la, I have the app. I was not aware it was beta, if it is, it looks like Joe blogs, ie me, can download it! Nice looking app by the way :)

Hmm, that doesn't sound right, you shouldn't be able to run it without being on the beta list. And I don't see any new user accounts in the database, maybe you are mistaken?

Well done, Matt really liked it! waiting for it's release =)

If you give me the permission :)? I like your vision and I think like that too, but an app would probably help to motivate more as I would pin it there on my start screen to haunt me all day haha :)

Looks pretty cool, I'm just not big into posting my life online. Keep it up.

Thank you, I can definitely understand that. While the social aspect plays a big part in this app, it is not mandatory. You can create private habits and keep things to yourself as long as you don't post any updates. Trying to appeal to a broad audience in this niche category.

This looks really great - thanks for posting! I'll try to help.

Any 3rd party developer would try to reach out wider audience so it ll be released on IOS & Android as well, only developer who can release WP only apps is microsoft, but MS is not interested in this and keeps on releasiing apps for android n ios

So when will snapchat arrive in Wp??

He means the official app. I'm having issues with 6snap, and whenever I contact the support team for all of his 6apps, I get no response, ever. What kind of support is that?

Probably because he is one person managing dozens of apps by himself.

Well he has some people that help him with support and stuff, right? If he does literally EVERYTHING by himself, my bad, sorry.

No he is alone! No Instant notifications because snapchat servers don't support Windows Phone notification, no more

You do 100% everything by yourself? Wow, I'm suprised. Good work!! My bad for saying that, I thought you had many people helping you. But my question wasn't about Instant notifications, it was about whenever I put in my phone number in for Snapchat on 6Snap, it says "Invalid phone number". Anyways, keep up the amazing work! Can't wait to see what you have next!

A wild Rudy Huyn appears!

It was a mistake comment, sorry.

A good question. While I like 6snap it's a bit sad when we need to say, yeah LOOK WE HAVE THE APPS.... er... or third party versions anyway.

WPCentral posted an article in Spring 2013 that we should have gotten the official app Summer last year. It's a year later and still no follow-up...

Who cares about snap chat, lets wind, if they don't want to make an app Rudy's app works decent

6snap does not give instant notifications ever .. And I have contacted support sooo many times .. Not even a single reply ever !!! Seriously .. What kind of support is that !

Snapchat API doesn't support it on WP. Now you have a response and can stop complaining.

I want to WindUp but I can't download it.
L920 Australia

Change your region to us download it .. Change back to Australia

The UK region also works.

You can download it by changing ur region to us then again return to india... Plz give ur mail id i will add u to my group... Friendz..

Its been here for weeks..i guess..any ways thanks for reporting about it.,,:)

I will use this because its from MS

I wish they could've gotten the Snapchat team to make a WP app.. Would've brought much needed validity (in the public's eyes)

They can't even get Facebook to make native apps for WP. On the plus side I have installed this new tool, but I have no one to use it with.

Messenger is a native app from Facebook.

Yes, you are correct, but I was speaking of the main Facebook app and the Facebook Pages Manager app.

Messenger is also an app that is in my (and many other) eyes unnecessary. Just make a good app, and the messaging can be part of it.. I mean, we don't even have a functional facebook app, and they make a messenger for us..?

Facebook have rolled out a standalone messenger app across all platforms, the public outcry was rather hilarious.

Wow, terrible UI. You can tell they didn't have any help in the UI department. No designers in Microsoft Research.

I don't understand what Microsoft Research is doing with this app. It's just a knock-off of Snapchat, which already exists. Shouldn't they be innovating? New ideas, please.

It is an alpha / design study.

Not available for me in Canada with an 8X...

This app should be integrated in watsapp

The overall design is very basic, but it does have pseudo live-tile animations and contact scrolling in the app. It's an interesting idea. I'd like to see "WindUp" integration/merge with "Time of My Life", another recent Microsoft Research app. Likewise for integration/merge with Windows Phone Family Room in the People hub, as WindUp has overlapping features. It also needs better Outlook Contacts integration (selections, groups, etc.), and possibly OneNote for archiving.

Not available in India.. Country specific? :O

Not available in Sweden, and I think that its not optimized for Lumia 1520 sceen size according to screenshots..

Add me guyz. sankhasuvro@live.in

Microsoft doesn't know how to do business across world.focusing selected countries is one of the bad thing of Microsoft.if a company study the indian market successfully then only it can be dominated company.happy independence day.proud to be an Indian.

Change your region and stop posting a thousand words

I'm gonna use it to talk about weed with my friends :)

I'm just impressed that Microsoft didn't launch it on iOS first. It's come to that, sadly.

Well they better introduce it to Android and iOS quickly, otherwise I won't have much use for it (even though I use a Nokia Lumia 930). The reality is that I only have a handful of friends/relatives that have Windows Phones.

Exactly! Exclusives hinder more than they help. People call it carrot-dangling, which only works if there's not already a pile of carrots on the ground five feet away. In other words, if they make things for Windows Phone only to try to lure new customers, it will only keep people away when there are much better choices out there. If all my friends and family are on Android and iOS and use Snapchat, I would switch platforms if the app was that important to me. I definitely wouldn't stick with an OS that hardly anybody uses and use an app that nobody I know will be using. At least if apps are cross-platform, I can stick with what I like and still be able to use the same services as my friends/family that don't want to change platforms. Otherwise, why stay? Same goes for all the exclusives that they do with carriers. If I'm on Sprint, how the hell am I supposed to get a Nokia or any other of the new awesome WPs they are/will be releasing if they only make them for AT&T or Verizon? It's almost easier to go back to Android than to switch carriers just to get the phone I want.

Don't mean to interrupt your soapbox rant, but I said FIRST, not EXCLUSIVE.

I can read. Obviously I wasn't replying to you. I was replying to the person above me and in general to all of the people complaining that Microsoft is making their services available on other platforms instead of WP only. I get what you mean though that even if Microsoft wants everything cross-platform, they should always focus on their platform first and it should be the best on their platform first. It just shows lack of confidence in their platform if they focus too much on iOS and Android.

Microsoft has potential to fill the app gap by providing their own quality programs. Just marketing is required.

Yeah? And you go to send "snaps" to just 2.5%? =P

Dude everything starts from scratch stage. Mix radio, here maps is famous on our platform only and only we have the apps.

Except all of Microsoft's services are cross plat

For me the app will only work if it is available cross platform.

I hope they make it available on other platforms, I love WP but no one I know has windows phone :(

I wish you could add by username and not email

Can't download unless I change time zone, it seems a nice idea although I think it should be developed for other platforms also in order to spread it globally,!

Will WindUp become a cross-platform app?

first thing came to mind was Wind-Up Zenmaines...

I cant download this . Us only maybe?

Is it available in India or not as I can't download it

Why to create a new app when u can include these features in Skype.

Couldn't agree more with this. Why doesn't MS pour more attention onto Skype and bring it up to the potential it has. Wind-Up seems pretty cool but why not just incorporate all its features into Skype??

What the hell are people talking about when they say there is no official Facebook app? Yes there is. Friends at work with android are always complaining about the version that came out recently. The newer WP version has less side swept bits so I guess that makes us even.

Have you not looked at the developer for the Facebook app? Let me give you a hint: It's not Facebook. Even though the app we have works fine, the biggest problem (for me anyway) about not having the official app is that we don't have their sorting algorithm. When I scroll through the newsfeed on our app, it is quite a bit different than scrolling through the newsfeed on the website. On our app, I see way more posts from bands and apps that I have installed than I do on the website. I would just like consistency.

A lot of companies contract out their app development, so the "official" crying about Facebook is invalid nonsense.

Invalid nonsense?? Did you even read what I wrote? If it worked the same, then yeah I can understand saying that, but it DOESN'T WORK THE SAME! Might as well say that all of the apps that are just web wrappers are official apps!

Ok fine technically you are correct- having just checked the FB app is by Microsoft. Question is who the frig cares, it does newfeeds, posts, groups, etc.. all that bits of FB that are not annoying.

Not available for India its showing not available for mw

Remember how snapchat said they didn't fully delete some images? Θ_Θ

This app doesn't support Indonesian region. To which region should I change if I would install this?

I fail to see the point... Likewise with Snapchat.

Don't suppose anyone knows where the station is in the photo? It looks familiar.

Us only or why can't i download it? I have WP8.1 (Cyan) GDR1

Good app great idea but I don't know many windows phone users to be able to enjoy this app. Just like bb messenger. Thanks though

NOT available in The Netherlands, wtf?

Surely this is just going to empower cyberbullies, stalkers and trolls? Snapchat seems fairly harmless, but being able to say what you want to anyone without consequence or leaving evidence... It just seems more open to abuse than other apps.

I'm sorry, but I don't believe sexting is ever harmless. It's degrading to all involved.

I wasn't refering to its use for sexting, people use it for perfectly innocent reasons!

Not able to download in Pakistan as well...why such bullshit MSFT!!!

Tried to download for 720, but says not available for ur device... Thk not supported for 512md device or not available for India

This app is actually pretty crappy. It looks like an alpha that shouldn't have been released yet. No way this will ever compete with anything in its current form

So, Microsoft is jumping into the sexting game, competing against an already-established king-of-the-sexting-app like SnapChat? I think that is a horrible decision on all fronts. Just disgusting.

Let us welcome all those snapshot kids into Windows Phone! Good job MS Research, make more and attract more!

Maybe they will. The new hacker mentality under Satya has the employees allowed to try new things and ship experimental apps and code. They can build on that.

Well, who would be online to actually chat to? There's no ecosystem for it. Like Windows Messenger, it's emptier than a hermit's address book.

So its like a snapchat then?

Not available for Lumia 520 and Greece! Any info why is that?

I do not know how to use it :(
Windows Central Newsletter
Thank you for signing up to Windows Central. You will receive a verification email shortly.
There was a problem. Please refresh the page and try again.