Winter Sports drops for Windows 8, instantly becomes the best way for you to check your skiing stats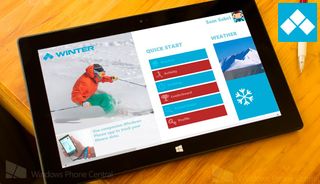 One of my favorite apps this year has been Winter Ski and Ride for Windows Phone 8 users. It launched in early February and quickly became one of the coolest apps around. It's an app that tracks various stats when you're out skiing or snowboarding. You also get snow reports, tracking, and much more. A sister app was released later in the year called Active Fitness – it's from the team behind Winter, but aimed at general sports and activities. We've got the 2013/2014 ski season coming up, which is the perfect time for them to release a Windows 8 version of Winter. Let's check it out.
No, you're not going to be taking your Surface on the slopes anytime soon, but the new Windows 8 application is the perfect place to view and manage your stats from the Windows Phone 8 app. Winter Sports is the Windows 8 application that helps bring in all the data from the Active Network (Winter Ski and Ride / Active Fitness) into one app. Here are the features you can look forward to when using Winter Sports on Windows:
Snow Reports - click on snow reports and search thousands of resorts for the latest snow and powder information, number of open trails, lifts and mountain statistics.
Activity Tracking - simply switch tracking on at the beginning of your ski day, and put the phone in your pocket. The app will automatically track your runs, speed, vertical, goals and achievements.
Lessons - the app includes professional ski, snowboard, telemark skiing, freestyle and cross-country lessons from professional ski instructors of America, exclusively for Winter app.
Friends and Social - connect with your skiing buddies through Winter social network.
Leaders - watch stats and connect with the leaders with Winter leaderboard.
When you launch the app you'll want to sign in with your Active Fitness account that you've used before. If you went skiing or snowboarding last season you'll see your data from there in the app already. If not, make sure you download all these apps to get the most out of your upcoming slope sessions.
The app is especially useful for when wanting to check out current and future snow reports for whatever mountain you tend to shred. These apps are also the only apps on any platform that have support from the Professional Ski Instructors of America and American Association of Snowboard Instructors (PSIA-AASI). Which helps give Windows Phone (and now Windows 8) some nice street cred over Android and iOS.
Make sure you download Winter Ski and Ride for Windows Phone and Winter Sports for Windows 8 if you plan on doing any skiing or snowboarding at all this year.
Ready for Winter Sports on Windows? Of course you are. Grab it in the Windows Store (opens in new tab) today.
Well, I dont't ski...guess i will have to start now!

"No, you're not going to be taking your Surface on the slopes anytime soon, but"... You will be strapping two Nokia 2520's to your feet, and tear up some awesome double black diamonds.

Forgot about this app. Will be using it this year. BTW ski season started weeks ago in Colorado. I hit up A-Basin already. Headed to Steamboat this month hopefully!

I used this app last season on WP and impressed all my friends who have androids and iphones. They wanted it and I told them it is an exclusive WP :)

This will be a nice addition to my apps. I can drool over the next ski trip.

I'm not seeing it in the windows phone store. I have the htc8x. Is it a Nokia exclusive app?

Looks like not available for the 8x. I wish the article made clear its a Nokia exclusive. Any recommendations for a WP app that is available for the 8x?

There is now an Active Fitness for Windows 8 app to compliment the Active Fitness Windows Phone 8 app.
Windows Central Newsletter
Thank you for signing up to Windows Central. You will receive a verification email shortly.
There was a problem. Please refresh the page and try again.