WinZip launches its universal app for Windows 10 PC and Mobile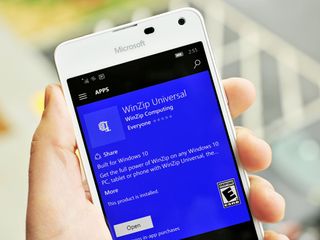 The popular file compression software company WinZip has launched the first version of its app for Windows 10 PC and Mobile users in the Windows Store.
The app is free to download for a trial period, after which users must pay a $7.99 a year subscription fee to continue to use WinZip Universal. For customers who prefer the regular desktop app, the company has launched WinZip 20.5.
Download WinZip Universal from the Windows Store (opens in new tab)
Windows Central Newsletter
Get the best of Windows Central in in your inbox, every day!
Subscription for this? 7zip is free.

Isn't zipping and unzipping already a built-in part of the Windows 10 OS anyway?

Yeah, extracting is essentially already a function. Not sure what the benefit of using this is. Zachary Bowling - ZAD Apps

8 zip is pretty cool. Got it on my PC and tablet and phone. I think it should be renamed 10Zip I approve this message.

Or OneZip Lähetetty Windows 10 -puhelimen Windows Central -sovelluksesta

enterprise benefited on this if you know the encryption grade level of winzip when you enabled the protection, only winzip can extract that Posted via Crown type writer machine

More choices is good right? Posted via the Windows Central App for Android

Amd 8Zip is way more cheaper and a universal app :D Posted with the Windows Central app for Windows 10 on HP 250 G1 notebook. It is a scary old monster, I think :D

8Zip also has Windows Hello in the beta, which is super neat. Still, always good to see brand names arrive. Don't forget, new users have no idea what 8Zip is ;)

All I can say is thank you Daniel, all these apps to many to name,were all recommended long ago all free through this site Windows central W10M 650

Oh you got a 650? :O Tell me a little bit about it please. How does the phone and W10M on it hold up in everyday use? I'm thinking about making it my next phone when my contract ends for my 535 :D Posted with the Windows Central app for Windows 10 on HP 250 G1 notebook. It is a scary old monster, I think :D

Typically, businesses aren't allowed to use the majority of the free zip programs and must purchase licenses. If you must purchase, than WinZip is the best.

Il'l stick to winrar with my lifetime license.

My license is expired but I still using it. :D

Nice, wasn't expecting this. I switched to 7-zip a long time ago though so hopefully we see that soon too. Sent from my Toaster Oven (Lumia Icon)

Really? Sent from my frig 1520

Sweet! Posted via the Windows Central App for Windows 10 Mobile

Looks good, but $8 subscription for an archiver? Not even gonna give it a try. Staying with 8 Zip. Sent from my laptop on Windows 10 Pro Insider Preview

Just tested and is impressively good. WinZip was always a paid program unfortunately, it may worth because of the encryption feature. Windows Central app

People still use WinZIP these days? Wow! I switched to WinRAR's unlimited trial, shortly after that permanently moved to 7zip. Using it for more than 6 years. Still the best application for archiving.

Is 7 zip different from the 8zip app?

I believe 8Zip uses the 7-Zip libraries.

Yes. 7 zip is for desktop. 8 zip is for metro (at least formerly known) I approve this message.

Tifkam I approve this message.

Is there any connection between them? 7zip and the 7z compression format are open source, I think. Isn't 8zip a commercial product that's just capitalizing on the name and that it came out for Windows 8 as the only Metro app? (which is good, no criticism, just thought they're unrelated initiatives)

They follows the OS numbering, but I'm waiting for 10zip =D Ugh, I'm at work...so boring lol =p
Windows 10 RULZZ yer FACE!!!

If these universal archivers could offer main options in right-click menu they are awesome. Like the desktop winrar for example.

already have 8zip installed, when it was promo for free. so $7.99 a year for unzip? No, thanks.

lol this thing still exists

Apparently this "Universal apps" strategy is kinda working. Never expected to see an oficial WinZip app on Windows 10 Mobile.

Will download for support I approve this message.

Yeah, I'm seeing more big name apps releasing more frequently on the Win10 Store, not to mention many of those apps are actually useful now.

Did they used that bridge program to bring the original app to store?

Lol and so is that joke! =D Ugh, I'm at work...so boring lol =p
Windows 10 RULZZ yer FACE!!!

Yep good to see it on board, bit a free version 7 or 8 does.me fine ** 950xl and loving it !!

How long before they pullout and say they don't have enough customer interest?

Does it fix the issues they(& winrare) have had since vista

From what I remember its mostly selfextracting exes packed by them

The number of people complaining that $7.99/year for the service is kind of ridiculous. Don't get me wrong, I use either the built stuff in Windows or 7Zip because free is nice, but come on guys, $7.99/year for the top of the line zip program is pretty good if you need it.

I'll keep using 8zip lol.

Cool cool cool! Keep them coming.

I will pay for it, one less fat meal per year for chill tech on our platform, also pay $8 and you get both mobile and desktop? Posted from Windows Central for Windows 10
on My surface phone

No thank you. I will stick to 8zip. Sent from lumia 640 xl running official w10m build 10586.218

I recommend POCKET EXTRACTOR! Free, unlimited and full of features..
Windows Central Newsletter
Thank you for signing up to Windows Central. You will receive a verification email shortly.
There was a problem. Please refresh the page and try again.