WMExperts.com: Prize-A-Day Contest!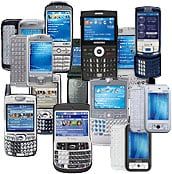 WMExperts Prize-A-Day!
To celebrate the launch of WMExperts we're going to be giving away a some great prizes... and by "some" I mean "One every weekday for an entire month" and by "great" I mean "really, really great." Here's the short of it:
Every weekday beginning February 13th, 2007, WMExperts will be posting a relatively simple 'challenge,' ranging from "comment on this entry" to "write a limerick making fun of the PalmOS" to "Post in the forums." Simply fulfill the challenge on any given to to be entered in a random drawing for that day's prize. What are we giving away - well it's going to vary from day to day, but take a look below for some examples.
At the end of 4 weeks of prizes, WMExperts will be giving away a Grand Prize and two Second Prizes, drawn randomly from the list of all entrants to each of the daily contests. What are we giving away? The Grand Prize is a WM Smartphone of your choice plus $300 to spend on accessories for it. The Second Prize for two winners: A Slingbox Pro.
...More details and the full rules after the jump.
(Update: We've started. You'll find the latest contest in the righthand sidebar every day.)
Grand Prize (1)
Your choice of any Windows Mobile Smartphone that's currently available in the United States...
...Plus $300 to spend on accessories in the WMExperts store.
(Also: If you happen to chose a GSM phone that's available in an unlocked version, we'll get that version for you)
Second Prizes (2):
Two lucky winners will receive a Slingbox Pro!
Daily Prizes (20)
These will vary from day to day, but will include stuff like Bluetooth Headsets, games and productivity software, cases, and more. Check back every day to see what we're giving away.
Contest Rules and procedures
The Prize-A-Day contest will run from February 13th, 2007 until March 12th, 2007. A Daily contest will be held each weekday during that period. You can find the latest Daily contest here.
For the Daily Contests each entry must have a valid email address associate with it, the method of inclusion will be specified in each day's post. At the end of each day, a winner will be chosen at random from all of that day's entries. Once a person has won three daily prizes, he or she will no longer be eligible for daily prizes, but his or her entries each day will still count towards the Second and Grand prizes. Limit one entry per person per day.
For the Final Drawing, all entries for the Daily Contests will be added up and then drawn from at random on March 19th, 2007. Limit 20 entries per person (one for each day).
Disclaimers
Employees and contractors of Smartphone Experts or its affiliates are not eligible.
We cannot substitute prizes.
US residents only (sorry!)
Get the Windows Central Newsletter
All the latest news, reviews, and guides for Windows and Xbox diehards.