Wordament update on the way, bringing improved connectivity and other features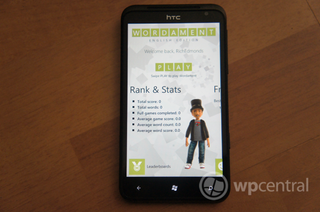 While the developers of the popular Windows Phone word game Wordament have been busy adding new language support and building a Windows 8 Xbox Live-enabled version, the team have managed to get an update packaged for Windows Phone that should be hitting the Marketplace very soon. So what's new in Wordament version 1.1?
By popular request from players, the system tray (the status bar at the top of your Windows Phone screen) will now be displayed after it was previously removed when the game was Live enabled. In the official blog post detailing these improvements, there's a humorous explanation that the developers received numerous reports from users who missed classes, trains, etc. because they couldn't see the time while hooked on the addictive gameplay. The time, battery and signal indicators, and more will now be accessible.
As well as the system tray reintroduction, the team will also be adding an option in-game to change the orange brand-driven background to a more neutral colour for those who detest the mashup of red and yellow. The choice will be colourful rainbows or monochrome madness, both looking pretty sweet in the Metro UI influenced title.
If you so happen to encounter connectivity issues, instead of relying on the not-so-easy-to-find FAQ detailing what could be causing problems, the developers have added better error reporting within Wordament. A good example of this in action is the pesky "Can't connect to Wordament.net" error which would normally throw the player out to the main menu. The app will now attempt to use the newly applied network retry logic to be more resilient to temporary network outages.
Coupled with more user-friendly reporting, the app will now perform less calls on startup with reduced data on transit between the app and backend servers. This will aid those in areas with weak signal coverage or on tight data plans, which is surely going to please many. The last improvement added in version 1.1 is targeting those with larger screens (eg. Lumia 900). The developers used code that tunes Wordament to work well on smaller devices but later found out this actually had negative implications for those with beefy Windows Phones. This has now been corrected in the update.
As always, the developers are eager for feedback to be sent their way for improvements to be continuously applied. Read more about the upcoming changes over on the Wordament blog. You can download Wordament from the Marketplace.
Thanks, Brandon, for the tip!
Windows Central Newsletter
Get the best of Windows Central in your inbox, every day!
Rich Edmonds was formerly a Senior Editor of PC hardware at Windows Central, covering everything related to PC components and NAS. He's been involved in technology for more than a decade and knows a thing or two about the magic inside a PC chassis. You can follow him on Twitter at @RichEdmonds.
OT: marketplace reaches 100.0000 Apps !!! Faster than lagdroid ;)

I can't create an XBOX Live account (and avatar too). I'm from the Philippines. Does it have something to do with XBOX not being available in my country?

You can by creating a new Windows Live ID and select United States as your country. You will have to reset your phone to use your new Live ID though.

I'm most happy about the color change. That orange and blue always makes me want to barf.

The colors do change already if you change your Windows Phone theme color, but it would be nice to be able to select which colors you want regardless of your theme choice.

Green on white looks great.

Does this debunk the rumor that XBOX Live games can't be updated as quickly as indie games?

In response, does this exclude games under Microsoft Studios (I believe Wordament is) and is the updating process for a Live game quicker if its merely under the hood improvements as opposed to additional levels or in game content?

I don't think it makes a difference whether the update includes minor improvements or new content. I just don't believe people who complain that the reason LIVE games aren't updated as often is because they're LIVE games. I think the blame for the lack of updates falls completely on the developers.

Why do people insist on seeing the system tray? Its hidden in other games

Anyone noticed the new Lumia ads on this thing? They are massively huge and there's actually a game lag when it loads the image, at least on my phone, which can sometimes be five times per match. Compared to the text based ones in black and white before, these are pretty graphically intensive and really affect my ability to enjoy the game. Maybe it's a first-gen phone thing, I dunno.

So does this mean it will be returning to the windows 8 platform? It was on the CP but not the RP. I miss it bad on my tablet.

It's nice to have the system tray to know the time so I can avoid being yelled at by my wife. This game is way addicting!