Windows Phone exclusive Wordament goes Xbox Live a day early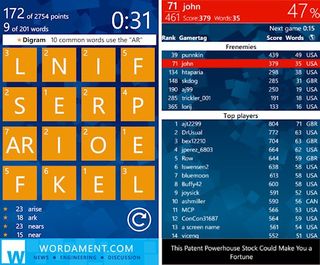 One week ago, the Wordament at Microsoft announced that their word-finding game would become an Xbox Live title on Wednesday, April 25. That's a long time to wait though, and thus somebody decided to publish the Xbox Live version of the game a day early. That's right, you can start earning Achievements in Wordament right now!
Wordament, much like Boggle, involves trying to find as many words as possible from a field of 16 letters, all within a time limit. The hook? You're competing against hundreds of others in real-time over the internet. Rounds last for a couple of minutes. Once they end, you get to see how you compared against everyone else, and then the next round starts a few seconds later. Some rounds have hidden themed words and digrams (words that use a specific combination of two letters) to find as well. You can also add specific players to your Frenemies list and always see how you stack up against them. It's all incredibly addictive.
Wordament has a few tough leaderboard-type Achievements, including one ('World Champ') which won't even be attainable until two weeks from now (May 9 suppodely). But Wordament is a game that you play long-term and in all hours of the night. If you're persistent and good with words, you'll get them eventually. Might I also suggest that Spanish speakers try out the Spanish language option, which offers far less competition than the standard English setting? It could make that Achievement for coming in number one significantly easier to get.
Wordament is free and supported by ads. Get it here on the Marketplace posthaste! If you've already downloaded the indie version in the past, you can either choose to update the game (which will upgrade it to Xbox live status) or reinstall it to get the latest version.
Paul Acevedo is the Games Editor at Windows Central. A lifelong gamer, he has written about videogames for over 15 years and reviewed over 350 games for our site. Follow him on Twitter @PaulRAcevedo. Don't hate. Appreciate!
Just downloaded it, its taking a while to connect though. By the way, the date un the article should be April 25 not March 25.

Ha ha, thanks to both of you for the correction. Made the same mistake that one of my coworkers did a few days ago...

I can't seem to get the Top Player achievement to pop. I got the hourly one but no it says I'm number one and the achievement says top 250 and nothing is showing up. The other achievement popped when I exited the game and click on it again.

If you mean 'World Champ,' that's the one that can't be unlocked until two weeks from now.

Ok thanks Paul. I missed that part in the article. Glad I got the hourly one out of the way.

""World champ" also has one other caveat: Next week we expect the persistent leaderboard to be jumping around as everyone is on-boarding. Given that it will take a few weeks for the new leaderboards to stabilize, we won't be unlocking "World champ" just yet. The service will start rewarding when the leaderboards have settled out in about two weeks. We didn't think it was fair to let that Achievement unlock just because you were the first player in the room on April 25th."

Damn, it was you who edged me out for the hourly achievement...and another 112 players besides you.

Got and tried it, but I keep having troubles. After a round when it goes to show my stats it says I have no internet connection, and drops be back to the main page. Then I swype play and I'm back in a game with like 80 seconds to go?!

My first round said time's up and ended when the timer showed 31 seconds to go yet. Sigh, seems well done so far lol.

Is this the only game coming out this week? I sure hope not anyway! I want to spend some money on Pinball and some of the other announced titles and my app card is expiring..... Wonder what the deal of the week will be. EDIT - Nevermind, fruit ninja is .99 so I bought it!

We will have some interesting news for pinball fans within the next two weeks. Probably not a release date, but something you'll enjoy reading!

That sounds great! Can't wait to see what to have to talk about, I'll be waiting! :)

It's definately got some connection issues. I never used to loose connection in the old version. In the new version I've lost connection to the server even when sitting right next to my router!
Hopefully they will correct the bug soon.

The graphics look a lot nicer as well in this version, I think.

Well when I tried to update it I never got anywhere so deleted the old version and tried to just download it again now I get.

"This application is designed for a new version of Windows Phone. Connect your phone to your computer to make sure that you have the most recent version installed."

Using a HTC 7 Trophy and last time I checked it was up to date!

My girlfriend has the same on her Radar, my HD7 took the game no problem.

Quick cheevo alerts: Play in the spanish speaking rooms to get in the top 10. I got first place and I don't even speak spanish. No one is playing there right now. :)

After the update, I lost my previous gamer tag, achievements and stats!

Glad I had read before about forcing the update. Otherwise, nothing would update on my phone! lol

Yea I hate when the updates don't show up until you force it

That happens to me like all the time. Usually when an update does show up on its own, it's been a few days since the update was pushed to the Marketplace.

I have used more time on this game over the life of my phone, than any other. There's something about it being realtime that makes it really, really addictive!

Also getting the "newer OS version" error on my hd7. Fully updated... Anyone know what's going on?

After installing the update, it just hangs and won't connect to the server ...

Is good. Is reeaaal good.

Nice and smooth game play, no issues connecting or other problems. But, still as much of a grind as before.

This isn't the first free Xbox Live game with 200 gamerscore is it?

No, Flowers is also free with G200, and with Bug Village you can reach G200, too without buying additional stuff.

Paul, you and your crew do a great job. Keep up the good work.

Thanks man! Positive feedback is the best. :)

Will try the Spanish one then jaja

Great game, this will be a classic when Windows 8 comes out.
Some of the achievements are too much though... I dont see me ever being #1, 10 times in the top 10 etc...

Wow, I love the update. It was already my most played WP game and it appears I won't be slowing down for a while yet. I was sceptical about sound effects but they are subtle and really help. The guest mode is nice too. The new colours are great. I'm getting tired of themed coloured icons trying to make my phone boring so the new custom icon is nice also (though back tile functionality could be interesting for stuff like no. of player stats, records). Great work all around.

Can any Lumia 900 owners that have played Wordament regularly before and after their 900 comment on how the 900 display is for this game? Are their tracking problems, delays?

Used to play with my focus. The Lumia experience is different. The screen is much larger so now you have to move your finger more. the Focus provided some friction that felt right for this game. The screen feels so smooth now in the Lumia that it doesn't provide the usual feeling. The gorrilla glass makes so smooth that it takes some getting used to. not bad, just different.

The Spanish dictionary sucks. Most of the words don't really exist. Besides, it's stupid to use accents like á, é in a game like this. Strange you didn't notice all allot this, Paul.

Hey, this is just an announcement with a few impressions, not a full review. Spanish mode is in beta form right now anyway - I wouldn't write it off until it gets finalized sometime down the line.

I cant decide if I like the update. While the new features, sounds, animations and everything are nice, the connection errors and startup speed are really killing the whole experience. I loved the simplicity of Wordament before, and now it's congested and flashy. I don't like the background either, an option to switch back to the black (or white) backdrop would be welcomed. Otherwise, I do like what has been done here. Good work.

Wow. I think the backgrounds make it look much nicer. Some options to change the theme would be nice though.
Windows Central Newsletter
Thank you for signing up to Windows Central. You will receive a verification email shortly.
There was a problem. Please refresh the page and try again.