Wordament brings word tournaments to Xbox Live on Windows Phone on April 25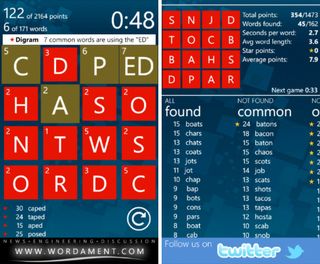 Lately we've been fortunate enough to receive release dates for new Xbox Live games a week or two in advance – including this week's release, Monster Island. Naturally Windows Phone gamers are already anxious to know about next week's new game, and we can now put those anxieties to rest. Microsoft Studios has officially announced that the Xbox Live version of Wordament launches on April 25. The game prematurely appeared on the Marketplace's list of Xbox Live games last week, but was not Live-enabled.
Wordament is already available as an indie game. The gameplay involves trying to find as many words as possible from a field of 16 letters, all within a time limit. The hook? You're competing against hundreds of others in real-time over the internet. Visually it's quite plain, but the multiplayer/leaderboard aspect is compelling.
Head past the break for the full story and an update from the game's developer.
In the past, owners of indie games that switched to Xbox Live status (such as Doodle God) had to repurchase the Xbox Live versions of those games if they wanted to experience the Live features like Achievements and new content. Wordament sidesteps the issue in two ways: first off, both the indie and Xbox Live versions are free, so money is not a factor. Second, on April 25, users who have downloaded the indie version will be prompted to download an update, changing their game to the Xbox Live build. This is actually unprecedented, but certainly the best way to make sure everyone transitions to the new setup.
Wordament on Xbox Live will apparently have several new features over the previous version, with the team announcing a new one each day until the 25th. Today they reveal that separate language versions will be coming, starting with my second language of choice, Spanish on the 25th. Dutch, Swedish, French, German, and Italian versions will also emerge down the line. Each of these will first appear in (presumably public) BETA form to allow for proper multiplayer testing and fine tuning.
No word yet on whether a US player will be able to get the Spanish Wordament, etcetera (See update below for the resolution to this particular question.). It's a possibility with the betas, but highly unlikely with the final Xbox Live releases. There is currently no known way to download or purchase Windows Phone games from other regions using your existing GamerTag/account, unlike the Xbox 360 Marketplace. That explains why I still don't have that European version of Who Wants to be a Millionaire? on Windows Phone, but managed to snag the unique European XBLA edition with its awesome South Park and Star Trek DLC.
Finally, Microsoft will be promoting Wordament with an evening tournament and open house at their Bellevue, WA Microsoft Store. They promise food, giveaways, prizes, and human sacrifices, so a great time should be had by all. Okay, I'm kidding about the sacrifice part, but you never know for sure until you show up and see what happens. If anyone in Washington attends the party, remember to send some pics and tell us how it went.
Wordament comes to Xbox Live worldwide on Wednesday, April 25. If you'd like to try out the indie game right now, grab it here from the Marketplace.
Source: Wordament.com
Update: A couple of comments from a member of the development team provides a few additional details about Wordament's language support and separate language editions:
Paul Acevedo is the Games Editor at Windows Central. A lifelong gamer, he has written about videogames for over 15 years and reviewed over 350 games for our site. Follow him on Twitter @PaulRAcevedo. Don't hate. Appreciate!
Hi there,
Thanks for the write up! We wanted to provide a couple of quick clarifications about this post for readers:
First, we are shipping world-wide, for free, on April 25th and we support 7 user-interface languages: English, French, Italian, German, Spanish, Dutch, and Swedish. Wordament, like all Windows Phone apps, will automatically use the user interface language you've selected in Settings, if it's one of the 7 above, or revert to English for other languages.
Second, as we add new Language Editions, they will be free and available to all players in all regions. This starts with English Edition and Spanish Edition BETA on April 25th, and then expands as we mentioned. The important thing is that anyone can play Spanish Edition BETA, not just folks in Spanish speaking regions.
Thanks again for the mention!
Jason (aka "Black Snapper" in the game and on our blog @ wordament.com)

Thanks Jason! Updated the article with your comment.

Just started playing Wordament and really like it - highly addictive.
Living in Germany I really hope the arrival of a German-language version will not force me to play German puzzles. I don't care about the UI langugae (although given that some apps have terrible translation I'd prefer the english version) but the puzzle-language really should be a choice of the player.
Update: posted simultanously with Black Snapper - great news that all languages will be available in all regions! Thanks

Can we confirm or deny the addition of achievements to the Live version? I'd assume so, but the announcement didn't say...

And Portuguese language? Some plans for us??

@BallistaMan: Yes, we will have full Xbox LIVE integration, including Achievements. We will be discussing all of those in details in a couple of days on our blog.
@GuilhermeManso: Portuguese is on our list, but after the initial 7. We are figuring it's going to take some time to make excellent puzzles in each of those languages, so we don't have an ETA for Portuguese just yet.
Also, just to clarify Language Editions even further. All Editions will be accessible from within the single Wordament download. We will not be making 7 Wordament apps. It's one app--you pick your language. We will default you to German Edition (once it's launched) if your UI language is German, but it will be easy to switch at any time. There's no cost or penalty to trying any or all of the Editions, and your stats and leaderboards are completely independent. That means you can be great in some languages, terrible in others and it doesn't matter. :-)
Because it's one app, we will have one set of Achievements for Wordament on Xbox LIVE on Windows Phone. If it's easiest for a player to earn their achievements in Spanish vs. English (for example), then they should play in the language that makes it the most fun for them.
-- Black Snapper

I use wordament as a gauge to see how many new users are on WP7, last night we had over 800 players in one game.... this is great!

The current version is a bit grindish after awhile, but I am really looking forward to the update. Definely one of the smoothest-playing games.

I am addicted to Wordamemt!

I love the game, but truly hate ads with a passion. I cannot be the only one willing to pay to get rid of the ads? Many free games do not get me to play because of the ads, or I don't stick with them because I prefer the game to be ad free.

Not sure why else I need this game to become a Live title? If it lacked ads that's one thing, but in this case it does not seem that I'm gaining anything. Now if only this was on iOS so I could play against my wife. I guess there is Word Arena for that for now.

The Live version will add Achievements, which provide an extra incentive to keep playing and go after additional goals. It will also add other enhancements which the developers will reveal as the release date approaches. I too would be willing to pay for an ad-free version, but what can ya do? With existing ad-supported Xbox Live games you can just turn off data and Wi-Fi to prevent the ads from showing, but that won't work here since Wordament requires the internet to play.

I will definately be at the Bellevue tournament and open house. Excited to meet the guys behind the game and some of the best players I know are in the Seattle area.

Really, really looking forward to the Live-enabled version of this game. Really enjoying the indie version and can't wait to start earning some achievements!

Also, I thought I remember hearing that free games are going to get 200GS from now on, not 50. Is that true, or am I mistaken?

Awesome game--it is my biggest addiction on Windows Phone so far. Though is anyone else noticing it is a bit flaky displaying the scores lately or is that my phone? Looking forward to the Xbox Live version.

I've had an issue lately where my score is in the 6th-12th range and it'll put me in the list as dead last with zero points - it happens about once in every ten games, I'd say
Windows Central Newsletter
Thank you for signing up to Windows Central. You will receive a verification email shortly.
There was a problem. Please refresh the page and try again.