Words with Friends makes the jump to Windows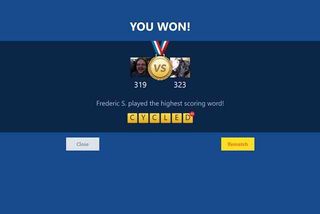 After a launch on Windows Phone, Zynga has finally made Words with Friends available for Windows 8.1. Now, you can challenge and chat with friends through the app on your laptop or Windows slate. The app also brings cross-platform compatibility to your gameplay so you can access all your games on all your devices.
Here are the features of the Windows edition of Words with Friends:
CHAT with your friends in-game
ACCESS your games across all your devices
DOWNLOAD to access the new experience, fully backwards compatible with your current game.
Chuong's passion for gadgets began with the humble PDA. Since then, he has covered a range of consumer and enterprise devices, raning from smartphones to tablets, laptops to desktops and everything in between for publications like Pocketnow, Digital Trends, Wareable, Paste Magazine, and TechRadar in the past before joining the awesome team at Windows Central. Based in the San Francisco Bay Area, when not working, he likes exploring the diverse and eclectic food scene, taking short jaunts to wine country, soaking in the sun along California's coast, consuming news, and finding new hiking trails.
Rise from the grave my friends, it's time to play!

Can you play this game even if you don't have any friends?

LOL
Yes, you can play against random people.

Rise from the grave my friends, It's time to get BUGGY!

Crappy game. "Googled" is a word, like wtf

There's a name I haven't heard in a long time, do people even still play it? I'm happy we're getting all these games, but still.

Hear, hear! Although I'm not seeing it in the store currently. Is it already released, or just coming soon?

Its out now. Just search for words with friends (make sure you complete the search, it doesnt pop up as your typing yet). It will be the first one. Or alternatively just click the download link in the article.

Oh, I misread this as being out for Windows Phone, as opposed to just Windows. Just sold my Windows machine in order to get a gaming rig, so I apparently can't play now :/

Its been out on Windows Phone for a while now. Infact it went to Windows Phone before it went to the Windows 8.

I'm behind the curve, so I just discovered this a couple months ago.

We need banking and financial apps badly.

I don't know why I would bank from my phone... but ok

Stock trading, money transfers, bill pay, check deposits... Why wouldn't you?

Between Mint and Prism, I've had all my mobile banking needs covered.

But those are missing the two most important things, check deposit and stock trading. Fidelity really needs to update theirs. Schwab doesn't even have an app. Etrade is about the same as fidelity, both missing check deposit and and money management.

On Windows 8?
You know this is about PC apps and not phones right?

Finally! I play this all the time!

Man, glad more apps are coming as of late but this feels like a throwback. I guess Windows Phone will always get the app "after" but hopefully Windows 10 cuts the delay time down

It came to WP a while ago, though still after iOS and Android.

*sigh*
This about the game coming to Windows 8, not Windows Phone 8.
As Soypan said, its been available for WP8 for quite some time. Like a couple of years I think.

Yeah ! I have been waiting for this for so long. Thanks Zynga!

Or you could have been playing Words by Post, which is also on every platform and supported WP even during its WP7 days. One guy made a version for iPhone, Android, WP and FB, ask by himself and it took Zynga years to even consider WP. And Words by Post doesn't try to get you to buy into their store.

I'd like to see Draw Something on Windows too.

At least they finally released Zynga Texas Hold 'em for Windows Phone...

I want MS to re release the original Texas hold 'em that I actually paid for on WP7 on the WP 8.1

Swag Yolo is a word, this game is rigged

Zynga working hard on Windows lately.

Does this mean wordfeud will feel some pressure to make their WP app not be a crash fest... I hope. Might have to jump ship to wwf if this app is good

I love WWF. Been playing it for years. Just still behind the iOS version is all, and yeah, a little buggy, but not bad.

Funny, Windows 8 isn't 3 years old.

I've had WWF on my phone since June, but the addition of an app for desktop is sweet. I tried playing using the facebook browser app a few days ago and it was awful. The app runs so much smoother than the flash version in browser. As mdram mentioned, we've also got Zynga Poker on WP now. Zynga's fatal flaw in all this is that they aren't advertising the availability of apps on WP. Bewildering since their CEO, Don Mattrick, is former head of Interactive Entertainment at Microsoft. Not a tweet, facebook announcement, or press release. Gotta feel sorry for the programmers. They work hard and then the marketing department falls down on the job.

Since its so awesome on Windows phone?

It works pretty well on my 920.

That's freaking great news, been waiting for this for a long time. Love playing on my Sureface3.

This had been available for over a year now , wtf are they talking about, had it in my dell venue and now my 920 8.1 preview but had to pay like 3.99 for it, they should refund my flipping money them of its free now

This is for Windows 8 x86/64

both this and phone version dont show the profile pic, just a tile... annoying

This is great news. Along with Pandora and my banking app (usaa), this was on my list of apps I assumed would already be on the windows store since they were already available for WP.

They have to very soon.. With windows 10 , I suspect apps from WP 8.1 won't work.. Same as WP 7 to 8 migration

Nice to see companies like Zynga moving into universal apps.

So, Zynga is finally catching up to the makers of Words By Post? Been playing that nearly non-stop with my iDroid friends on both Windows and Windows Phone for ages. Still, glad to see a new addition to the family.

Now fix draw something...

I'm just happy to see large game maker like Zynga really embracing the universal app model. Need partners like this to open the gates for developers.

HM....2000-Late! Alpha jax runs so much better

Now on Windows phone while I stopped playing so many months ago. To late for me

When is cyan coming to the phillipines? *first in*

This is huge! Thanks devs

I just ove this game nad have been playing against two random people non stop since 2011. So to be able to play on my laptop, windows tablet, windows phone, iPhone or android tablet is awesome. And then facebook too. I am really happy to have WWF on my laptop now and it works well in Windows 10.

Crikey... that's an oldie to drop out of the hat! I remember when every other post on wpcentral was regarding its release for Windows
Windows Central Newsletter
Thank you for signing up to Windows Central. You will receive a verification email shortly.
There was a problem. Please refresh the page and try again.