Hey, Windows 7 users: Would a free Windows 10 upgrade make you switch?
Would another free Windows 10 upgrade window tempt you away from Windows 7?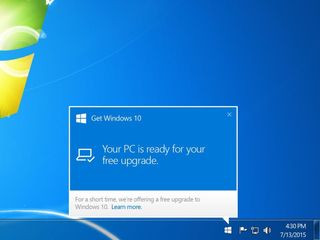 With Windows 7 fast approaching end of life, the remaining hundreds of millions of users still on that OS should seriously be considering an alternative. There's Windows 8, Windows 10, Linux, or even the Mac route if you're feeling up for extreme change. Remaining on Windows 7 is a terrible idea, because after January 14 you will no longer be protected from any new vulnerabilities that are discovered, and over time, even apps will stop supporting Windows 7 as well.
I think it's wise for most Windows 7 users to switch to Windows 10 at this point. While many Windows 7 PCs on the market today likely won't run well with Windows 10, there are plenty out there today that would. So, I wonder, would those users be willing to take advantage of another free Windows 10 upgrade window? Microsoft pushed Windows 10 hard at launch in 2015, offering it free of charge on the desktops of millions of people.
The upgrade window was limited, however, and after many months the free upgrade went away. Microsoft already said it won't be opening the free upgrade window again, meaning if Windows 7 users want to upgrade to Windows 10, they will have to pay for a full license to update. Many Windows 7 users at the time were extremely unhappy that Microsoft was pushing Windows 10 so hard with popups that wouldn't go away and System Tray icons that remained in place permanently.
If Microsoft were to offer Windows 10 again, it'd have to be way less forceful about the whole thing. A single popup, detailing that Windows 7 is running out of time, and that Microsoft is graciously offering its hand to help once again with a free upgrade to Windows 10. If the user rejects it, that offer goes away and is gone forever. If you're running Windows 7, would you be willing to take advantage of another free Windows 10 upgrade window, assuming your PC could handle it?
If you choose to remain on Windows 7, your PC becomes a huge target and security risk after January 14. I think there will still be millions of Windows 7 users after support ends, and I'm sure attackers will want to take advantage of that. On Windows 10, heck, even on Windows 8, you'll be safe from that. According to Net Market Share, Windows 7 still accounts for 40 percent of the PC market, with Windows 10 on around 37 percent of PCs. Microsoft has already publicly stated that Windows 10 is in use on 800 million devices, meaning there are hundreds of millions still on Windows 7.
It's a great time to upgrade
(opens in new tab)
Microsoft Windows 10 Home
Upgrade to the latest version of Windows

Windows 10 is Microsoft's latest OS packing the latest features and enhancements, including security updates and support for modern hardware.
Zac Bowden is a Senior Editor at Windows Central. Bringing you exclusive coverage into the world of Windows 10 on PCs, tablets, phones, and more. Also an avid collector of rare Microsoft prototype devices! Keep in touch on Twitter: @zacbowden.
Go out and find a legitimate copy of Windows 10 v.1709 as an .ISO. It will still upgrade Windows 7 and 8 for free.

It will not upgrade, but it should do a clean install with the 7 or 8 serial.

If you run Setup.EXE whilst in your current Windows it will do an upgrade install. If you boot from the ISO (burned to disc or USB) it will do a fresh install.

That's incorrect. I literally did two upgrades last month from Win 7 to Win 10 with version 1809. The upgrade still works, while unofficial. There are many posts about this on the internet.

My only Windows 7 machine is there because of Media Center. Windows 10 killed it. I might find a way to get that machine on Windows 8 Pro with Media Center.

Go here: https://forums.mydigitallife.net/threads/discussion-patch-wmc-to-run-on-... Just note that Windows 10 Anniversary broke cable cards and DRM so if you use those you are stuck at Windows 7.

I've been using Team MediaPortal since Windows 10 was released, and it is just as good - probably even better - than WMC.

Reminder to all, back in the days of Windows 10 release, when you had the Get Windows 10 app under Windows 7/8.1, the simple fact of having the app running at some point in time, would reserve your copy of Windows 10. And I recall Microsoft stating that if you reserved your copy, you could upgrade at any time, even after the free upgrade offer. So, if you didn't go out of your way to not get the Get Windows 10 app, you should be able to upgrade for free

Not quite. Just the presence of the Get Windows 10 app didn't do anything. But running it did. Once Windows 10 installed all the Windows 7 user had to do was to roll back from the freshly installed W10 to his old W7. Then he could reinstall W10 at anytime in the future (no one-year expiration). What happens is that the installation of W10 registered the device (not the software) with MSFT as a Windows 10 device, which is good for the life of the device. Thereafter the same edition of W10 can be re-installed endlessly and will activate every time. The trick folks in their anger at MSFT missed was the rollback. They refused to upgrade because they didn't realize the whole activation scheme had completely changed, with registration of the device being the key.

This. Did it on my iMac in Boot Camp. Now, I just install it and it registers itself, whenever I need to run Windows 10 on it. That's ignoring the fact that there never really was a real reason to stay on 7, unless the needs were business-oriented, anyways. More and more apps are starting to use post-7 APIs/SDKs and/or drop support for old Windows versions (because it's a waste of time to keep supporting a 10 year old operating system, and developers are started to get sick with that treadmill), so I guess some are starting to feel the crunch. Truth be told, half of them probably are due for a new PC, anyways :-P

It's still possible to upgrade for free anyway (so I'm told)

It is, as long as you use v.1709 (Fall Creator's Update) or older. They will activate with a Windows 7 or 8 license key. Anything newer (starting with v.1803) will not activate without a new key.

Windows 10 v1809 is activating on existing Windows 7 and 8 installations as of this week. I did a clean install on an old Samsung laptop and typing the Windows 7 key from the sticker on the bottom activated it just fine.

Good to know. 1803 did not work. I hadn't tried 1809 because 1803 didn't work.

I would rather light my self on fire and run around naked in a dynamite factory then inflict windows 10 on my two windows 7s infact I wish my stream would let me put 7 on it unfortunately it's sick with Windows 10. Money isn't the issue I would happily pay for a better operating system then 7 but 10 is a nightmare sure I only paid 50 bucks for it and the stream but I wonder if lighting that money on fire would of been a better thing to use it for . Would you let someone replace all the drinks in your house with liquid ebole if it was free?

Well that's an extreme opinion.
Hundreds of milllions of PC's running Windows 10 just fine, but you're probably right.. its a total bust.

Yes it is a normaly I wouldn't be so extreme but I've been on windows since 98 when i was a kid there were some I liked and some I didn't but I have never hated anything as much as windows 10 os or otherwise. Every day it seems it does something else to cause me stress sometimes making an issue worse. I'm not normally so passionate but if it wasnt for compatibly if go to peppermint for a free os. And while I'm aware its popular it was at one point a free os and with windows at one piont forcing it on users ofcourse its popular . I did not write that bad of review lightly.

Windows 10 is fine. It just is. Unless you use WMC there is simply nothing left on 7 that still works better.

How about I tell you about todays example? I try to run a program but windows won't let me. It won't give me a precede anyway .won't say are you sure ? Won't say warning if you do this the entire world might blow up but you are human I am a machine so your the boss . No the little pos won't even run the program I unblock it , i turn off some protections (side note the fact that I can do that instead of just running the program is retarded ) still won't run . Now we can debate whether or not I should run it all day long but I believe the thing should warn me but let me. Heck the thing should let me delete system 32 if I command it to it's an object I'm a human the fact it thinks it know better is annoying. That's todays issue I can tell you yesterday's as well.
I'm not saying I won't get something else I'll probably wait it out till 10 is replaced kinda like I did with vista tho that os was tolarable. Now as far works better yes the thing plays games better its faster etc I'll give it's got some things on the other 2 but the other 2 do what I say and run what i want and when they update they dont crash .
I mean I might be coming off as a troll but I assure you I just legitmently hate this os they are gonna have to build a more obedient system for it to be tolarable

This is hilarious. When we tried Win 10, we discovered it has a bug with a three-monitor setup where mice will 'catch' on the upper-right corner of the middle monitor. We contacted Windows support and they said, and I quote, "it's a known issue and we're not planning to fix it". The reason not to switch is that Win 7 works perfectly. It's smaller than 10, less invasive (it doesn't record your data and send it to Microsoft without your consent), faster than 10, and in general less of a dumpster fire. You have no clue what you're talking about. I'm not sure what I'm doing when the time window is up, to be honest. Maybe keep running 7 until it becomes completely unfeasible. Maybe switch to Linux. But 10? I really hope that isn't my best option a year from now. Microsoft makes terrible business decisions and I'm tired of supporting their slow, enormous builds, especially now that they monitor the content I consume. And no, I don't mind when Google does it because I have more faith in them as a company.

@deadlyta13... I've been toying w/computers since 1987 and yup I'm with you on "I have never hated anything as much as windows 10 os". Have several computers (desktops/laptops) having used them on a weekly basis prior to 10, now we rarely turn them on after experiencing 10 for a lengthy period because it has literally been a nightmare w/majority of updates (90-95% of the time)... somewhat better now yet the damage has already been done. Use one desktop on a regular basis holding my breath every time an update ensues, don't recall it being this bad back-in-the-day... Dunno but thought computers were supposed to become smarter yet that couldn't be further from the truth from my perspective. Too, when something does go awry during an update it'll turn the tables making it out as if it is one's device or other supporting hardware/software as the problem when we know darn well it's the OS and recent update that screwed it. All my non-Windows devices rarely ever have issues and keep on chugging after multiple updates so why is Windows-of-late been such the opposite? No interest at all in the past couple years in purchasing another Windows device period nor wouldn't we take 10 even if they paid me, and that's the truth

Could not agree more. I actually downgraded a newer laptop that came with the cancer that is windows 10 on it. Best decision ever.

At the time of writing this ~85% of people wants their computer to be slower and bug riddled.

Windows 10 is definitely faster than Windows 7, and a lot more efficient. Windows 7 has bugs, as well. Why do you think it got multiple service packs and countless support packages?

The first part I definitely don't buy it, Windows 10 isn't nearly as fast as Win 7 (and 8.x) are (compared on the same hardware). Efficiency? when it uses 50% of your RAM while on idle and has unexplainable CPU usage spikes? Surely Windows 7 had bugs, but they weren't nearly as bad as the win10 ones and they were fixed quickly. (This probably is because Microsoft had a dedicated QA team to test this and not the Cirque du Insider). Multiple service packs, and no mouse pointer teleporting (this one took almost 7 months to be fixed), no performance loss in games, no drivers broken (microsoft is still fighting with Creative X-Fi and Realtek SD card readers drivers in the 19H1 builds), no disk at 100% all the time, no RAM being used without reason, no candy crush and other unwanted apps installed, in fact, with each update they improved performance even more, they added things, they solved issues, without destroying hardware and software compatibility.

As long as Windows 10 forces automatic updates and as long as Microsoft continues to not test every hardware combination that Windows runs on for stability, then no to Windows 10.

Buy pro of you rely on this so much. Like any business should.

With pro you have more flexibility.
But 👀 In 1903 home users will be able to pause update for 7 days.

I haven't had much hardware trouble, but the forced updates ran me to 7. I hate waking up to find that my computer reset itself in the night and I have to reopen all my stuff. Windows explorer is also annoying, always collapsing all the folders I keep expanded for quick access to files (presumably hard drives going to sleep, even though I've told them not to)

Upgrading Windows 7 or Windows 8.x to Windows 10 through Windows Update isn't available. However, using the Windows Media Creation tool and creating a DVD or USB stick, you can upgrade or clean install Windows 10. I'm a tech and have been doing it for customers since Windows 10 released. It doesn't matter which Windows 10 major version you use. They all work.

Wow. So much hate for Windows 10. I don't get it. What kind of machines are you guys using?

Wow. So much hate for Windows 10. I don't get it. What kind of machines are you guys using?

1 win 10 hp stream 14. 1 hp 2000 I downgraded from 8 to mint then win 7 and 1 pavilion g7 win 7. The stream may be my first win 10 but its giving me more problems then other 2 and they are much older.

It's not the fault of Windows 10 that you have such trash devices. HP Stream 14 was the kind of device that you bought for teenagers that you didn't want to invest into good computing equipment for... Or something to keep around the house to surf on the couch when you couldn't afford an iPad. They are extremely underpowered in CPU, RAM, and Storage. I think they use eMMC storage which has worse performance than 5,400 RPM Laptop Drives. The RAM is slow and probably only 2GB - way under spec, IMHO. I'm not even going to start about those Atom CPUs (which is what I think they had). You cannot expect much from a machine like that. It's basically a disposable laptop. If you want something that will run well, then get a Ryzen 3 Laptop for like $3-400 and upgrade the HDD to a 240-500GB SATA3 SSD on the cheap (these days, even machines that cheap ship with 8GB RAM). The screen resolution may be lower (probably 768p), but HDMI is a thing and 1080p displays are not breaking the bank, these days (even good IPS FHD displays are super cheap).

Or maybe it's Win10 fault that it turns these devices into trash. They worked awesome under win7, they worked awesome under win 8.x and they are "disposable" on Win10. Something seems odd here.

You can upgrade any Win7 home or pro just using the Upgrade Assistant tool that Microsoft provides. It will upgrade it to the latest version of Win10. It's meant to update from one build of Win10 to a later build, but was the same tool during the Win7/Win8 "free upgrade period to Win10". I put that in quotes because the newer versions of the tool still support a seamless upgrade from Win7 or Win8 home/pro. License update and all still to this day. I work at a POS company and upgrade PCs every few days with this. The go straight to 1809 and are still activated with no issues. They never turned off the free upgrades like they originally said they would.

Once telemetry, sponsored apps, and all the extra crap running in the background is gone, I will upgrade. For now, i'm sticking on Windows 7.

this. Or they give me enterprise edition for free.

I resisted windows 10 for a long time. But you don't even have to register it. You can run it inactivated with only minor setbacks in appearance settings. But as far as telemetry you should run a Pi-hole network wide ad blocker. Not hard to do. Just spin up a virtualbox in your windows with unbuntu server running and type the pihole install command, then point your routers to use the pihole as its dns. Boom no more ads on your pc/devices, and no more telemetry. You can also login and view the pihole stats.

I shouldn't have to buy a pro license in order to protect myself from being forced to take an update that will end up deleting my user profile, like what happened to a LOT of users a few months back. Nor do I want to wake up one day and suddenly a software package or peripheral won't work because Microsoft decided to remove a feature from Home and put it behind Pro instead.
I use it because I have to, but I've taken steps to disable updates until I actually CHOOSE to install them, and that's after I give the rest of the W10 sheeple a chance to discover the bugs and the workarounds/solutions.

Most people still on Windows 7 likely don't care at this point. It was not hard to get the free upgrade a while back and then roll back your OS after having your Machine ID registered - allowing you to stay on Windows 7 until whenever, but still have a legitimate Windows 10 licensed to your machine. Who was dumb enough to not do that?