WWE 2K15 gets $99.99 Hulkamania edition for Xbox One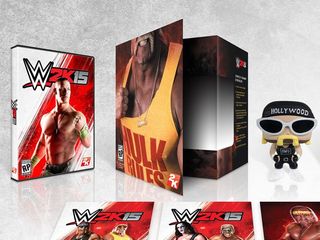 Fans of World Wresting Entertainment will be able to purchase a special "Hulkamania" edition of WWE 2K15 for the Xbox One this fall, as the $99.99 version of the wrestling game celebrates one of the best known WWE wrestlers of all time, Hulk Hogan.
The Hulkamania edition, which will also be released for the PlayStation 4, will come in special packaging designed to hold a bunch of extras. Besides the game itself, the collectors edition will have a Funko "Hollywood" Hulk Hogan vinyl figure, a collectible art card, personally signed by Hulk Hogan and a piece of the actual wrestling ring from Hulk Hogan's Monday Night Raw appearance on March 10, 2014, with a commemorative plaque.
The special edition will also have codes to download both Hulk Hogan and "Hollywood" Hulk Hogan as playable wrestlers in WWE 2015, along with one of his greatest rivals, Sting.
As if that were not enough, the first screenshot from WWE 2K15 was also released today, showing off current WWE star John Cena. The game itself is due for release October 28. What do you think of the Hulkamania edition and the graphical look of WWE 2K15 and what will you do when Hulkamania runs wild on you?
Source: 2K Games
$99??? Holy crap... I'll most likely get this game since I'm a huge diehard fan of pro-wrestling and specifically WWE, but I'll get the one with Cena on the cover. I don't have an Xbox One anyway, so I guess I have to. :-P

John Cena sucks! Let's go Cena...nah he sucks, the poster boy of the PG ERA. Bullshot looks good. Waiting to see the game running before passing judgement.

John Cena is the best. But in recent 2 yrs he's been looking very unfit or injured. Guess some problem is there with him y he looks now so unfit coz still he performs the same moves.

John Cena is WWE so get over it.

While I don't think he's the best ever, I give him props for his dedication to entertaining

What can be do but entertain? He sure as hell cant wrestle(news flash: It's fake), You want wrestling? Mma.

Thanks for the heads up about wrestling being fake.....Anyways, I guess I didn't make my point clear. I give him props for the extra mile he goes for the fans. Many wrestlers past and present rested on their mere notoriety. This guy is as big of a cheerleader for the WWE as you can get.

Where's the Sting edition?

I was wondering the same thing. I would pay $99 for that. Never been a huge Hulkster fan.

What I don't get is the graphics look good and all but when characters interact with each other there's alot of spacing between them. Hands for one look to plastic, too much focus on body than the actual look of how the moves are and like live WWE some moves don't turn out so good, put the real in realistic and get rid of the "move has to go and look perfect in the games"

If they have the "Yes" Kid, then I'll buy.

I met him when he was at a deli I frequent in STL. Pretty cool guy to talk to, took pictures with everyone who asked. His arms are HUGE though.

Dang...I'm might be getting a wrestling game this year!!!

This is going to be the first WWE collectors edition I ever buy

John Cena on the cover so I'm buying this all the way.

Where's the G.L.O.W. edition?

Holy shit looks like we finally after decades get a good wwe game with amazing graphics

I want the Honky Tonk Man edition. An unappreciated legend.

Macho Man was still the better IC Champ.

Wow! at those graphics. Is that in game or a cut scene? Honestly, I'm still waiting for a wrestling game that plays with the depth the early THQ/Aki games had

For you cena haters he's the most wanted person for the make a wish foundation. He doesn't have to do that stuff if he doesn't want to.

I swear I thought Cena's picture was a actual picture

Yeah I did too... When you look closely its obvious its from the game but while reading the article and at first glance I figured was a television screenshot from a real-life wrestling match.

I like John Cena and definitely play game on PC.

Didn't 2K Games decided that the platforms WWE 2K15 will be on are the PS3, PS4, Xbox 360 and Xbox One? There's still hope for a PS Vita version but a PC version? Nah, they won't develop such a version for this game.

Man I wish this Special Edition will also be for the PlayStation 3 at least if 2K Games don't wish to bring this SE to the Xbox 360 or develop a PS Vita port of this game.
Windows Central Newsletter
Thank you for signing up to Windows Central. You will receive a verification email shortly.
There was a problem. Please refresh the page and try again.