Xbox All Access returns for US, UK, and Australia with Scarlett upgrade offer
Get an Xbox One, Xbox Game Pass Ultimate, and upgrade to Xbox Project Scarlett, all for a monthly fee.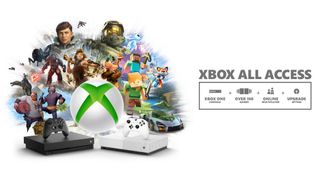 (Image credit: Microsoft)
What you need to know
The Xbox All Access program is back.
The service lets you pay a monthly fee for an Xbox One, Xbox Game Pass Ultimate, and the option to upgrade to Project Scarlett.
The relaunch now includes the UK and Australia, in addition to the U.S.
Microsoft relaunched its Xbox All Access (opens in new tab) program today, giving gamers a way to buy in to an Xbox One and some extras for a monthly fee. What's more, the service is expanding beyond its U.S. confines to the UK and Australia.
With Xbox All Access, you'll be able to get an Xbox One S, Xbox One S All-Digital Edition, or an Xbox One X directly from Microsoft for a monthly payment paid over two years. The service also gives you two years of Xbox Game Pass Ultimate, which bundles Microsoft's game subscription service with Xbox Live Gold.
In addition, Microsoft added the option for subscribers in the U.S. and UK to upgrade to its next console, Xbox Project Scarlett once it's available in the holiday 2020 period and they've made 18 payments (or 12 with Xbox One X). Subscribers in Australia will have to buy out their consoles to upgrade to Project Scarlett. The upgrade offer is available for anyone who buys Xbox All Access before December 31, 2019.
As for pricing, there's no upfront cost required and Microsoft says you can get started for as low as $19.99 or £17.99 per month. That starting price covers the Xbox One S All-Digital Edition console, and prices go up from there if you opt for a standard Xbox One S or Xbox One X, topping out at $31 per month. Overall, Microsoft says, you'll save $100 or £100 over buying the console and Xbox Game Pass Ultimate separately.
Players can get Xbox All Access online in the U.S. at Amazon (opens in new tab), the UK at Smyths Toys, and Australia at Telstra. In-store options will be available in the UK at GAME and Smyths Toys, as well as Telstra in Australia.
Microsoft previously launched Xbox All Access as a program in the U.S. in 2018, but it was a limited promotion and wasn't available in other countries. The relaunch opens it up to many more potential gamers, which could be a boon for Microsoft as it seeks to bring more people into the Xbox ecosystem.
Xbox All Access is set to launch on October 29 in Australia, November 5 in the UK, and November 18 in the U.S. Note that you'll have to qualify for a credit account with Citizens Bank in the U.S., Klarna in the UK, and Telstra in Australia.
All The Things
(opens in new tab)
Xbox All Access gives you everything you need to get started with gaming for a monthly price, starting at $19.99 per month.
Dan Thorp-Lancaster is the former Editor-in-Chief of Windows Central. He began working with Windows Central, Android Central, and iMore as a news writer in 2014 and is obsessed with tech of all sorts. You can follow Dan on Twitter @DthorpL and Instagram @heyitsdtl.
That's crazy, when I got my One X on All Access they included 2 YEARS on the subs, now it's only 2 MONTHS?! 😒

Whoops, that was an unfortunate typo. It is indeed two years! Sorry about that.

Hey! Apologies, was a typo. Still two years :)

I think that may have been a typo, as far as I can tell it is still two years.

Reading the terms of the upgrade, looks like you need to enter in to a new 24 month contract. No word on the pricing per month of that contract that I could find. So, after paying for either 12 months on an Xbox One X ($371.88) or 18 months on One S ($413.82) or One S AD ($359.82+$20 upgrade fee=$379.82), not sure how much more you need to continue paying on that new contract. Has anyone been able to find that information?

Not yet, Telstra don't currently have the details for the upgrade path regarding cost. I'm guessing Microsoft haven't figured it out yet.

If I didn't already have close to 3years of Game Pass Ultimate, I would definitely get this. Its £24.99/m for the X edition in the UK.

So, what happens in a case like yours, do you get another 2 years added to your account? Or do they credit you the 3 years and you pay less per month?

That would be interesting to find out to be honest, I'm probaly wrong but I don't think they can go pass the limit off Xbox live which is 3 years.

I posted below the details regarding existing subscriptions, but long story short you are right, however the Ultimate 24 months is a redemption code so if you chose to get All Access, you simply hold onto that code until you have less than a year of Ultimate remaining.

That's awesome. Thought it would be loaded on the account.

Already done 12 payments on our X. Haven't been sure about upgrading to Scsrlet without upgrading our tv which we dont really plan to do

Well you'll have to upgrade if you want to play any of the games next Gen. You'll be limited to playing not really many new ganes.

Wait. What are you talking about?
DIdn't they say it'll be FC?
There are no longer generations. You'll still be able to play future Scarlett games using the XB1x.
There won't be Scarlett-only games. Just like there are not XB1X-only games. It looks like you are trying to mislead people into buying XB consoles that they may not need to buy...

I was more referring to games that choose to fully utilize the Zen 2 processors next Gen. Id imagine after the initial wave of say first year games, they will start developing games with new CPU intensive engines. And those won't be downgradable with just visuals.

If that's the case, Spencer and co misled gamers when he was talking of scorpio and how it's the end of console generation.
So far what you're doing is speculation. As of now, I'm sticking to what MS and Spencer said over your speculation.
The guy has a XB1X he doesn't need to upgrade to the new XB. Even more when he doesn't plan to upgrade his tv.

As I understood it. He never gave a timeline. You might be right. But I'd say for the First year yeah it will crossover ( Xbox One S won't). Maybe they could push some of the CPU work onto the X GPU and lower the resolution down to 1080p. But after the first year I don't see how next Gen games pushing new physics, AI etc would run. It would be an entire game changing mechanic. As long as it crosses over for a year. I'd say that's pretty good compared to previous console generations.

If you are playing with the X on a poor TV, it's time to upgrade. Gaming in 4K is awesome.

That's pretty damn impressive that it actually saves you money. Working it out in the UK it really does work out cheaper. Definately impressed. Just do it on your credit card. Earn yourself more credit rating while saving money.

Considering all deals you can get for consoles, game pass and XB live. Also considering the lack of freedom from this type of program. I wouldn't call it "impressive". Certainly not money saving...

Lack of freedom as in you can't stop paying for online or game pass in the middle if you know you won't use it. Also if you want to get rid of your console, you would still need to pay monthly fee for game pass + gold. This is a way to keep a customer tied to a company for at least two years.

Well, yeah. I mean that's how contracts work. The same applies when you sign a 12 month lease for a house, you can't just up and leave in six months because you feel like it. But this isn't for people who intend to stop using the service in 6 or 12 months. People know what they are buying into.

You have to remember people still buy cell phones with carriers here (the US) . They love monthly payments, and don't mind contracts.

Yes, that's true. I always try to stay away from such thing. If I want a product and I have the cash I just buy it. But even if I consider people's love for credits, I can't think that this deal is good, since you end up paying more money even though there are more restrictions.

Sometimes convenience outweighs overall cost. Just because a person can't afford to pay $600 up front for a product doesn't mean they shouldn't be allowed to have it. This (or any payment plan, really) allows those on lower incomes to not be deprived the same basic comforts as others. That being said, I don't know about the rest of the World but there are so many companies that do interest and fee free payment (Afterpay, HUMM, Ezipay, Zip Pay/Money) plans that this is significantly less of a bargain as these options also apply to sale items. Basically whatever price is on the item is what you sign up to pay. And these options can also be paid off sooner so they do have more flexibility, but I can understand the benefits of someone adding this to their phone plan which they might already be getting on a 24 month contract anyway.

Pricing for Australia is $27 a month for the Xbox One S and $38 a month for the Xbox One X, no plan it appears for the All Digital Edition. Similar to others if I didn't already have over a year of Ultimate available to me I would jump at this opportunity. Especially given the Scarlett upgrade. It's a lot easier for me to pay 40 bucks a month (only 10 bucks a week, yes please) than dropping $600-700 on a new console.

Also for those wondering about what happens if you already have Ultimate/Game Pass, this is from the Telstra page... "If you're already an Xbox Live Gold or Xbox Game Pass member, any days remaining in your membership(s) will be converted when you redeem the monthly Ultimate membership, and added to your Ultimate membership up to a maximum of 36 months. Xbox Game Pass Ultimate memberships are limited to 36 months. If you're already an Ultimate member, wait until your existing membership has a prepaid balance that is less than 12 months before redeeming the 24-month Ultimate membership through Xbox All Access. You will be unable to redeem with more than 12 prepaid months of Ultimate. To check your prepaid balance, go to your Xbox account. Note, once converted to Ultimate, Xbox Live Gold and other Game Pass memberships cannot revert. To find out more, visit the Xbox Game Pass page." The upgrade to Scarlett, however, isn't as clear cut, the FAQ explains it as such... "We're really excited for Project Scarlett too! Xbox All Access customers can buy out their hardware at any time and upgrade once it's available. So you can enjoy right away the great value in gaming that comes with the Xbox One S, or the world's most powerful console the Xbox One X - and move up to Scarlett when it's released. We will share more news on upgrade options and offers for new and existing customers early next year." That to me says that it won't be a case of "trade in your console and get a Scarlett" there will be an extra cost on top, obviously cheaper than buying outright but until I know more I'll hold off. This may just be an Australia thing though.

The upgrade to Scarlett thing is really weird and sounds like bs.
This is what's mentioned on their site:
"In order to upgrade, you must trade in your existing Xbox console (in good condition) and purchase the next Xbox console with Xbox All Access, under a new 24-month agreement."
https://www.windowscentral.com/e?link=https2F%2Fclick.linksynergy.co...

Yeah, the full details on the upgrade path will be released early next year.
Windows Central Newsletter
Thank you for signing up to Windows Central. You will receive a verification email shortly.
There was a problem. Please refresh the page and try again.