Xbox Elite Controller vs. Xbox Elite Controller Series 2: What's changed?
We're among the few outlets with early access to the Xbox Elite Controller Series 2, giving us unique insight into whether or not it's worth the upgrade. Here's what we've learned.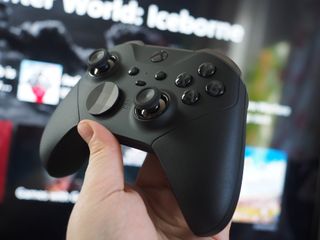 (Image credit: Windows Central)
(opens in new tab)
Xbox Elite Controller Series 2
Latest and greatest

The new Xbox Elite Controller Series 2 is packed with fresh features and a revised design process to make up for the shortcomings of its predecessor. The only real downsides are in its price, which is an astronomical $180 versus the $120 RRP of the previous controller. Also, for fans of swappable batteries, the Elite Series 2 sports an unswappable internal battery.
For
Far more features than the previous
Improved durability
Charging dock with 40-hour battery
Bluetooth support
Against
More expensive
Internal batteries only
(opens in new tab)
The OG

The OG Elite Controller started a wave of innovation on gamepad refinements from third-party manufacturers, although the controller itself suffered from some pretty serious manufacturing issues. The upside is that it's cheaper (at least in theory) and has swappable batteries. That said, its limited availability has driven the price up to the point where the savings aren't worth it.
For
Lower recommended retail price
Also comes in white to match the Xbox One S
Option to swap batteries
Against
No longer available to purchase new
Long-term durability flaws make it hard to recommend now
No Bluetooth
Simply put, there's no real reason to buy an original Elite Controller over the new Series 2 version. The Series 2 Elite Controller improves upon the original in every conceivable way, including improved durability on the bumpers and rubber grips, complete with a high-quality internal battery with an absurd 40-50 hour battery life (as per our testing).
The Series 2 is expertly designed to replace the original controller, too, making it difficult to get ahold of the previous version. The limited availability has driven the price up at various retailers, making it hardly worth buying versus simply waiting for the Series 2 to launch.
The Series 2 is better, hands down
Source: Windows CentralXbox Elite Controller Series 2 (left) vs. the original Xbox Elite Controller (right)
The Series 2 replaces the original Elite Controller, upgrading and enhancing every dimension of the controller. First and foremost, many users of the previous Elite Controller are probably wondering about durability above all else. The previous controller suffered from a notable design flaw in the rubber grips, which allowed them to warp over time, and become detached from the controller itself. The second Elite Controller fixes this issue using adhesive, which should ensure that the grips stay firmly attached for longer. We have no way to know for sure if their attempted fix will work without some long-form testing, but I was unable to pry the grip from the controller using a guitar pick, which is a good sign.
Swipe to scroll horizontally
| Header Cell - Column 0 | Xbox Elite Controller Series 2 | Xbox Elite Controller |
| --- | --- | --- |
| Four extra paddle buttons | Yes, also configurable with console actions | Yes |
| Trigger locks | 3-stage | 2-stage |
| Configuration profiles | 3 | 2 |
| Thumbstick tension control | Yes | No |
| Power | 40-hour internal battery | 2x AA batteries |
| Connections | Bluetooth, Xbox Wireless, USB-C | Xbox Wireless, Micro USB-A |
| In the box | Extra d-pad, extra thumbsticks, tension control key, carrying case, braided USB-C cable, magnetic charging dock | Extra d-pad, extra thumbsticks, carrying case, braided Micro USB cable |
| RRP | $180 | $120 |
Beyond build-quality improvements, Series 2 just has piles of extra features. Notably, the biggest and best is probably the charging dock. Not only does it help keep your playspace tidy, but it charges the whopping 40-hour battery in around an hour, ensuring you'll never want for batteries ever again. In our testing, we found that the 40-hour is a reasonably conservative estimate, as we were easily able to push it to 50 when not using a 3.5mm headset plugged into it.
In addition to charging, the Series 2 comes with Bluetooth, making it ideal for mobile devices, laptops, and tablets. You can also connect it up with USB to PC, and directly to Xbox Wireless-compatible devices like the associated USB dongle, and particular laptops like the Surface Book 2. Oh, and of course, the Xbox One itself.
The Series 2 beats the original with tension-controlled thumbsticks, allowing for greater precision, and comes with three-stage trigger locks over the previous two, for more rapid firing. Both controllers have four paddle buttons on the reverse, but the Series 2's upgraded microprocessor allows for system-level keybinds, such as TV volume control, Xbox screenshotting and so on. On the base Xbox Elite Controller, you can only bind additional Xbox buttons, such as ABXY and the triggers. The new Elite controller also has three separate configuration profiles, up from the previous two.
The only real downside to picking up the Series 2, at least theoretically, is the price. The RRP on the Series 2 is $180, whereas the RRP on the previous was around $120. You get a lot more bang for your buck for that extra $60, but it's still a big ask considering an Xbox One console starts at around $250. If you factor in the price from AA batteries and recharge packs, the dock, carry case, and other accessories, the Series 2 represents a fair deal if you plan to use all of its features. One thing is for certain, though. There's no reason to buy the OG Elite Controller in 2019.
Buy this one
(opens in new tab)
Xbox Elite Controller Series 2
Probably the best controller ever made

With refined construction, improved features, and a nifty charge dock, the Elite Series 2 is a stunning piece of kit that those with cash to splash shouldn't miss.
Don't buy this one
(opens in new tab)
The original Elite controller

With limited availability, fewer features, and lower quality, the Elite controller should be remembered as a pioneer in the space, but perhaps shouldn't be purchased.
Windows Central Newsletter
Get the best of Windows Central in in your inbox, every day!
Jez Corden a Managing Editor at Windows Central, focusing primarily on all things Xbox and gaming. Jez is known for breaking exclusive news and analysis as relates to the Microsoft ecosystem while being powered by caffeine. Follow on Twitter @JezCorden and listen to his Xbox Two podcast, all about, you guessed it, Xbox!
Does the D-pad use four separate switches or does it just have one single pivot point?

Hard to say without tearing mine open... and I'm afraid to put it back together! The regular elite I believe does have four switches, so I imagine this does too?

I know the Series 2 has USB-C, what does the original have?

The original uses micro-USB.

🤮 Hard pass. Thanks for the info.

I wonder if the next one will get an IP rating for dust and water resistance?

I have both controllers now! I wish reviews went more into the comparison because I don't see a lot of differences mentioned. For one thing, the paddles are much smaller on the series 2. This caught me off-guard. I'm guessing they made them smaller so that wouldn't be so easy to press accidentally. But I'm not sure I like the smaller design. In fact, it's subtle, but the Series 2 controller is actually a smaller controller. When I stepped up from the basic One controller to the Elite controller, I noticed how the Elite was slightly bigger. But I loved the feel of the Elite controller. Now, the series 2 feels like the regular controller in terms of size. Other people that gripped my series 2 noticed as well (talking about the barrel portion that your hand wraps around). I like how the hair triggers can be narrowed even further where you barely press the trigger and it hits the end. Another difference (albeit silly) is the glowing Xbox button (the one in the center to turn on the controller) isn't as bright on the series 2 controller. When I first turned it on, I thought maybe I got a defective LED because it's so much brighter on the original Elite.

Are the keybinds limited to console commands? Or can they be assigned to additional game commands? I hate that the Elite 1 paddles can only mirror standard game commands (though clicking the Left Stick to sprint seems so primitive now). It's ridiculous that Xbox gamers can now use a mouse-and-keyboard but can't similarly assign new commands to extra buttons/paddles. Skyrim, for example, would benefit on Xbox from being able to extend the command palette (for example, Left Paddle to toggle left hand item/spell, rather than having to pause to select a Favorite).

Finally MS is going in with built-in battery and not AA batteries.
FINALLY.
I wonder what MS fans will say now.

I'm pissed, in fact I'll probably just stick with the version 1 unless mine completely dies. I hate built in batteries, because battery life sucks, the difference between my PS4 controller and my XBox One controller for battery life is HUGE. Plus it's piss easy, when I do run out of charge in AA's to quite simply pop in two more, than it is to plug in the controller to a point that isn't overly close to where I sit (hell I only have one cable that reaches, which came with my headset).

They said "BOO." and "We want easily replaceable batteries." I know I did, which is why I'm happy to stick with my "Series 1" Elite controller. And also why I'm happy the Xbox Series X controllers (which are the next revision of Xbox gamepad in general) don't use permanently-fixed batteries that will inevitably die and require you dismantle the controller to replace (or toss).

I think that supporting standard batteries and providing the option for a leave-in rechargeable battery (Play & Charge kit) is the best way to satisfy the largest number of people, which is what the Elite 1 did. It can use standard AAs or rechargeable AAs if you want to keep a spare set charged, or you recharge the Play & Charge (or various third-party options) while they are in the device to mimic an in-built battery. I have a Play & Charge kit in an Elite 1 and my usage would be no different to using an Elite 2, except that, if the battery ever is faulty, I can replace it rather than the entire device.

The series 2 is a pos. I got one for Christmas, it stayed drifting up in a week. Got a replacement, it started studying up and down within days. I bought an original elite at launch and it still works fine. There is singing wrong with the series 2.
Windows Central Newsletter
Thank you for signing up to Windows Central. You will receive a verification email shortly.
There was a problem. Please refresh the page and try again.