Is the Xbox Elite Wireless controller worth the extra money?
Yes, it is. But it's also not the only 'pro' controller you could consider.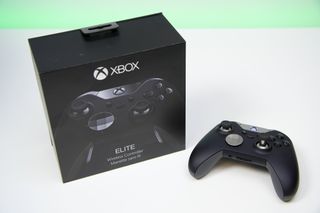 The Xbox One controller is fantastic. Its design is perfect, and often even the PlayStation crowd can be heard longing for Sony to replicate it. The offset analog sticks are more comfortable to use than Sony's side-by-side config, and the overall shape and feel of the Xbox One controller is hard to beat.
But while Microsoft has perfected the design, the build quality is a little more questionable. I'm sure I'm not the only one with creaks, rattles or just plain broken parts. My super fancy Design Lab controller barely gets used and yet the frame already squeaks and moves when I'm playing a game.
One controller from Microsoft where this is much less of an issue is the Elite Wireless. It's expensive, and it's also now a couple of years old and doesn't even have Bluetooth. But should you be considering investing in a new controller and you've thought about the Elite, the answer is yes. It's very much worth the extra money, even at $140.
See at Amazon (opens in new tab)
Build quality and features
The first thing you'll notice about the Elite controller is the weight and just how solid it feels. While the main body is plastic, it's covered in soft touch materials. You get metallic triggers and bumpers, metal thumbsticks and D-Pad and those removable metal paddles on the rear.
The easiest thing to say is that it's a quality product and it feels like it when you hold it, especially when you hold it next to a regular controller.
The build quality is important not just because of the price, but also because it's going to last you a lot longer. Microsoft developed the Elite alongside professional gamers, and everything is just better. The thumbsticks are smoother and more responsive but also designed to last a lot longer and take a little more punishment.
More: Xbox Elite Wireless controller review
The Elite is also customizable. Besides being able to use up to four paddles on the rear, you get different length thumbsticks with both concave and domed tops, and with the Xbox Accessories (opens in new tab) app you can remap buttons and truly make the Elite your own.
Then do it again and store two different profiles on the same controller.
With the regular controller, it's basically the experience you're given by Microsoft. With the Elite, it's more personal. As well as being a highly superior piece of hardware. If you've considered one but the price put you off, know that it's worth every penny.
See at Amazon (opens in new tab)
Not the only way
It's also worth pointing out that the Elite isn't the only way to get a pro-grade controller for the Xbox One. For starters, you can get a similar product from Scuf Gaming, with paddles, customizable thumbsticks and trigger stops, as well as a unique design with a number of wild colors and patterns available.
Scuf also has a partnership with Microsoft, so you can buy an Elite controller from them, but jazz it up a little!
Another controller we love that's worth considering is the Razer Wolverine. It comes in two different versions, the tournament edition and the ultimate edition, with the former being lower priced at $120, compared to $160 for the Ultimate.
Both offer an improved experience over a standard Xbox One controller, with paddles, remappable buttons, and in the case of the ultimate edition, replaceable sticks and a built-in audio control panel. And Chroma lighting, which is important.
See at Amazon (opens in new tab)
Your thoughts
I definitely think the Elite controller is worth the money, as are the other controllers mentioned here. You get a substantially better product that will stand better the test of time and give you more features in the process.
If you're an Elite fan, drop your own experiences into the comments below.
Richard Devine is an Editor at Windows Central. A former Project Manager and long-term tech addict, he joined Mobile Nations in 2011 and has been found on Android Central and iMore as well as Windows Central. Currently you'll find him covering all manner of PC hardware and gaming, and you can follow him on Twitter and Instagram.
Waiting for a refreshed elite model

Yes, I read it is a few years out now, what 3 or maybe 4? And no Bluetooth? LE with a range of ± 10 meters! Just like the Surface Arc mouse!? And personally costumed whit all colors. I'm gonna get it right now 😁

Sharp, sleek, proper d-pad, allows user to keep their thumb on the analogs while trying to access functions that are originally assigned to ABXY or d-pad. Worth my money.
I used to use 3rd party gamepads... no necessary anymore...
Looking forward to the Elite 2 (the one with Bluetooth capability).
Q: Is build-in BAT confirmed? I prefer hot-swap Eneloop and I can replace the BAT instead of whole PAD when the BAT dies.

2 cons about the Elite controller:
- the wireless connection isn't really good: it looses the connection too often -> not acceptable for a $100+ controller.
- the configuration software is bugged as possible. Probably not even tested internally nor reviewed.
Apart from these 2 cons, the quality of the controller is really good.

@sephirostoy, I have used exclusively the Elite controller wirelessly since whenever it first came out. I have never had it drop wireless. Do you live in a crowded area with a lot of interference? If not, perhaps you have a defective model and should try to get it serviced or replaced. I haven't done much with the software, but I did create a couple of button profiles and they always work fine.

I'm not the only one experiencing the drops with wireless; there are plenty of topics on the Internet about this issue. It's a known issue. Maybe there are some interferences. Sometimes I have drops with my wireless headset, but it reconnects immediately after few seconds. Here the controller doesn't even try to reconnect automatically, plus I have to wait for half a minute before being able to reconnect.
What I say is that for such costly device, I do expect a higher quality.

Never experienced any issues with my Elite controller. Maybe contact support.

The only time mine disconnects is when the battery dies :)

I have an elite controller currently and love it. Hoping the refresh adds conventional BT for connecting to PC, and internal battery with USB-C chagrining.

Really hope there isn't an internal battery. Don't understand why people are so adamant that it should have one. If you're going to lay $150 on a controller, just get a play and charge battery to go with it. If they make it internal you'll soon wish they hadn't when that internal battery only holds a charge for a short amount of time and you have to replace the whole controller instead of just forking out for a new battery.

Seriously, it's much more convenient to swap out a set of rechargeable than have to hook up to a wired connection if the batteries die in the middle of a session.

Yup. And it cost something like 25€ for a charger and 4xAA batteries. I'm sure you can find cheaper alternatives but for some reason I'm more comfortable paying a small premium for a name brand (this is Sony) when it comes to batteries and charging then

I agree as well. Or rather than replace a controller, I open it up and solder in a replacement battery. I refuse to give in and buy a whole new controller just for a battery. Replaceable non-proprietary format power cells are the way to go. Enloop and Enloop Pro are my favorite.

The elite is a wonderful controller. The heft and build quality feels good in your hand... I remove the paddles as I don't find them very useful. Better customization (software) might make the paddles feel more useful. Is it worth $150? That is pushing it... Get it when its on sale for $110. If they want me to pay $150 they need to get this in the Xbox Labs custom controller set.

Once Elite controller, always Elite controller.
I love my Elite Controller and i will never go back!
Windows Central Newsletter
Thank you for signing up to Windows Central. You will receive a verification email shortly.
There was a problem. Please refresh the page and try again.