Xbox Fitness launches new YO:30 yoga workout for balance and strength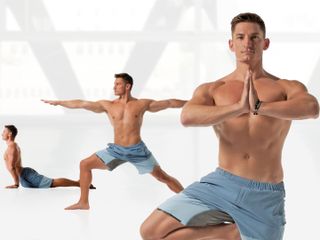 The Xbox One has offered owners a way to get in shape with its Xbox Fitness feature, which has been available since the console launched two years ago. This week they added a new program that is designed for fans of yoga. The YO:30 system is now live for $29.99 in the Xbox Store.
Here's a quick description of YO:30:
Do you use Xbox Fitness to keep in shape at home? Let us know in the comments!
Buy YO:30 for Xbox Fitness / $29.99 (opens in new tab)
Windows Central Newsletter
Get the best of Windows Central in in your inbox, every day!
I would totally use this if it was free.

Only doing yoga will never give you a physique like that shown in the picture.

Tobey Maguire did yoga to get in shape for Spider-Man. He looked pretty ripped.

If yoga can really help me with my anger issues like Tae Kwon Do did for me, I'll pay the money.

I still use ubisoft's Your Shape Evolved, the xone fitness stuff lack adecuate movement feedback :S

Sounds like you need to adjust your setup. It tracks intricate punching and twisting movements flawlessly for us.

I was about to fwd this to my gf then saw the price

They have a free one on there as well. Some daily Yoga one with 5 different workouts.

Does it come with hot muscular shirtless guys? Rawr.

I use dance central fitness mode

Beat Beat Revelation here. You shoulda seen it BLT. JTRO was all like bop bop bop, just making connections. Bish fired off a few lucky shots, but JTRO jumped his azz and was like Bow to the Bridge, Yo Kick it! Believ' dat!

It's nice to see yoga enter Xbox Fitness. I wanted to try XF but all the programs were too intense for beginners.

Wont it come free with gold... If only it was!

Does this require a Kinect?

Yes, so they can track your movements for achievements and whatnot.

Microsoft stated at the beginning of the year, Xbox Fitness was free. I'm just wondering if they actually intend to charge to use the app. Cause then that would be one charge for the app and another charge for all the different programs. I'd imagine there's not many people using it, so it would be hard to justify charging for it ATM. I mean I've had my Xbox almost two years and only monday did I do a 10 minute workout.

Why would you wonder that? Why would it not be free when they said it was free?

This is actually a great program. A lot of comments are not really helpful but as someone who has used it, it is a great program. It pairs well with the lack of stretching you get from Mossa Fight. And, it indeed does rip you out as well. My thighs have increased in girth since starting and my shoulders and triceps are shredded. You will get ripped if you do the forms right and hold them for as long as you are supposed to. It isn't as intense as Mossa fight and some of the others but you do get a healthy sweat going on, even in a cold room. My only complaint is the standard easy-mode people they insert into these programs. They shouldn't be there.
Windows Central Newsletter
Thank you for signing up to Windows Central. You will receive a verification email shortly.
There was a problem. Please refresh the page and try again.