Xbox Game Pass is a new subscription service providing access to over 100 games
Following the runaway success of EA Access, it seems Microsoft itself is now keen to get in on the action.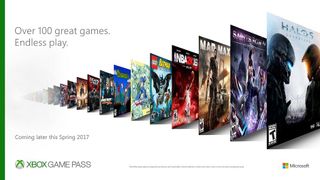 Announced via Xbox Wire (opens in new tab) today, the new Xbox Game Pass will provide subscribers with over 100 Xbox One and Xbox 360 backwards compatible games, from publishers like 2K, 505 Games, Focus Home Interactive, and more.
The Xbox Game Pass will cost $9.99 a month, and will be available to Xbox Alpha testers today for free (temporarily) with a small subset of titles to gather feedback.
The Xbox Game Pass will provide licenses for over 100 titles in similar fashion to EA Access, giving you access to download those games as if you own them. The titles available as part of the Xbox Game Pass will rotate, however, similarly to Netflix, but it will also provide subscribers with the opportunity to unlock participating games permanently for an exclusive discount. There's no word on how steep this discount will be, but we'll jump on the Alpha ring and bring you the information as soon as we get it. The program looks set to include Windows 10 "Xbox Play Anywhere" titles as well.
The program will roll out more broadly this spring, along with the Xbox One's segment of the Windows 10 Creators Update. Xbox Live Gold subscribers will be given early access to the program before it rolls out to Xbox Live Silver members. As you might've already surmised, this implies that it won't be available as part of the Xbox Live Gold subscription.
The Xbox Game Pass might not appeal to everybody, but it's a potentially exciting option for those who play less frequently and want to spend less on fully-priced games. If you're part of the Xbox Insider Program head to the Xbox Insider Hub to join the preview.
What are your thoughts on the Xbox Game Pass? Let's discuss it in the comments.
Jez Corden is the Managing Editor for Windows Central, focusing primarily on all things Xbox and gaming. Jez is known for breaking exclusive news and analysis as relates to the Microsoft ecosystem while being powered by caffeine. Follow on Twitter @JezCorden and listen to his Xbox Two podcast, all about, you guessed it, Xbox!
they should discount it for gold subscribers. i have no good reason why other than i'm a gold subscriber =P

I'll def be writing feedback to suggest that.

please feedback this is bundled with Gold for $15 or with goldplus Groove for $20 and everyone will be happy!

Did you intend to say you want it to be bundled with gold for more than the standard subscription? Wouldn't it make more sense for this to be bundled with Live for an extra $5 a month?

A combo pack would be nice. Get Annual Gold, Pass, and EA Access for a discount if you get all three.

Yeah I agree with shaving a few bucks off for gold subscribers, also if you could mention an app model, unless of course the store gets a "Game Mode" link right on the first screen, otherwise finding applicable games will be rather cumbersome. Or even if once you are enrolled they all show up in ready to install like EA Access.

I can give you a good reason, because we are already paying yearly for a subscription service. We are already paying MS. I would like to see it bundled with Gold. You can have gold for $60/yr or gold plus this for $65/yr (or something like that) Hell I'd love it if it was included in Gold, but that's a lot to ask for. It would however make Gold a lot more attractive.

I'll second to this!
Also, bundle other subscription (music, movie, etc) might be a good idea too.

I wish they had different bundles to subs that we could get. I have xbox live, groove, and office 365. It would be great if I could get them all as one bundle option. And even add in, like you were saying, something with movie as well. Even if its one free rental a month when you buy the bundle. I would use movies and tv more for sure :).

Oh wow! This is crazy! NICE!!

Cool but I want a year sub option

I think this is a great move considering the lead that PS4 has. It's a great way for people to build an instant game library, alongside EA access, instantly. Means switching from PS4 to Project Scorpio becomes a lot less of a hassle.

make this and Xbox Gold for $15 and I am in!

make this + Xbox Gold + Groove Music + Videos for $20 and Im also in!

I see this as competition to the other companies like Steam really. As a gold member for over a decade they need to do a yearly with groove and price well.

Depends upon the titles and how often they will rotate, but seems like a cool option.

I depends of the games on offer? Will they offer pre order discounts, early access, free previews, etc

Then why are we paying for Gold?

To keep multiplayer servers working, and 4 free games per month that you can to keep.

The Xbox 360 games are yours to keep, but the Xbox One games licenses are only valid while your subscription is active, they get revoked if your stop paying the Gold subscription, but reactivated if you start paying Gold again later. ​Source : "Bonus Games Offer: For paid Gold members only. On Xbox One, active Gold membership required to play bonus games you've downloaded.​" at https://www.windowscentral.com/e?link=https2F%2Fclick.linksynergy.co... ​This means you're building up a collection of games with Gold, the longer you're subscribed, the more games you can accumulate, but you still lose the ability to play them if you stop your subscription.

Hence why we are paying for gold. I'm not quite sure what you're trying to argue here.

You wrote "and 4 free games per month that you can to keep​"
You can only keep 2, the 2 for Xbox One get revoked if you stop your subscription, so you don't really get to keep them.

Semantics, if you keep paying for Gold you get to keep them. But keep trying to create an argument where there is none if you like.

I'm not trying to argue or even saying we're not getting enough for the price of Gold, I've been an active subscriber for over 13 years, since the first week it got available in Europe, . I just don't want people to feel cheated if they don't renew and realize only then that the Xbox One games-with-gold get revoked. Especially since Microsoft doesn't make that very clear, usually phrasing it as "Two Xbox One games and two Xbox 360 games playable on Xbox One through backward compatibility and for you to keep", not making it clear that the "for you to keep" only apply to the Xbox 360 games.
The Xbox One Games with Gold are effectively closer to the new Pass games than the original 360 GwG, except that they don't get pulled from your catalog. ​I just wanted to clarify that, but otherwise I completely agree with you, the subscription is to keep the servers online and the games are just added benefit they added later. Definitely not trying to dismiss your original response.

One of the big things about EA Access for me is price... I'm not so sure I want to pay Microsoft yet another subscription particularly at that price (I already pay them for Groove Pass even though they still have no family plan, Xbox Live Gold, and Office 365). I don't think I get 2 of those games a year anyway and rarely at full price (and most likely these will be older titles so probably they will already be sold at a discount) so in my particular case I don't think it is worth it. I am sure it will be worth it for others. Or perhaps I will get it for one month every now and then when I see specific games I want to play and don't particularly want to buy.

You have a good point on that. As I have to pay for 2 Live passes in my house now that the family plan is gone and family office 365. They should offer an ecosystem discount If you are already paying for 2 get one at 1/2 price or better. My EA pass is only 29.99 a year and I get alot of use out of it.

What the hell? I pay for 1 live subscription. And have my daughter linked as a family member. She can play online fine. She is playing right now. And she does NOT have a subscription.

If you have a groove pass then you can share it. My wife and I use one account. It just recently expired for both of us and since MS hasnt done any of the deals on groove that they have done the past few years, we just let my wife's expire, renewed mine, and then just signed my account in on her groove app as well as mine. IS it a perfect solution? No, all the crap she listens to I dont really care to see and vice versa but we just make various playlists for ourselves so we don't listen to music we don't want to.

We share it (my girlfriend and I; we do the playlists solution as well)... But that leaves a lot to be desired and ultimately can't compare to a real family plan.

Then why are we paying for Gold?

for online multiplayer game play?

All the same reasons you've been paying for Gold for how many years now?

If this is bundled at a good price I'm in.

Microsoft Media Pass... Silver, Gold, Diamond, Platinum levels. Highest getting you Groove Music and Movies/TV access for 5 rentals a month. Im waiting for another work&play bundle. I felt like I stole that last time at $149 for Xbox Gold ,Groove, Skype, and Office 365 home premium combined.

I'm curious about how the expiring/rotation will be implemented. I hope there's at least a couple weeks notification if you have a game on your system and it's going to expire. It would suck to get invested in a game and then lose it without warning. If there's at least notification, you can strategize whether to binge through it in time or pay the discounted price to keep it. Other point others are making, too: it would be great to offer bundles with Gold/Groove/Film & TV (1 free rental per month?)/EA Access/Game Pass. There should be some savings for people who go all in on Microsoft services, and it would definitely make me more likely to sign up for more of them vs each existing in a vacuum.

Fully agree with you! And they should totally offer bundles.
Make it right from the beginning and draw people into the ecosystem. > notifications
If users demand it, surely they will do a calendar thing or something.

Wow. That is a game changer

Being able to rent old games is a game changer? ok

Well, yeah, it is. You can't rent games here, you either buy or nothing, so this is huge especially since you don't have to go anywhere to do it.

This is a great idea! Bundling it with other subscriptions and for a year at a time would be my critiques. I can see this being very benficial, though.

I'd rather be an owner than a renter.

I hope they eventually offer this on W10 as well. For a few minutes at least the FAQ for this actually did say "Xbox One and Windows 10 devices." MS has since updated the site. http://www.xbox.com/en-GB/games/xbox-game-pass

Finally a way to rent Quantum Break.

XBOne only or is this on PC too?

it mentioned windows 10 device on the website at first but was then removed, was it leak for a functionality they don't want to introduce yet or a mistake? nobody knows

Sounds good. Wish it included Groove.

Any word on an emulator app for PC users to join in this fun? Because that would be a huge market for this kind of service!

Looking forward to trying this out, good move Xbox agree with the comments about some sort of mixed prices taking bundles Groove live yearly subscription deal would be nice 😉

Excellent move, Microsoft! That's how you compete! Now just follow up with discounts for Xbox Gold members and discounts for bundling services (Office, Groove) for the win!

im excited to try payday 2 on the xbox i see its in the image. i did purchase it last summer on steam. i just never opened it yet. maybe i will open it one day. will be nice to see this come to windows 10 for any cross play anywhere games. :D

on a side note my grove comes with an extra 100 gigs of onedrive storage and my curent use is high if i delet or localy store some of my non essential data i might be able to cancel my office 365 sub to get the games sub instead :D

I'm wondering if you'll still be able to play titles that have rotated out if you already downloaded them.

Sega was WAAAAAAAY ahead of the curve https://www.youtube.com/watch?v=rTcIqsFEQNk

This will be available to test for the beta users aswell?
Windows Central Newsletter
Thank you for signing up to Windows Central. You will receive a verification email shortly.
There was a problem. Please refresh the page and try again.