Xbox Game Pass Ultimate $1 upgrade ends tomorrow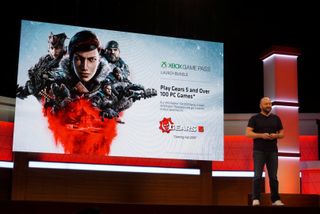 What you need to know
Xbox Game Pass Ultimate was previously only available to Xbox Insiders.
You can purchase it now for $1 for first month.
After that you'll be charged $15 a month.
You can purchase Xbox Game Pass Ultimate through the Microsoft Store

(opens in new tab)

for $1.
Xbox Game Pass Ultimate combines Xbox Game Pass for consoles, Xbox Game Pass for PC, and Xbox Live Gold into one complete package. There are rumors that it will also include access to "Project xCloud" game streaming when it's available later this year, but that hasn't been confirmed yet.
Right now, there's a promotion going on that can allows you to upgrade your existing Xbox Live Gold membership to Xbox Game Pass Ultimate for $1. Unfortunately, this deal ends tomorrow. You can convert up to 36 months of Xbox Live Gold to Xbox Game Pass Ultimate with this. I was able to get Xbox Game Pass Ultimate until 2021 as a result of this.
Keep in mind that the $1 price is just for the first month. After your converted membership expires, you'll be charged $15 a month. Luckily, that won't be for a few years if you play your cards right. In a few months when retailers like Amazon offer discounts on Xbox Game Pass Ultimate, you should stock up so you don't have to pay $15 a month.
Best of the best
(opens in new tab)
Xbox Game Pass and Xbox Live Gold in one

Xbox Game Pass gives you access to over a hundred games for one monthly fee. Xbox Game Pass Ultimate also adds Xbox Live Gold to the package so you can play online with your friends. You can either get a one-month trial for $1 from the Microsoft Store or a three-month subscription for $20 through Amazon.
Excellent and affordable Xbox accessories
Up your Xbox experience with one (or all) of these budget accessories, all of which are approved by the gamers of Windows Central.
PowerA Play & Charge Kit for Xbox One (opens in new tab) ($15 at Amazon)
This charging kit keeps your Xbox One wireless controllers juiced up, and it offers batteries for two controllers. At just $15, this is hands-down our favorite budget charging companion.
ElecGear 4 Port USB Xbox One S Hub (opens in new tab) ($19 at Amazon)
This brilliant little USB splitter hub attaches perfectly to the side of your Xbox One S console. It's ideal for use with chargers, controllers, headsets, and more.
Controller Gear stand (opens in new tab) ($13 at Amazon)
Proudly display your Xbox gamepads with this stylish and functional stand. The licensed design is minimalist and black, and it has a hidden storage compartment, making the price of $13 a real steal.
Asher Madan handles gaming news for Windows Central. Before joining Windows Central in 2017, Asher worked for a number of different gaming outlets. He has a background in medical science and is passionate about all forms of entertainment, cooking, and antiquing.
Thanks for the heads up!!
I need to convert another account.

I have an xbox live gold that expires next year in June. I can upgrade and only be charged $1 for the entire time it is still valid? No new charges and no changes to my subscription?

Yes, if you have Gold until next June, you'll only have to pay $1 and you'll have Game Pass Ultimate until next June. Just remember to turn off recurring billing if you don't want to keep it past next June. I just did it but added an extra two years of Gold before converting to Game Pass Ultimate. So I'm all set until June 2022. I had to buy two more years of Gold, which I would have done anyway, and essentially get Game Pass for console and PC for $1 for 3 years. Awesome deal!! I'm glad I saw this before it expired

OK you two people that haven't take this... Last chance now!

What if you have both? My Gold expires 1/27/2020 and my Game Pass expires 2/26/2020.

I think it pools the individual months together. I'm not sure. Maybe someone else here can help.

It pools them. So if you have both Gold and Game Pass then you would convert to more Ultimate than if you only had Gold. That being said, it's worth noting that Gold and Game Pass aren't actually a straight swap (one month of Gold doesn't give you one month of Ultimate), it's a conversion which adjusts the number of days based on the RRP cost of each individual product.

It's a moot point now, but I believe that is the conversion that takes place with future prepaid card use. I think this is month for month on this special offer.

Ah, ok. I thought it applied to the initial conversation as well, but clearly not. Thanks for the tip (though agreed, it's redundant now).

Quick update: as of 8 am July 6, it's still available. I bought another year of gold from Amazon which put me up to 2/27/2021 (I left recurring on for the extra free month). Here's the kicker, once I did the upgrade to Ultimate, it didn't pool them together, it STACKED them! Now I have Game Pass Ultimate with a expiration date of 11/20/2021!

That's what we are saying. This initial offer stacks.

Live Gold on its own has increased to £6.99/month.so its a no brainer to grab Ultimate. Even at full price of £10.99/month. Even if you don't use the Gamepass PC part, you still save compared to buying Live Gold and Xbox Gamepass separate. Plus the fact it's highly likely due to Phil Spencer's comments recently that Xcloud use will be added to Ultimate as well. It's a no brainer at this point.

Is this upgrade deal still going on today, July 5th? Game Pass Ultimate still shows for $1, but I don't want to prepay 3 years of XBL Gold if this upgrade isn't still available.

I'm looking at the store and it looks like it is still going on. I am trying to do the same thing right now and still see the same $1 price and the FAQ indicates that they will still match up to 36 months. The bummer for me is that it won't even let me add more than 3 years of gold because my current subscription (before I paid for 36 more months worth of codes) ends on the 9th. I would be really interested in taking advantage of this deal when I can add the 3rd year in a couple of days but I don't want to wait and miss out.
Windows Central Newsletter
Thank you for signing up to Windows Central. You will receive a verification email shortly.
There was a problem. Please refresh the page and try again.