Xbox @ Gamescom 2015: Expectations, hopes, speculations
E3 2015 might be behind us, but Xbox is preparing a second blast of major reveals at next month's Gamescom convention.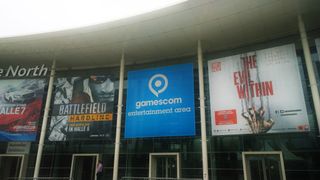 I'll be joining our Managing Editor, Richard Devine, on the ground at Gamescom 2015, bringing you all the latest and greatest offerings from Xbox and beyond. In this article, I've pulled together some of the biggest known game reveals, as well as a healthy dose of speculation on what else we can expect.
Games, games, games
Phil Spencer's "games first" mantra will continue at Gamescom. We're going to see major reveals of Crackdown and Scalebound, and fresh footage of Quantum Break. Gamescom might have bigger footfall than E3 (as it's open to the public after the initial press day), but E3 still reigns supreme when it comes to global media attention. As such, I wouldn't expect any more bombshells like Xbox One's backward compatibility. We'll probably be treated to new info on the dashboard refresh, Windows 10's impact on the Xbox One, and other minor features. We might even see fresh titles hitting the Xbox One backward compatibility line-up.
Microsoft have acknowledged that they need to do better in Europe, where Sony's PS4 enjoys a reported 70% share. We could see some European specific announcements, such as the highly-requested region-unlocking of languages, and perhaps Europe-specific bundles or price cuts.
After the shock of Xbox One's backward compatibility, I still think the Xbox team could surprise us with another huge announcement. Either way, backward compatibility will be a hard act to follow. I expect Gamescom to be all about the games.
Crackdown
Crackdown is coming, and it's likely to blow the lid wide open on the "cloud processing" argument. At the Xbox One's reveal, Microsoft touted the 'power of the cloud' as a method for developers to pass off calculations to the internet, freeing up local resources for processing graphics. So far, Xbox One's cloud has been used to govern the A.I. creeps in Titanfall, and provide analytics and dedicated multiplayer servers. I'd argue that we have yet to see anything truly impressive.
We now know that Crackdown Xbox One gameplay will be shown during the event.
Crackdown for Xbox 360 was an open-world third person shooter and emphasised player freedom and comic-book style graphics and combat. The CGI concept teaser from last year's E3 looks like an evolution of the originals, complete with cell-shaded graphics and incredible firepower.
The concept trailer shows buildings being felled in abundance, spraying debris in a way that appears to be dynamic. At Build 2014, Microsoft showed how dynamic building destruction can be achieved by offloading physics calculations to the cloud utilizing your internet connection. Xbox head Phil Spencer confirmed that this demonstration was early work for Crackdown on Xbox One. The demo presents a lot of unanswered questions. How much bandwidth will it require? Will the game need an online connection to run? And so on.
Crackdown could be our best example of how cloud based physics calculations will work, but the engineering process still seems to be in its infancy. Microsoft appears to be hard at work to reduce the amount of bandwidth needed to support games like this. For example, Duke University and Microsoft Research recently managed to reduce the bandwidth needed for cloud-collaborative rendering by up to 80%.
While I doubt we'll see third-party developers adopt the technology (due to multi-platform constraints) the tech remains an exciting prospect for future Xbox One exclusives - and Crackdown will be the first example.
Scalebound
Scalebound skipped over E3 2015, and we now know that the game will enjoy a full reveal at Gamescom 2015.
Very little is known about Scalebound. We know that it utilises the Unreal Engine. We know that the word 'scale' in its title is indicative of its design intentions. And we know that it isn't like Capcom's Monster Hunter series. The game will feature gigantic enemy monsters, and your survival will hinge on joining forces with huge dragons.
The game is developed by Hideki Kamiya (Resident Evil, Devil May Cry) and Platinum Games (Bayonetta, Metal Gear Rising). It's a full-blown Xbox One exclusive and hopes to offer "action at a whole new scale." Kamiya gave hints towards the game's nature at last year's Tokyo Game Show (via VG247), noting that Scalebound would represent the accumulated knowledge of everything they've learned working on titles like Bayonetta, Devil May Cry and Metal Gear Rising.
Kamiya also noted that the game is on a 'higher-level' than anything Platinum Games have made previously, and won't feature a linear structure like Bayonetta. It's not a stretch to speculate that Scalebound will be open-world.
Two things known for certain is that Scalebound is "making good progress", and will be revealed in full on August 4th at the Gamescom Xbox briefing.
Quantum Break
Quantum Break is an upcoming physics-bending shooter from Remedy - the studio behind Max Payne and Alan Wake. The game was delayed to 2016 due to an overly busy holiday season for Xbox exclusives, but also to add further polish.
There's more information on Quantum Break than any of the three heavy hitters travelling to Gamescom. We've seen extended gameplay footage; we've got behind-the-scenes documentaries and a wealth of information that points to the game's nature.
Quantum Break follows the exploits of Jack Joyce and others impacted by the effects of a failed time experiment. Time is unravelling at the seams, which forms the basis of the player character's time-bending powers and the tense plot. In the gameplay trailer above, we're treated to high-octane slow-motion set-pieces, time-manipulating combat and meticulously crafted graphics. The time freezing aspects force Remedy to impart heightened amounts of detail and polish on the game's assets.
There are still plenty of unanswered questions that could be blown wide-open at Gamescom. Quantum Break's levels are broken up with live-action cutscenes similar to those found in parts of Alan Wake, albeit on a grander scale. We know that player choice will be a factor in the way both the TV show and the game plays out, something that Remedy's Sam Lake describes as building your own Quantum Break "director's cut". I expect Quantum Break's TV segments to be detailed a bit further at Gamescom, perhaps with some examples of how player choice works.
We've seen how Jack Joyce can use his powers to create pockets of frozen time, allowing him to stop bullets and enemies in their tracks. We've also seen how he can manipulate time to dash between cover, allowing you to flank and avoid enemies. Sam Lake said that more powers would become available as the game progresses, so we may be treated to the reveal of some of these previously unknown abilities.
I suspect Quantum Break will debut all new gameplay at Gamescom to that end. Phil Spencer recently I saw Quantum Break running live on an Xbox One at last year's Gamescom - and it was by far the most jaw-dropping experience of the whole convention for me. There's a strong indication we'll get a solid launch date as well. This is one to watch.
The debut of Lift London?
Lift London is a 60-strong first party dev team that has yet to reveal any projects.
The Lift London website coyly states: "We've got a fantastic team, with hundreds of years of experience and billions of pounds in sales between them. Now they're all collaborating and communicating on… well, we can't tell you what we're working on just yet." There's a possibility we could see the fruits of Lift London's labor at Gamescom.
Microsoft CVP Kudo Tsunoda recently visited the studio, and teased that he had been "playing amazing experiences" at "innovative" studios. Kudo Tsunoda is responsible (opens in new tab) for overseeing the development on several games, including Scalebound, Crackdown and Quantum Break, in addition to HoloLens and Kinect. The fact that Kudo Tsunoda visited the studio as recently as two weeks ago could indicate a Gamescom debut from Lift London.
Other announcements
At last year's Gamescom, Microsoft dropped a Lara Croft-shaped bombshell in the form of Rise of the Tomb Raider. It's hard to gauge whether the Xbox team will have a similar announcement on the cards, but it certainly seems possible.
Expect heavy hitters like Halo 5, Gears 4, Forza 6, Fable Legends and Rise of the Tomb Raider to pick up fresh details, maybe even new gameplay footage.
At least Halo 5, Rise of the Tomb Raider and Forza 6 are available to play on the show floor, so expect hands-on impressions from myself and Richard Devine.
A member from the Halo 'Evil Geniuses' pro-team recently stated that Halo 5 announcements at Gamescom would blow minds.
This is complete speculation, but there could be surprises from older IP like Perfect Dark or Age of Empires.
The ill-fated Phantom Dust parted ways with its developer a few months back, but the project isn't dead. Phil Spencer recently confirmed his committal to the game, but said it won't be at Gamescom.
Expect another robust ID@Xbox showcase, with an in-depth look at one of the bigger budget exclusives (similar to Cuphead's showcase at E3).
HoloLens recently toured Minecraft in London, so it stands to reason that HoloLens will be present at Gamescom too. Whether they have something new to show as part of the main briefing remains to be seen. It's probably more likely that it'll be the same demo, shown behind closed doors.
There's always the possibility of another major third-party exclusivity deal as seen with Tomb Raider (Silent Hill with Kojima, please.)
If I were Phil Spencer, I'd be looking to fill genre-gaps in the current line-up. PS4 has a potentially massive single player RPG on the cards in the form of Horizon: Zero Dawn. As of writing this, the Xbox One can boast no such role-playing exclusive first or third-party. Hopefully, Microsoft has an answer to this.
Expect fresh Xbox 360 backwards compatible titles hitting the Xbox One preview program. Microsoft will want to lead with some of the most highly requested big-name titles like Red Dead Redemption and Skyrim.
Neither Sea of Thieves or ReCore will be on show at Gamescom, as confirmed by Phil Spencer on Twitter.
We could hear about more features from the dashboard refresh, including background music. This could include fresh footage of Cortana and natural-language voice commands that are console-specific.
Satya Nadella explicitly stated that the Xbox One can run Windows 10 universal apps in an interview with Mary Jo Foley. We could see this in action.
There'll be a ton of third-party news from publishers like Ubisoft, EA, Activision, 2K, Bethesda Softworks and the remains of Konami.
It's a great time to be an Xbox fan
While I doubt Microsoft can top the backward compatibility announcement, they have every incentive to try. The gap may be closing in the US, but the Xbox One has struggled against the PS4 in most markets - this is particularly true in Europe. Sony isn't in attendance at Gamescom this year, giving Microsoft an open playing field.
It's perhaps unfortunate that Halo 5 and Rise of the Tomb Raider share a launch window with certain-blockbusters like Star Wars: Battlefront and Fallout 4. Regardless, the Xbox One is in a great position going into the 2015 holiday season. I believe backward compatibility will evolve to be the killer-feature the Xbox One needs in a battle for differentiation with the PS4. To that end, I hope Microsoft have managed to secure an awesome line-up for backwards compatibility at Gamescom. It will help market the console to sceptical European gamers attending the event in the lead-up to the holiday season.
If you've already made the jump to Xbox One, then we stand to benefit from these efforts to bring in fresh gamers. One thing is for certain, it's a great time to be an Xbox fan, and Gamescom will compound that sentiment.
Are there any games in particular you'd like us to get hands-on impressions with at Gamescom? Hit the comments below and we'll try and accommodate!
Jez Corden is the Managing Editor for Windows Central, focusing primarily on all things Xbox and gaming. Jez is known for breaking exclusive news and analysis as relates to the Microsoft ecosystem while being powered by caffeine. Follow on Twitter @JezCorden and listen to his Xbox Two podcast, all about, you guessed it, Xbox!
Full xbox tv dvr functionality please!

Dual tuner or ability to plug in 2 tuners please! Game streaming while watching TV please!

Why does Sony say they were shocked when Microsoft announced backward compatibility? I mean they still have more sales then Xbox one.

Possibly from a technical perspective? Microsoft built an Xbox 360 in software, that's pretty impressive. Sony's play is making you pay for a subscription service to play your PS3 games on PS4

The Xbox One runs virtual machines. In fact, on day one, it had a VM to run Xbox360 games.... in the lab. The decision to not include it was not because of technological reasons. Think about it. Since the Xbox One runs virtual machines, it could, in theory, run PS4 games! (at least in the lab)

I highly doubt Microsoft had backwards compatibility working on "day one" and then chose to wait 1.5 years to announce it, even though they were falling behind in sales and their fan base was begging them the entire time for it. It was definitely because of technological reasons.

It was technological, they had to pull in a few resources from other projects and several of the accomplished members have commented on how backwards compatibility was the hardest project they've worked on. This was no small feat.

Sony was shocked that their biggest competitor in the console war was offering really cool functionality and not charging a single dime from their customers. Sony would never do that and that's why PS4 sucks, but every flippin' PS4 buyer I've met buys it without hesitation because that's all they know.

I'd like to see Halo Reach brought into Halo: MCC like ODST was.

Final fantasy 15. Something is supposed to be revealed at gamescom. Please cover it.

"Highly-requested region-unlocking of language's" Someone know what's that about?

Yes I am English but moved to Germany so migrated my account to Germany.
In Xbox One I can not select Germany as my location and English as my language.
I either have UK location with English or Germany location with German which I do not understand to required level yet.
Xbox 360 allows you to mix location and language as you need. As such this is highly requested change that lots of people requested.

Indeed. This is something extremely annoying which actually affects a lot of people, specially in Europe where many countries don't even have decent localisation on the Xbox One. I have to have my console with the British store just so that I can have the rest in English. As a result I never go to the store and have to make any purchase on the PC through the Xbox website. Posted via the Windows Central App for Android

I never understood why Microsoft doesn't just unlock all the region and language options from the start. Is it a licensing issue or a technical issue?

Only going with halo and tomb raider this fall... But don't get me wrong, truly want star wars and fallout... Just don't have the time. Wish they released another time

Halo 5 and Rise of the Tomb Raider are definitely shaping up to be the two most enticing AAA titles coming out this fall, on any platform. So, you're likely making a good choice.

Make sure to eventually buy Fallout 4. I have no doubt that it will be the GOTY

If you get a chance to play cupheads, please do so and give us your opinion on difficulty and fun level, since the game is already artistically amazing to look at

We had a look at it during E3: Cuphead at E3 2015: https://youtu.be/vbmVihoq-N4

Expecting a refreshed list of backwards compatible games combined with a compatibility games sale :p

Hoping for a new look at the new dashboard. I think it looks amazing so far. Hope we get a date too. Isn't it funny how we can sometimes get more excited about an update rather than the games itself lol.

I'm hoping they realized how many people were disappointed with the new dashboard and have at least tried to improve it. The original dashboard is amazing, the new one is a huge step back in terms of both looks and arrangements of menus and ux.

Agreed. The current Dasbhoard UI is great. I don't understand why they feel like they need to change it. It's very conducive to navigating through gesture commands via Kinect, which I do almost exclusively when I use my Xbox One. The new UI doesn't look like it's conducive to gesture navigation, which has me very nervous. If they break how I use my Xbox (i.e. Kinect), I'll be furious. I already cancelled my Netflix and Hulu subscriptions once both apps "updated" themselves and removed gesture navigation.

Have we seen gesture control in the new dashboard? I'm hoping they haven't broken it too, but who knows. My main concern is the pins and the awkward ps4 inspired way that everything is organized. Vertical scrolling looks dreadful.

We haven't seen or heard anything yet about gesture control on the new dashboard, though I've tweeted a few Xbox executives about my concern that it looks like it's not as conducive to gesture navigation. I agree: burying the pins completley undermines the purpose of pins, the design looks way too much like the atrocious PS4 dashboard, and vertical scrolling is a terrible idea when you have rectangular television displays (not to mention that the grab-and-flick Kinect gesture for scrolling works very well for horizontal scrolling but is a bit more clumsy and slow doing it vertically). I'm very worried, especially because you cannot reject console updates, so we'll have no choice.

The original dashboard is garbage if you don't have kinect, which I would put money on most people not having. the new dashboard looks amazing.

I bet they will announce Win10 for Xbox and drop it on preview members that day!

I would like to see 1. AAA Kinect games--specifically, a remaster of or sequel to Child of Eden, with updated Kinect 2 controls. 2. Another big exclusive reveal, akin to Rise of the Tomb Raider last year 3. Way more backwards compatible titles, especially XBLA titles. I don't understand why publishers haven't been jumping all over this saying all of their titles will be made backwards compatible. It's effortless money for them. Lots of Xbox One owners want to buy Xbox 360 games. Let us buy them. Microsoft already did the work for you. Easy money.

Re: point 3, it's a bit trickier when the publisher has XB1 "remastered" games either already there or planned for sometime in the future. I don't think they see it from the perspective of XB1 owners will want to buy XB360 games, but rather that XB360 game owners won't bother to buy their XB1 versions and so they're kissing goodbye to a lot of potential income.

I know it seems otherwise, but the number of remastered games is really quite small compared to the 1000+ games in the Xbox 360 library. I can see your point for a few rare cases (e.g. the Castle Crashers remaster), but I think there are a lot of people like me who never owned a 360 that would buy a lot of 360 games from the Store.

I predict that cloud generated renderings will be the future. Oh sure it will take 10 more years for them to coax us there little by little. This solution enables the client device to be very light weight and extremely cheap. It also accomplishes the goal of subscription based computing and complete DRM protection as the software resides on the cloud server and it is never in the possession of the subscriber. It would be bad to see this evolve into billable by the amout of compute used. Like your electric bill, some months it will be $10 and others it will be $500. Lol! I hope that this won't happen, but a flat monthly rate such as $5/month makes sense. But there is the issue of connectivity, latency, and bandwidth for 30fps.... I wonder if that will be a problem for some rural folks 10 years from now.

I'm worried that means that our games will become broken and unplayable years later, once the servers shut down.

I always laugh when companies falsely inflate the amount of experience they have. To say "[we have] hundreds of years of experience" implies the company has been around for hundreds of years... when the reality is they have 60 guys with 2-5 years experience. So if I get 100 guys with 6 months experience does that mean I can say "we have 50 years experience"? It's like counting in dog years or something equally stupid to make them sound better than what they are.

How about that keyboard and mouse support? What type of games will it support?

The potential for cloud support in gaming is huge. Let's hope developers don't shy away from it because some boxes (read PS4) don't support it.

I am really looking forward to a new Crackdown. I thoroughly enjoyed the first game and had fun with the second, although I wasn't excited about the zombie / mutation direction it took. I usually stick to single player or co-op games, competitive multiplayer is just a mess any way you slice it. This is one of those titles that screams to be played with friends. And don't forget the orbs - the "ting" is one of those iconic sounds that just can be forgotten - especially after picking up 1600 of them between Crackdown 1 & 2. As far as requests for coverage - anything more about Mighty No. 9 is appreciated. The Mega Man fanboy in me is just overflowing with anticipation for this spiritual successor to the beloved Blue Bomber.

I'll try and give it a look :3

OMGOMGOMG, Age of Empires, please!!! Maybe that's why mr. Spencer revealed the keyboard and mouse support? I don't know, but I'd love some AoE action :D Childhood memories..

I am hoping for 2-3 more new game announcements. E3 was very focused on this year, hoping gamescon is next year and early 2017.

I believe under Phil Spencer that there's been a de-emphasizing of non-game announcements during the actual briefing. They seem more keen to share those reveals during the Major Nelson led XBOX DAILY show post-briefing. That's where they first showed off the new dashboard (among other exclusive announcements) and I'm expecting that to still be the case. What I'd like to see is more PC-only announcements on stage now that Microsoft is claiming a renewed interest in gaming on that platform. Announcing an exclusive game for PC would be a nice nod to that new attitude.
Windows Central Newsletter
Thank you for signing up to Windows Central. You will receive a verification email shortly.
There was a problem. Please refresh the page and try again.