Xbox head says he's not a fan of launching 'Xbox One and a half'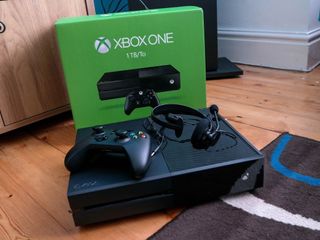 A few weeks ago, rumors hit the Internet that claimed Sony was developing a "PlayStation 4.5" game console with updated graphics hardware and support for 4K televisions. During an interview at Build 2016, Microsoft's Xbox head Phil Spencer seemed to offer a gentle slam of those reports.
According to GameInformer, Spencer stated:
Spencer hinted earlier this year that the Xbox One might get some hardware upgrades but later backtracked a bit on those statements, saying he didn't want Microsoft "to ship a screwdriver set with every console that comes out."
They the released the half now time for one

No no not all ..lets not blame boose for my bad joke ..but this guy ⬇ Could use a drink

There was a joke there? Posted from WC 920, 1520, 920, 635, 640 or 950XL

I get what he was trying to say.... That the Xbox One is really the Xbox 1/2 and that MS should release the Xbox one. In other words he's claim Xbox one is not really that powerful.

Thanks you ...But things went wrong when i started typing and i cant edit nor delete the comment

You had a lot to drink By your mom

What are you even trying to say, rashberry. I know English might not be your first language, but this literally makes no sense.

From what I can gather it should be "They have already released half an Xbox, maybe it's time to release a fully capable one" I believe it's a dig at the Xbox one, implying that it's in some way lacklustre.

So what exactly is this guy gonna do then? Are we going to have to wait a couple years for the next gen?

Well you know.. Consoles are supposed to last a while. But I don't really see that happening since the current consoles don't offer 4K support.

Sony have got to be dreaming though talking about 4K games surely? The PS4 and Xbox One both struggle to achieve 60FPS @ 1080p in most cases as it is. 4K gaming needs some pretty substantial hardware if you want a constant 60FPS whilst looking gorgeous, and I don't see how you can do it at a console price point. They could get 60FPS on some console games that are locked at 30FPS I suppose, but that doesn't seem to be the preference - I'm pretty sure both The Witcher 3 and Fallout 4 are locked at 30FPS on consoles, and I just don't think the Witcher is as nice to play at that framerate. I don't have a beefy gaming PC, but I'm able to turn down some settings to get a solid 60FPS whilst still looking better than the console version - I do love my Xbox One though and buy a lot of games for that, so don't get me wrong I am a HUGE console fan and I'm not slagging them off or anything.

It's not 4k gaming but 4k video

Exactly, it won't play 4K games, just 4K video. Pretty stupid to ask me, but Sony is in the lead, so they think they can take dumb risks. Releasing multiple SKU's hurt the 360, I don't see it not hurting the PS4. If they do in fact throw in a better GPU and CPU, that s going to piss off 30,000,000 PS4 owners. Releasing a slightly better version of current hardware has never worked in the past. Don't see it working now.

I won't be pissed. I'll keep my older PS4 until I get a 4K TV. Posted via the Windows Central App for Android

I don't have a PS4, but if I did I'd be in the exact same frame of mind - I have no desire to run out and get a 4K TV tbh - Can you buy 4K BluRays easily even? If they introduce a new console that plays games at better framerates and I was a PS4 owner, then I'd be pretty annoyed because it's going against one of the principles of console ownership. I don't have a 3DS, but don't agree with Nintendos approach there to release a more powerful handheld that a few games are exclusive to. Glad Xbox hopefully won't see that happen. Still, I'm surprised the PS4 can't output 4K video tbh

maybe enable 4K resolutions at max 29 FPS Posted via Universal Windows App on W10

I really don't like your reasonable approach to things ;)
I, for one, am probably not going to buy a 4k monitor or TV for at least a few years. As a PC gamer I still prefer solid 60fps at ultra settings over 4k for the time being. Some might prefer it the other way around but getting a 4k capable system is very expensive at the moment and I thought cheapness and not having to upgrade your system was one of the main reasons people like consoles. Posted from WC 920, 1520, 920, 635, 640 or 950XL

The point is he said he'd like to upgrade the current Xbox one but then he didn't want to add peripherals now he says he doesn't want to release an Xbox 1.5. So WTH is he going to do then? Seems like nothing since he closed all doors. He should have never commented on this in the first place.

Isn't that what we've always done?

Yeah... I think it's a huge mistake to let Playstation get that much farther ahead in terms of graphics performance. This is their opportunity to remove all the PS advantages and shut down all the whining and perception issues that Xbox One has. Splurge to outdo PS... I'd buy an Xbox 1.5... and I don't even have a 4k TV.

Yeah but not really. PS was always more innovative than Xbox (like having a BD player) because it launched after. Now its Xbox's time, releasing PS rn will give them only slight hardware advantage since it hasn't been so long since PS4 released. In a year or so once Xbox releases something new. They will have a much bigger advantage (seeing as intel is working with MS they could make something specially for the Xbox, a unified platform, buying games once and obtaining them for PC too).

MS chose to support HD DVD last gen. It did not hurt them. Inventing and including Blu Ray in your console isn't really innovative. Nintendo innovated wit the Wii, and MS brought online play to consoles with Xbox Live. Both of those were more innovative than including a Blu Ray drive.

I wasn't saying MS wasn't innovative I'm just saying what others think is innovative. After the BD player was taken out of PS4 fans thought it was a stupidly bad idea.

No they didn't. Online gaming on consoles was a thing since the 16-bit era. Maybe even earlier.
The Dreamcast was online enabled from day 1. Had MMORPGs like Phantasy Star later in its life too.

I think he meant things like Xbox Live and decent account systems. While previous systems had limited and piecemeal online features, the Xbox really took it a different level for consoles.

Disagree. All PlayStation is doing right now is proving that hardware stats don't make a good console. They had to ditch the Vita and now they're effectively ditching the PS4. They're a joke in this industry.

Clearly XOne is no longer a focus for MS, its all about PC and universal apps. Shame on you MS, I love my XBox, I don't want to game on PC but there is a distinct lack of interest from MS now. Sony is investing and growing, MS couldn't give a s-hit anymore and clearly aren't investing in or growing the product.

What universe are you living in nothing you said was true

You defenetly don't have Xbox one that I have.My Xbox constantly evolving,adding new features, adding new games,I keep playing halo wars on my Xbox one.Man.I

Clearly you don't know what you're talking about Posted from WC 920, 1520, 920, 635, 640 or 950XL

I actually agree. Xbox doesnt seem too interested in VR, but they are rooting for the occulus on windows, making deals with xbox controllers for occulus for PC. They added a feature to allow you to play xbox on pc, but not the other way around, even though people were hoping for it, and could have been a bigger score for them- but no, again its the windows PC crowd that gets the goodies.They arent abandoning xbox, but they really arent trying to be innovative or creative- only good thing thats happened is backwards compatability, basically giving us something they already did. Sheesh, even sony is making a ps streaming service- seems sony is more focused on its console fanbase

Releasing a ps4 that has twice the GPU power will not give you 4k games (4x the pixels or in the case of 900p games 6.5x the pixels), unless they look like early ps3 games. In addition, Sony would have to make two version (i.e. two teams = higher budget) of the same game, as there's quite a difference between the Jaguar SoC and Puma+ SoC, let alone something like Zen… if they don't than what's the point of buying the ps4k if they don't leverage the power of the new console? On the other hand why would Sony prioritize a console that's barely launching vs the one that has a 40+ million (by the end of the year) install base? And after 2-3 years Sony would (will if the ps4k with 2x GPU is true) introduce the ps5 that will actually do 4k i.e. another $400 (or more) so in 6-7 years time you would have spent $1200-$1400 vs $500 in the ps3/360 and then comes 8k which would need a ps5.5 … so I fully support the notion off a substantial upgrade instead of this half-assed and pricy solutions that don't give you that much of an upgrade. Lastly, right now people that have been contemplating getting a ps4 are either waiting for the ps4k or going PC = lost sales. God job Sony /sarcasm

Maybe some sort of optional peripheral that plugs inline to the Kinect port .. could augment GPU. Depends on the bandwidth of that port and if the current HDMI output is up to the task for 4k. If so, that would allow them to optimize the base console cost/price/size.

Just got my Ps4... Hopefully next gen wont come soon.

"The servers are doing well." Gimme a break.

Its doing well when compared to PSN, but was degrading for recently than it used to be really great. Sent from Turing Machine

I thought the same thing! Considering there was 2 days just this week with server issues!

I'm guessing he meant the Azure servers.

They do need a 4k refresh, while simultaneously releasing a slim version of the HD original. But only after Sony piss off their fanbase by having exclusives only for the 4k version of their console... Something they are apparently planning, and I can see it happening too!

Since this gen launched back in 2013, I believed that Xbox was poised for a much earlier upgrade than PS4. I failed to take VR into account, which is what the PS4 upgrade is really about. I now fully believe that Xbox will simply be folded into adaptive UIs for Windows' various form factors.

As an Electrical and Computer Engineer, I'm more interested in seeing what will happen to the next version of Kinect. Will it get RealSense/Hello? Will it come before the Xbox VNext or with it? What if we get a Kinect that has accessories too, e.g. wearables? Kinect that gives you physical feedback? Hmm.

Kinect is amazing, but Microsoft doesn't give a flying $#@% about it or the millions of Kinect fans they lied to.

Just because they didn't talk about it during a software conference focused on Windows development? Talk about being a Debbie Downer.

No!!!!!!! Don't get coip started!!!

Microsoft does not give a flying **** about Kinect.

Neither do consumers. RIP Kinect

No, because absolutely nothing utilizes the Kinect. I love my Kinect but the only thing it is used for is voice controls and skype video. We don't even have a freaking golf game. Nobody cares about Kinect and it is frustrating.

My kinetic is so useless. All I use it for is to turn the TV off and on - even then I have to yell and threaten it. I just bought a couple months ago. Posted from Pornhub

Kinect is good. Xbox Fitness is underrated, a quality app.

It may not be called that, but it already has facial recognition sign in... what exactly are you expecting?

It's as if you stopped reading my comment before even reaching the middle. LOL There are technical differences under the hood, not just the names.

My kinect logs me in if my brothers face is recognized. L950

And yet I still need to select my gamer tag every single time I open a game, even though the Kinect has already recognised me.

Bury the kinect, dont look back.

The next Kinect will probably have something to do with HoloLens. The ability to scan the user(s) in the room and transmit into in the holographic world in the lens.

Yes, oh damn. Totally didn't see that, but of course. Hololens shows you the world, and kinect shows the others your world :D

Kinect failed. Nobody cared (both users & developers) so MS shot it in the paddock.

Send me the upgrades w my free screwdriver kit

Does Xbox even need to exist anymore? Couldn't it just be a PC with a special UI now that they'll share OS, Store, and Apps? I suppose they could sell a device called the Xbox to denote that the hardware inside is specifically chosen to perform well at a decent price and without hassle; but it should definitely be a thing to switch out components. We only need one PC in our lives, the rest should be cloud-connected monitors, e.g. start the PC in the living room, then use the TV, or a Surface, or a Lumia, or a PC monitor, or any other screen to interact with it from any room in the house.

I like the idea of having xbox UI on a gaming PC, they should just add "xbox mode" to desktop and have it only enabled if the PC is powerful enough to deliver a good experience, then you just switch seamlessly between like you can with deskop/tablet mode.

They are not going to do that. That would defeat the purpose of an XBox, causing them to lose money. One can dream though... L950

I wouldn't mind if XBox became the desktop brand for Microsoft. The main conflict I see with the Windows 10 running an xbox mode is that MS wouldn't want to compete with Steam and other online marketplaces that can be normally unstalled on PCs. However, PCs were historically open and I hope MS will allow this one day as this would make Windows 10 would power the most universal gaming plaform across various devices.

I have been thinking along these same lines too. With UWP, why not just stick a pc with an Xbox skin UI on it and call it good?

Console will stay. There are lot of people don't want to deal with the complexities of PC gaming and just want gaming experience that is consistent, easy, no worries about next gen hardware and always ready. PC on living room is here already for a long time and PC games still do have most titles, console remains relevant and popular. Heck consoles just became even more relevant in chase for more entertainment experience in the living room replacing multiple boxes and hardware, and also for smart home. Gaming will be still part of it because people still want gaming in the couch than sitting on the desk. Sent from Turing Machine

In this convo, most people never take into the account the cost of a console vs a capable gaming PC. it is simple to say, what reason to buy an xbox since xxxxxx game is coming out for both. First the console is a dedicated gaming machine and the games are optimized as much as possible for it. it would cost close to $1k+ to get a capable gaming machine to play these games. For consoles, its a third of the cost and the game is meant to run on it, that is why there is a need for consoles and it wont be going away anytime soon. Using quantum break for example, you want to play it with high res and FPS, drop $1k+ for a pc to play it. For console, pay the $300 plus that you spent a year or two ago to play the game and any future games made for xbox. As new games come out for PC, the specs get higher and demanding and people will need to continue to upgrade parts reguarly while console is a static build that people know will be able to play games for years to come. Which again, is the reason why there is a need for console. It isn't as simple as, the games coming out for both pc/xbox, ill get a ps4 and a PC.

Nope. If you want to match current gen consoles, that's nowhere near $1k Posted from WC 920, 1520, 920, 635, 640 or 950XL

That's basically what the Xbox One is actually.

4K is severely overrated. Let's get the games working smoothly @ 1080p first.

It isn't about gaming in 4K, because even the new PS4.5 won't be able to push enough frames to play most games (certainly no 3D games) in 4K at acceptable frame rates. The idea behind the hardware bump up is to push out UI elements, more media types, and better upscale 1080p content to 4K... and, you know, play 1080p games at full 1080p/60fps which nither console does well at the moment, especially after adding any kind of filtering or AA in the mix.

4K video is not overrated. But is sure as **** isn't worth buying another console for it. Which is all the PS4K is going to be able to do. It will not play games at 4K resolution.


good, if they are going to do a new console, hopefully they go big... I want to see a console released by Spencer without all the extra BS mattricks wanted. Hopefully a more powerful true nextgen console. This gen to me hasn't jumped forward, with all these 1080p 60fps issues for both consoles, dissapointing to me

If Xbox One does nothing and Sony comes with PS4K indeed according to rumors, and we'll have games like AC Empire correctly which get double Unity graphics.. where the game can actually run 30/60 fps 1080p.. Xbox is getting rekt. Please dont commit suicide for Xbox One Phil Spencer. You've come so far improving the system! (note that this is all theoretically if the PS4K + AC Empire rumors are true)

Do you realize how few 4k TV's there are in the wild, and how few there will still be in the the next 2-3 years (or longer)? This notion that supporting 4k is a must have feature just doesn't make sense, economically to consumers, or to the companies producing these consoles. Specs don't sell to the consumers that buy the most devices.

Few? I see more and more everyday. You can already get 4K TVs for very fair prices these days. So no, 4K is indeed picking up steam so it's stupid not to try and stay ahead of the curve. Posted via the Windows Central App for Android

I am sure it will be hard to find a non-4K TV in a year or two. Posted via the Windows Central App for Android

"PS4K" is not just about 4K games. If the rumors are true we will see games like Assassin's Creed Empire which have double graphics than Assassin's Creed Unity, but actually having good performance on 1080p. If Xbox doesnt follow, the Xbox One wont be able to do this also. Dont get me wrong, I'm a huge Microsoft fan, but all Microsoft their work on Xbox One is going to get undone if they dont get their own "PS4K" variant. :(

If that's the case, it's either there will be no any new Xbox One console with some improvements (such as 4K support), thus only some possibility of physical changes For Xbox One or we will have new Xbox One or simply completely new Xbox console. Thing is, PS4 releasing some hardware improvements would probably just make PS4 even more competitive compared to Xbox One. Sent from Turing Machine

oh my, spence talkin smack? way ta go sir!

Just need external GPU to boost frame rates. Resolutions seems to be in acceptable range.. I just want boost in frame rates from external source without opening a case. Has HDMI input.. I just want above 30fps. Posted via the Windows Central App for Android

someone needs to let him know that Xbox is no longer a console, it is a service. 'cloud first' and all that. It is a Windows 10 PC that needs a yearly (or at least by anual) update to keep up with the times. Sure, games in the store must be able to hit a minimum quality level on a console for X number of years to provide value to customers, but we can't keep wishing and praying that a console can last 8-10 years at an acceptable level any longer. The average console only last 4-6 years with normal consistant use, so give people something to upgrade to when the console dies rather than having them buy the same old crap all over again. For that matter, kill off Xbox hardware, open up Xbox games fully to the Windows store and rake in the game sales money and xbox live subscriptions on PC. All that console hardware does is slow them down in the first place. If they come out with reference entry level game hardware then others can fill in the gap with 'console-like' PCs.

They are not going to kill of XBox. First of all, PC gamers will complain about how there used to be free online play and now there isn't. Second, removing the XBox will also remove exclusives. Third, XBox has now been transformed to more then just gaming, it's about entertainment now. Fourth, not everyone can afford to build a PC. Fifth, XBox 360's are still used to this day, 10 years after it's release. L950

No they backpedaled pretty hard on the "Xbox is now Entertainment" part because dumb console gamers somehow thought that meant there wouldn't be games or someshit.
Pretty upsetting. This could have been a more universal machine.

You are not understanding what I said. I am not saying that the 'console experience' goes away. I am saying to have an ecosystem much more similar to what Valve attempted with the Steam Machines that never got off the ground. Have a set of standards, and let others make the hardware. Perhaps continue having an 'xbox console' but have it more like the Surface line of hardware that is something special (and expensive) rather than something standard. What do you mean 'remove exclusives' Bring the Xbox store to PC, and have it be an 'xbox store exclusive'. You think that having 3/4ths of the gaming market would not be enough pull to gain exclucivity rights? Xbox Live membership is not just about online gameplay. It is about guarenteeing a certain level of online gameplay that is typically pretty good, as well as sales and discounts, and free games a few times a month. Not everyone will join in, but I think that many would find it to be a good deal. Consoles are already almost as much headache and maintenance as buying a gaming PC... there are no longer any real advantages between the two markets... so lets merge them!

What if the XBox brand became the base destop configuration for the equivalant of the Steam machine with Windows 10? Each 'console generation' could be another increase in the baseline specs and/or software drivers (directX) for games on the Windows universal app store. They can still have exclusives games like Halo on Windows Store only, I dont understand the need to keep games on consoles only. If players are worried about controllers vs keyboard or other variables, then couldnt there be tournaments split based on settings? For example one offical online tournament bracket could require Xbox non elite controllers, 1080p, 120hz to enter. I believe the UWA platform also puts up another barrier for hackers who want cheat by getting around these settings.

What's the difference between releasing an upgraded console, or a new console that is fully backward compatible? The performance? The hardware? What if Sony releases a PS 4.5 and Microsoft releases a whole new Xbox with 4K, USB-C, Bluetooth pairing for devices, and a whole lot more powerful than PS4 with full backawrd compatiblilty with XB1, 360 and OGXB? Hey, one can dream. :)

Keep that USB-C crap away from consoles (and everything in general). Posted via the Windows Central App for Android

Yeah, USB-C will be the only option in a year or two. Micro-USB will quickly become obsolete like mini-USB. Posted via the Windows Central App for Android

If you don't mind me asking, why? It's just a connection type.

It's reversible. And allows for greater speeds / watts / amps. Think of it as the new iPhone plug but more universal. It's a big bump. The new 5V/3A charging standard is only capable using this special cable.

I feel like it would be a waste of time and resources for them to make a .5 console. Just release a slim, and then focus on making the neXtbox as great as possible.

lol they don't really have a choice, its either move now or wait until pc sticks and the apple tv overthrow consoles by raw performance and convenience, not to mention faster and more robust community to develop more and better games

What's dying faster Xbox or Windows Mobile? Former WP user and current Xbox user. Posted via the Windows Central App for Android! (Nexus 5x)

Windows Phone/Mobile is dead.
Xbox is far far from dead. Posted via the Windows Central App for Android

it might not be dead but it's on the course to dying. It's not near where Microsoft would want the sales to be, there's not exclusives, and ps4.5 and Nintendo NX will outperform xbox by a good amount of power

Launch a faster better one after Sony one fails.

Why would they? They're still working on backwards compatibility for the 360 games. They create another platform, they're likely going have to start that all over again. Or they could push all the developers to release all new games as Universal Apps so they will be forward and backwards compatible. Newer hardware would them offer better performance, drive 60fps or greater if the consumers want it. Hell, as a PC gamer, I'd buy that new Xbox!!!

The more I think about this upgradable consoles business, the more I like it, actually. And no, it doesn't take a screwdriver set to upgrade, just do like they do with external graphics boosters for laptops - have an external box with a few cables and an external power supply. Easy peasy, and it overcomes the greatest weakness of the console format without surrendering all its strengths that make me a console fan! Anyway, the whole "we don't want to ship a screwdriver set with every Xbox" seems like such a cop out, and without an answer to 4.5, they're gonna only lose even more ground to where they are behind he competition - graphics power. 1 1/2 please!!!!

Sony shouldn't release a PS/4 and a half. Sony should just wait until they are ready with the PS/5. Releasing a PS/4 1/2 this year would be a slap in the face for current PS/4 owners. Game developers would all optimize their games for the new console leaving PS/4 owners in the dust.

Well, to be sure, it depends on how they handle it. The following two scenarios I'm about to present are what I'd call "bad scenarios" that I would oppose: a) they ONLY offer 4.5 as a dedicated console. At that point it becomes in effect, PlayStation 5, only without enough of a hardware boost to justify it, it fragments the market and the library, and leaves existing PS4 people in the dust while at the same time leaving the people who spring for 4.5 with negative net return on investment. b) make the 4.5 games "4.5 exclusive". At that point it basically becomes another "Sega 32X". It fragments the market, and depending on how successful the 4.5 games become will either leave the PS4 people in the dust, or become a near total "return on investment failure" for those who spring for the upgrade. No, instead, for it to work, it will need to... a) on the hardware front: be offered as BOTH a complete standalone system with the extra goodies baked right in for the new adopters, AND also be offered as an external upgrade box for existing PS4 owners. Maybe there can be some de minimus perk for those who buy the baked in system or something, but essentially offer the exact same experience to both existing PS4 owners, and newcomers/people who buy the new full system. That way neither the market nor library are fragmented, existing users are not shut out, as well as there being incentive for newcomers and/or the ultra enthusiastic fringe who would just straight up trade in a 4 for a 4.5 even though they could get the same experience more or less from a 4 + box to do so. b) on the software front: be more PC-like in that the game will run on both the upgraded and non-upgraded hardware (not leaving non-adopters in the dust) but still being able to detect the improved hardware and upscale it accordingly (providing satisfactory return on investment for those who do spring for it.) If they want to have maybe one or two true 4.5 exclusives a year, well and good, but the trick would be to give the adopters something worth their while WHILE AT THE EXACT SAME TIME not leaving the non-adopters shuttered out, and last but certainly not least, NOT fragment the market. THEN I think with the upgradable hardware, you erase the biggest beef against console gaming, while still preventing the loss of what makes them so good! And if Sony does it, and can actually pull it off, then I think MS would be unwise to not also follow suit! Cheers!

As a 4k tv owner, I'd really like to know when that update it's coming to enable 4k output for streaming. Not gaming, but streaming, and bluray. I understood that a software update would be capable of that. Is that like many other Microsoft promises, lost?

Lol wouldn't mind a fury equipped xb1 hdmi2(hdcp2.2) for the fore k Netflix requirements

Good. 4K support isn't a big deal anyway. The games on Xbox One look great and are fun to play. Processing power for AI and game logic is more important than graphics, and Xbox Live has unlimited growth potential in that area. Game developers need to focus gameplay and narrative content first, not graphics. At this point, graphical improvements are one of the least important enhancements developers could offer.

Thank U! I really dont want to buy a console like a cellphone... one new every year... Consoles need to last for 6-7 years. If they dont, lets all be pc gamers !

wow..... just wow.... I was excited to be able to upgrade or buy a more power xbox... looks like the ps4.5 will destroy the xbox One in performance even more. I bet even the Nintendo NX will outperform the xbox one. Do we really want to have the least powerful machine? Xbox is reliable but why not have powerful and reliable? Also the servers are crap. they just went down a few days ago.

I don't think Phil Spencer is qualified for this job. He is very conservative and old fashioned like Nintendo, but also lacking in any creative imagination or vision. Basically he is a throwback to 1990's PC gaming Microsoft. He has systematically eliminated everything innovative and exciting about Xbox and cast doubt on every logical evolution of consoles. Sony is really pushing forward with VR, Vue, and now 4K. I may buy my first PlayStation soon.

When is that cloud based enhancement thing they touted at launch coming? You know the one that was supposed to make the Xbox One infinitely capable in terms of graphical fidelity.
Man this box had so many cool features thrown out the window all because Microsoft can't do PR to save their lives and tards can't research without opening their mouths about how "evil" ms and xbone were

Microsoft would have to release a console stronger than the PS4.5 as well as cut the cost so far that it's a huge loss per unit sold. It would get ahead of Sony but at massive lost. Would it be worth it?

i just dont care. do what they want i might not even buy it. my xbox one works fine for my needs. my pc covers the rest.

Runs in the family. The incompetence gets worse and worse on a daily basis. It's just like Balmer dissing the original iPhone. Now MS struggling to be relevant in the mobile space. Here we have tumors of the PS4K and Spencer is brushing it off like its no big deal. It is a big deal! VR is the next big excitement for gaming! You can F***k hololens because by the time it's out for consumers, be late to the game and problably too expensive!

I'm guessing they want to go a different route with Xbox. Since they're bringing UWP apps and the like to it. What I think they need is a family of consoles, rather than an updated version. An Xbox mini that's dirt cheap and will play all your UWP apps and some indie stuff. The Xbox One that's as it is now, then something like an Xbox One XL that features improved hardware and could either be almost a proper PC in a small form factor, or a supercharged Xbox with 4k capability and/or oculus/vive compatibility.

I like where your going with that. Hmmm

They need no Xbox mini, they need a proper maker ecosystem for Windows. The next gen of living room equipment structures as follows: a TV server streaming and recording digital TV, a gaming server streaming games and a host of consumption devices, starting from watches+glasses (which will ultimately replace smartphones), phones, tablets, TV-addons (like this crazy droid thing turning every screen inyo a touch screen) up to ordinal computers. IoT done right. MSFT has all the pieces, and I hope they continue to exercise. The real shame is, that Spencer cannot communicate such a clear vision.

4k TV's are not exactly pervasive yet. Maybe in a few more years...

Not sure about that. You can get 4K tvs everywhere. 4K blu-ray is out now. Content is coming available. TVs have dropped in price, and this 4K blu-ray I speak of, a Samsung 4K blu-ray player is just $400...with movies about the same price as normal blu-rays... It's there and content IS available.

Yea, right. The playstation 4.5 will cost $1200. Not sure about most people here but, when I upgraded my gaming PC, I thought about going the 4K route. You need a high end PC, with dual flagship video cards (at least if not 3 video cards) to play games at full detail at 4K. Would loved to do on the PC but, I was looking at another like $1500 over the $900 I spent on my current system to get "TRUE 4K" on my PC for gaming... Maybe Next gen but, a upgrade NOW ? Not going to happen.

"Reliable" oh you mean the monthly Xbox live outages?

As someone with a 4k TV, Microsoft no hope of keeping me within their ecosystem for media without 4k video support.

They should call it the Playstation 4+
*Apple inc. Lawsuit has appeared* Posted from the trunk of my car (Windows Central App)

Microsoft constantly fails to understand even if it's a marketing strategy from Sony. Microsoft needs to keep up with that strategy. The consumers will migrate to Sony. Microsoft beats Sony in every aspect of gaming except frame rate and resolution. 4 K TVs are out in the market it would behoove microsoft do to an incremental upgrade. Microsoft has made too many miscalculations in the past to let thus one slip by. It almost seems like the people in Microsoft keep settling for number 2 when they can be number 1. It also seems like there not concerned with what the consumers want. Frame rate and resolution will always trump every aspect of gaming. We are visual creatures. Posted via the Windows Central App for Android

4 K TVS are down to $500 from about $1500 dollars about a year ago. These are the cheapest and about 40 inch in size. Playstation consoles can be sold to companies like gamestop for an upgraded version. With that said I don't see why anyone should be upset when the consumers have an option. Posted via the Windows Central App for Android

This generation is in its 3rd year. If they just announce or make a new one in 2 years.
Still enjoying the console very much, but it just lacks the step that the 360 made from the original xbox. 4k will probably be affordable in 2-3 years for a better price, so we will see it next generation. This would also be great for vr of course.
We just need to wait and see. Looking forward to the e3 this year and see what ms sony and nintendo bring to the table.

Aka... Saying PS isn't "substantial" as well as "No, were happy being o-k" lol.... Dumb
Windows Central Newsletter
Get the best of Windows Central in in your inbox, every day!