Xbox Insiders can now download 4K assets ahead of Xbox One X launch
By Matt Brown published
A new Xbox One update is rolling out to Xbox Insiders, implementing features to smoothen the transition to the upcoming Xbox One X.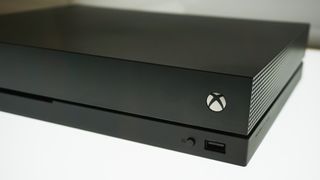 Microsoft continues to roll out new features to members of the Xbox Insider Program, ahead of a major system update in the works for Xbox One this fall. Offering a range of visual changes and increased functionality, the update lays the foundations for the launch of the Xbox One X on November 7. Among the biggest changes is a new dashboard influenced by Microsoft's Fluent Design System, a modular Home menu, a reworked Guide menu.
A new Xbox One preview update is rolling out to the Alpha ring today, alongside two new features for all Xbox Insiders running 1710 builds. In preparation for the upcoming Xbox One X, this adds the ability to download 4K assets for supported Xbox One games ahead of the console's official launch. Users can also now back up console settings to external storage, aiming to streamline the move to a new console.
For those planning to pick up an Xbox One X, 4K game content downloads allow users to download improved assets to their consoles, prior to the release of the device. With these enhancements often taking up significantly more storage than standard Xbox One games, this should especially help those with slower internet connections from getting started quicker on launch day.
To enable the option to download 4K game content, navigate to Settings > Storage > Settings > System > Backup and Transfer and enable the checkbox labeled Download 4K game content. In our limited testing, none of our installed games fetched 4K assets to download, however, more may begin to appear in the days leading to the Xbox One X launch. In its current implementation, it appears 4K asset downloads are a console-wide preference, rather than being enabled on a per-game basis.
System backup is a similarly useful feature when migrating between Xbox One consoles, by allowing system settings to be backed up to an external drive. Found under Settings > Storage > Settings > System > Backup and Transfer > Back up my settings, various system preferences and your profile can be quickly transferred during the Xbox One out-of-box-experience. It also appears that backups can be scheduled to regularly update, by checking the Keep backup current option.
For those in the Alpha ring, the update also deploys a range of fixes across the system, affecting 13 features and apps. A full changelog of the fixes can be seen on the official Xbox forums (opens in new tab), alongside details of the two new features.
Have you tried out these new features? Have you found games with 4K assets available for Xbox One? Let us know your experience in the comments.
Matt Brown is Windows Central's Senior Games Editor, Xbox & PC, at Future. Following over seven years of professional consumer technology and gaming coverage, he's focused on the world of Microsoft's gaming efforts. You can follow him on Twitter @mattjbrown.
noticed this last night.... and did flip it on.

I think I will may need a new external HD :)

november 7 cant come fast enough!!

Matt, are you guys planning to do an article about how large the 4k assets are once they start rolling in? I'm curious to see how much more space they consume.

We can do so! Might be interesting to see how game sizes scale based on the enhancements they offer. Once they start rolling in, we'll likely do news posts, but might try to get a cohesive list together!

Awesome! Thanks Matt! Nov. 7th can't get here fast enough!!

Any word on when we can start downloading these? I've had the option for about a week but no game has downloaded any additional assets

I was wondering this as well.

I'm really curious how many will be out by launch. I also want to know it these will show up as separate files that can then easily be deleted (I hope so).

X1X games will only download 4K assets, so no, you can't delete those

Very much looking forward to 4K on the Xbox One X, its just a shame it didn't come with a 2TB/3TB option, although I know you can just add any hard drive, I still would have preferred internal!!! Anyways looking forward to playing Halo 5, GoW 4, Deus Ex, Forza and the list goes on!!!!

Deus Ex is getting a patch ? Great if so... I was just about to pick this game up

Cant wait November 7.
My priority to play in 4k: F1 2017
Assassins creed Origins
Wolfenstein the new colosos
Witcher 3
Fallout 4
Skyrim
ESO
Ghost Recon

When's this feature available to the rest of us? Would love to have these downloaded in time for the 7th as well.

My thoughts exactly. It seems to be kind of close to launch for this to be an insiders only test. Just my luck my data caps start this month so next month I'm screwed to update my games.

I am in the Beta ring of the insider program, and I have the options now. I realized it yesterday and had several games pop up as having updates moments later. Gears of War 4, and World of Tanks both show up on my list of "Xbox One X Enhanced Games" when I sort them that way now. It is probably worth trying now. If you have the options, it will clearly be an advantage to have the assets downloaded prior to attempting to play the game on your One X in a couple of weeks. :)

I did thought I saw it on the list, but it doesn't seem to be there anymore, maybe they changed their mind or I am mistaken, they said they have no plans right now on reddit, but they did enhance it for PS4 Pro, so here's hoping!!! Sorry about that!!!
Windows Central Newsletter
Get the best of Windows Central in in your inbox, every day!
Thank you for signing up to Windows Central. You will receive a verification email shortly.
There was a problem. Please refresh the page and try again.