Xbox One fall update (1710) complete changelog
The Xbox fall update is available now to the public – here's everything that's changed on your Xbox One console.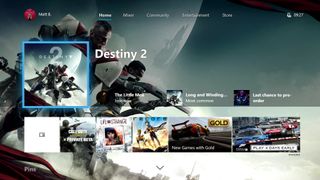 (Image credit: Windows Central)
After several months of testing via the Xbox Insider Program, Microsoft has released the fall update to Xbox One consoles worldwide. Implementing one of the striking overhauls to the console's dashboard since launch, the update delivers a new user interface based on the "Fluent Design System," backed by a customizable Home menu, reworked Guide, and system-wide light theme. This update also introduces several new features affecting video creators, including new functionality via the integrated Game DVR, upgrades to Mixer and support for USB webcams while streaming.
Furthermore, the Xbox fall update lays the foundations for upcoming Xbox One X, with several new tools to help users seamlessly upgrade from existing devices. Not only can games, apps and other data be swiftly transferred – users can now begin to download "Xbox One X Enhanced" games to save time on launch day.
With changes to be seen system-wide, we've tracked every recorded change implemented as a part of the latest update.
System-wide Fluent Design refresh
One of the biggest changes in the Xbox fall update is the initial rollout of the Fluent Design System – a new universal design language slowly being distributed across Windows 10. Aiming to add additional depth and texture to the company's existing products, Fluent Design delivers a range of new visual traits, while still maintaining a level of minimalism seen in current revisions of the OS. Five main foundations are at the core of the initial wave of the Fluent Design System's rollout: Material, Light, Scale, Depth, and Motion.
Some of the more noticeable changes in this update, such as translucent elements, bold highlights on selected items and improved fluidity, are all a part of this new approach to UI design.
New modular Home menu and content blocks
As an extension of the Fluent Design overhaul, the latest redesign of the Home menu makes for the biggest change in terms of functionality. Unlike previous iterations of the dashboard, which were based on a static template for all users, Microsoft is now putting an emphasis on customizability on a per-user basis.
Following the update, Home is a modular menu, comprised of user-defined "content blocks." Specific games, friends, and features are pinnable on the dashboard and accessed by scrolling down from the top of the page. Utilizing a similar system to traditional software pinning, blocks of content can be easily added and removed on the fly. New "discover" sections are also seen across the Home, suggesting various activities and features based on your preferences.
Although still in its early days, the concept of modular content blocks is already showing promise. With the ability to pin content feeds for certain titles or track your closest friends, the Home menu now condenses key information into an easily-accessible location.
How to use content blocks on the new Xbox dashboard
All-new Xbox Guide menu
Significant changes have been made to the Xbox Guide, in an attempt to further improve the speed and fluidity of the pop-out menu. While general refinements to the Guide have been seen since its debut in 2015, today's update brings the biggest change yet.
From a usability standpoint, the most striking difference affects the tabs of the Guide menu. Tabs will be sorted horizontally across the top of the guide, rather than down the side. Tweaks have also been made to how features are distributed across tabs, with inspiration from stock apps on Windows 10 for PCs. The Guide now does a better job at accommodating the flagship features of Xbox Live, under the seven respective tabs now available.
How the Xbox One Guide menu has changed in the Xbox fall update
System-wide Light theme
A new "Light" theme also arrives with the Xbox fall update, adding another major option for OS customization. As the name suggests, enabling this option colors the dashboard with white and gray user interface elements, rather than the black and dark grays seen in the current "Dark" theme.
The darker color scheme still remains as the default going forward, however, the option to switch to the Light theme is only a few clicks away. For many, this theme is a better way to view the dashboard in brightly lit environments, without worrying about incoming glare.
How to switch on the light theme for Xbox One
Game DVR improvements
The Xbox One's Game DVR has received some significant improvements as a part of this Xbox fall update, affecting almost every aspect of the integrated gameplay capture software. The biggest of these is a bump from 720p resolution to 1080p resolution for in-game clips, giving the users the choice to record in higher quality across all Xbox One games. Furthermore, once the Xbox One X launches later this year, the console will offer 4K video recording at 60 frames per second, with support for High Dynamic Range (HDR).
This update also gives users the ability to change the location for Game DVR recordings, to take advantage of external drives. Not only does this free up space on the console's internal storage – the Game DVR can now record up to 1 hour of continuous footage when an external drive is in use.
With the option to record to external drives at native resolution, GameDVR is a much more viable solution for video capture, even for professional use. After recording clips, an external drive can be hooked up to any PC or Mac, allowing users to edit videos in their editing package of choice.
New content transfer features
With the release of the Xbox One X just around the corner, the Xbox One fall update implements tools designed with upgrading console owners in mind. While moving between consoles was tedious in the past, several new features allow for bulk content transfers both locally and over a network.
Network transfer is the biggest of these, allowing games and apps to be transferred between two Xbox One consoles using a local network. After enabling the feature, any installations can be fetched from an existing console via a wired or wireless connection – reducing both download times and data usage.
Bulk content transfers can be made locally too, using an external hard drive. While content can be moved on a per-title basis via "My Games & Apps," a new feature within the Settings apps allows multiple transfers to be made simultaneously.
For an easier move between devices, Microsoft is also allowing users to save their console settings to an external hard drive. By doing so, as a part of the new out-of-box experience, users can restore from an existing console, maintaining your profile and preferences.
Support for USB webcams
The scope of peripherals compatible with Xbox One is also set to expand going forward, with support for various USB devices on the horizon. Plans have been outlined to expand to a wider range of plug-and-play devices, such as USB-connected webcams, headphones, and microphones.
Microsoft recently added support for USB cameras on Xbox One, opening the console to a range of new accessories. While previously, the only camera compatible with the console was the Xbox One's ill-fated Kinect sensor, practically any third-party webcam can now be used on Xbox One after the update.
For now, use of webcams in somewhat limited, and Skype and Mixer are the two main implementations of webcam support on the console. Over time, we may begin to see more third-party apps take advantage of the feature, once the update is available to the public.
New screensaver features
The Xbox fall update introduces new functionality to the console when placed in an idle state, after being left untouched for some time. Until now, the Xbox One has dimmed the screen after a period of inactivity, but new "screensaver" options aim to further protect your TV from image retention and burn-in. Although these issues were widespread with CRT displays and old Plasma TVs of the past, the increased adoption of "OLED" has surfaced worries once again.
Once the console falls into an idle state, a discreet noise pattern will now be cast over the output with moving bars across the screen. This prevents pixels from remaining at a consistent intensity and reduces the likelihood of long-lasting damage.
When in this state, the screen saver will also collect your notifications into a single, more visible location. This larger panel will remain on-screen until returning to the console, to avoid missing important activities.
Other miscellaneous changes
Some other minor changes have been made to the Xbox One OS and while not groundbreaking, are still worth a read. These are some of the miscellaneous tweaks seen so far, being released as a part of the fall update.
What new Xbox features do you want to see?
Previously we asked you which features you'd like to see on Xbox One going forward. We made sure to compile these into a wish list, bringing your requests together into a single location.
What do you think of the Xbox fall update? Make sure to drop your thoughts in the comments.
Updated October 17, 2017: We updated this changelog for the final release to the public.
Get the Windows Central Newsletter
All the latest news, reviews, and guides for Windows and Xbox diehards.
Matt Brown was formerly a Windows Central's Senior Editor, Xbox & PC, at Future. Following over seven years of professional consumer technology and gaming coverage, he's focused on the world of Microsoft's gaming efforts. You can follow him on Twitter @mattjbrown.