Xbox One fall update (1710) complete changelog
The Xbox fall update is available now to the public – here's everything that's changed on your Xbox One console.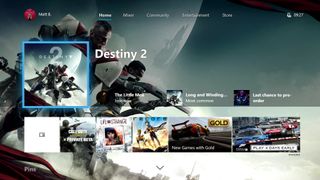 (Image credit: Windows Central)
After several months of testing via the Xbox Insider Program, Microsoft has released the fall update to Xbox One consoles worldwide. Implementing one of the striking overhauls to the console's dashboard since launch, the update delivers a new user interface based on the "Fluent Design System," backed by a customizable Home menu, reworked Guide, and system-wide light theme. This update also introduces several new features affecting video creators, including new functionality via the integrated Game DVR, upgrades to Mixer and support for USB webcams while streaming.
Furthermore, the Xbox fall update lays the foundations for upcoming Xbox One X, with several new tools to help users seamlessly upgrade from existing devices. Not only can games, apps and other data be swiftly transferred – users can now begin to download "Xbox One X Enhanced" games to save time on launch day.
With changes to be seen system-wide, we've tracked every recorded change implemented as a part of the latest update.
System-wide Fluent Design refresh
One of the biggest changes in the Xbox fall update is the initial rollout of the Fluent Design System – a new universal design language slowly being distributed across Windows 10. Aiming to add additional depth and texture to the company's existing products, Fluent Design delivers a range of new visual traits, while still maintaining a level of minimalism seen in current revisions of the OS. Five main foundations are at the core of the initial wave of the Fluent Design System's rollout: Material, Light, Scale, Depth, and Motion.
Some of the more noticeable changes in this update, such as translucent elements, bold highlights on selected items and improved fluidity, are all a part of this new approach to UI design.
New modular Home menu and content blocks
As an extension of the Fluent Design overhaul, the latest redesign of the Home menu makes for the biggest change in terms of functionality. Unlike previous iterations of the dashboard, which were based on a static template for all users, Microsoft is now putting an emphasis on customizability on a per-user basis.
Following the update, Home is a modular menu, comprised of user-defined "content blocks." Specific games, friends, and features are pinnable on the dashboard and accessed by scrolling down from the top of the page. Utilizing a similar system to traditional software pinning, blocks of content can be easily added and removed on the fly. New "discover" sections are also seen across the Home, suggesting various activities and features based on your preferences.
Although still in its early days, the concept of modular content blocks is already showing promise. With the ability to pin content feeds for certain titles or track your closest friends, the Home menu now condenses key information into an easily-accessible location.
How to use content blocks on the new Xbox dashboard
All-new Xbox Guide menu
Significant changes have been made to the Xbox Guide, in an attempt to further improve the speed and fluidity of the pop-out menu. While general refinements to the Guide have been seen since its debut in 2015, today's update brings the biggest change yet.
From a usability standpoint, the most striking difference affects the tabs of the Guide menu. Tabs will be sorted horizontally across the top of the guide, rather than down the side. Tweaks have also been made to how features are distributed across tabs, with inspiration from stock apps on Windows 10 for PCs. The Guide now does a better job at accommodating the flagship features of Xbox Live, under the seven respective tabs now available.
How the Xbox One Guide menu has changed in the Xbox fall update
System-wide Light theme
A new "Light" theme also arrives with the Xbox fall update, adding another major option for OS customization. As the name suggests, enabling this option colors the dashboard with white and gray user interface elements, rather than the black and dark grays seen in the current "Dark" theme.
The darker color scheme still remains as the default going forward, however, the option to switch to the Light theme is only a few clicks away. For many, this theme is a better way to view the dashboard in brightly lit environments, without worrying about incoming glare.
How to switch on the light theme for Xbox One
Game DVR improvements
The Xbox One's Game DVR has received some significant improvements as a part of this Xbox fall update, affecting almost every aspect of the integrated gameplay capture software. The biggest of these is a bump from 720p resolution to 1080p resolution for in-game clips, giving the users the choice to record in higher quality across all Xbox One games. Furthermore, once the Xbox One X launches later this year, the console will offer 4K video recording at 60 frames per second, with support for High Dynamic Range (HDR).
This update also gives users the ability to change the location for Game DVR recordings, to take advantage of external drives. Not only does this free up space on the console's internal storage – the Game DVR can now record up to 1 hour of continuous footage when an external drive is in use.
With the option to record to external drives at native resolution, GameDVR is a much more viable solution for video capture, even for professional use. After recording clips, an external drive can be hooked up to any PC or Mac, allowing users to edit videos in their editing package of choice.
New content transfer features
With the release of the Xbox One X just around the corner, the Xbox One fall update implements tools designed with upgrading console owners in mind. While moving between consoles was tedious in the past, several new features allow for bulk content transfers both locally and over a network.
Network transfer is the biggest of these, allowing games and apps to be transferred between two Xbox One consoles using a local network. After enabling the feature, any installations can be fetched from an existing console via a wired or wireless connection – reducing both download times and data usage.
Bulk content transfers can be made locally too, using an external hard drive. While content can be moved on a per-title basis via "My Games & Apps," a new feature within the Settings apps allows multiple transfers to be made simultaneously.
For an easier move between devices, Microsoft is also allowing users to save their console settings to an external hard drive. By doing so, as a part of the new out-of-box experience, users can restore from an existing console, maintaining your profile and preferences.
Support for USB webcams
The scope of peripherals compatible with Xbox One is also set to expand going forward, with support for various USB devices on the horizon. Plans have been outlined to expand to a wider range of plug-and-play devices, such as USB-connected webcams, headphones, and microphones.
Microsoft recently added support for USB cameras on Xbox One, opening the console to a range of new accessories. While previously, the only camera compatible with the console was the Xbox One's ill-fated Kinect sensor, practically any third-party webcam can now be used on Xbox One after the update.
For now, use of webcams in somewhat limited, and Skype and Mixer are the two main implementations of webcam support on the console. Over time, we may begin to see more third-party apps take advantage of the feature, once the update is available to the public.
New screensaver features
The Xbox fall update introduces new functionality to the console when placed in an idle state, after being left untouched for some time. Until now, the Xbox One has dimmed the screen after a period of inactivity, but new "screensaver" options aim to further protect your TV from image retention and burn-in. Although these issues were widespread with CRT displays and old Plasma TVs of the past, the increased adoption of "OLED" has surfaced worries once again.
Once the console falls into an idle state, a discreet noise pattern will now be cast over the output with moving bars across the screen. This prevents pixels from remaining at a consistent intensity and reduces the likelihood of long-lasting damage.
When in this state, the screen saver will also collect your notifications into a single, more visible location. This larger panel will remain on-screen until returning to the console, to avoid missing important activities.
Other miscellaneous changes
Some other minor changes have been made to the Xbox One OS and while not groundbreaking, are still worth a read. These are some of the miscellaneous tweaks seen so far, being released as a part of the fall update.
What new Xbox features do you want to see?
Previously we asked you which features you'd like to see on Xbox One going forward. We made sure to compile these into a wish list, bringing your requests together into a single location.
What do you think of the Xbox fall update? Make sure to drop your thoughts in the comments.
Updated October 17, 2017: We updated this changelog for the final release to the public.
Windows Central Newsletter
Get the best of Windows Central in in your inbox, every day!
Matt Brown was formerly a Windows Central's Senior Editor, Xbox & PC, at Future. Following over seven years of professional consumer technology and gaming coverage, he's focused on the world of Microsoft's gaming efforts. You can follow him on Twitter @mattjbrown.
Definitely being able to share screenshots and clips to Facebook, as Sony and Nintendo already allow. Direct-to-Facebook game streaming would be great too.

All this features good, but personally for me need next:
1. Auto upload screenshots, clips two OneDrive and twitter.
2. Also need facebook integration, at least like on x360.
3. Gift games/dlc gonna be great!

I really hope that all white screen is optional, that is going to blind the **** out of me. The splash screen for Youtube in red is already a killer.

Know what you mean, launching Netflix in the evening is like letting a new born star into the room....why do they insist on a bloody white background...to make sure we can't sleep so we have to watch more Netflix perhaps?

I wouldn't be surprised, it's absolutely brutal though. It's times like those I wish I had a crappy TV with a poor contrast ratio.

To make it worse the Netflix App still globally forces HDR on my Panny DX902 if I haven't disabled it in my TV settings (no other app does) so I get a full 1k nits in the face...normally have it at 10% backlight for general viewing..its a shock to be sure...

I dont have it in white... Its all system color black

Yeah mines all black too, I just wasn't sure is the whiteness was a new "upgrade" or not.

I feel like the color scheme follows the hardware color on set up... Maybe?

I doubt it. Otherwise they'd have to provide a bunch of different software versions to match all the different colours released for every Xbox One ever launched. I'm more inclined (well...I hope...) that this is just "light theme" or "dark theme" similar to what we have on Windows 10.

True... Maybe it is just black or white... Or worst case scenario... Just white :/

Yeah, that sounds most plausible.

Don't expect it... Remember the 360 update? Even though many a people hated it, the kept it. Eventually our vision was dimmed enough to accept it.

I hate the Fluent design. I don't gift people games. I never had (nor cared to have) and Xbox 360. I already have an avatar. It's already compatible with the USB devices I plug into it now (but the idiots at Microsoft still refuse to give FULL use of keyboard & mouse with everything). So, there's apparently nothing in the fall update that brings anything that makes a difference as far as I'm concerned.

Not everything revolves around you.

If you got hate in your heart, LET IT OUT!!!

When all you don't know how to smile. Have no friends.. Can't tell the difference between a 360 and an OG Xbox. Can't appreciate upgrades to an avatar you don't even use. And is an idiot for thinking Microsoft would allow full control of a mouse and keyboard..to kill the console community.

Man you are never happy and always so negative but you insist on putting down a console I mean I've seen most your comments for the past two years. Get you a gaming PC if you already have it then stay on it and quit commenting on how much you hate the console not having what you want. I get asking for things help the platform but you are never happy. You are the kind of customer why I wish I'm not in retail.

Glad to see Avatars being more prominent again. I liked the old friends list on Xbox 360. I actually just played Bomberman (back-compat) as Deathstroke last week, it's awesome.

USB webcam would be #1. Don't use my Xbox much because I can't use it for Skype video calls. I can't talk to Cortana. This would fix that.

These updates sound nice to me but what I'd prefer is for the overall UI to be more responsive. I think it us still really slow and laggy. It's almost 4 years in to Xbox ones life, I feel that it really should be better than it is by now. Not moaning.... Love Xbox.... Just saying 😉

I'm with ya. It's so slow. Guess if I could afford the Xbox One X this wouldn't be an issue. But let's be real, 8 GB of RAM on my standard Xbox One should be enough to not have a laggy OS. I STILL miss the UI on the Xbox 360 (yep, liked the look), but I don't miss the inability to multitask :)

im with u! damn OS its really slow, i want something fast! i mean cmon! i can understand some lag when u play but even without a game on background the OS its slow

Any idea if we get mouse and keyboard support?

The introduction of Fluent Design might be good BUT I hope they don't forget that the future is OLED displays. So...NO. F*CKING.WHITE.BACKGROUNDS for Christ's sake. You can have Fluent Design and pure black backgrounds...don't go around and f*ck everything up even more. Apart from that, I continue to say what I've been saying for a while now. The Xbox UI has been absolute sh*t since the first UI update. The last UI update made everything unbearable to use. So the entire UI, more than fluent design, needs to be completely redesigned, starting with the OPTION to have the Xbox button to take you Home instead of opening that useless side panel.

You are aware that everything in the side panel is on the home screen right? Also, the side panel has no ads, so I would assume you would prefer that.

The side panel has no ads? Then you might want to look at the bottom of it. See that "Gold benefits" ad there? Yeah. Exactly.

You have the option of white or black theme.

Notice that the comment above was posted 2 MONTHS ago ;)

During the Xbox@E3 daily shows they stated that Avatars would not be coming to the Xbox console this year. More likely next year. They would only be coming to PC for now.

Something that Xbox should of had from the start would be Voice messages. Add that back!

The new Avatars is built from the Unity engine?
hnnn... are they planning to let other devs access those Avatars through Asset Bundles? I think the problem with Xbox Avatars was that, there was no much activity you can participate, no much things to do with'em, no meaning for gamer to invest.

I just wanted to see Skype work again... And not randomly have my picture cut out in the middle of conversations. And bring back the voice commands. At the very, very least bring back the voice select command, so when can select what's on screen? and fix the fact that it takes a full minute, just to start Skype

What I would like to see is the ability to see if games I have are available on demo, to play against my friends that have not yet purshased the game. So a Game I have I can send of a demo invite to a friend so we can play online and maybe get them to buy the game. Next I would like to see the ability to gift a game code directly to a friends account. So I can just tell them to check out there ready to install section.

Is anyone else on the Alpha Ring w/a Kinect running into an issue where, while configured for "Instant On", you see it recognize you saying "Hey, Cortana", but then it does nothing?

Hey Cortana while off on Instant On is working for me on Alpha. I like how the Kinect light turns on when you say 'Hey Cortana' and you can then tell it to turn the Xbox On. With the light, you can confirm your Hey Conrtana command registered.

Yep, have the same thing happening. I end up turning on the controller.

I just use "Xbox On" withouth Cortana.. And that's also currently hit and miss.. Yesterday I said the magic words, then went off to do something in the room. 5-10 seconds later, Xbox Turned on. Lets hope they get that fixed soon.

Since they've killed Kinect I'd like to see the ability to use Windows Hello capable Webcams to mimic Kinect Functionality.

don't need the white theme, assassins creed has scarred me enough to know that white backgrounds melt your retinas

anyone noticed the new boot animation? (Beta Ring)

Why is OTA DVR not on this list? And why, Why, WHY can I create wishlists on the film & TV app on my XBox 360 but I can't do the same on my XBox One, or even see on my XBox One the wishlist I created on my XBox 360 in what is essentially supposed to be the same app?

I hope the USB device compatibility will allow me to connect accessories like a usb-handbrake for driving games, since my logitech G920 does not feature such an accessory ...

Confirmed: even more Ads spamming the UI

My XB1S was laggy out of the box. The UI is frustrating at times. Hit the RB 3 times and wait for the lag to catch up. Same thing happens in game menus ie EA Sports game menus. I haven't even had my XB1S a year yet. I don't understand how it can be so laggy and jittery.
Overhaul the UI and smooth the processing out. Please!

one should be able to set a different system language per profile, without having it to be a system setting requiring a reboot

I think the level of "fluentness" differ between pc (latest insider preview build) and console (xbox on update). Sad.

I think the level of "fluentness" differ between pc (latest insider preview build) and console (xbox on update). Sad.

To enable the console interface also on pc!

I'd like them to fix the black crush on Edge, the dashboard, photos in media player app, etc. Basically, I want Microsoft to follow their own developer guidelines...

Does it support a German Cortana now?

When the heck is Xbox going to get fulll windows 10 supprot. when can we see progrmas like ring pop up on my tv when someone is at the door, or instion notivacation showing that the basement door has just opened ... ? this would be an ultimate feature for the xbox and I still don't understand why 80% of windows 10 apps are not available on the xbox.... sounds stupid to keep compairing builds to 1703 or 1710 when they are really not the same ... Really starting to get fed up with Microsoft.

I like new features but I just can't stand the UI. So much so that I removed myself from the Beta, Alpha, Insider, Preview or whatever in the heck they are calling it this week. Constant issues with crashes, links not opening, party chat issues, framerate issues, the HORRIBLE navigation, etc.

That is why is called Insider Preview. If bugs and crashes bother u.... I don't know why u joined in the first place....

I'd like to be able to watch a Blue Ray movie on my XBox One again. The DVD Player app is totally worthless as it stands now.

Its good to see modernisation to the platform and i wish Microsoft could maintain this momentum through every other products and service aka Windows 10 Mobile. Personally i would like to see Greek and other languages in the XBOX OS. Cheers to everyone!. :)

In the guide it would useful if LB and RB skipped to the far left/far right tabs - like the triggers do for top and bottom. Currently navigating the guide for profile switching and notifications is slower than the last revision.

As usual, the new update is nothing but a time waster. EVERY update requires at least one additional click to get to whatever you want to get to. EVERY update includes an additional AD on the Home page. These "Content Blocks" are just full page game hubs that you scroll through vertically? What is the use of that? Why do I need the guide to be faster, more powerful and "more convenient"? I used to have everything I needed on one page, or in the side bar with no more than 1 click to get to. Now more clicks equals SLOWER. I NEVER need to go to "Mixer", "Community", "Entertainment" or "Store" except maybe once every 3 months. Thanks a lot M$. I now get to spend longer in your dashboard to do everything.

Hi. My webcam HD 720p working after Fall Creators Update installed on Xnox One on Skype. I hope, USB Mouse support add soon. My Xbox One run very well after update.
Windows Central Newsletter
Thank you for signing up to Windows Central. You will receive a verification email shortly.
There was a problem. Please refresh the page and try again.