These great Xbox feature requests are still on our wish list
Microsoft recently added customizable gamerpics to Xbox, following a huge outpouring of requests from fans. But what features are still missing?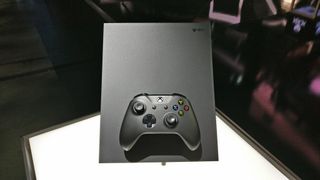 (Image credit: Windows Central)
Microsoft collates feedback on Xbox via UserVoice, which is a service all sorts of companies use to gather opinions and suggestions from their customers. On UserVoice, you can sign in with your Xbox account, upvote favored ideas, and add your own suggestions for the perusal of Xbox's platform team. It's similar to the Feedback Hub on Windows 10.
This week, we asked our forum users to submit their own ideas for features they'd like to see hit Xbox, and I thought it'd be fun to take a look across the top suggestions from across the community.
Here's some of the most-requested (realistically possible) features and functionality Xbox users would like to see on the console.
Family Game Sharing
One great piece of feedback comes from user EnzoTen, who notes how poor the experience is for families with multiple consoles purchasing digital games. You can share your digital library between two consoles at present, but if I want to allow another user in my family to play a digital game I own, that means I have to permanently sign into their Xbox. Family Game Sharing would bring back the experience of simply lending a disc, albeit digitally. EnzoTen suggests allowing app sharing between family members on the same local network to prevent abuse. You can upvote it right here.
Cortana command: "Find controller"
This should be a no brainer, but user FrozenUncle suggested a new Kinect / Cortana Xbox command, "find controller," which would cause your controller to start vibrating. As someone who misplaces their controller on the regular, this would be a great addition. Upvote that one right here.
A wireless Xbox monopiece headset
This is one request I hear time and time again, especially from fans of the previous console generation. The Xbox 360 had a wireless monopiece headset simply for chat, allowing users to wirelessly talk in an Xbox party without having to ditch their existing sound setups.
It's odd that Microsoft has so far overlooked this request, but if you're interested, upvote this feedback from Mr WillisWillis.
Add birthdays to the activity feed
Here's a cool idea no doubt borrowed from Facebook. User That505Guy suggests that Microsoft inject birthday annoucements into the activity feed, similarly to other social networks and even apps like Skype. Coupled with digital gifting, this would be a great way for Microsoft to earn a bit of extra cash and to remind users to be decent friends and buy their pals a pressie. You can upvote this feedback here.
Xbox 360 emulator for Windows 10
User Policjant Husky suggests that Microsoft should bring the Xbox 360 backwards compatibility emulator to Windows 10. Interestingly, I've heard from multiple sources at Xbox that this is, in fact, theoretically possible thanks to the Universal Windows Platform, however, I imagine the licensing issues would cause Microsoft a headache.
If you can get classic Xbox 360-era titles you already own in bulk on Windows 10, then there's a lot less incentive to buy a second copy of the game via Steam for those of us who play across both. Either way, it would certainly be interesting to see. Upvote that feedback over here.
Xbox Store wishlist
We know that digital gifting is on the way already, but the next logical step would be to include some sort of wishlist, similar to Steam and Amazon. Wishlists would allow users to see what games you want to own, but can't necessarily afford, incentivising gift purchases. Also, wishlists might inform you when games were on sale, similarly to how they do on Steam. Upvote this feedback from DeEdEeDeEdAn here.
Add picture-in-picture to replace Snap mode
Last year we revealed that Snap mode was going byebye, and indeed, a few weeks later Microsoft removed it. Snap mode allowed us to view an app or a video while playing a game, and while the solution was a bit clunky, the functionality was rather great. I've speculated in the past that Windows 10's "compact overlay mode" would replace Snap mode on Windows 10 for Universal Windows Platform apps, but we haven't seen the functionality appear yet.
UserVoice member Darth666Bane666 suggested back in March that Microsoft bring some form of picture-in-picture (PiP) functionality to Xbox, so get your upvotes in here if you want to see it.
Xbox TV DVR
A while ago, Microsoft announced TV DVR for Xbox, which would've really completed the entertainment package Microsoft was putting together for the console. Sadly, a little later, Microsoft canned the project, citing the desire to focus on gaming instead. Whether it was licensing costs or some sort of legal issue that stopped Microsoft from following through may never be known, but the idea of having TV recording functionality is still alive and well as the highest requested TV feature on the Xbox UserVoice page. You can upvote the listing from Milesy007 right here.
What functionality would you like to see?
There are thousands of other great suggestions on UserVoice, including the creation of an Avatar social hub an Achievement score levelling system, and much more.
We also have our own discussion taking place on our forums, where suggestions for things like Spotify, PC to Xbox streaming, and Cortana smart home functionality is taking precedence. Jump in the forum thread below to join the discussion, or hit the comments with your favorite ideas.
Get the Windows Central Newsletter
All the latest news, reviews, and guides for Windows and Xbox diehards.
Jez Corden a Managing Editor at Windows Central, focusing primarily on all things Xbox and gaming. Jez is known for breaking exclusive news and analysis as relates to the Microsoft ecosystem while being powered by caffeine. Follow on Twitter @JezCorden and listen to his Xbox Two podcast, all about, you guessed it, Xbox!