Xbox Music, Video services experience outage on Windows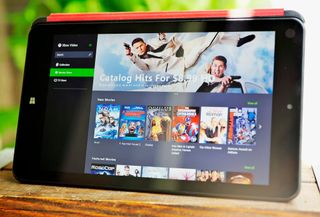 It looks like select Xbox Live services are currently down for owners of Windows 8.1 PCs trying to access the music and video stores. According to the Xbox support page, the service interruption is described as "limited" and affects "browsing the Xbox Video Store and Xbox Music Store" from your Windows 8.1 devices.
If you've experienced an interruption in service, visit the Xbox support page (opens in new tab) to monitor if Microsoft has restored Xbox service.
Source: Xbox (opens in new tab)
Windows Central Newsletter
Get the best of Windows Central in your inbox, every day!
Chuong's passion for gadgets began with the humble PDA. Since then, he has covered a range of consumer and enterprise devices, raning from smartphones to tablets, laptops to desktops and everything in between for publications like Pocketnow, Digital Trends, Wareable, Paste Magazine, and TechRadar in the past before joining the awesome team at Windows Central. Based in the San Francisco Bay Area, when not working, he likes exploring the diverse and eclectic food scene, taking short jaunts to wine country, soaking in the sun along California's coast, consuming news, and finding new hiking trails.
Maybe MS is working on something big

Readying everything for W10?

No make sense. If a IT company like that would make a service update that will cause some unavailability and affects their client, with sure they will alert all of shareholders.

Sorry everyone for the temporary outage, Microsoft handed me the aux cord...

For some reason I cannot play my digital copy of Fifa 15 either, since this afternoon.
Hope they are related and a fix is coming soon.

It doesn't matter, Saudi Arabia, these services aren't available

That sucks. I love Xbox Music and Xbox Video. It must be a nightmare trying to secure licensing deals to bring these services to so many countries, though.

I'm in India, and for wierd reasons, I have Bing Rewards, Xbox Music and Xbox Video :-)

I know why, my friend has these to.
He chose USA as his country when created his account

Nope, this issue came after I upgraded my PC to 8.1 Industry Pro. While now I cannot earn Rewards anymore, I still get Xbox Music and Video. Except, now I can't log in.

....I'm about to change my Xbox Live account region to the US. Is that a good idea? Will it affect my Gamer Points? Any other consequences?

How the hell you managed to get Rewards in India?

I don't use Xbox services online, therefore I shouldn't care. Carry on. Oh, a joke. Xbox is getting a bad name.
Me: Tell me a joke.
Cortana: Xbox music.

Wtf? :P dont forget to breathe when you joke :D

I don't even know what I said.

It was funny the first 10 times it was mentioned, not any more....

:( MS.... Get it together for the phone please.

Not going too well lately is it? :-/

No... No it isn't. First Azure, then Yammer had an interruption yesterday and then this

Only now? I was getting "unable to connect to xbox music" errors on both my W10 pc (btw the OS version doesn't matter - it's 1 cloud service) and on my phone last night. The pc was around 4PM the phone around 7PM. BTW that is Australian Daylight Eastern Time which is 5 hours behind and a day ahead of PST in the US.

Just checked and it's still happening on the phone - it is when trying to download the music. Streaming is working though.

Azure goes down and now Xbox. So much for cloud first mobile first. This just shows how unreliable Cloud is

Yeah, I've never been a fan of cloud services. And can't understand why anyone would be.

I'm listening to a streamed playlist on Xbox Music with no issues on Windows 10. No issues here.

Bad couple weeks to be a MS customer with all these outages.

Im thinking after the outages earlier in the week, Microsoft is updating their servers one service at a time so their isnt a total blackout of all services. Would be nice if they informed us if its true.

Nobody cares cause only available in US

Hopefully Microsoft are pulling the plug on the whole lot and starting from scratch....

No need to start from scratch. They just need Zune back. Ha ha.

This! Zune is still so much better than Xbox music/video.

Exactly. Bring Zune back. The Xbox crud that has replaced it has been a joke since its release.

I just bought a Zune HD. The UI for the Zune program still looks miles better than anything else, and when I need teh FLAC support I'm using foobar2000 with the Zune skin that fits in quite nicely. Now to wait for a MTPz plugin.... Nah, too late now; I really only use it for the HD Radio.

Guardians of the Galaxy is streaming just fine for me. Looks like not everyone is affected.

This never happened when it was called Xbox Video. Just sayin'!

It still is called Xbox Video.

On my Windows 8.1 devices, phone, and Xbox, it's just called Video.

Everybody is watching the atari documental.

Not only Xbox music an video has an outrage. I can not start any game, video player is not working,,ms store is buggy.whole azure has some issues...on Friday?? Seriously?! ​ ​ ​ ​

Well for some reason Xbox video app wont stay pinned on my Xbox one.. Idk if it has something to do with this.

That sucks Just bought Guardians of the Galaxy and can't watch it

As suggested here, I'm getting an error when loading Xbox Video. Oddly however, I'm getting the same error when loading the Bluray App on my Xbox One.

Xbl as it is has been sucking big time hope there going to give us a free month. Damn that minecraft hopefully now that ms owns it they'll make it less of an xbl bandwidth hog

XB1 video services are jacked up too. Could barely get it to load and then the show kept stuttering. Hopefully better by tomorrow.