Xbox One Elite Controller coming October priced at $150
If you want one of the awesome looking new Elite Controllers for Xbox One announced at E3, you're going to have to find $150.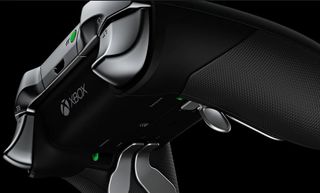 Microsoft has now revealed the RRP for the controller as well as a launch window of October for eager gamers to get their hands on one. Additionally, a new page on Xbox.com reveals some of the finer points.
In the box you get more than just the controller:
Xbox Elite Wireless Controller
Carrying case
Set of 4 paddles
Set of 6 thumbsticks: standard (2), tall (2), and domed (2)
Set of 2 D-pads: faceted and standard
USB cable
AA batteries
Quick Setup Guide and Product Manual
The Elite Controller also has a companion app for Xbox One and Windows 10 to help you customize your own experience, sort out button mapping and more.
Image 1 of 6
To find out much more about the Elite Controller check out the source link below. It's not going to be something for everyone, but it's definitely grabbed our attention.
Who's buying?
Source: Xbox (opens in new tab)
Windows Central Newsletter
Get the best of Windows Central in in your inbox, every day!
Managing Editor - Tech, Reviews
Richard Devine is a Managing Editor at Windows Central with over a decade of experience. A former Project Manager and long-term tech addict, he joined Mobile Nations in 2011 and has been found on Android Central and iMore as well as Windows Central. Currently, you'll find him steering the site's coverage of all manner of PC hardware and reviews. Find him on Mastodon at mstdn.social/@richdevine
150$ and still as batteries no rechargables included....come on

The "no batteries" argument again? I bought a pack of 4 rechargeable AA batteries and a recharging unit for $15 to use in my XBOX 360 controller. Five years later the same batteries are still powering my controller. Meanwhile, the internal Li-ion battery in my PS3 controller ceased functioning after about 3 years of average use requiring a $60 replacement. So, how exactly are built-in rechargeable batteries better?

I perfer replaceable but for $150 it should include the charge and play kit battery.

It has a USB cable, Consider it included. You can power the controller off the USB port.

Although I think this controler is a great value for the feature set it has and I will be getting one, it would for sure be a bonus if it came with a rechargeable battery. Would save another $20-25 for the "charge and play kit", so this controler is NOT $150, it's $170-175, because that is how I will use it and need a rechargeable battery for it (I go through AA batteries quick)...

I think he's one of those people who like finding things to complain about..

No 10" wireless charging capabilities? C'MON./s People these days.

Agree with Stiggs, I have a 16 rechargeable batteries for years and they still works as expected (TV controller, Xbox, flashlight etc).

I think the comment was "$150 and no batteries included?" not so much built in batteries included.

Ummm, there're built in..

No I meant just include it replaceable or not....duh

The rechargeable battery pack for the Xbox controllers are replaceable not internal so they can be swapped out if they fade away. This is supposed to be the ultimate option for the discerning games player, buy leaving the battery pack out I feel that it misses that point. If this is supposed to be the best of the best then why would there be an option to improve it further?

It's far easier to have your own selection of rechargeable AA Batteries than to contend with a proprietary battery. Batteries fail, that is a given, easier to deal with standards over proprietary. I have long since abandoned the proprietary rechargeables I had for my 360 controllers in favor of Eneloops.

Oh bullshit, those Eneloops or any of the standard rechargeables last about thirty minutes if that after a few months or less.

Any rechargeable battery, if properly cared for, will last. I have a third generation (2011) set of Eneloops (12 AA, 8 AAA). I regularly rotate them for use in my Xbox One controllers, Xbox 360 controllers, remotes and headsets. They easily last 20+ hours of controller use and have been extremely reliable.

This is not true in my experience.

Built in battery for a controller is lame, the battery could go out quick and then you'll have to replace it.

The PS controller has rechargeable batteries that are user replaceable with any batteries from the store, yet they charge inside the controller with the USB cable.....
..........
For $150.00 I would expect no less than that, and... What's so hard about that❓

And you literally have to void your warranty (screw hidden under a sticker) to replace the PS4 controller's battery. So that not really user-replacable except on a technical level. And it uses a proprietary battery pack that ISN'T available from 'any store'.

How does one figuratively void their warranty?

No, I said literally. People resorting to not very funny TV show jokes shouldn't be allowed to post comments. Those 'warranty void if removed/damaged' stickers are a pain.

Seriously, you pay for a customisable XBOX One controller with macros and profiles, and you complain about the one thing that actually makes this new controller leaps and bounds better.. never being out of charge. And might I add: If you don't already have a charger and a (big) set of AAs at home, you're not only quite daft, but also environmentally unfriendly.

Also, does anybody know the channel that E3 is playing on?(DirecTV, and the channel #)

Twitch has a dedicated E3 channel going on all week. That's where we're watching most of this stuff.

Bought a pack of usbcell aa batteries was worth it @ time of recharge I just plug them into a usb hub then store them after charge in my halo mcc controller stand

I would rather use my Enloop rechargeable batteries than some proprietary or hard to remove garbage like DS4.

This thing better win some games for me at $150. :)

The fact that the lithium-ion battery is separate is actually an advantage for those of us who live outside the US. With the US shipping restrictions on lithium, it would be difficult to have this controller shipped out of the US if it had a lithium-ion battery. Then I would have to wait until this controller appeared on the local game store. Besides, having a truly user-replaceable battery is better. I could have multiple batteries fully charged for one controller.

(XOCAAP) Xbox One Controller as a Platform

I could almost buy a computer for that price.....ill stick with the normal one....until I'm rich :P

Exactly! Most of us blow through 150$ a week on bs

Blowing through $150.00 a week on BS doesn't make you sound wealthy, rather irresponsible with your money...
.......
Smart people spend money, but who, in their right, mind would glorify blowing through $150.00 a week on BS❓❓❓

It makes you sound irresponsible......But it also makes you sound like you're somewhat "wealthy". Don't hate because there are people out there that make money to spend money...

No, it makes people like you think people that waste money are somewhat wealthy....
......
Fortunately I know better... Most wealthy people don't waste money, they spend it wisely, and save.... The reality is that it has nothing to do with how much money you make.... SMDH. You must be, let me guess 22❓

Really? You know most wealthy people? Because living in San Francisco and being around Silicon Valley sure contradicts that.....In fact, there is a good mixture of spending AND saving so...

Doesn't make it smart.... That's the point.

You don't know many smokers I take it...

Good point and yeah seems faster

So PRETTY ! WILL BUY! (HERE'S MY MONEY MICROSOFT $)

i wish they had an option to bundle colorware customization for that price... :(

I am rather enamored by the grayscale motif. Reminds me of the 360 controller with the transforable D-Pad. I will add one of these to my collection - give me a reason to give my Day One controller a rest.

Well, I want it, but do I really need it?

No you don't Posted via the Windows Central App for Android

This controller is absolutely stunning. It is certainly worth its money. It's not for everyone but those who need it, will find the value in it. Amazing move.

Don't have X1, but I'm buying it :P

well you can use it for windows 10 too.

Online multiplayer just got a lot more lopsided. Elite controller users will hold a distinct advantage over standard controller uses. On the flip side, this will help step up Xbox One players against Windows 10 players in some eventual cross platform gaming.

if anything this is just a direct competitor to the scuff controller that has been out for years. so those disadvantages have been there for a while. now it will just have an official name behind the control :P

Well if I get back into PC gaming might take my existing controller use it on PC with xpadder & use this on xb1

I wonder if mmo developers could take advantage of the pads to add more functionality to their games?

Buying for Windows 10, currently still using a wired 360 controller on my PC :D

Just give me the bloody thing... !

I'm assumign this works wirelessly with PC games out of the box? Even if it does I may still just get the adapter and keep the old controller. That's the only extra functionality I really need.

I hold an Xbox one controller everyday while gaming, why not hold this one. $150 is high, but that must mean this thing is high quality. Metal swappable parts, 4 paddles, diamond grips. This would easily be a $180 scuf without color customization. This is awesome, I'm all in.

The price seems awfully high to me.

This is sick! Wish I could get two...one for my wife and one for me! But....we still don't have an Xbox One

I'm getting it. Won't even think about it.

Whaat ?! 150$? It's like 1300 skr(Swedish Kronor) and waaay to expensive

Holy balls. I was kind of interested in it (but I'm just a casual gamer... understood i'm not the target audience) --but that's way more than I'd be willing to pay.

Can't wait put some hours into this controller

Hummm... A legal modded controller... Hehehe... I am in if I had a Xbox One but I have my PC and other toys... Hehehe... Wonder if it will work with my phone too with a little updates.... Time to get my Bing rewards working and put them to good use...

Ouch. I guess I'll have to stick with a few less kills per match then.

Provided it will work with Windows 7 and my current steam library I'll be buying one. I like the idea of the extra functions and being able to switch between profiles on the fly is very appealing.

Windows 7 support is listed. You're in luck :)

This will be on my Santa list.

43% of total cost of a brand new Xbox One...

This controller looks amazing I am excited for it. It's not for everyone but I am happy to have it as an option. Good gaming accessories are always costly. With some mechanical gaming keyboards costing upwards 189$. And headsets costing over 100$ . It's not really that bad. It's just another option.

And there went my interest in that thing. I'll just buy 2 regular controllers.

I just love the concept and design.. Even though I will not buy it but I really appreciate the effort put into making this beautiful controller.. Xbox team has created a masterpiece.. Kudos to them..

Beautiful Design, windows 10/10 would buy.

Holy crap. $150? That's insanity. I mean if the casing is built better than the current one, ok, but as it is, a $55 controller is already creaking and showing signs of wear after 9 months. For $150, I want an aluminum casing lol.

Anyone complaining about this price, guess what? Buy the STANDARD controller. Lol. This is clearly marketed to a select group. I may buy one, but I'm certainly not surprised by the price tag. Aftermarket custom controllers asks this price all day long. Without many of these features. I think its awesome.

pure sex
still expensive though

I doubt I'll get this, it's awesome but I'm not that much into gaming that I need all those setting out whatever in my controller, the standard one is fine. It looks like a beast though.

Can't wait to get my hands on it on the release date!

Does it connect to your Surface Pro 3 via Bluetooth?

No, uses propreitary WiFi. Will require a USB dongle adapter that has not yet been released ($30)

That's unfortunate, isn't? Some PCs nowadays are very limited in their USB ports. For example, a wireless adapter would use up the Surface Pro 3's only USB port. That's why I wonder why they didn't opt for Bluetooth instead.

Adding a Bluetooth interface would be nice. People who need all features of the controller could purchase the adapter or use it wired. Edit: Especially at $150 :O

No it uses Wi-Fi Direct. So you'll need an adaptor.

Rebrand to Microsoft Sidewinder, add BT support for PC, "winning"

The Sidewinder was a EPIC controler... big fan..

Yeah, I wonder why more controllers these days aren't based off the Sega Saturn layout. I really like the DC/360 layout, however Street Fighter was almost unplayable for me on the 360.

This controller feels REALLY good in your hand. It's heavy, but it's a good heavy. Very Firm.

Dam, I was hoping for the $99 price point, You can get some other Pro series 3rd party Xbox one controllers starting around $129.99 with more options (although I dont know all the options on this controler) I dont have a pro controller but, this might be something to put on the Xmas list for the wife :)

Ooohhh, this controller is definitely going onto my wish list! I could use this amazing controller to do everything I want it to do! For example, the paddles. The lower 2 paddles for racing games (including Forza) I can use for shifting gears. The other games? Well, I will find out soon enough!

I know this is expensive but dammit, I'm getting it.

Shut up and take my money!!!!

Looks really nice. What amuses me is that every one complaining about the price seem to not realize this wasn't made for them, and Microsoft has no need or desire to sell one to them. The people that are going to get this controller, and the people that it was desigend for, likely won't even bat an eyelash at the price.

Going to get it at launch in October, it is a modded aftermarket controller and people have no reason to complain for something they don't need, honestly most are just jealous as they can't afford it.

All those complaints about it not having a charger and rechargeable batteries, im guessing you don't already own a Xbox or Xbox One if you did you would have them both allready. This controller looks great windows 10 is looking like it's going to be the best option form gaming buy far time to upgrade my pc i think. Posted via Windows Phone Central App
Windows Central Newsletter
Thank you for signing up to Windows Central. You will receive a verification email shortly.
There was a problem. Please refresh the page and try again.