Xbox One Preview members will get to try out Party improvements and more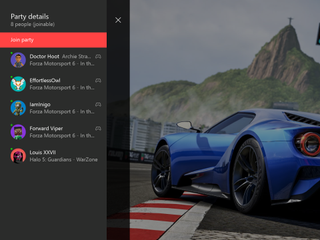 Now that the busy holiday season is over, Microsoft has begun to test new Xbox One features with members of its Preview program. There will be quite a few improvements and additions in the Preview update members will get to check out starting later today.
Here's the breakdown of what users can expect:
See who's in a Party: Xbox One Preview participants will be able to see who's in a Party before joining. When you view the profile of a friend who is in a Party in the guide, you will now be able to see who else they're playing with. Click the 'Chat' button which appears immediately below the user to jump in and see who is in the Party.
Gamerscore Leaderboard: In Xbox One Preview, go to the Achievements section of your profile by clicking 'View Achievements' through the sign-in tab of the guide to check out the revived Gamerscore Leaderboard. Through the Gamerscore Leaderboard, see where you stand relative to your friends by comparing total gamerscore, as well as biggest gains over a rolling 30-day period. Click on the Gamerscore Leaderboard to see the full list of all your friends.
Re-arrange Pins on Home and access them offline: Many of you have told us that you want Pins on your Xbox One Home to be easier to organize. In Preview, you will now be able to rearrange individual pins. We also made Pins accessible for launching when you are offline.
Updating Activity Feed in Xbox One: Your activity feed in Xbox One Preview will inform you when there are new items in your feed. Clicking the link will take you to the top of your feed where you'll see a run-down of the newest posts, so that you always have the freshest content at your fingertips.
Joinable Twitch Broadcasts: You want it to be easier to watch your friend's game broadcasts. In Preview, Game Hubs as well as the game tile will allow you to easily launch Twitch.tv broadcasts if friends are broadcasting.
Improvements to Suggested Friends: Looking for people who you might know on Xbox or top content creators to follow? Check out the new Friend Suggestions area in Community and the Friends list in the Guide on Xbox One. Friend Suggestions include the gamertag, real name (if shared), gamerpic or Xbox Avatar image, and the reason the suggestion was made to you. Click through from the suggestion to view the member's full profile and choose to grow your friends list.
Hide games from 'ready-to-install' list: Fans asked that we re-enable the ability to hide content like betas, trials, games, and apps that they no longer want to install. Xbox One Preview members will be able to start using this feature again.
Source: Microsoft (opens in new tab)
Windows Central Newsletter
Get the best of Windows Central in in your inbox, every day!
Finally! I'm most excited about being able to rearrange pins and now they are offline. I never could figure out why they would make them a online function as it defeats the whole reason for them. Thank god for this change.

You're forgetting that the Xbox was originally online only. So this was probably a feature that got overlooked when everyone whined about it always being online.

Gamerscore leaderboard is back!

I hope the rearranging is better than just "move to front". I want to be able to move an item around with the D-pad, otherwise managing them is just too much effort to bother with.

Removing items from ready to install!! Finally!

"Hide games from 'ready-to-install' list" THANK YOU. I never understood why I couldn't get rid of betas from a year ago.

Same here, I have lots of unusable betas and trials that are "ready to install"

Now if only they will let us remove games and aps from our purchase history. At least on my phone, I have a ton of apps that I tried but disliked, and going through my history to find any I might have liked is completely unwieldy.

Someone add CrowdControl11 to the preview please :)

Invites are closed, the program reached max capacity.

These are awesome updates. But I would still like to see Netflix 4k support and a video driver that does not clip RGB or standard black. Dash and app support for Atmos and x1 games with ability to support atmos would also be appreciated. Also please work with VUDU on a new app.

Can someone invite me to the Xbox Preview program. GT XEPlushMedal697 Would be really greatful.

They shut that down. The preview is all but closed up to new members. They reached max capacity last year.

"Re-arrange Pins on Home and access them offline" I can't believe it has taken more than two years to get this feature. "Hide games from 'ready-to-install' list". This also needs to be done for Microsoft Movies & TV. Every 10-minute Preview I ever watched and every movie I've ever rented is cluttering up my "Collection", even though I no longer have access to some of them (the rentals). Ridiculous.

Yeah I refuse to purchase any more movies from them (bought a couple in the holiday sale) until they let you remove the crap 10 minute previews and rentals from your collection.

How does one get on the preview?

Currently, you don't. If you were asking 6 months ago, by invite.

Didn't have the Xbox one six months ago.

I want the party feature that the Playstation 4 has. Show me the list of parties and let me join from there. It is funny how much different that makes things. A lot of times on my PS4, I would just start a party. Then any friends online would be able to see I was in a party and would feel free to join me. I would do the same to them. It was no big deal to see that "Bob" was in a party and join the party to see what he was up to...even if there were people I didn't know. I usually got introduced and we all would chat. That just doesn't happen on the XBOX. I love my XBOX, and it is my primary gaming platform, but I love the "social experience" on my PS4 much more.

If you want the party feature that the PS4 has, then play your PS4. You're more than welcome to submit your feedback though. People wanted to view party members and now they will get this option back. That's all.

That should satisfy some people who were whining about it like it was the end of the world (Even though the Xbox team informed us ages ago that features would be returning in February).

Yay bugs continue. What I need? Skype or party chat to work in broadcast ing... want to add a friend to a broadcast. .... Posted via the Windows Central App for Android

They should bring back those avatar party rooms that the 360 had. The ones where your avatar could lounge around and talk. They looked like a living room or TV news desk. I thought it was a fun feature.

Awesome! Gamerscore leader board and hiding ready to download are two features I really wanted.

All of these sound liek decent quality-of-life changes. I'll be ready to play with some of them, especially hiding beta games/apps. Now, if only they'd get their stuff together with the background music. We're more than 2 years in, and they can't handle a feature the 360 had 11 years ago? That, and ripping of CDs to the HDD and reading music from an external device (read: a Windows 10 Mobile device, like the 360 did with the Zune).

How about DVR functionality using the hard drive? wasn't this a feature coming in early 2016?

No WiFi password save ? Posted via the Windows Central App for Android

Rearrange the pins. That's a start I suppose. I put forward the suggestion of separating the apps and games on the dash. And why are the pin spaces limited? You can only put on about 30. Are we asking too much to have unlimited pins on our dash if we wanted.

Great update. Thank you Microsoft.

When? Posted via the Windows Central App for Android

Can someone add me to the preview program please. Gamer tag: A1l2e3x4pwns thanks
Windows Central Newsletter
Thank you for signing up to Windows Central. You will receive a verification email shortly.
There was a problem. Please refresh the page and try again.