Xbox One Preview members will get to try out Party improvements and more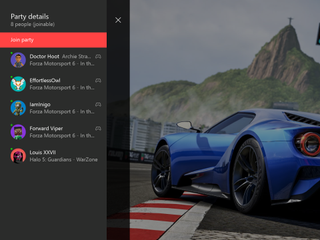 Now that the busy holiday season is over, Microsoft has begun to test new Xbox One features with members of its Preview program. There will be quite a few improvements and additions in the Preview update members will get to check out starting later today.
Here's the breakdown of what users can expect:
See who's in a Party: Xbox One Preview participants will be able to see who's in a Party before joining. When you view the profile of a friend who is in a Party in the guide, you will now be able to see who else they're playing with. Click the 'Chat' button which appears immediately below the user to jump in and see who is in the Party.
Gamerscore Leaderboard: In Xbox One Preview, go to the Achievements section of your profile by clicking 'View Achievements' through the sign-in tab of the guide to check out the revived Gamerscore Leaderboard. Through the Gamerscore Leaderboard, see where you stand relative to your friends by comparing total gamerscore, as well as biggest gains over a rolling 30-day period. Click on the Gamerscore Leaderboard to see the full list of all your friends.
Re-arrange Pins on Home and access them offline: Many of you have told us that you want Pins on your Xbox One Home to be easier to organize. In Preview, you will now be able to rearrange individual pins. We also made Pins accessible for launching when you are offline.
Updating Activity Feed in Xbox One: Your activity feed in Xbox One Preview will inform you when there are new items in your feed. Clicking the link will take you to the top of your feed where you'll see a run-down of the newest posts, so that you always have the freshest content at your fingertips.
Joinable Twitch Broadcasts: You want it to be easier to watch your friend's game broadcasts. In Preview, Game Hubs as well as the game tile will allow you to easily launch Twitch.tv broadcasts if friends are broadcasting.
Improvements to Suggested Friends: Looking for people who you might know on Xbox or top content creators to follow? Check out the new Friend Suggestions area in Community and the Friends list in the Guide on Xbox One. Friend Suggestions include the gamertag, real name (if shared), gamerpic or Xbox Avatar image, and the reason the suggestion was made to you. Click through from the suggestion to view the member's full profile and choose to grow your friends list.
Hide games from 'ready-to-install' list: Fans asked that we re-enable the ability to hide content like betas, trials, games, and apps that they no longer want to install. Xbox One Preview members will be able to start using this feature again.
Source: Microsoft
Get the Windows Central Newsletter
All the latest news, reviews, and guides for Windows and Xbox diehards.