Xbox One sales grew 50 percent in July says NPD
Xbox One sales are picking up.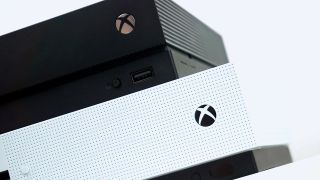 (Image credit: Windows Central)
According to The NPD Group, in July 2018, the Nintendo Switch (opens in new tab) outsold both the PlayStation 4 (opens in new tab) and Xbox One. Keep in mind that these figures are based on revenue. Despite the Nintendo Switch emerging victorious, there were still a few surprises here and there.
The NPD Group tracks video game sales across the United States each month. Many companies, including Microsoft, utilize its services to get a better understanding of how much product they've sold. Apart from that, it's become somewhat of a competition among gamers. Everyone wants to know which platform did the best.
US NPD HW - Xbox One hardware sales continue to trend higher. Dollar sales grew nearly 50 percent in July and have now increased by more than 60 percent year to date.US NPD HW - Xbox One hardware sales continue to trend higher. Dollar sales grew nearly 50 percent in July and have now increased by more than 60 percent year to date.— Mat Piscatella (@MatPiscatella) August 22, 2018August 22, 2018
NPD analyst Mat Piscatella said that Xbox One dollar sales "continue to trend higher". Revenue grew nearly 50 percent in July, and has "increased by more than 60 percent year to date". Hopefully this trend will continue in the future. In order to make the console more appealing, Microsoft needs to release exclusives sooner rather than later. Since the company only reports Xbox Live monthly active users now, only NPD figures gives us some insight into the number of consoles sold and how that compares to other platforms.
Apart from that, Grand Theft Auto V was the best-selling title in July on both Xbox One and PlayStation 4, trailing only behind Octopath Traveler (opens in new tab), which is a Nintendo Switch exclusive. Even after all these years, the game continues to sell at a staggering pace. The white Xbox One S Controller (opens in new tab) was July's top revenue-generating accessory too.
See Xbox One at Amazon (opens in new tab)
Keep an eye on WindowsCentral.com/Gaming for all the latest in Xbox and Windows 10 gaming, accessories, news, and reviews!
Windows Central Newsletter
Get the best of Windows Central in your inbox, every day!
Asher Madan handles gaming news for Windows Central. Before joining Windows Central in 2017, Asher worked for a number of different gaming outlets. He has a background in medical science and is passionate about all forms of entertainment, cooking, and antiquing.
Xbox needs the sales because rumors of a new next gen console in 2020 isnt good enough. Gamers need/want better titles on Xbox sooner than later.

Would be more with a decent price drop on One X and better first party games.

We need more exclusives BEFORE next gen

List of games before the end of 2019 (I didn't include timed exclusive) 1. Forza Horizon 3
2. Forza Motorsports 8
3. Gears 5
4. Gears Tactics
5. Crackdown 3
6. Ori and the Will of the Wisps
7. Battletoads

For the record, until said otherwise Gears Tactics is a PC only game.

According to IGN, Initially, it will be released in Windows 10 then they will port it to Xbox

Wow... 7 games, 4 of which are the same Microsoft owned game franchise...

Actually, all 7 are "Microsoft owned game franchise". So you won't play "Microsoft owned game franchise"

Lol that comment should keep some of the sony fanboys away for a little while. Even the ones who don't understand what MS exclusives mean.

So the usual yearly Forza (including the unannounced Forza 8 lol)
The usual Gears sequel. 3 years after 4.
Crackdown 3 that was hyped since 2014 and was supposed to come every year since 2015 or 2016. And ofc we have zero idea about these games being timed or not. MS usually doesn't communicate that information. That's why you end up with so-called "exclusives" like Recore or Super Lucky Tales being timed and apearing on other platforms. Having said all that for me it's really weak when comparing to the competition. And even more so considering the DROUGHT that has been going on for years now compared to the competition...

wow, octopath, some little retro looking jrpg sold the most? nice!

2 things: 1. Is it the Nintendo Switch or Nintendo consoles all together, including the huge re-release of their old NES (which would also explain why an old game is the hottest seller in July 2018)? 2. The article points out that many are curious to compare sales between Xbox and PS4, but then provides no data on that. So, which did better in July? Was PS4 still ahead? How about some trendlines so we can see -- is Xbox gaining on PS4, even if still behind, or is it just falling further behind more slowly, or did PS4 sales increase by even more than Xbox sales to extend their lead?

It's probably been falling further and further each and every month. We got to consider that this is US only and outside the US the XB1 is probably getting trashed...
If we look at previous months the PS4 is probably ahead in the US too.

LOL
Obviously the XB1 hardware will bring in more revenue compared to last year. Last year they were not selling the XB1x. What I'm surprise is that it's only 50% more.

I would actually argue that if you take into consideration that the white controller is the highest selling accessory, you could consider that maybe the One S is selling significantly more than the X, and people are buying an extra matching controller. That's just an inference though.

I'd say the white controller is selling more because Xbox Controller is the go to pad for PC gamers as well as the obviously Xbox users

Well not really since there could be any number of reasons people would buy a controller. Maybe to play on PC or just they are already owners of a XB1 or there was some deal... I don't see how that is related to the numbers of consoles sold in the month.
And either way it doesn't matter. They aren't talking of numbers consoles sold but amount of revenue compared to last year. The difference between last year and this year is that the XB1x is now available while last year it was not. You see, they'll probably stop comparing with last year's number in November...