U.S. Xbox One sales outpace PS4 in October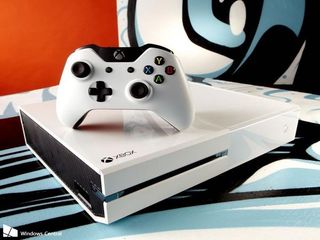 Sales figures for the console gaming market for the month of October were released by NDP Group today. And while specific console numbers aren't reported, Microsoft confirmed that the Xbox One came out ahead of the Playstation 4 in the U.S. for the month with 81% growth over the same month last year. Microsoft provided the following statement to Gamespot:
That's an impressive win for Microsoft, as it has traditionally trailed Sony's offering on a regular basis. But moving on to the top selling games of the month, it's not hard to see why Microsoft enjoyed such success. The Xbox One exclusive Halo 5: Guardians took the top spot, which certainly put some oomph behind Xbox One sales.
Following Halo 5: Guardians were NBA 2K16, Assassin's Creed Syndicate, Madden NFL 16, WWE 2K16, FFA 16, and Destiny: The Taken King. Rounding out the top ten were Yoshi's Woolly World, Uncharted: The Nathan Drake Collection, and Rock Band 4.
Get the Windows Central Newsletter
All the latest news, reviews, and guides for Windows and Xbox diehards.
Dan Thorp-Lancaster is the former Editor-in-Chief of Windows Central. He began working with Windows Central, Android Central, and iMore as a news writer in 2014 and is obsessed with tech of all sorts. You can follow Dan on Twitter @DthorpL and Instagram @heyitsdtl.
Tide is finally turning. lol

Gaining momentum. I hope all this positive press with the Surface, the new Xbox experience and Windows 10 (people still hate on it, but they seem to be coming around) will lead to further interest from developers for UWP apps.

It's in human nature to fight change. Since XP was so popular and created the idea of how a PC is.

People hated XP when it came out too.

Yes, but nobody remembers that. They also hated XP SP2 when it came out, because it almost completely rebuilt the OS with a focus on security, which broke the holy living shit out of THOUSANDS of major apps.

People hate everything that msft do.... Then they adore it and hate thing that msft make... And cycle goes on.

Not wishing to sound difficult but XP had no "apps". Indeed no one would have known what you were talking about. And surely it was windows 3.1 that redefined none Apple pc gaming. And still does I so many ways as even win 1p is win 3.1 but without the blue screen of death.

Sorry phones autocorrect went a bit insane in that last section

I wonder if the Elite Controller had anything to with bumping up sales.

Or all the great bundles.

Don't think so, more likely backward compatibility and new interface, plus big titles like halo5, tomb raider, etc

This is October NPD report so probably all Halo related. New interface came out today along with backward compatibility. Tomb Raider came out on Tuesday. In other words, they have a great chance of winning November NPD as well.

At $150? Not likely. Halo 5 gets the credit.

I think that helped a little, but with all the crazy bundle deals, AAA titles that just released, backwards compatibility and the holidays right around the corner, people are finally coming around. Other contributing factors. PS dummies finally figured out that they now have to pay for PS+, just like XB Live so it's a more level playing field. EA Access (early access) to Battlefront is causing some dagger eyes from my PS friends. I told them XB1 this generation, but noooooo. :)

"Microsoft is the technology company of the future"

Except phones. They botched their chances there.

Where we're going, we don't need phones.

Nik. Bravo for that comment, sir! I actually laughed out loud (I generally chuckle quietly when I type "LOL".

Bohoo.. Windowsphone is dead... Boohoo!

Yah, WindowsPhone is dead...long live Windows 10 Mobile :)

Once every 12 months ain't bad...

We still have nov and dec as well for 2015!

Not now since ps4 has already done price drops.

It's likely that XBO will do the same for black Friday and cyber Monday , it would be in their best interest to do so, either way I have a good feeling that XBO will sell many units and still surpass ps4.

Maybe, but it'll have to do it on a consistent basis for at least a year straight to have a prayer of catching up to pS4. That said, there's no reason why either system has anything to worry about. They're both outselling their predecessors, and they each offer some unique experiences. I own both, plus Wii U, 360 and PS3 (and 3DS and Vita), and wouldn't want to give up any of them. That said, 360 and PS3 are still way better than Xbox One and PS4 in terms of quality game libraries.

"Uncharted - 9" Good one Sony.

To be fair, the Nathan Drake collection was only the single player campaigns of the existing games, so no real replayability without their multiplayer components and not a new game like Halo 5.

Great news, this generation needs balancing out! Microsoft is doing truly great things, which is awesome =) It also helps that Sony has seen massive backlash due to the latest Uncharted running at 900p and not 1080p, which Sony has long taken the piss out of Microsoft for, for a very long time! Also there's a shed load of micro transactions in the game, that they aren't even investing in dedicated servers... yeap their flagship game runs at 900p and has no dedicated servers for ultimate lag. Sony can't understand why so many fans are upset... maybe it's because they finally see that the PS4 isn't actually THAT much more powerful than the Xbox One, and it especially shows them up when Rise of the Tomb Raider, Halo 5, and all the other Microsoft exclusives this Christmas all run in 1080p and most with 60fps too!

The multiplayer on uncharted 4 runs 900p 60fps but the single player runs 1080p at 30fps. It's a great generation to own both consoles. People shouldn't hate on either.

I'd be frigging stoked if Halo 5 had done that.

PS4 can't run 1080p 60fps either apparently.

All three systems can do 1080p/60, but it'll obviously depend on the game. Besides, 1080p/60 isn't exactly a guarantee of a quality game.

Congrats Microsoft, this will continue to be a stellar holiday season for the Xbox One going into an exciting new year! Posted via the Windows Central App for Android

Congrats! Looking forward to start working with u guys... Oh wait I already do. But Congrats anyways to Microsoft, Xbox and The windows 10 team, it has been an awesome day!.

I really never understood this. I happen to use a PS4 everyday. Everyday because it is what is in my bedroom thanks to my partner. But I quite prefer the Xbox experience over all and always have (XBO is in my living room for games and movies). I know it comes down to exclusives and loyalty, but it's still strange to me particularly bow that Xbox plays BluRay and that streaming is firmly entrenched in media consumption.

I stream but I also buy 3D blu-ray movies so there's that. I'm happy to have the drive (even though I don't buy non-digital games anymore, I just won't play them given the convenience of swapping the downloaded versions.

Streaming is still nothing compared to BluRay in terms of quality. I do both. But definitely go with BluRay that I either own or rent from Redbox for the big blockbuster films and such.

Color me surprised. Must be the Halo effect or that XB1 has evolved to be more pro-gamer than Sony.

It's because PlayStation has no exclusives coming out anymore while Microsoft is pumping them out.

That's certainly part of it. But maybe because of other things like backward compatibility, EA Access, ability to play XB on PC, saving Tomb Raider...clearly the gamers console.

Who cares? Phil Spencer said they're not worrying about console competition but about gold accounts and live usage... #EndOfSarcasm
Unless he said that only because they were not on top... Lol
Go MSFT! :D Nov and Dec could also be good months!

Guys, elite controller back in stock and now available for order at the Microsoft store. https://www.windowscentral.com/e?link=https2F%2Fclick.linksynergy.co...

I wouldn't read too much into this. Is there any kind of scale by which Microsoft won the sales crown for this month? Without it, these are almost useless numbers. If the Xbox One BARELY beat the PS4 while having its biggest franchise launch next to basically nothing exlusive from Sony, that's legitimately sad. I think that November should be another win for the Xbox, and if it's not, that's a bigger deal. Microsoft will STILL be pushing exclusives against almsot nothing from Sony, and they had some GREAT trade/purchase deals (free gift card and game at Best Buy, game and controller at GameStop, etc.). If MS doesn't win November, it'd be pretty sad. Good for Microsoft for trying, if nothing else. I upgraded to the Guardians console because it was SO cheap to do so, and getting my physical Halo 5 to digital was a nice perk of that. Also, I'd look for the spring to be a really heated battle. Having Uncharted against Quantum Break will be interesting.

PS4 had it's first official price drop in October. How's that for scale?

They dropped it for one bundle...of a remake. That's not a scale, dingus. Regardless of the price, it would be absolutely pathetic if the Xbox One couldn't beat the PS4 in a month where the Sony offering had almost nothing release, while facing Microsoft's biggest franchise. Nice quip comeback that meant nothing, though.

They dropped the price of the PS4 across the board moron.

Oooooh, bringing insults, must mean you're doing a really good job. There's one $350 PS4 bundle. The rest, the ones that come with 500-GB HDDs and games, are $400.

Well now, actually since he didn't use a comma, then maybe he meant 'the board moron' as a noun but wasn't really insulting you..? O.o

Considering you started with an insult you might not wanna use that as an argument against someones point. Come to think of it, insults seems to be your way of making an argument so I guess they aren't all that good anyway.

Excellent! Keep it going!

should be FIFA 16, not FFA 16

Just a blip. Nothing to see here...

Then why comment?....unless....

Shots fired, from Sniperboy nonetheless. :)

I'm blind and I feel offended

Blips can be significant, just ask one...they are sure to sway your opinion lol ;p

Could have been sooner had they priced the console right from the get go and not screwed the presentation up so badly. It was tragic seeing a wonderful product being led down by shoddy execution. Hopefully this trend continues. At present prices, the Xbox offers much more value than a PS4.

We all knew Xbox one was going to win Oct

Yes cause we are Medium pokemons

I can see backwards compatibility having a huge impact on November sales.

Sales of Star Wars on PS4 (a kin to Destiny) is guna eclipse anything happening on the X1. Mark my words..

As a truly MS fan, I'll never ever buy or accept as a gift a Xbox console

Yeah. Save your money. Hire a grammar coach.

Lol! Best comment of the day for me.

Lol I've been a Microsft fan since 1991, but I too avoid their gaming hardware like the plague

Unfortunately the PS4 is still having great sales without a single good exclusive game as a reason. You hear all the fanboys moaning about jRPGs when a tiny portion plays them. Just a huge percentage of them are the ones trolling and populating the forums and so on... Wish they would put them in their own separate place in the internet where their voice would just not matter for the consumer who is incapable to judge for himself. They obviously have affected all Europe. Thankfully the US seems to be giving the fight for the Xbox console.

Oneguide is so awesome with this update. Hook your tv up to your Xbox if you haven't already.

Does no good to hook it up since I use RF to control my DirecTV box

Ps4 still doesn't have a decent media remote. Hows the xone in that regard? (aside from Kinect voice control)

The PS4 remote has been announced and is coming

The XB1 remote works good. My only complaint is that the volume controls somewhat lag. It's a simple remote, but does the job.

Lol, not a fan. PS was and will always be the best console for me

If you are a single feature user, the PS is great. Xbox is just... More.

Curious, sales were up 81% versus 10/14. How many did they sell last October?

Cuz sales are so piss poor they don't want to say.

Microsoft has to get their Xbox marketing better in Europe. Japan is not possible bcoz its a playstation nation.

It's actually Nintendo Nation there as the Wii U is performing seller and the 3DS and stomping out any competition with Nintendo announcing venture into the Mobile market the gap will just grow that much wider, the Japanese love Nintendo. Posted via the Windows Central App for Android

This means ps4 will be cheaper :) im more ps player.

I thought Xbox had always done well in US. Thought it was just everywhere else it struggled.

You would be totally right, the PS just does better everywhere


Everyone say Thank You Halo 5.

Hopefully this is just the beginning and this trend continues through the holidays into 2016.