Xbox One SmartGlass beta updated with TV streaming for non-U.S. users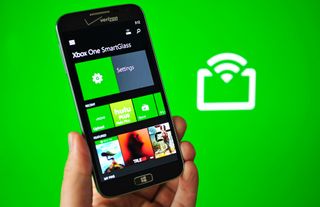 Microsoft has just pushed out an update to the Xbox One SmartGlass app, currently in beta, with new capabilities. Now, users can stream TV content from the Xbox Digital TV Tuner to their Windows Phone or Android devices. It's important to note that this feature will work only for users outside of the U.S. as the Digital TV Tuner accessory for Xbox is not available Stateside.
In addition to this TV streaming, the update also contains the requisite bug fixes.
Windows Central Newsletter
Get the best of Windows Central in in your inbox, every day!
Chuong's passion for gadgets began with the humble PDA. Since then, he has covered a range of consumer and enterprise devices, raning from smartphones to tablets, laptops to desktops and everything in between for publications like Pocketnow, Digital Trends, Wareable, Paste Magazine, and TechRadar in the past before joining the awesome team at Windows Central. Based in the San Francisco Bay Area, when not working, he likes exploring the diverse and eclectic food scene, taking short jaunts to wine country, soaking in the sun along California's coast, consuming news, and finding new hiking trails.
Doesn't open anymore on htc 8x Preview 8.1, official xbox one smartglass, even after update.

You're using beta OS use Xbox beta smart glass

Is it not possible for them to pass your cable stream to you though? Or is that more of a legal issue? I have my tv running through my xbox now. Just curious. :)

I see my kid using this on their new HP stream 7 tablets!! Hope it makes it to the US!

SOOO, for you "only US" complainers....;) haha. It's truly region-based because TV services here are such a joke and ridiculously expensive. And I must say: I envy you. (So this is how it feels....)

Right? Ok non us users, time to celebrate ! It's cool for me though, I can just go to Mexico ;D

Well seeing as how MS already said they were not planning to offer this in the US because free to air is not that big or TV services have it on lockdown, this isn't really a win for "non US" users. When Microsoft announces something new and states that it's available in other places and not the US then you'll have a point.

Are you kidding me? I'd much rather use this and have native control of my OTA TV signal baked in to the Xbox than deal with my OTA tuner box that barely receives IR commands straight on, let alone from the Kinect's built-in IR emitter. Then to be able to stream to multiple phones would be great. If it supports DVR on the Xbox, I'd cancel Hulu in a heartbeat - just as many ads as watching it OTA now, anyway.

Don't get me wrong, I believe Microsoft should release this in every country. It's just that they have a product only available in Europe, now they updated the app to take advantage of that product. Makes sense if it's not usable in countries it's not available.

When did they definitively say this was never coming to the US?

I never said it's definitely never coming to U.S., but currently it's not available. I thought I saw somewhere they don't have any plans of a NA release but I could be wrong, and I hope I am because i'm in NA.

too bad that non-US here actually means european, so as a brazilian I think we get the worst of both worlds...


Hopefully MS will bring to the US

F*ck Comcast, TWC, Verizon etc... If both Apple and Microsoft can't get those guys to do anything, no one can.

More to be precise anywhere that has NTSC/atsc signals cant use this feature

Star wars command was updated aswell

"currently in beta" ... Actually there's two of them, one in beta and one non-beta just like Facebook's app.

Cable companies and Cellular providers have wayyy to much power, here in the states.

I still don't see why the streaming feature cannot be used in the us. I have my HD OTA antenna connected to my Xbox one via a Homeworx HW180 box and it works fine.... You don't need Microsoft tuner at all....

To bad most current shipping units by them have disabled their qam support

Wow first time i heard that phrase... Non- US

It's great to be an American huh lol

Meh, don't care. I just use all the apps on my phone and use the websites on my computer for WatchESPN, Fox Sports Go, TWC TV, NBC Live Extra, Comedy Central, etc. :)

Still not available for my country

I no longer want to hear complaints about Microsoft's treatment of non-US markets. Would readily trade a few games for streaming TV.

apparently the world can be divided in US and non US, and other countries outside Europe are now part of another planet, because we have neither US only features nor non US features.

Atlast... Something non-US!

Can stream tv directly on phone???

why cant they do this with tivo since they are working with android and ios ?

I read that headline twice & pinched myself. Checked to see if today is April 1st!;-)

The digital tuner is for over the air TV. Like, older TVs, including early Gen HDTVs, do not have ability to receive OTA signals and require a set top box. That's what the FCC rebate was for a couple years back, so people could purchase a set top box since the US made HD a standard. So how is having a digital tuner for your XB1 much different from buying a set top box? I hate the cable conglomerates too, but not seeing how MS not making the tuner available on the U.S. is their fault. It is NOT the same as Aereo, which was a paid service that took those (free) OTA signals and redistribute the content via the internet. Its nowhere near the same. Otherwise... So? Is streaming 5 basic networks and 20 different public access channels all that serious? You're not gonna be watching Game of Thrones or Workaholics with this feature. And if you also are thinking about OTA tv streaming to your PC, laptop, or Win 8 pro tablet... USB tv tuners have been around for years now. Honestly, none of this is new or amazing in any way.

Native control of the tuner from the Xbox would be a big benefit for me. My OTA STB has a terrible IR receiver - the factory remote hardly works straight on - and the Kinect's IR emitter is only effective for on/off. It receives 1 or 2 of the 3 or 4 buttons required to change a channel (##.#). If this thing adds DVR (does it?) and ability to stream to phones (multiple at a time with DVR?) then I would gladly purchase this and cancel my Hulu+ subscription. Yes, I have a USB tuner, but I also have Windows 8 and they don't play well together. And, technology should get easier, and dealing with tuners on my computer to watch shows on my TV through Xbox (which doesn't have WMC extender capabilities for live TV) doesn't accomplish what I want.

In regards to your last two points in New Zealand and I suspect Australia and Great Britain you have a Free View decoder built into all TV's made in the last 8 or so years so there is no set top box. That is why the digital tuner from MS is useful as you don't need to buy a seperate box which is much more expensive and redundant as there is already one inside the TV. Having the ability to stream that TV to a Smart Glass device is also very useful as you don't need a USB TV Tuner for each device. There may be ways to stream from a central PC to other devices but with ths solution it is easy - get a relatively cheap MS Tuner and you can watch all the free to air TV on all your Smart Glass devices with little fuss. It's not a game changer but it looks like it makes life a bit more convenient for Xbox owners who would like to get TV on their mobile devices without eating into their internet data usage. How useful it would be in the US is another matter

Yeah its just like the surface wireless display adapter only some apps will like to stream off the surface and some will not when it comes to watching movies. Its kind of a pain in the ass.

Microsoft could made this thing like a ps vita device to the playstation. But for some reason they don't. Windows phone could have served as a second screen device on the go. Talk about a way to sell millions of phones

I dunno, Sony was just fined big bucks for misleading vita ads and they are heavily scaling back their phone production due to low sales. Doesn't sound like console/phone integration necessarily causes sales of either to benefit in any appreciable way. Of course we as Windows Phone users have known this for a long, long time.

The difference with Microsoft is that they have their own ecosystem, os, tablet, device division

Will this work in Australia? I'd really love to use this feature.

Do you have the tuner? I got mine today but haven't had a chance to try it out.

Another Android app that needs the metro treatment.

Ah ha! Just in time too. :) My tv tuner just arrived so this will be fun to test out; assuming the tuner works in Australia of course...

If I bought one of these Xbox One tuners from Europe and had I shipped to the U.S. would it work with my console? I cut the cord a long time ago and am glad I did. Paying for tv sucks!

OMG Microsoft. The US never gets anything! ;)

So now you can stream tv to any device running smartglass! That fixes the feature gap to Xbox360! Xbox360 has Media Center support for streaming TV from a Windows Media Center computers with TV tuners.
C'mon Microsoft, all you need to do now is to get DVR capability into Xbox One and I can finally start replacing my Media Center setup With Xbox One systems!

I wish an Xbox portable.. Like psp

I'm using the Xbox tv feature in conjunction with my set top box in Canada (Rogers). Does this mean I should be able to stream TV content from that set top box to my smartglass device? Or do I need the digital TV tuner accessory to do this? I've been looking through the smart glass beta app and I'm not seeing how I can use this feature.

Anybody know if tv tuner works in Australia?

This feature only works with the TV tuner, doesn't work with hdmi pass through. Reason for this I was told my MS support is because of rights management. In the UK its easy for them to do Freeview (OTA) rather than cable or satellite as Freeview is in their words "simpler" to agree to. Bear in mind not all Freeview services will work such as those that are encrypted and require a subscription, eg BT Sports. Personally I think its great that they have brought this feature to WP, has this means I don't need to borrow my daughters Android any more. Just wish they brought this out before the F1 season ended.

Don't worry people of America and the rest of the world, I am in the the UK, I have a digital tuner and it doesn't actually work. If I open Xbox One SmartGlass I can see my channels both the freeview ones via the dongle and the Virgin media ones via my HDMI cable, I can stream the freeview channels to my Surface Pro or laptop. If I open the beta version I cannot see any of the channels and so far no streaming. Has any one got this to work yet?

I've got it working fine with the Smartglass Beta and using the tv tuner. Oneguide works and everything. No other streaming to phone will work except tv tuner only.

Hi Professor :-) Would you be able to walk me through how this actually works....(I'm normally pretty good with tech but this has me scratching my head a bit...). I'm a skyHD+ subscriber. I have a lumia 1520 and surface pro 3, both obviously have xbox smartglass beta running. My xbox one is only a couple of months old and the software is totally up to date. The whole TV oneguide thing is up and running too. My understanding from this article is that I can now stream and view my sky channels directly to my devices through the smartglass app. Am I reading this wrong? Any help or guidance would be greatly appreciated. Thanks
Windows Central Newsletter
Thank you for signing up to Windows Central. You will receive a verification email shortly.
There was a problem. Please refresh the page and try again.