Xbox One version of Happy Wars is officially released after premature launch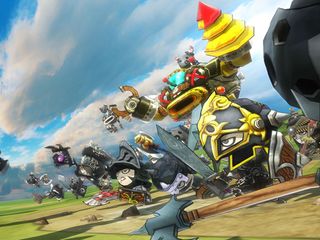 The Xbox One version of the free-to-play action-strategy game Happy Wars is now officially released. The game, from developer Toylogic, was briefly made available for public download accidentally a couple of weeks ago.
Players of the older Xbox 360 edition who downloaded and installed the leaked Xbox One version found that Happy Wars would no longer play on their Xbox 360 machine. That should not be the case for this official Xbox One launch. Toylogic says:
From now until May 6, Toylogic is running a special in-game promotion for Happy Wars that will give players 20 Happy Tickets, along with a "Buff Pincer", which is "used to remove a buff from an item, but without destroying the original item" and a Mountaineer Backpack accessory.
Source: Xbox.com (opens in new tab); Thanks to alfa 23 for the tip!
It was launched yesterday US time, but Friday in Japan. It's great so far! Who's all in the Spartan League?

Sooo it's cross-platform?

Sadly, it isn't. They stated originally it would be (which would be odd because you cannot send /receive game or party invites cross platform), but later stated it would not, and the outcome is that it isn't but it could change. Microsoft Studios later announced World of Tanks for Xbox One and mentioned it will be cross play with 360 but I am not sure they plan to deal with things such as game and party invites as I mentioned previously.

This reads like the save data is cross-platform so I could login at my brother's house and we could play split-screen multiplay on his Xbox One, then I could keep my progress and continue playing on my 360 at home. Fair enough. :)

Yepp, the save data and character are all synced so that would be possible :).

Is the online multiplayer cross platform?

It is not, read the statement I made on the previous comment about the same subject for details.

It would have been quicker to copy and paste than write that

Maybe, but it takes up to much space in comments and I don't want to get complained at, but it seems as if it will happen either way...

Yup, True. Your original comment would've taken up as much space as these 3 now though.
Windows Central Newsletter
Thank you for signing up to Windows Central. You will receive a verification email shortly.
There was a problem. Please refresh the page and try again.