Happy Wars for Xbox One gets accidentally released, breaking the Xbox 360 version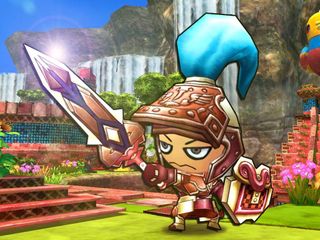 An Xbox One version of the free-to-play game Happy Wars was made available to download publicly by accident earlier this morning, and players who have downloaded and installed this build will find that it has broken the Xbox 360 version of the game.
Developer Toylogic admitted to the early release of the Xbox One Happy Wars build in a Facebook post today. It stated:
Toylogic has not offered any specific information on how the Xbox One version would break the Xbox 360 version. The fantasy-themed RPG Happy Wars was first released for the Xbox 360 in 2012 and was the consoles's first free-to-play multiplayer game. The final Xbox One version should have cross-platform support for the older Xbox 360 version.
Source: Happy Wars (Facebook)
So is my local save at risk?

Incase all is good, will achievement syncing be enabled?

No, I think all 360 games that carry over to the One have new achievements to unlock.

But unlike GTAV, Online achievements carried over.

Destiny Achievements are also cloud based. Friend of mine earned nearly 2k for that reason.

It depends on the developers and their servers. When you transfer your online character to the X1, GTA Online will read your stats and unlock the achievements, as it should. Destiny does that even better cause the database is synchronized between the two systems. When you transfer your GTA character to the X1, it's basically a copy and you retain 2 separate saves that are no synchronized.

Played it last night and a bunch of the achievements popped automatically, it was great. On the flip side, I wasn't planning on playing it on my 360 again, so no loss for me. My characters all crossed over just fine.

Right on, I guess it did carry over achievements then. That's great to here man, this is like my favorite game, I was so frekin excited when I heard about it coming to XB1 yesterday and by the time I tried downloading it, they made it unavailable.

Yes, why would it not be?

I mean, if you downloaded it on the xb1 does it really matter if you then can't play it on the 360?

Right? But people are obsessed about playing on both.

These people need cancer. :)

Yes. If you have the xbox one in the living room and the 360 in your bed room.. or if you have one here and one there or whatever ..

It's coming soon missed it

John, Toylogic and Marie (Toylogics community manager) stated the other day that this will not be cross platform with 360 games, but will sync your characters data.
Windows Central Newsletter
Thank you for signing up to Windows Central. You will receive a verification email shortly.
There was a problem. Please refresh the page and try again.