Xbox One was the top-selling console in the second half of 2016, Microsoft says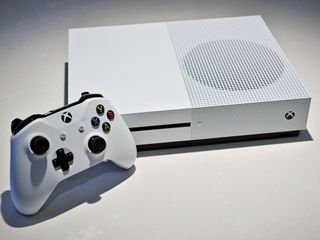 Though it may have come in second place behind the PlayStation 4 in terms of U.S. sales for December, the Xbox One had an overall stellar second half of 2016 as the top-selling console. That's according to Microsoft, who cites the latest numbers from NPD Group, noting that Xbox One was the only console to see year-over-year growth.
Speaking on Xbox's success in 2016, Mike Nichols, corporate vice president of Xbox Marketing, stated:
That success in the latter half of 2016 largely seemed to be propelled by Microsoft's aggressive marketing and deals on the Xbox One S, which only hit the market in early August. Ultimately, Microsoft saw four consecutive months at the top spot in terms of U.S. sales in the second half of the year, with Sony only narrowly beating Microsoft out in November. It isn't exactly clear by how much Sony took the top spot in December, but the fact the Microsoft is claiming to have the only console to see year-over-year growth points to a pretty impressive performance on the part of the Xbox One.
Going forward, 2017 will definitely be an interesting year to watch as Microsoft draws ever-closer to the launch of Scorpio during the holiday season.
Dan Thorp-Lancaster is the Editor in Chief for Windows Central. He began working with Windows Central as a news writer in 2014 and is obsessed with tech of all sorts. You can follow Dan on Twitter @DthorpL and Instagram @heyitsdtl. Got a hot tip? Send it to daniel.thorp-lancaster@futurenet.com.
I take it this is referring only to the US?

They have to stop selling PS4 now. Why do they keep selling PS4s? They have to put that dog to sleep!! Uuuuu

Well, when your selling a Xbox on S for $212.00 (Amazon right before Xmas), and the PS4 was still up to almost $280 or so.... you ask ? I grabbed a Xbox one S with Battlefeild 1 for $162.50 before taxes (a little over $172)...not sure how anyone could beat one... and when deals like tha were available, that is why they did so well... BTW the package I got is well over $300 now (as it came with Xbox live sub too)

I don't think that's the only reason, but it is a contributing factor. The Xbox1S is a superior media device over the PS4 Pro and I know a lot of people took that into consideration.

Yup. I bought one, and I don't even play games on it.

Yep, still can't believe how stupid Sony was to not include 4K Blu-ray on PS4 S/Pro. But, that's why it's great we still have competition.

A format like Blu-ray or 4K bluray has licencing and exclusives. It could be they tried but was denied because Microsoft paid to have an exclusive on a console. Blu-ray itself was a Sony thing, it's also why it never showed up on the Xbox 360 when the PS3 had it...

Makes sense. It's the same reason that people went for the PS4 over the Xbox back when they launched. Wasn't it $100 less until MS dropped the Kinect?

It's a better all round package for your money. It's also sold better than Ps4 in the UK and Australia. As it won 5 consecutive months in those countries. It's also important to remember that PS4 only won December because of Cyber Monday. Yes Cyber Monday was included in December NPD not Novemeber. After that it went back to normal with One S outselling PS4 again. Expect NPD for January to be back to Xbox. Especially now its been announced Horizon is pushed back and FF7 remake is confirmed not to be releasing this year.

NPD also does not include Walmart. XB1 was more popular at Walmart vs PS4.

That remains to be seen, Sony offering VR and PS pro may just stop the Xbox selling trend altogether. I don't know how VR is on the PS4, but I can tell you it is contagious on PC.

Glad MS making all the right moves with Xbox☺

I'd put a lot of this on the wait for the PS4 Pro. Once that launched, Sony started topping the sales lists again for the final couple of months.

It actually according to reports only topped Black Friday and Cyber Monday. After that it went back to Xbox.

xbox one S is just a very sexy design. whoever designed gthe original xbox one should be fired and they need to retire it. Here's hoping for an xbox one Mini (No DISC all download) in the near future. time to kill discs folks.

Doing that will kill collectors items.

Xbox one is sexy design, no quesion but, there is many signs about it being cheaper than the orignal Xbox one.. to the power button to the way the controls are designed they just feel cheaper... The orignal Xbox one was $500 and had the little features on it to make it feel premuim, the S does not. And Physical games will never die, no matter how much Microsoft wants to kill them.

LOL, Delusional XBots in here!
Windows Central Newsletter
Get the best of Windows Central in in your inbox, every day!
Thank you for signing up to Windows Central. You will receive a verification email shortly.
There was a problem. Please refresh the page and try again.