[UPDATE] Xbox One will only support voice commands in a handful of countries at launch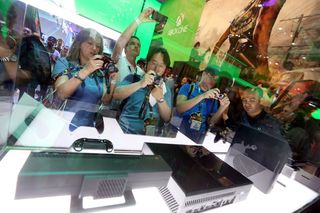 Xbox, encienda… Xbox, accendere… Xbox, on.
Users in many foreign countries won't be able to command their Xbox One via voice command this November when the console launches. Sources are beginning to report that the fine print on Microsoft's website (you know, that little bit of text you never read) states that the voice command feature will be limited to only a few areas at launch.
If you are outside any of the aforementioned regions listed above – you are out of luck. Microsoft recently stated that the "Xbox One is Kinect" and that the two pieces of hardware are one and the same. If Kinect is so tied into the operating system, then how can such a large number of launching countries including Australia, Austria, Brazil, Ireland, Italy, Mexico, Spain, and New Zealand, be left out?
How does this affect your purchasing decision for the Xbox One?
Bonus Question: What languages are the first two statements of this article written in (and did Bing translate work correctly)?
UPDATE: Microsoft Director of Product Planning, Albert Penello, has provided details on Xbox One's voice recognition at launch. As with most situations thus far, it is a bit complex; Xbox One will launch in 13 territories in November - 10 of those territories "will support some voice features". Eight language in total will be supported including English US, English UK, French, Spanish MX, Spanish ES, Italian, German, and Portuguese. As of now, we aren't sure what features will be available in what countries, but Albert did state that "Xbox, On" is "only available in five". We will continue to update you as we learn more. Thanks to Jason for the tip.
Source: NeoGaf via GameTrailers
Get the Windows Central Newsletter
All the latest news, reviews, and guides for Windows and Xbox diehards.