Xbox One Wireless Controller gets a 3.5mm headset jack among other improvements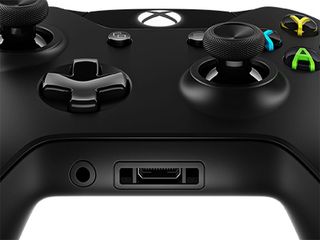 In addition to announcing a new 1TB Xbox One console, Microsoft has also revealed it will offer a new version of its official Xbox One Wireless Controller. It will have a 3.5mm stereo headset jack, which will allow most third-party gaming headsets to directly connect to the controller for the first time.
Microsoft says that all of the accessories that worked with the current version of the Xbox One controller will work with the new version. That includes the Stereo Headset Adapter so people can control the audio directly with their fingers. However, the company has also put in some hardware improvements beyond the new headset jack. It states:
Microsoft will sell a black version of the new Xbox One controller on its own, along with a "Covert Forces" version that has a camouflage design in silver and black.
Source: Microsoft (opens in new tab)
Nice! It's a win-win for me!

Same here. This will be good for my pc set up!

Could they remake the s type?

Well this is certainly the time to buy it for my PC!

Amazing but hope they bring internal battery

You can buy one http://www.amazon.com/Retail-Packaging-Batery-Pack-Xbox-One/dp/B00T8IZHK...

Why, just get a rechargable and a dock

No. External batteries are always better. Just look at them PS controllers..

Yeah, I've been playing my PS4 more lately because FFXIV isn't on Xbox. So sick of how short the battery life is in that controller. Sure I can plug it in, but then I am tethered to my outlet. Where as my Xbox One controller I have Eneloops ready to be swapped at any given time.

Rechargeable AA's. They work for my one, 360, remotes. Definitely the most bang for your buck! You never have to recharge your controller. Just swap the batteries with spares ready to go. I haven't bought batteries in at least a year.

Most definitely!!! Rechargeable AA is the best and most economical wat to go! Eneloop are the best, Imo. Like you said, works with alot of different things, 360 and Xbox one controllers, remotes, and alot of kids' toys.... Been using these same batteries for about 4 years and they're still working great!

Internal batteries are like getting back 2 generations of consoles and play with wired controllers

I was planning on buying another controller next week, might just wait for one of these bad boys though.

Been wanting to get a controller for ages. Perhaps that's the time.

No, Release The Krakken!!

I hope they work in the d pad, still choppy.

Wish they did a trade-in deal. My controller that came with my console was pretty crappy, and you only got a 30-day warranty to find that out, which wasn't enough time.

Controllers have a one year warranty

Crap. I already have 2 controllers...

You can get another 4 controllers :)

Anyone know if this'll be sold with the 500GB models from now on, or is it only bundled with the 1TB new model?

Both models are for sales. 500GB Model is priced at $349 while the 1TB Model is priced at $399.

Is it compatible with laptop?

I'd rather have a Bluetooth adapter to use my old Xbox 360 Bluetooth headset on my xbone

Sucks for me.. just ordered 2 custom controllers from evilcontrollers.com But more than the new features I really hope they fix some of the glitches from the current controllers more than anything. Glitches like how the controller needs to be randomly re-synced again for absolutley no reason. Or sometimes it doesn't sync at all without resetting the console. And I have one controller with the notorious drift problem on the left analog.

will we be able to route game audio using the new controller? or its just for chat audio a before?

I want a spare so I may wait for these to release before getting one. Posted via the Windows Central App for Android

I would like to see an update to the call of duty AW controller.

Y THINK y would like to have USB-C instead of current micro-USB but great improvements!!!!

And we've enabled wireless firmware updates on the updated controller which eliminates having to connect the controller via USB cable to receive updates." This sounds like amazing technology. How long before the Xbox 1 controller can function as it's own gaming system or computer?

That covert ops controller looks mighty fine.

Will be interesting to see if/how Turtle Beach, Astro, etc update their connectivity guides to accommodate for the new controller design.

I heard $80 is the retail for this controller. I'll just stick with the headset adapter. I'm getting one modded so I can use my old Xbox 360 Bluetooth headset...

I hope they work on the internals, the analog sensors go bad tooooo easily.

If you buy a xbox one after they came out does the controller come with the jack?
Windows Central Newsletter
Thank you for signing up to Windows Central. You will receive a verification email shortly.
There was a problem. Please refresh the page and try again.