Xbox Series X: What do game developers say about next-gen? We asked several for their thoughts.
The Xbox Series X is upon us. But what do game developers think of this next-gen beast? We spoke to several to find out their thoughts.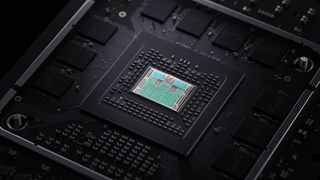 (Image credit: Microsoft)
With the Xbox Series X and next-gen just months away, speculation about the capabilities of next-gen systems is heating up. As always, the proof is in the gaming, and we may not have to wait much longer to see what the Xbox Series X is truly capable of.
The sheer volume of technical wizardry, both from Microsoft's engineers and the game developers themselves, cannot possibly be understated. To that end, the raw specs of the Xbox Series X only tell part of the story, of course. We have new APIs, new developer tools, new graphics features, and various other improvements worth taking into consideration.
To get a better understanding of what that means for game developers and architects, we spoke to Microsoft and various third-party game devs to get their thoughts on what next-gen truly means for Xbox fans, and what aspects of the Xbox Series X are most exciting.
Xbox Series X
Jason Ronald, Director of Program Management for Xbox
To set the stage, Jason Ronald, who leads Program Management at Xbox, gave us some details on the thought processes that went into creating the next-gen Xbox Series X, putting game development at the fore. We asked Ronald what is the most significant potential game-changer for game developers on the Xbox Series X.
The Long Dark
Joel Baker, Technical Director at Hinterland Games
Hinterland Games make the wildly popular survival game The Long Dark (opens in new tab), set in the snowy reaches of post-apocalyptic Canada. Baker also cites NVME SSD tech, but also ray-tracing as being some of the more potent features of the Xbox Series X, with big benefits for weather effects and immersion on the horizon.
Ori and the Will of the Wisps
Gennadiy Korol, Director of Technology at Moon Studios
The Gennadiy Korol of Moon Studios, higher refresh rates are among the most exciting aspects of the new Xbox, finally accessible in a more affordable package. Gorgeous platformer Ori and the Will of the Wisps (opens in new tab) feels far more precise and satisfying at 60 FPS, and I personally cannot wait to (potentially) try it at 120 FPS in the future.
Zombie Army 4, Sniper Elite
Kevin Floyer-Lea, Chief Technology Innovation Officer at Rebellion
Rebellion is known for the Zombie Army (opens in new tab) and Sniper Elite (opens in new tab) game series, the latter of which feature large detailed worlds (and amazing testicular sniper shots) at its core. Kevin Floyer-Lea who leads tech innovation for Rebellion is excited to be able to hit 4K 60 FPS as standard. Floyer-Lea also notes how the new hardware will improve long-range ballistics for Sniper Elite's industry-leading rifle gameplay, and how ray-tracing will actually enable more realistic sound-acoustics in addition to lighting, ideal for stealth games.
Gears of War
Mike Rayner, Studio Technical Director at The Coalition
Gears of War's (opens in new tab) Mike Rayner at The Coalition also talked about how SSD speeds improve load times without any code changes, but also emphasized DirectStorage APIs and hardware decompression on the Xbox Series X as key factors in further improving loading speeds, while also liberating the CPU for performing other tasks. Rayner also discussed the potential for Sampler Feedback tech, which is part of the Xbox Velocity Architecture, which more efficiently loads textures based on what the scene needs, further reducing the load on memory.
Dead by Daylight, Deus Ex HR Director's Cut
Alexandre Sabourin, Team Lead at Snowed In Studios
We took some comments from the team at Snowed in Studios, a team made up of industry veterans contributing to several projects such as Dead by Daylight and We Happy Few more recently, while leading many of the huge improvements we saw in Deus Ex Human Revolution Director's Cut (opens in new tab) in years past. Alexandre Sabourin is Team Lead over at the studio and offered some insights into how hardware-accelerated ray-tracing, improved processing power, and SSD boosts will help the Xbox Series X.
One massive generational leap
The leap to next-gen is going to be far bigger than what we got between the Xbox 360 and Xbox One systems, arguably, as the tech pushes beyond raw specs to enable greater creative tools across the board. NVME drives will enable more dynamic, more complicated worlds, with more varied and dynamic animations. Boosted hardware will enable physics-based lighting and reflections, rendered at higher resolutions and frame rates, far beyond what current-gen systems are capable of. Consoles getting access to NVME SSD speeds will also boost PC games, too, further liberating game development from having to account for outdated mechanical hard drives.
As always, the proof is in the gaming, and I don't think we'll have to wait much longer to find out what the Xbox Series X will be able to produce. The future of gaming is looking pretty bright right now.
Xbox Series X/S
Main
What is the Xbox Series X release date?
How much does Xbox Series X cost?
Why you can't preorder Xbox Series X yet
Windows Central Newsletter
Get the best of Windows Central in in your inbox, every day!
Jez Corden a Managing Editor at Windows Central, focusing primarily on all things Xbox and gaming. Jez is known for breaking exclusive news and analysis as relates to the Microsoft ecosystem while being powered by caffeine. Follow on Twitter @JezCorden and listen to his Xbox Two podcast, all about, you guessed it, Xbox!
Great article Jez. Well done on speaking to the developers. I love hearing from devs across the industry with proper official quotes. It's great to hear the Xbox has been designed as a very balanced system. Powerful and fast. The Velocity Architecture sounds extremely clever. And I am excited for next Gen. We are going to experience some amazing things with Ray Tracing and larger worlds filled with more all with nearly no loading screens to be seen. Keep up the great work WC.

Thanks for the kind comments mate. Next-gen gonna be rad.

I think one of the most important, and overlooked additions is the Hardware-Ray-Traced Audio (for lack of a better term) via a dedicated 3D audio hardware chip. Now the question is, will Microsoft fully support 5.1 stereo headphones via their proprietary Xbox WiFi Standard? (with no SPIDIF port anymore, they will use the HDMI-CEC for soundbars, etc.)
This will allow much more realistic audio immersion in games with fully CPU-offloaded audio effects.
Audio is very CPU-intensive right now in consoles, and this will greatly expand what you can afford to do with it in your CPU-assets budget.
It's looking very impressive to say the least, but remember, very few (if any) of the Launch Games will make full use of all these new technologies.
I expect it will be Summer 2021 before we really see full-on Series X-optimized games, but the wait will be worth it!

That's some good stuff Jez. I can imagine the amount of this took. Keep it up.

Thank ye, was weeks in the wings. <3

Redgamingtech, on YouTube had a potential Lockhart logo... Filed long ago... But you never know.

Edit... May not be Lockhart.

But now the 1TB drives are going to fill up even faster with higher resolutions and greater detail... So hopefully this will drive down prices of external SSD storage that're capable of USB 3.2 gen 2 (20Gb/s) without costing as much as the consoles themselves. Right now 4TB HDDs are well under $100 USD, and SSDs are 4-5x that price per TB. Otherwise, what good is NVMe storage if you're out of space and have to go external anyway?

Sorry I seemed to have answered my own question.. Scroll down in deals about expandable storage! https://www.windowscentral.com/e?link=https2F%2Fclick.linksynergy.co...

I think the trade off of speed over storage size is the better choice. I'd rather have a fast system than a slow one. I've always hated how slow consoles are. I've been waiting years for them to finally switch to SSD

I am excited for both consoles. Last gen, I never got that PS4 but people around me gave me the screen time. Games like zero dawn are awesome. Although I might have the title wrong. My plan was PSVR but it was not even close to oculus or vive. I hope this time I will have a reason for both. The backwards compatibility is the main reason my absolute first purchase will be series X. I saw a crytec or what ever the name is dev say the mixed memory will make it too hard. Do we think the slower memory is the reserved system memory, so devs don't use it or worry about it? I think both systems will rock. I hope Sony has the heat controlled and the power ratio thing allows it to compete with the locked clock on the X. I have my fingers crossed for some food VR. I know it's a long shot, but I can dream

I'm sure Sony will nail the cooling, and both consoles will bring a lot to offer to the table. I love how Sony has been pushing VR, cus it's the only way the tech will improve. I really wish Microsoft would throw their weight behind that. I like VR, but there are a lot of gaps to making it comfortable and accessible in the short term. Thanks for reading <3

Heard more comments on YouTube suggesting that the Xbox may be decent to code for. Nice to get some rumours that are not all Sony-centric. That game Dev from Sony, a few years ago, suggests that Sony were aiming for 9.2tf, and Xbox caught them off guard, hence the boost.

I see one major flaw in this... When will we have the time to play those massive games 😂🤣?

Nice read. Is it possible to have old and new games on my current external hdd and just copy them over to the ssd when I'm ready to play those games? I know that series X games have to be on the ssd. @150 gigs per game I could get about 5 games on the ssd along with apps and the os.

Yes I believe you can store games on the HDD that are Series X games. And move them to SSD when you want to play them.
Windows Central Newsletter
Thank you for signing up to Windows Central. You will receive a verification email shortly.
There was a problem. Please refresh the page and try again.